Thank you for searching for "Jquery.js".
This link has been opening a "404 Error – Page not found" message…
Let's replace that "404" message with a real story!
The RV Lifestyle Magazine website has more than 800 articles, spanning our 52 years of service to the RV families of North America, written by our team of expert RV techs and enthusiasts, and accessible to our website visitors FREE of charge.
When you visit the RV Lifestyle Magazine website, you can enjoy hundreds of expert RV and camping articles spanning every aspect of the RV experience.
Scroll down to the end of each article to easily access related topics, or read the articles posted before, or after, the story you have just read… you can also access articles from the black MENU BAR, SEARCH for a wide range of topics, read the suggested articles that appear as thumbnail images at the right of the screen, and at the bottom of the screen. You can also click on the AUTHOR silhouette to read additional stories from the same writer.
Here's a graphic to show you where you can click to read additional articles: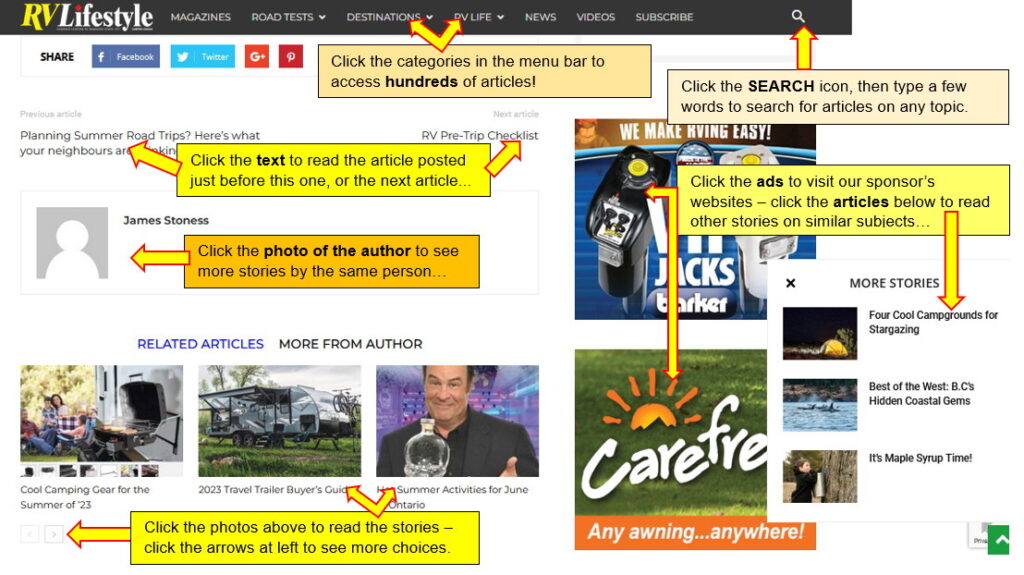 Please click on this link to visit the RV Lifestyle Magazine website home page: www.rvlifemag.com
For more information please email editor@rvlifemag.com