New RVs For 2024 – 17 Cool Compact Towable and Off-Road Travel Trailers
Several new RV manufacturers have introduced compact towable trailers for the traditional and off-road camping enthusiast market.
Here is a selection of the new models that offer lightweight and off-road capable design.
---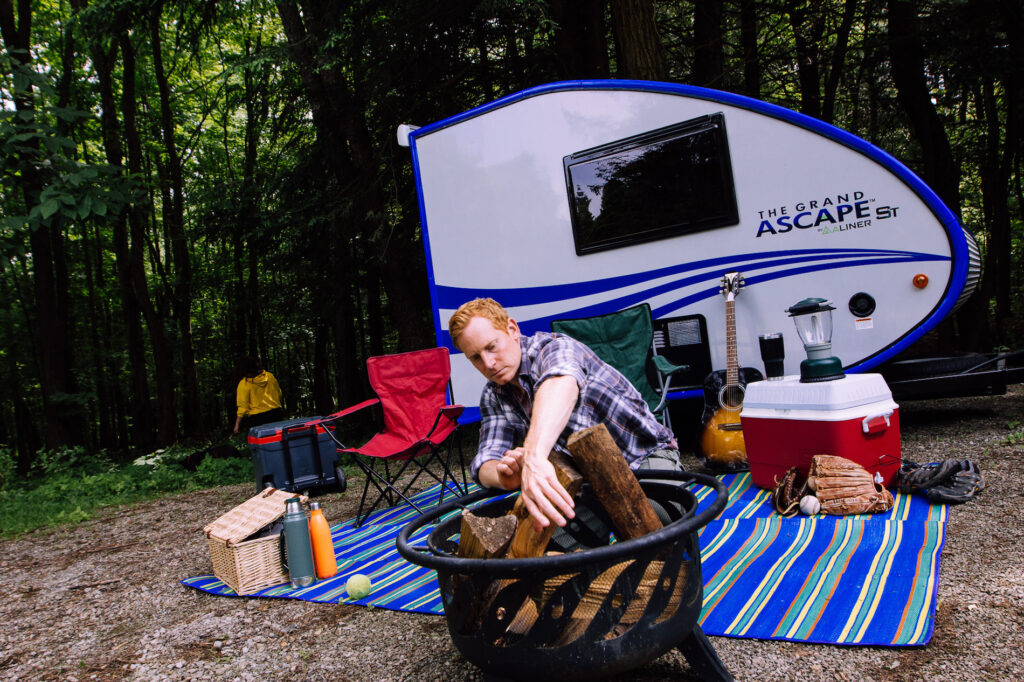 Aliner Grand Ascape
The Aliner Grand Ascape Plus is the lightest, easiest-towing, fully-equipped
travel trailer in its class, with many structural features ideally suited for the modern camping enthusiast, including Azdel backed fibreglass exterior walls, Azdel backed 0.30″ aluminum roof skin, 0.5″ Plywood floor with laminated Azdel for underbelly protection, alloy wheels (x3), tubular steel frame with front spare tire tray, real hardwood Caraway cabinet doors, Plastoform windows with built-in screen and shade, dimmable LED access lighting above the windows and step, LED exterior running lights, front diamond plate rock guard, 6′ 4″ of stand-up head room, 3.0 cu. ft. Dometic refrigerator with freezer, Coleman Mach 8 – 9,200 BTU roof mounted a/c, 18,000 BTU furnace, flush-mount sink & stove, 6 gal. water heater, 50 watt solar panel, Zamp® solar plug, and a 23″ flatscreen TV.
For more information, please visit: https://aliner.com/ascape-campers/
For information on the latest innovations in the Aliner Solar Powered Amp A-Frame campers, please follow this link:
https://www.rvlifemag.com/aliner-solar-powered-amp-new-for-24/
---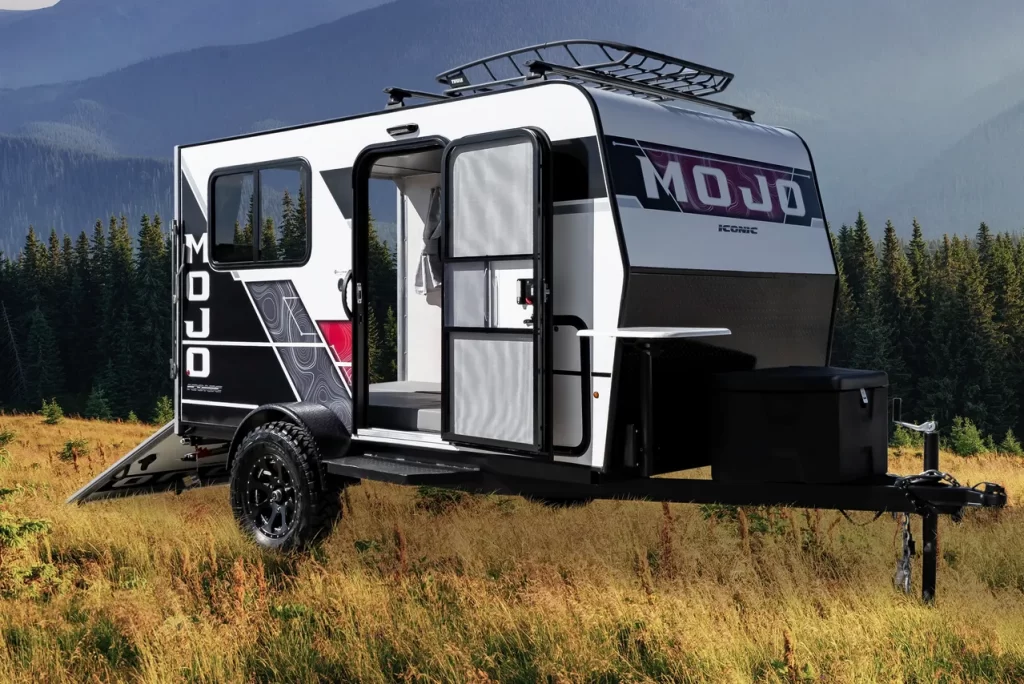 Eclipse RV – Overland Adventure Series – Mojo
This compact off-road capable trailer from Eclipse RV is the smallest model in the line, which tops off with the Attitude, Iconic, and Stellar full-size fifth wheel hoy haulers.
The Mojo 12BD interior features include a fold-out queen bed (Tent 50×75), Front storage cubbies, stereo- AM/FM/BT w/exterior speakers, Fantastic Fan (n/a with A/C),  Tuff Ply Flooring, lumber core screwed cabinets, LED lights, tinted windows, fold down couch/sleeper (60×80), and 700 Watt inverter. Exterior features include a pull out exterior rack w/12V cooler and cook top, heavy duty offroad chassis (Steel 2×3″ H.D. A Frame), 2″ composite high gloss fiberglass walls, floor and roof, a heavy duty front rock guard, off road all terrain tires (235/75/15) and custom Eclipse aluminum wheels. The ramp door has a Clean Grip liner. Other key features include 110 Volt outlets and USB charge station, LED running lights, LED flood lights, heavy duty torsion axle (Dexter 5yr Warranty) and a front storage tool box.
For more information, please visit https://attitudetoyhaulers.com/mojo-1
To see the full-size Eclipse RV fifth wheel trailers, please visit: https://attitudetoyhaulers.com/attitude
---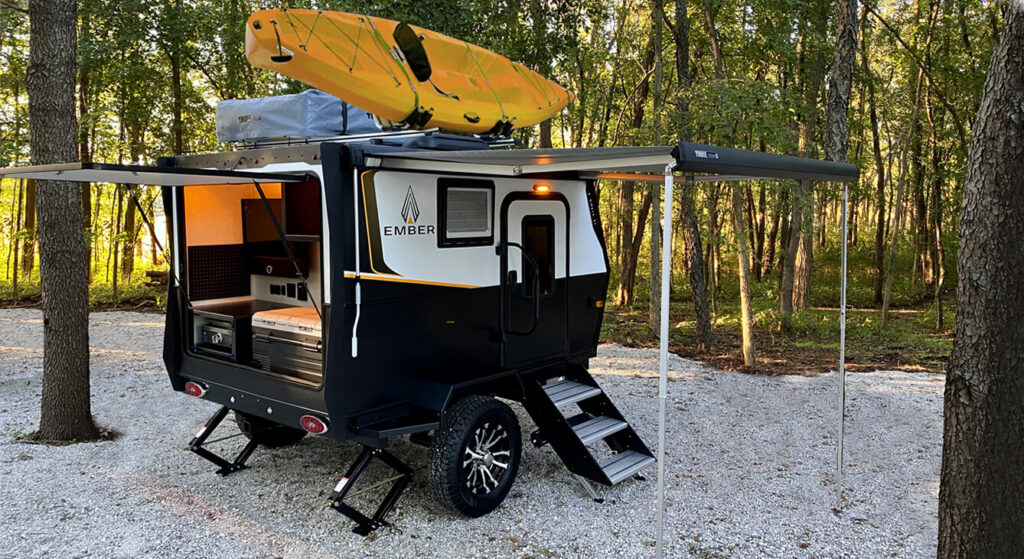 Ember RV Overland Micro Series
The Ember RV Overland Micro Series packs a robust list of standard features into a mini but mighty package that is designed and engineered to be taken off-road and off-grid. Ember's dual ROK (Rear Outside Kitchen) and ROL (Rear Outside Locker) floor plans give you the freedom to decide how you want to use your cargo space.
The Overland Micro Series ROK includes a well-equipped outdoor kitchen. The Overland Micro ROL gives you a spacious rear cargo locker so you can bring along the gear you need for your active outdoor lifestyle – or you can customize the space for your off-road, off-grid adventures.
The smallest in the range of Ember RV travel trailers, the Overland Micro Series embodies generations of RV experience – it's the ideal first step on your RV off-road adventure!
For more information, please visit: https://www.emberrv.com/rvs/overland-micro-series/
---
RŎG Adventure Trailers by Encore RV range in size from 10′-20′. These lightweight, 100% wood-free trailers are built to take you places other campers simply can't go, because camping isn't about sitting inside an RV at a campground, it's about getting out and exploring what the world has to offer – and RŎG Adventure Trailers are built to take you there!
For more information on the full line of Encore RV models, please visit: https://encore-rv.com/
---

Helio RV – HE3 Series
Designed and built with pride in Quebec, Canada, the Helio HE3C (for "comfort") offers the best-equipped micro-trailer for travellers who want to embark on (and off) the RV roads to adventure. The HE3C adds to the popular HE3S by integhrating air conditioning, a front storage area and electric brakes. In addition to this configuration, there is a Helio innovation, either the integrated R7 + insulation in the molded fiberglass structure and monocoque or a single piece.
Recognized as a benchmark in the micro-trailer segment, Hélio innovates and continuously improves its flagship model HE3.
With a 100% molded fiberglass monocoque structure and aluminum frame, Helio RV has reduced weight in order to meet the demands of on and off-road RV enthusiasts.
Looking for a trailer compact enough to be towed by a motorcycle? Check out this Helio RV video:
https://youtu.be/2oJNkTNXw4Y?si=EoqyhhYLWuIe15Z5
For more information on Helio RV models, please visit: https://heliovr.com/
---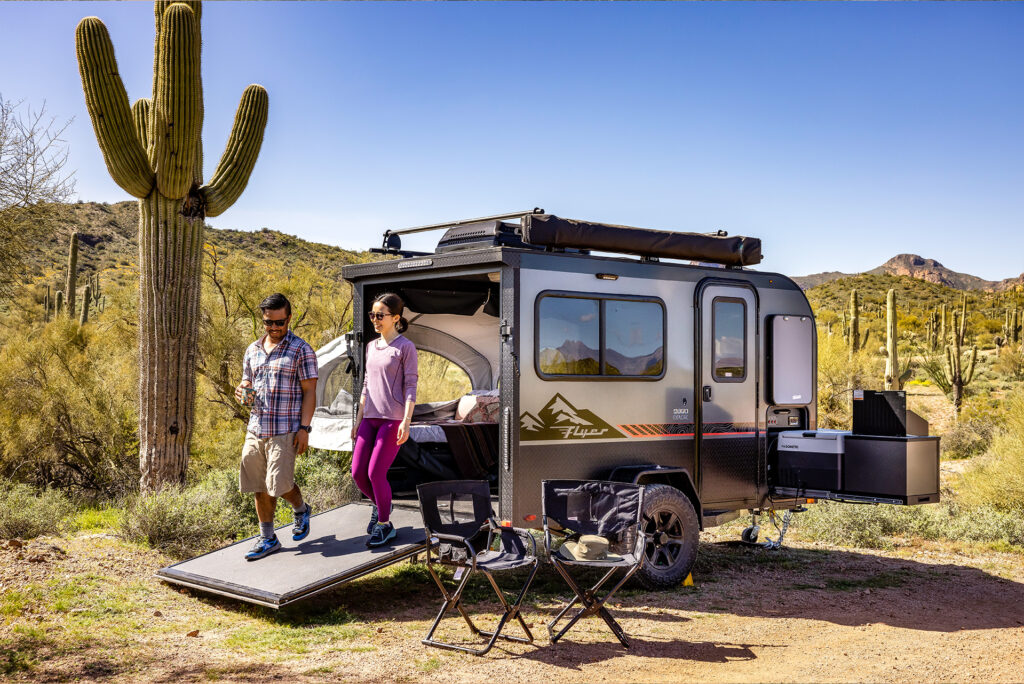 InTech RV Flyer Explore
Explore all the corners of the world. Every Flyer is built utilizing an all-aluminum, fully welded cage frame, making them strong enough to handle conditions when you find yourself off the paved trail. Explore is the micro-lite toy hauler that can go where traditional RVs simply cannot.
For more information of the Intech Flyer Explore, and the full range of InTech trailers, please start your adventure here: https://intech.com/rv/
---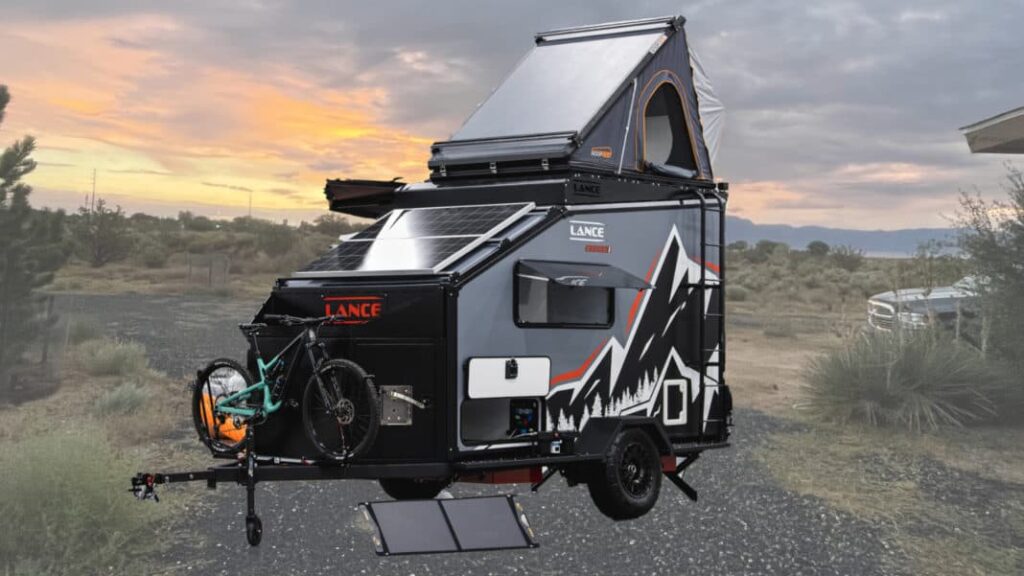 Lance Camper Enduro
The Lance Camper Enduro line of overland trailers was designed for active outdoors people who want to get a little farther out there than the rest of the crowd.
Two floor plans are available, bringing the comforts of traditional RV travel off-road with an interior wet bath, a full stand-up shower, the Lance signature large u-shaped dinette, state-of-the-art solar and battery technology for off-grid and boondocking independence, and an onboard hot and cold fresh water supply, furnace, and air conditioning.
Lance engineers created Enduro after extensive research into the adventure camping space after attending their first Overland Expo in 2015. They went through three prototypes, with testing and feedback at each stage, to arrive at the production models. Integration of key features and capabilities to allow for an extended experience seeking travel without sacrificing usability, quality, or comfort was mission critical.
The result is a perfect blend of rugged construction and camping convenience. Heavy-duty coin flooring, sustainably sourced lightweight bamboo table and counter tops, high-gloss gel-coated fiberglass, and the Lance Camper dura-leather-wrapped ultra-plush cushions with diamond stitch inlay are among the features of this compact trailer.
These fully enclosed, hard-sided, and trail-ready trailers bring Lance's new next-generation exoskeleton frame design with isolator bushing to market – separating and cushioning the living space from the rigours of the road.
Complete with the additional suspension capabilities overlanders want, and the added comforts and quality Lance is known for, the Enduro models have dry weights of 3500 lbs. and below.
For more information on the Lance Camper Enduro models, please visit: https://www.lancecamper.com/enduro/
---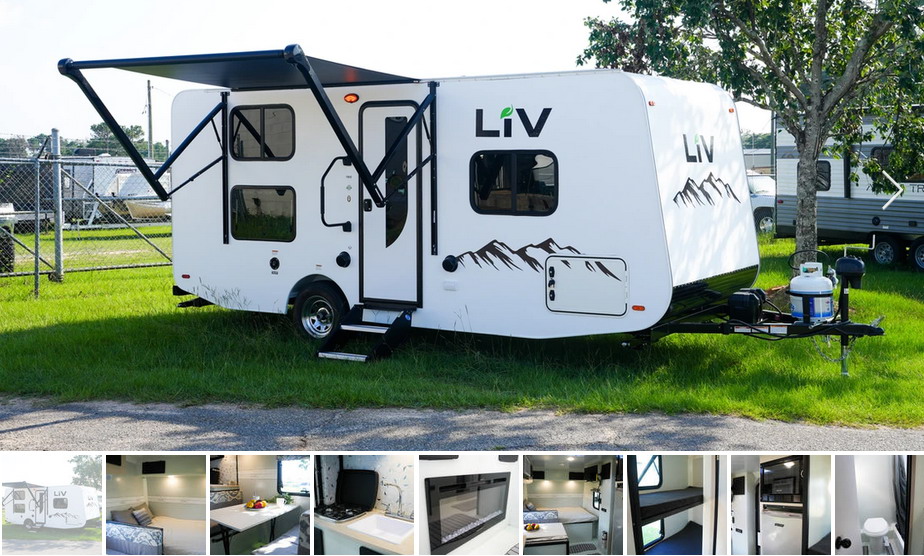 LIV RV
LIV RV stands for Light Innovative Vehicle – the company describes the LIV as the first 100% composite double welded unibody travel trailer on the market. Lifetime Guarantee, No Wood, No Rot. Thanks to this, the LIV is exceptionally lightweight weighing as little as 2200 Lbs.
There are eight LIV RV models, ranging in size from 21′ to 29'8″, with dry weights from 2,250 to 4,000 lbs.

For more information on these innovative new travel trailers, please visit: https://www.livrvtrailers.com/
---
Designed in Australia, and now available in North America, the MDC USA XT12HR is the perfect choice for travellers who prefer a premium compact off-road travel trailer with the same premium finish and feature-packed design that MDC has become renowned for. The XT12-HR offers luxury in places others can only dream of reaching! Featuring a compact design, full external kitchen, and fridge slide and internal ensuite bathroom, the XT12HR has it all.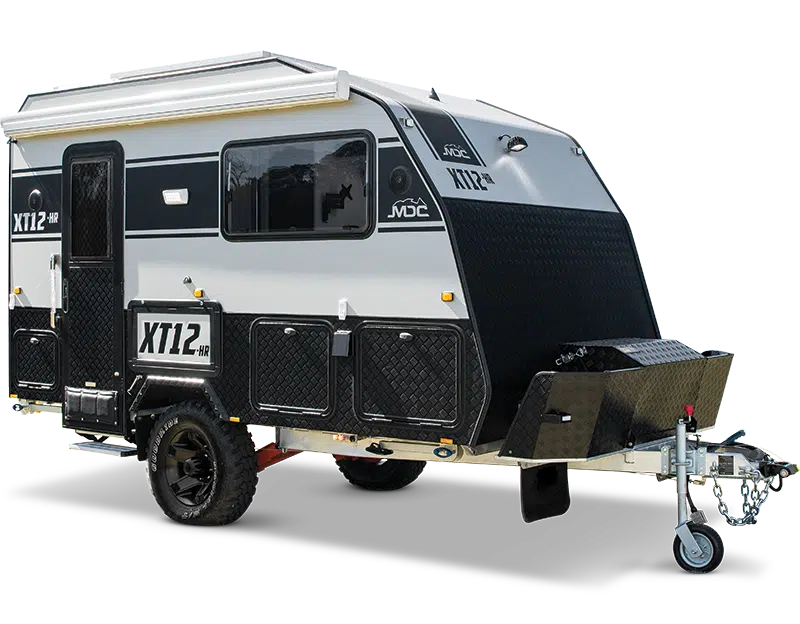 For more information, please visit: https://www.mdcusa.com/product/xt12hr-overland-travel-trailer/
---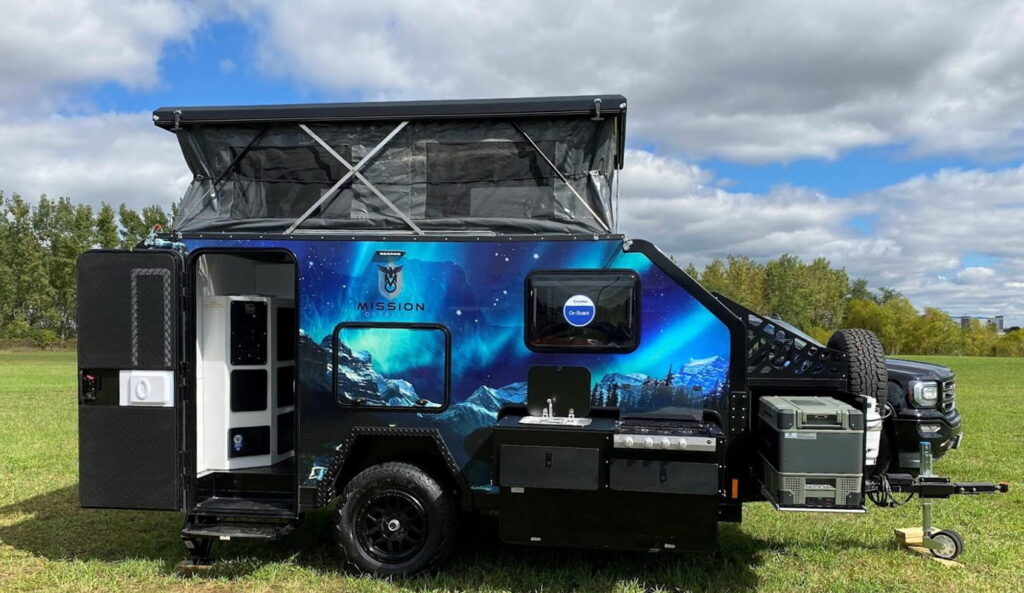 Mission Overland
Mission Overland, from Manitoba, Canada, showed their line of off-road travel trailers, featuring all of the comforts of home in a rugged, off-road capable package. The Mission Overland Approach, shown above, is a larger design focused on additional living space, added comforts, and more sleeping capacity. When designing the Approach model, the engineers stayed true to their values and ensured that customers could continue to take 'the road less travelled' with a little more space and a few added comforts.
Take a look at this video on the Mission Overland Summit Series expedition trailers.
For more information on these unique Canadian trailers, please visit: https://missionoverland.ca/
---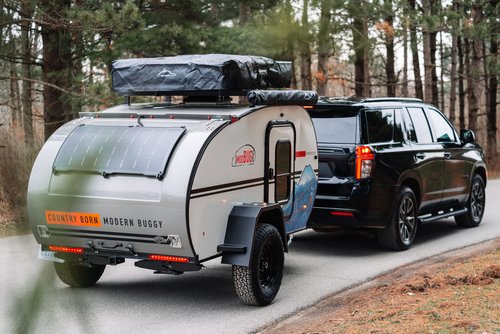 Modern Buggy RV
Modern Buggy RV is a midwest company specializing in durable, all weather, affordable RV solutions to get families outside to enjoy the world around them. The company showed a range of compact tear-drop style travel trailers at the recent Elkhart Dealer Days event, ranging from the Little Buggy 10 RK that's small enough to tow behind a car, but mighty enough to take you off-roading and exploring deep into the woods, to the Big Buggy 14, with with cooling, cooking, and sleeping features guaranteed to keep you focused on the outdoors.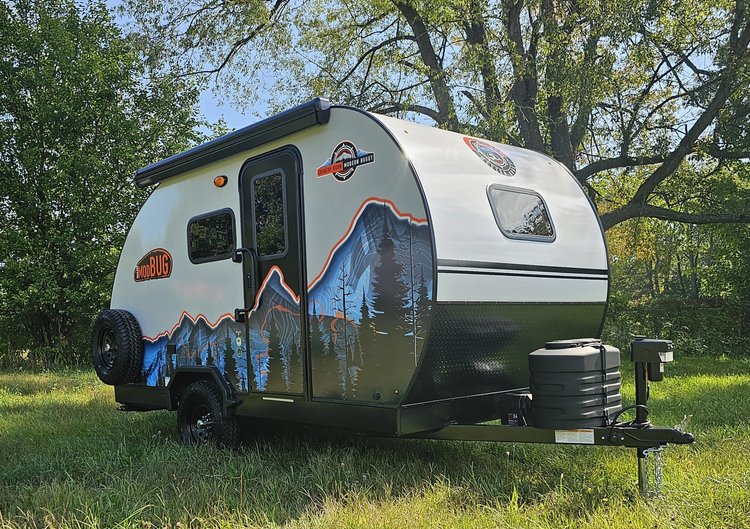 The company has signed several Canadian RV dealers, and is expanding their dealer network throughout North America.
See the Little Buggy 10RK here:
https://www.modernbuggyrv.com/little-buggy-rk
See the Big Buggy here: https://www.modernbuggyrv.com/bigbuggy-14
---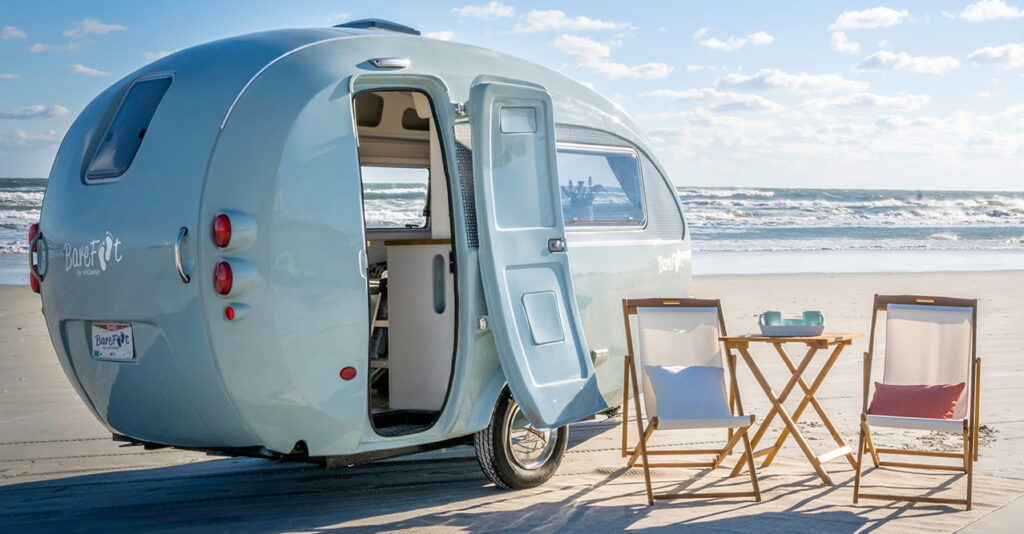 nuCamp RV – Barefoot Travel Trailer
The nuCamp RV Barefoot travel trailer is a nostalgic design camper featuring a spacious interior for a touch of luxury, and a curvy fiberglass body. With a seaglass-coloured body and retro design, the Barefoot makes a statement wherever you go — making this the perfect choice for those that love glamping in style.
For more information, please visit https://nucamprv.com/barefoot-camper
---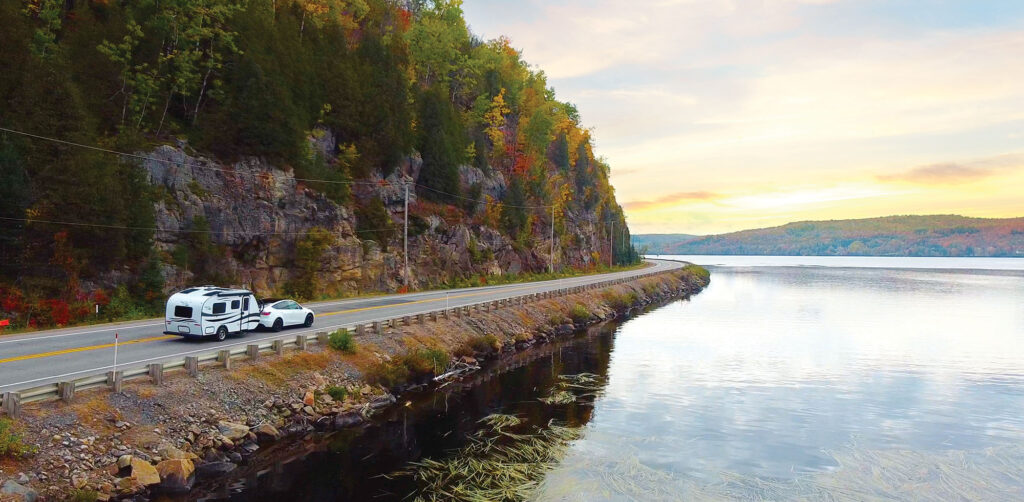 Prolite Trailers – Roulottes Prolite
This Canadian manufacturer of ultra light trailers offers a wide range of ultra lightweight trailer models that can be adapted to your everyday vehicle. With dealerships throughout Canada and a growing network of US showrooms, these compact travel trailers are the class of the industry in this category.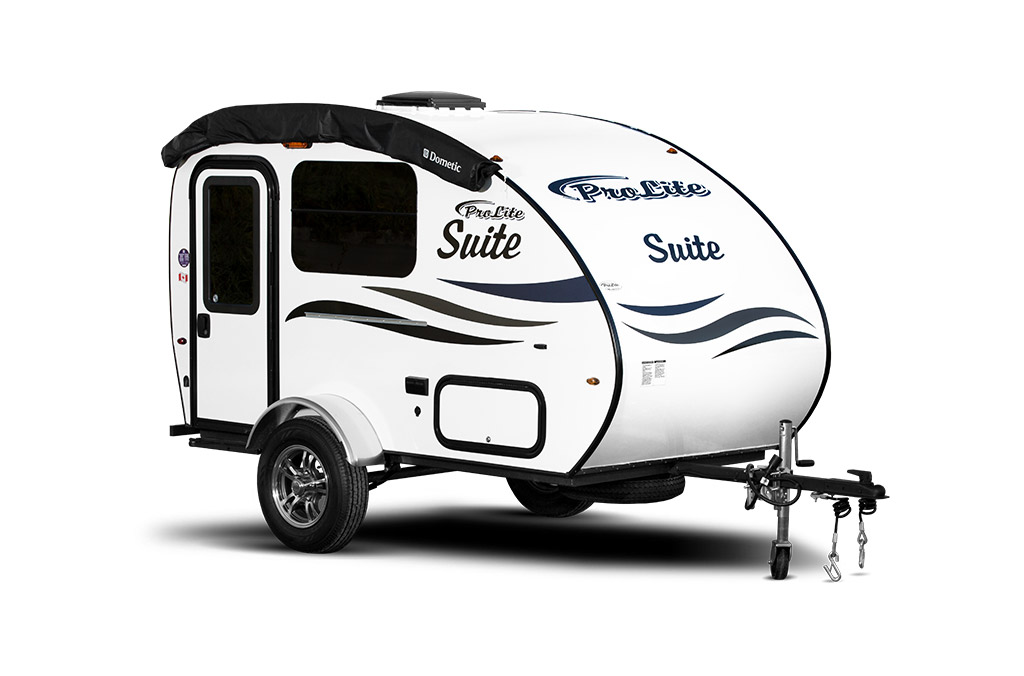 Prolite trailers are waterproof, reliable and innovative. They have a one-piece shell roof covered with fibreglass; a high quality product known for its durability and increased resistance to shocks, scratches and UV rays. The walls are insulated with panels of DuroFoam, a closed-cell insulator made of expanded polystyrene, which is known for its long-lasting thermal resistance and preventing of water infiltration. The 5/8″ plywood floors covered with Tekmodo composite panels offer extra protection when travelling on the road or during prolonged stops in very humid places. In addition, all waterproofing seals offer an extra guarantee assuring the reliability of your Prolite trailer, through the use of innovative materials.
The smallest of the Prolite models, the Suite, is 11 feet 10 inches and weighs 590 lbs. Specially designed for sub-compact cars with a very small towing capacity, the Suite can accommodate 2 people, with a sofa-bed of 76″x52″ and a shelf that can be converted into a table during rainy days.
The largest of the models is 24 feet 4 inches and weighs only 3,700 lbs. Between these two models are an amazing variety of travel trailers that meet and exceed the needs of all types of camping enthusiasts.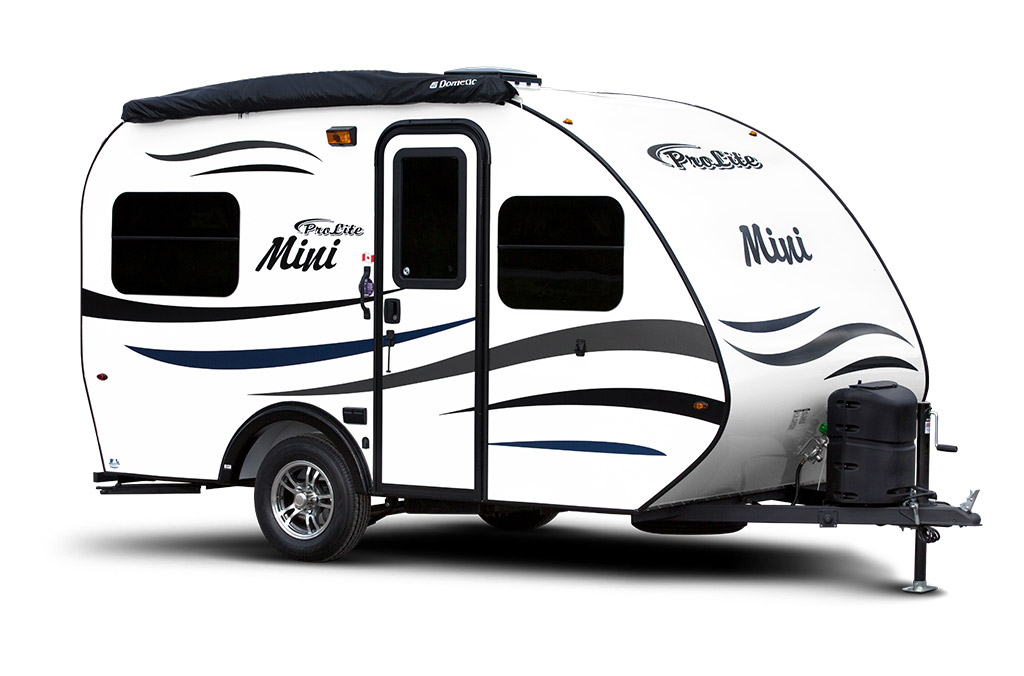 The most popular model in its category, the Prolite "MINI" weighing just 1150 pounds (dry), it is specially designed for compact cars with a towing capacity of 1500 pounds or more.
This camping trailer can easily accommodate 4 people, with a 74″x54″ sofa-bed, and a table independent from the bed which can also convert into a 74″x48″ bed. It has everything you need for yourcomfort; heating, fridge, stove…
Watch the video:
---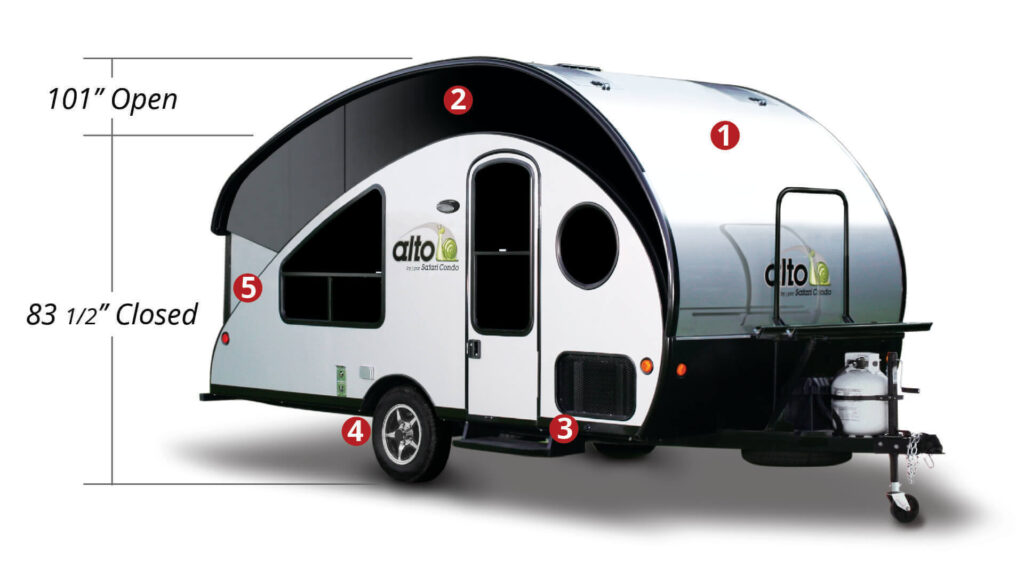 Safari Condo – Alto
The Aircraft-inspired Alto travel trailers from Safari Condo combine light weight, aerodynamics and durability. As the factory reps like to say, "your car will love taking off with it!"
The Alto's independent Flexiride suspension and very low centre of gravity provide great stability. The floor and frame are made of aluminium. For maximum aerodynamics, the weld-free frame supports streamlined tanks. Powerful electric brakes come as standard equipment.
A Green Travel Trailer!

Faced with the steady increase in the price of gasoline and the social responsibility we all share to save non-renewable fossil energy, Safari Condo designs ultra-light travel trailers with the lowest possible drag coefficient that are easily towed by smaller vehicles. Even more environmentally conscious, Safari Condo selects materials that are not only lightweight, but for the most part recyclable.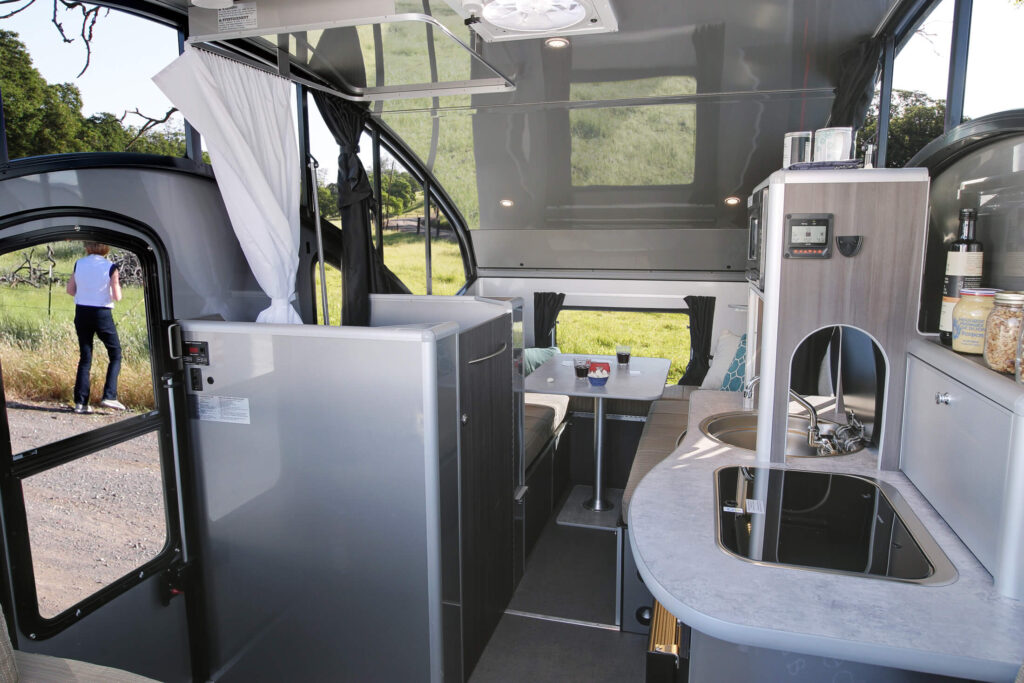 Roof and walls are made of a sandwich-type material with a plastic honeycomb core laminated with aluminium on one side and Alufiber or aluminium on the other. Alufiber combines the lightweight of aluminium with the durability of fiberglass. The only materials used in building the Alto are those on which water has little effect such as aluminium, Alufiber, plastic, Formica and glass. Inside, the furniture consists largely of aluminium and composite materials. Rigid and ultra-light sandwich panels are integrated into the bed cushions, while the entire bed structure is made of aluminium extrusions.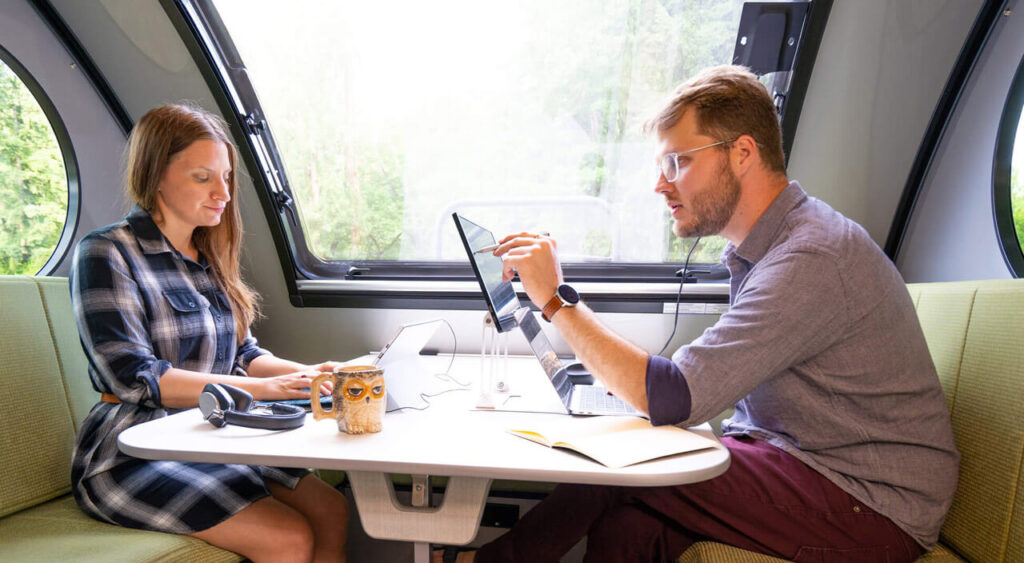 Safari Condo Alto R1723 highlights: The Alto R1723 features a 60″ X 76″ king size bed, front dining area that converts to 36″ X 81″ single bed (dining area available even while main bed is set-up) – the table can be moved to create two distinct dining areas: a two-seat and a five-seat dinette. The trailer has a fixed flush toilet with black water tank, interior shower with curtain, storage in the toilet cabinet, lithium self-heated batteries (standard on 2025 models).
Experience the Alto line of travel trailers from Safari Condo by starting at the website:
https://safaricondo.com/en/
---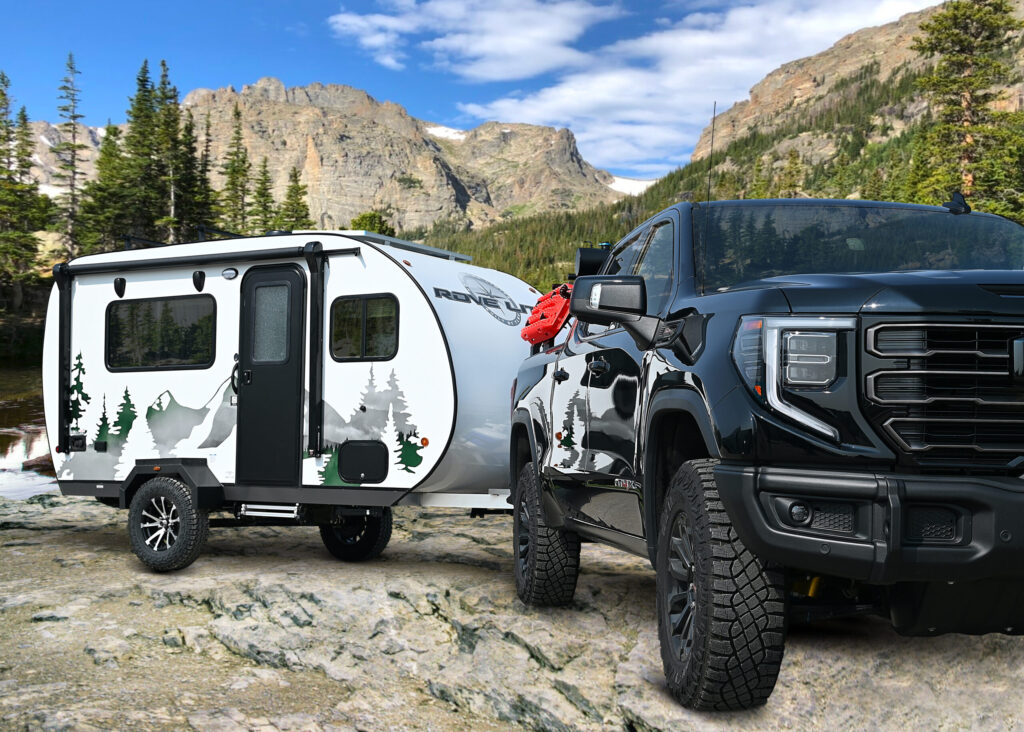 Travel Lite Rove Lite
Travel Lite RV is making adventure more affordable with the Rove Lite — an ultra-lightweight travel trailer line. Featuring an aerodynamic teardrop design crafted from revolutionary Hydro-Lite material, the Rove Lite is one of the most affordable travel trailers on the market and light enough to pull behind even the smallest of vehicles.
For more information please visit: https://travelliterv.com/rove-lite/
---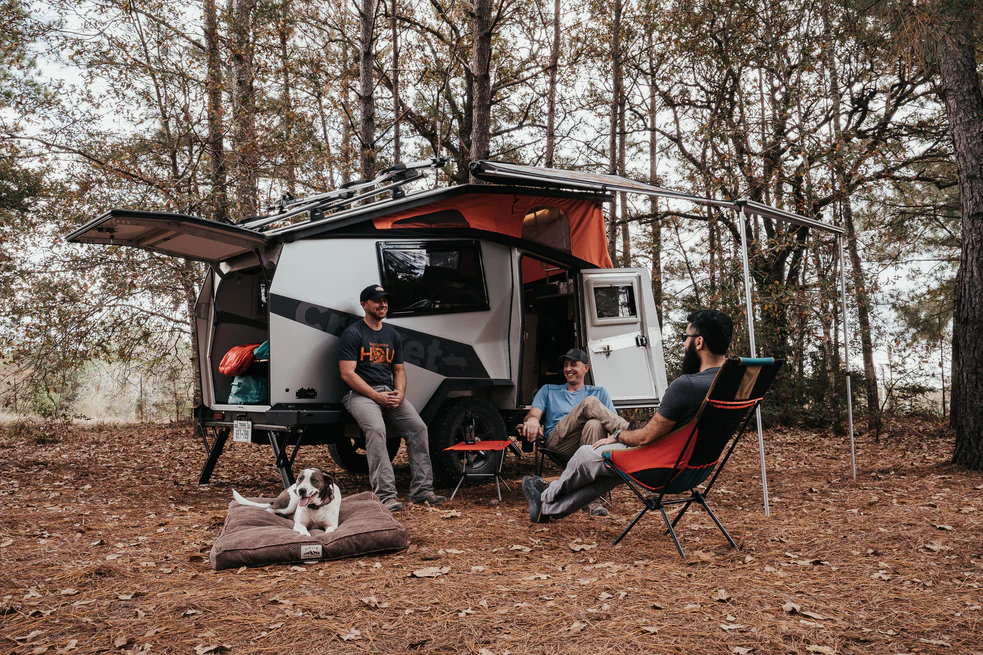 Taxa Cricket Overland
With increased ground clearance, Taxa engineers have created a rougher, stronger Cricket for you to travel farther down a dirt road. Sleeping room for two adults and two children. TAXA's NASA-inspired design and integrated plumbing and electrical systems prepare you for excitement wherever the journey takes you.
For more information on the full range of Taxa compact lightweight adventure vehicles, please visit:
https://taxaoutdoors.com/
---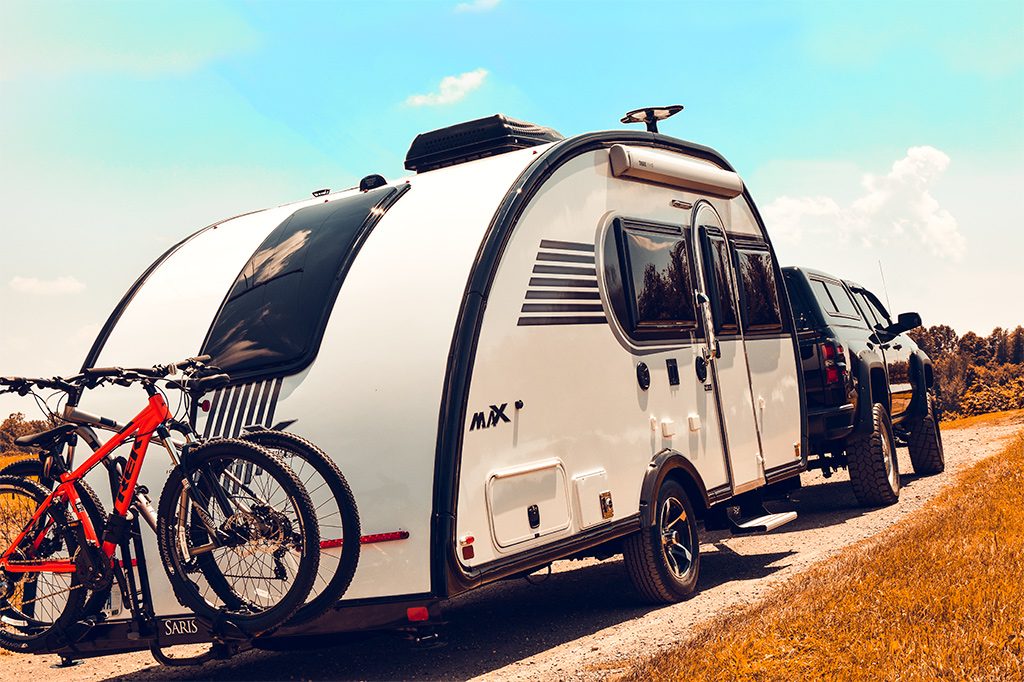 Xtreme Outdoors – Little Guy Max
Changing the light trailer game, again.
Starting at just 3,060 pounds, the Max comes standard with an abundance of deluxe features and a refined exterior style. With an impressive 6'7" interior height, the Max's versatile cabin space incorporates lush materials to sleep and live comfortably, and thoughtful details – from ample storage and charging outlets to innovative entertainment features and LED lighting – the interior is an adventure all by itself.
For more information, please visit: https://goxtoutdoors.com/
---