Are You Ready for RV Fun?
By Jamie Russell, "The RV Fixer".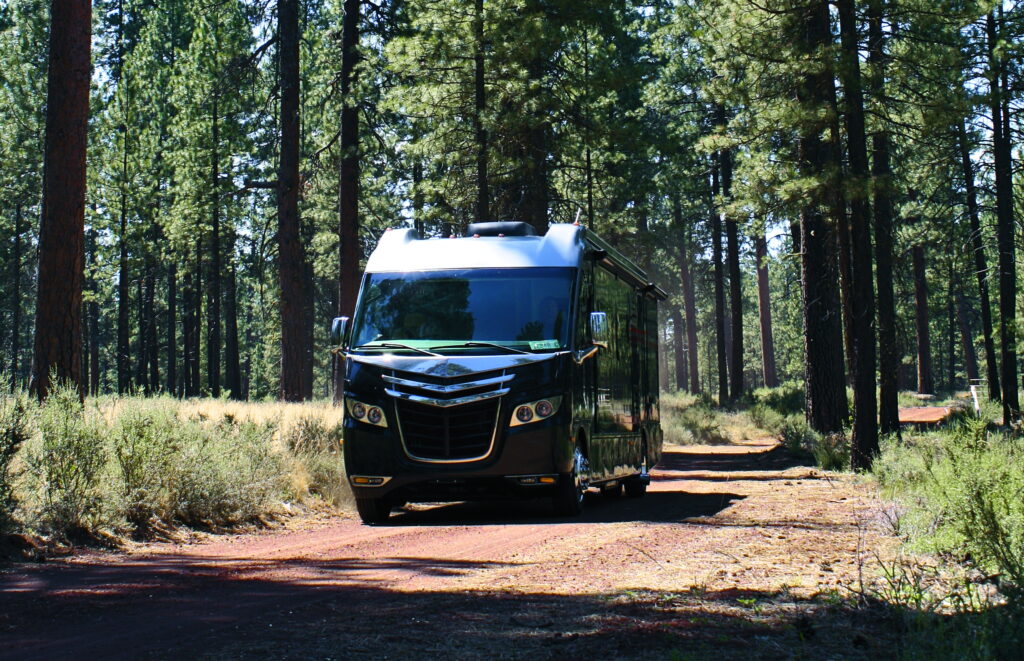 It seems inevitable that every RV trip begins with the realization that you left something behind. Even if you plan your trip and double check your gear, you may arrive at your campsite to discover that your sewer hose doesn't fit properly, the water hose is a metre too short, the electrical hookup adapter has disappeared into thin air, and you don't remember where you put your work gloves.
Here are a few tips to help you get started and make the season more enjoyable and trouble free.
Some basic equipment you should carry to enhance your camping experience when you set up your RV at a campsite:
No RV is fully equipped without an assortment of cables, hoses, and connectors

Extra length of water hose. This will allow you to reach taps and hookups that are located farther away from your recreational vehicle.

Length of extension cord, 30 amp or more, to enable you to reach those far away posts. You will need 30 amp minimum to help decrease minimum voltage loss.
You may want to carry a pair of 10-foot and 20-foot sewer hose kits. Some sewer hookups are farther away on some sites and closer on others. There is no sense in cleaning out a 20-foot hose when a 10-foot hose would work. The flow will be more efficient when the hose is not too long.
A variety of electrical adapters. (30-50 amp, 15-30 amp, 50-30 amp and 30-50 amp). It is your responsibility to know what power source your recreational vehicle requires to enable it to be plugged into 120 volt a/c service. Some campgrounds offer a variety of electrical options (30 amp or 50 Amp service). Some offer only 30-amp service. You should be prepared for both. Some Provincial parks still have 15-amp service made available. By carrying the various adapters you will always be able to have power.
Assortment of common hand tools, ie: screwdrivers, sockets, hammer, etc. This will come in handy when a jack won't go up or down, an awning won't retract or extend, or for other small maintenance issues.
Chemicals for your sewage system. As you know, it is important to treat your black water tank on a regular basis. By using toilet chemicals regularly, it will also help to keep your level sensors clean and functioning properly. Some campgrounds require visitors to use specific holding tank chemicals – please make sure to respect this requirement as it affects the efficiency of the septic field.
Some people like to use pads to help distribute the weight on the jacks so the jacks don't sink into the ground. It can be something as simple as a slab of wood or plastic jack pads that can be purchased at your RV dealer.
To help stabilize your RV after parking it, you may want to use wheel chocks at the front and rear of the tires to help keep the RV from forward and backward movement.
A torque wrench for the wheel nuts with a socket to fit the wheel nuts. This will allow you to check torque on the wheel nuts during your vacation. It is always recommended that you check the torque before hitting the road, and every few hours along the route. You will find the torque specs in your owner's manual.
Tire gauge. Ensure that your tires are correctly filled as per the tire manufacturer Again, you will want to do this before you leave home.
Bring an assortment of fuses to fit your RV. You never know when you may blow a fuse and it is handy to always have extras. If you blow two fuses in quick succession, have a qualified RV tech check for short circuits, frayed wires, or other problems. Never use a higher capacity fuse to solve an electrical problem – this can create a serious safety hazard.
First aid kit. Hopefully you won't need it, but it will come in handy for small injuries and cuts.
Pre-Flight Checklist
Once your RV is loaded, hooked up to the tow vehicle and ready for the road, it's time to do a circle check of your rig. This should consist of the following:
The inside of the RV should be secured for travel. Check that all drawers and cupboard doors are closed and secure; slide-outs are in with travel locks engaged; TV antenna is in the travel configuration; window blinds down and secured; coolers, chairs and other free-standing items should be secured.
Do a visual inspection to assure that all lights are functioning properly: brakes, backup, turn signals, etc. If there is a problem, you can use a "Trailer Emulator" to check the 7-pin electrical hookup at the rear of the tow vehicle. This will show you if the problem is a fuse in the tow vehicle, or a bulb or wire problem in the trailer.
Be sure that baggage doors are securely closed and locked.
Make sure that the entrance door is locked, and the steps are retracted and locked.
Do a visual check to be sure that all stabilizer jacks are retracted.
Check the hitch pin lock on the tow vehicle to ensure it is locked. Check chains and break-away cable at the same time. Make sure that the pin holding the hitch draw bar is in place, with the safety cable attached.
If your tow vehicle didn't come with towing mirrors to enable you to see down both sides of the trailer, you will want to add towing mirrors for safe lane changes and backing up.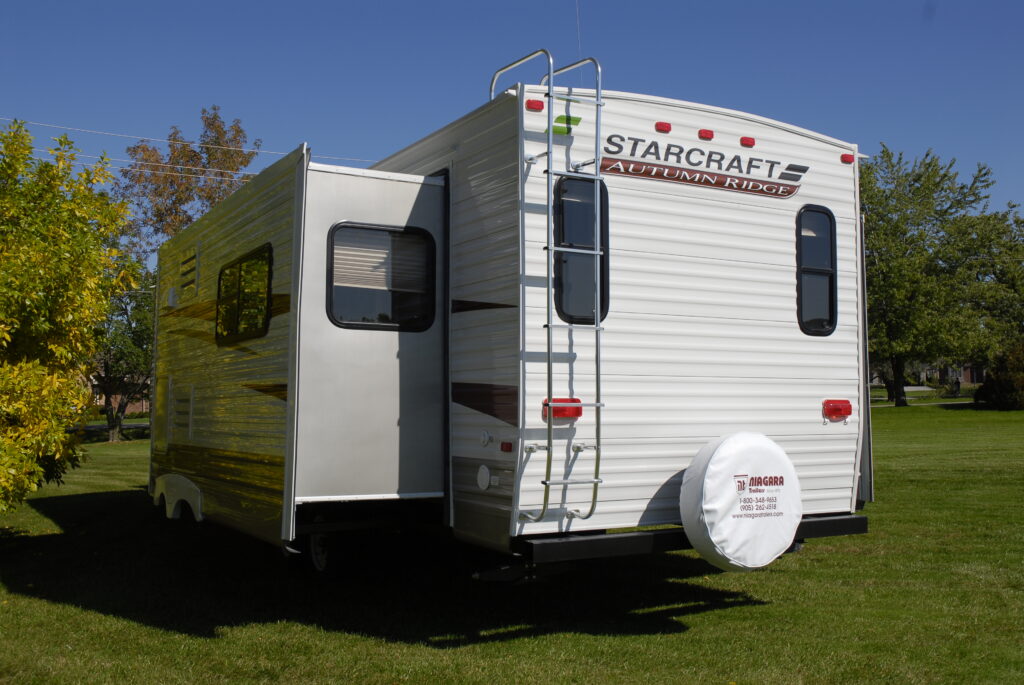 Hooking Up
Once you have arrived at your campsite the first thing to do is to locate the posts for the water and electrical hookups. Decide how you want to situate the RV on the site. Once parked, chock the wheels and disconnect from the tow vehicle. Move the tow vehicle out of the way.  Proceed to level the RV. Put out your slides. Hook up all exterior connections (sewer, water, electrical), and you are ready for campground fun!
At The Campsite…
To derive the most enjoyment from your RV you really have to be familiar with how everything works. The RV manufacturers provide manuals, and in many cases videos and website tutorials… some are not only informative, they are really entertaining.
If something goes wrong, please keep in mind that campground neighbours don't always know how to fix things; when in doubt, call your dealer or a certified RV technician.
Remember, it is the camper's responsibility to ensure that everything is hooked up properly.
RV Boopers Bloopers

Here are a few examples of RV problems from the class of 2016. These are all real documented situations…. Only the names have been withheld to protect the egos of the campers!
One of our campers called to complain that they had no water in the RV. The water hose was hooked up from the supply tap on the post to the RV – but they had forgotten to turn the tap on!
A customer complained that he had no electrical power in his RV. He was certain that it was the campground's power post that was not working. As it turned out, he just didn't have the plug pushed all the way into the receptacle.
Three times last month I responded to calls from customers who had forgotten C to turn on their RV components. You should be familiar with the location and function of the components in your RV (water heater, thermostat, refrigerator, air conditioning, etc.) Again – it's important to read your owner's manual.
Last week, a customer complained that their hot water tank wouldn't light. Everything was working just fine. The customer was activating the wrong switch for the water heater.
A very nice customer called to say that the awning on his trailer seemed to have flipped over the top of the unit. He had not bothered to tie the awning down to prevent wind damage.
Please note that it is your responsibility to retract the awning or to tip it down in bad weather. The best thing to do is roll it up. RV dealers smile when it's windy, it usually signals the start of the busy season for awning repairs.
I hope these tips will help make your camping season trouble-free – if something comes up that is beyond a simple and logical solution, please call your local RV technician.

---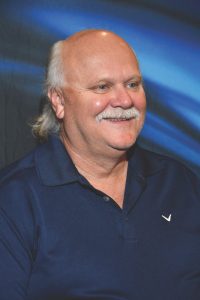 The RV Fixer, a.k.a. Jamie Russell, is the owner of JR's Mobile RV Service, located in Kingston, Ontario.
Jamie has been one of Canada's best-known RV technicians since the '90s.
Jamie was the instructor for the RV Apprenticeship program. Jamie helped to create the apprenticeship program, and he continues to participate as a member of the Education Committee for ORVDA (Ontario RV Dealers Association). As a certified R and Propane Technician, Jamie serves as a member of the CSA (Canadian Standards Association) Board.
For more information on Jamie's JR Mobile RV Service, please visit his website at www.jrsmobilervservice.com