The Mysterious Lights at Marfa, Texas                                        
By James Stoness, with a special sidebar from James Bunnell

"The lights were faint at first, and then I thought there was a fire because of the way they flickered, so I rode over the ridge to see, but there was nothing."
These could have been the words of a cowboy, who in 1883, brought back the story of the mysterious lights he had just witnessed. By the time he had finished telling his tale, everyone in the vicinity knew about it. Although there were stories circulated by the early people to the area, nothing concrete had been observed and reported, up until then. It turned out that many settlers had seen the lights, but were reluctant to speak of them for fear of being laughed at. The locations were investigated, but no traces of fires were found, nor any other reason for the lights.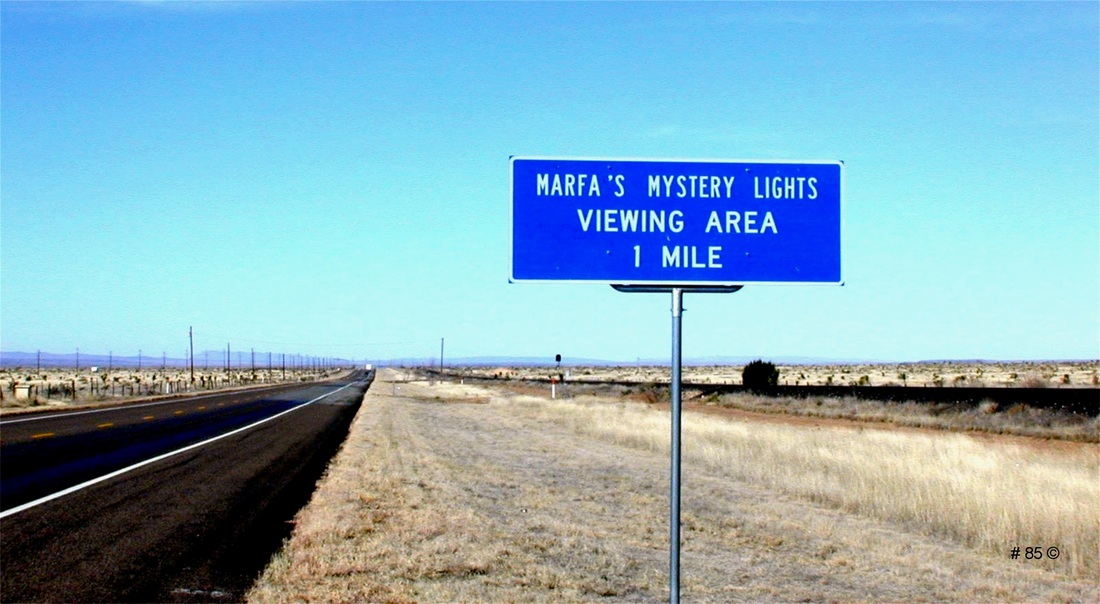 The mysterious balls of light are observed only rarely in this lonely Texas desert, in an area known as Mitchell Flats. The lights have been described as twinkling as they bounce around, moving closer then moving apart, and then disappearing. Their sizes ranged up to football size, and down to just faint pinpoints of light. Colours might be red, or blue, or just resembling a bonfire. There are a few ranches, and workers from the ranches have added to the lore surrounding the lights.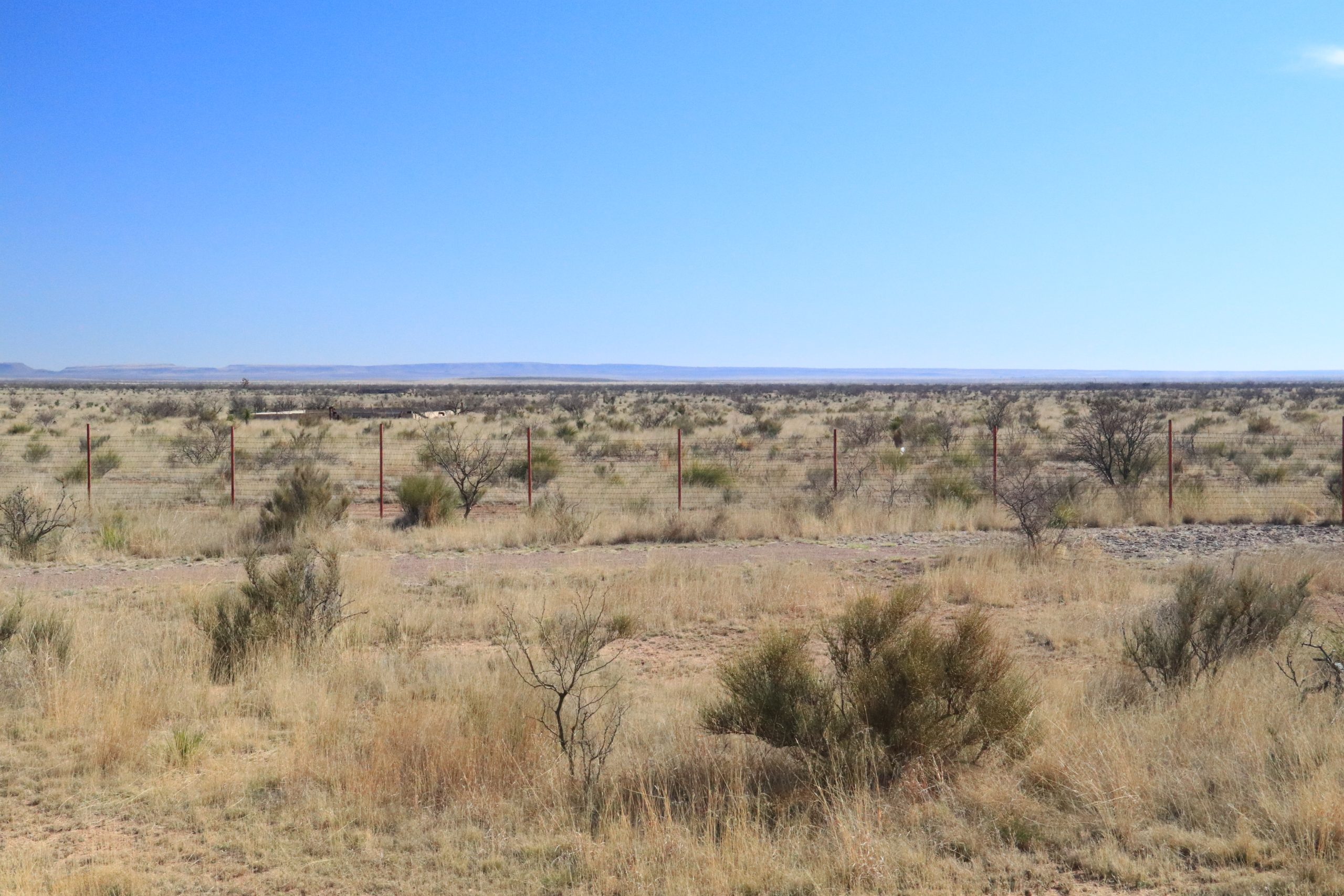 When you look south from Hwy-90 into Mitchell Flats you see an unending flow of desert grasses and shrubs edged by rock slopes, yet the area is not uninhabited. This, the Chihuahuan Desert, has three main types of vegetation.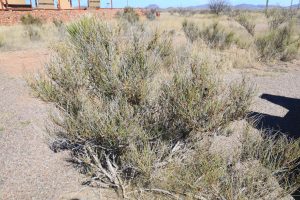 What appears to be scrub consists of creosote bushes, tarbush, mixed with soap tree yucca and sotol.
As well, the Marfa Grasslands range across the flat land to the edges of the mountains. These grasslands grew hay as high as a stirrup on a horse and the early settlers and cowmen looked at the prolific growth of grass with excitement. They figured they could feed thousands of cattle. They tried, and they couldn't. It wasn't long before they overgrazed the area destroying the grass. Without the grassy roots, the soil eroded into gullies during heavy rains, and you are viewing the results.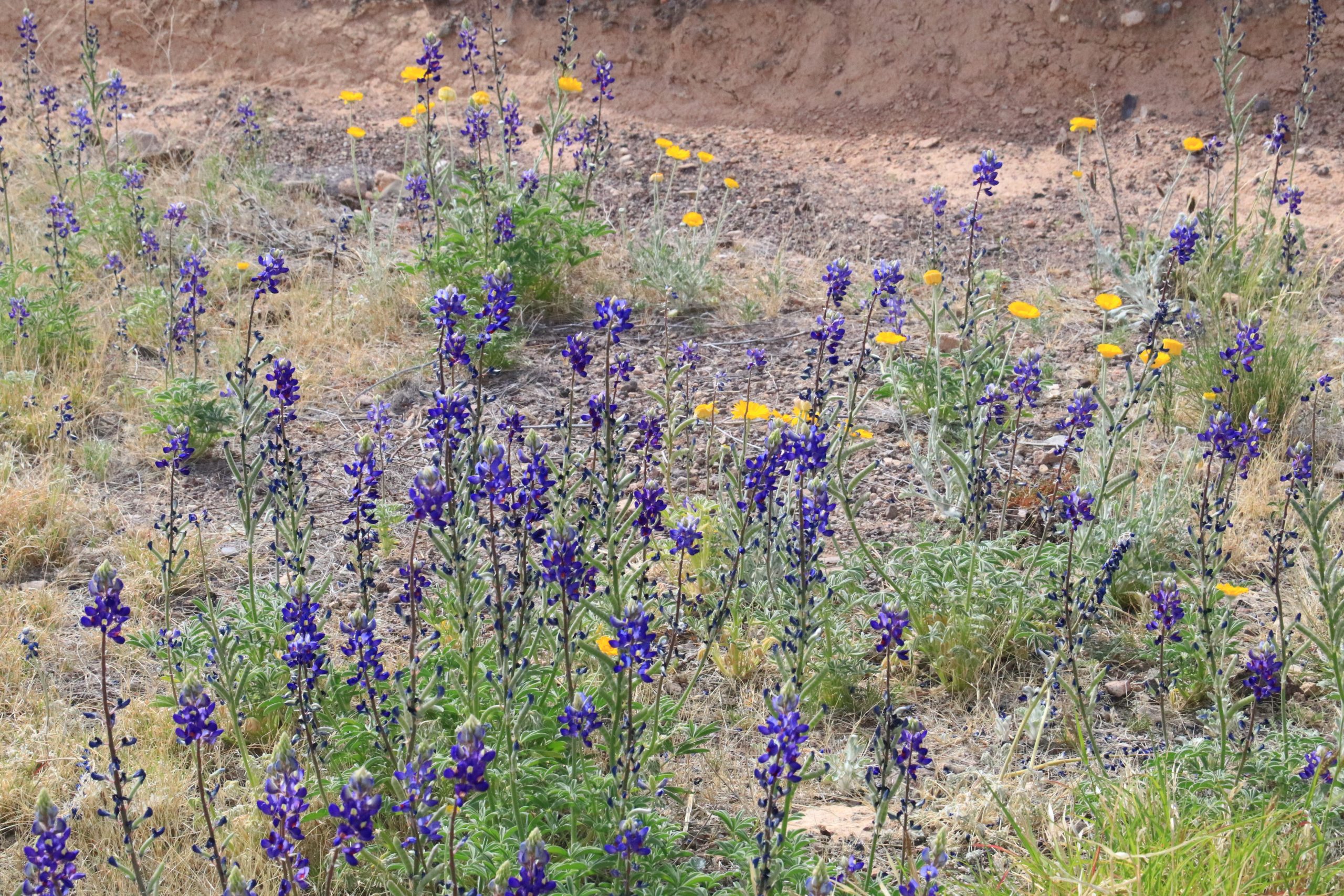 On the higher lands of the mountains, you will see juniper, and higher up the pine and oak trees. When you drive in the mountains you can tell your elevation by the appearance of certain tree types. In this case the juniper thrives best 1600m to 2100m, although it varies as you travel north.
In 1942 the US built a huge airport with six runways where they trained pilots to send into WWII. They also built six auxiliary fields that provided extra training space and a place for a disabled plane to land in an emergency. There were lots of people around during those days and certainly many pilots flew over the area keeping eyes open for any strange reasons for the lights. The presence of so many people, and planes did not affect the strange lights and reports of sighting continued to flow in. Just south of the airport a rail line cuts across east to west and then south to Presidio. So, it's not exactly empty country. When you look south from the Viewing Centre, just across the fence is where the airfield had been, and the railroad is in there too. Now the buildings are gone. Google Earth shows the outline of the airfield.
Many theories exist, putting down the lights as being nothing but lights from the ranches, and from cars coming north from Presidio, on the Mexican border. However, that does not explain the existence of the lights that were reported well before electricity and automobiles.
Some people put a lot of effort into solving the mystery. James Bunnell, a retired aerospace engineer, has done perhaps the most. Over a 10-year span he tried to follow the lights. He arranged to view the desert with a variety of cameras, ranging from normal to infrared. He got lots of pictures, some very interesting, but no definitive answers. He has published four books on the phenomena and postulated a theory or two, and offers a possible explanation of these lights in his "Strange Lights in West Texas" book.
It is now more or less established that the lights more often appear near sunset and dawn. Can there be a clue there?
For a special sidebar by James Bunnell, please scroll down to the bottom of this article…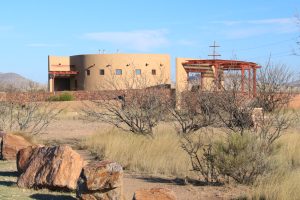 With so many tourists intrigued by the stories of the Marfa Lights, the people of the area wanted the government to erect a building where visitors could stop and view the night sky, searching for the elusive lights. They did not get anywhere until children wrote letters, in their own handwriting. Then a large sum of money became available, and they built a parking lot and a viewing building, with toilets, on the empty desert at the side of Hwy-90, 9 miles east of the Town of Marfa. On the viewing platform are several viewing binoculars.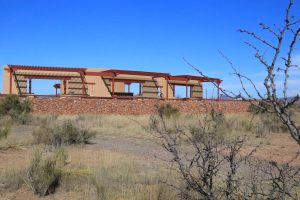 Despite the best intentions of the builders, one man I spoke to, who has done a lot of research on this subject, says the orientation of the viewing centre is incorrect. He says you need to look more to the east, somewhere towards the nearby mountains, and southward. If you look in the more westerly direction you will see car lights of cars coming north on Hwy-67. As they climb through the mountains their lights appear, disappear, seem to rise, and do all the things that Marfa Lights do but these mirages are not the genuine Marfa Lights – only an artifact of distant highway traffic.
If you are lucky, and follow the guidelines presented by James Bunnell in his books and on his website at http://www.marfatxlights.com/index.html, and research the website of the Texas Historical Commission at https://texastimetravel.com/directory/marfa-lights-viewing-site/ you will be well prepared for an evening of celestial observation.
I have seen some lights, but I know they are only distant car headlights because I know where the highway is running. I have also spoken to many people who leave the viewing centre quite excited because they have seen the "lights". I think there should be a sign telling viewers to look more easterly, but I suppose it's good publicity for Marfa, and people go home happy to have seen some lights.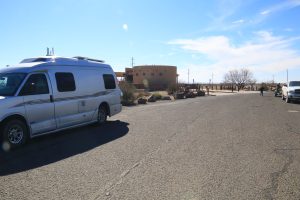 If you plan to devote a few evenings to searching for the Marfa Lights, there are two parking lots where RVers often stay the night, which gives them lots of opportunity to see the real Marfa Lights from the comfort of their own rig.
When you are not scanning the skies at Mitchell Flats, take a short drive to visit the town of Marfa.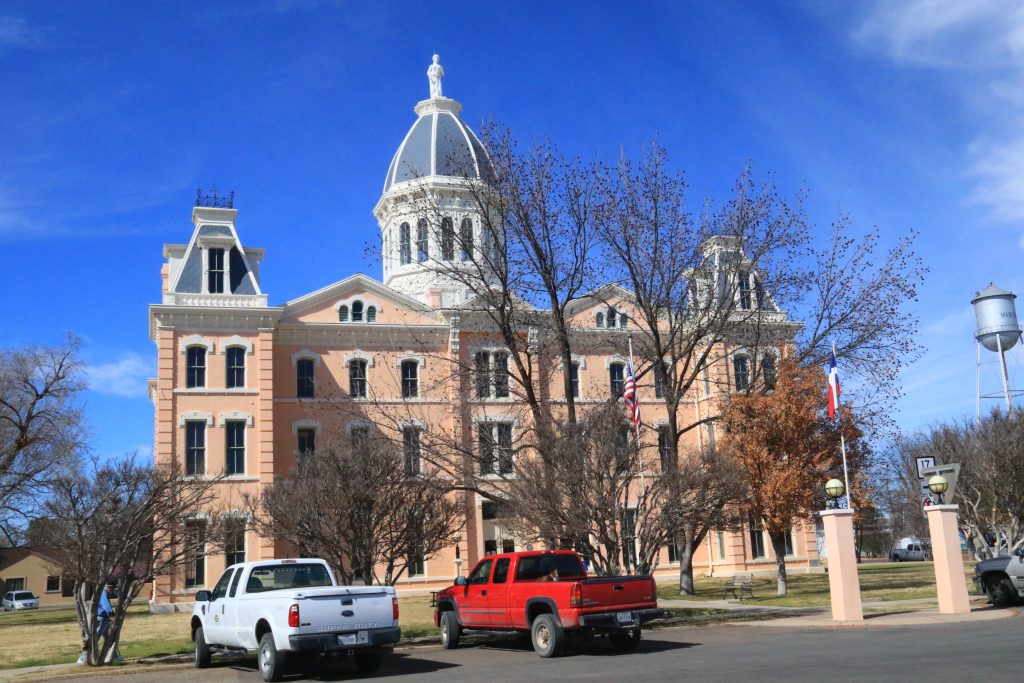 The Town of Marfa has an interesting history that you may not have heard about. In the late 1800's, wells in Marfa supplied the necessary water for the boilers of the steam trains. Settlers rode the train, stopped for a break as the engineers filled up their water reservoirs, and stayed for a while. The town took off when the big airfield and the auxiliary fields built in 1942 brought men and families to town, and Marfa was booming. Unfortunately, that economic boom went bust when the war was over and the government closed the airfields.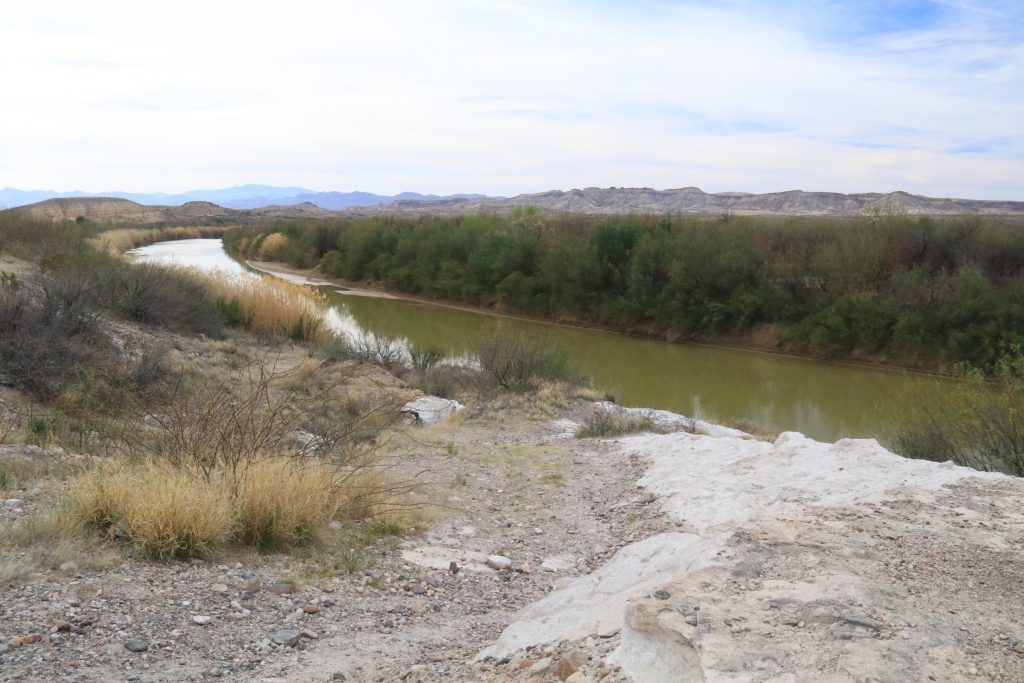 In 1956 Hollywood came to town, looking for a easily accessible location for filming. Names from our past, including Rock Hudson, Elizabeth Taylor, and James Dean descended upon the Marfa area to create the epic western movie 'Giant'. The open desert and rolling terrain were just what the director was looking for to make his picture about the story of Texas oil. He found the lighting was great and the background of misty mountains was perfect. That is, if he filmed in the spring before the heat and drought turned the green plains to a yellow, drab colour. It's not a pretty area at that time of year.
If you are fans of the 1956 George Stevens movie Giant with Elizabeth Taylor, Rock Hudson, and James Dean, there are a few poles left that were part of the main movie set, and near Hwy-90 the frames of the windmills where James Dean would sit, are still there.
If you are a James Dean fan, as I am, when you finish reading this article, take a minute to read M.B. Wilson's RV Lifestyle Magazine story "Cool Lived Here" – follow this link: https://www.rvlifemag.com/fairmount-indiana-cool-lived-here/
The townsfolk in Marfa got to know the actors and had a few bit parts. However, try to find out about the town and surrounding area during the years when it was a Hollywood film location, and you will be disappointed. Very little remains. I stopped by the local newspaper to see what I could find out. I was greeted with, "What do you want?" Not, "Can I help you sir?" I didn't stay to sample more friendliness.
I walked around the streets and found that the town's new life is based upon a plethora of artists and artistic creations. The streets were almost empty of visitors and cars.
In the Area:

Thirty-four kilometres north of Marfa is Fort Davis where you can visit the old Frontier Post. It's one of the better kept old army forts. It protected freight, and travellers along the old east-west road. At one time there were 400 soldiers. Visit the website at:  https://www.nps.gov/foda/fortdavisfrontierpost.htm
Nearby are the Davis Mountains, a pleasant drive on their own merit. You can also visit Davis Mountain State Park with rest, camping, and good trails, in the cooler air.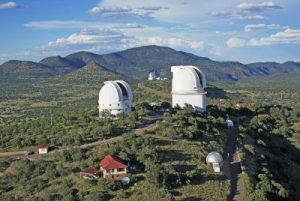 You might enjoy a visit to McDonald Observatory on top of the Davis Mountains. They have several telescopes that are used fully by astronomers to study the sky. It's a perfect setting in a Dark Sky area. The lack of population and big cities cuts down on light that would spoil their viewing.
The 11m Hobby-Eberly telescope penetrates deep into space to study light from galaxies and stars.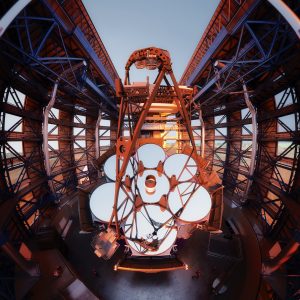 The Giant Magellan Telescope is a next-generation telescope that will yield important discoveries on topics such as galaxies in the early universe and Earth-sized planets orbiting nearby stars. The University of Texas at Austin is investing an additional $45 million in the GMT, which brings the university's total commitment to $110.3 million.
For more information on visiting the observatory, please visit https://mcdonaldobservatory.org/
Going south from Marfa on Hwy-67 you will reach Presidio, on the Mexican Border. Then driving east will take you through scenic mountain country with views of the Rio Bravo as it winds through the desert separating Mexico from the USA. The road passes by the side of Big Bend State Park, and eventually reaches the entrance to Big Bend State Park.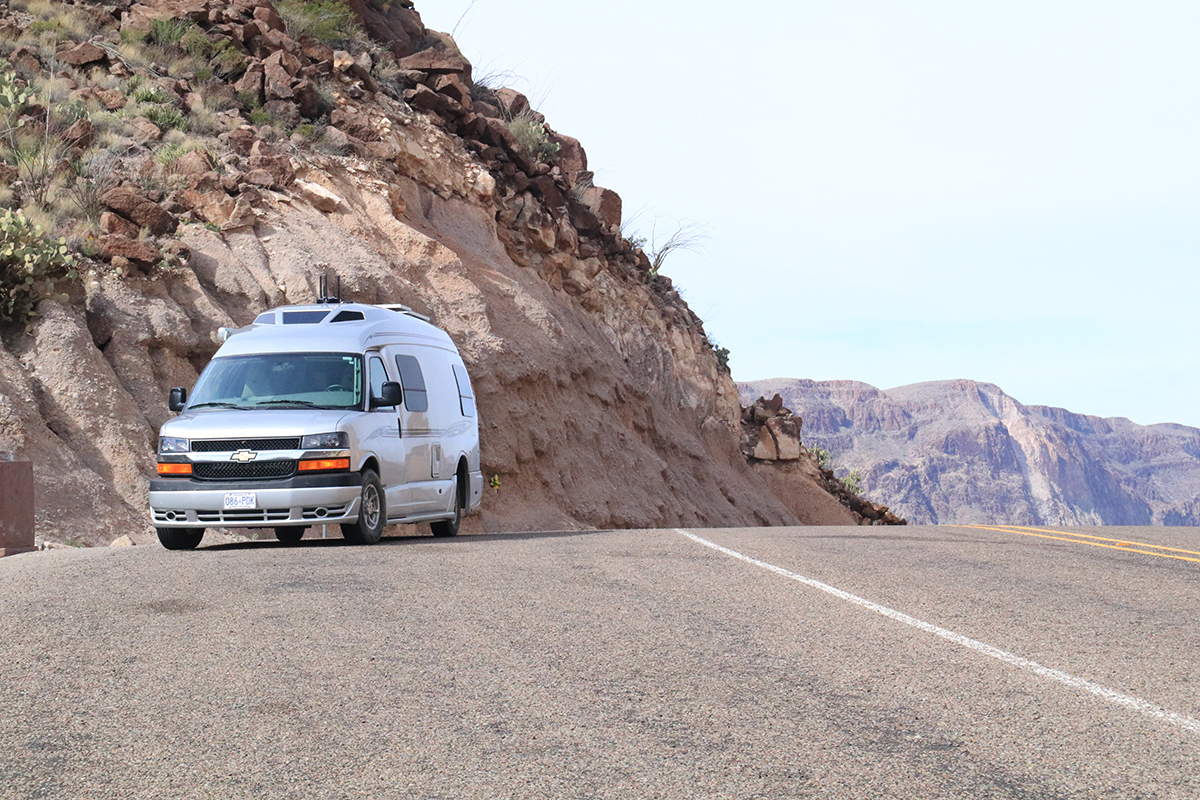 For more on Big Bend, please see my feature story – https://www.rvlifemag.com/exploring-the-rugged-terrain-of-big-bend-state-park/
Note: This is a hilly, winding road, with a hill at 18% that has stalled a few vehicles heading west and climbing the hill. In a recent discussion with James Bunnell, he suggested that there is another way to reach the park by driving first to Alpine.  From Alpine the park can be reached without encountering any steep grades
There are a few campsites along the river and many more in the state park, but the drive into the headquarters is long, and rough gravel, and many of the other roads are just rough trails.
East of Marfa is the Town of Alpine. It was named supposedly after the Swiss Alps, but I don't think whoever named them had ever seen the Alps. They don't look anything like them.
What are the lights? People suggest they are will-o'-the-wisp, which are lights that hover over marshy ground. Others put them down to light reflecting from warm or cold layers of air, much the same way we see a mirage. The mystery has still to be solved, and until it is, it's good fun looking for them.
SIDEBAR:
The Definitive Story of The Marfa Lights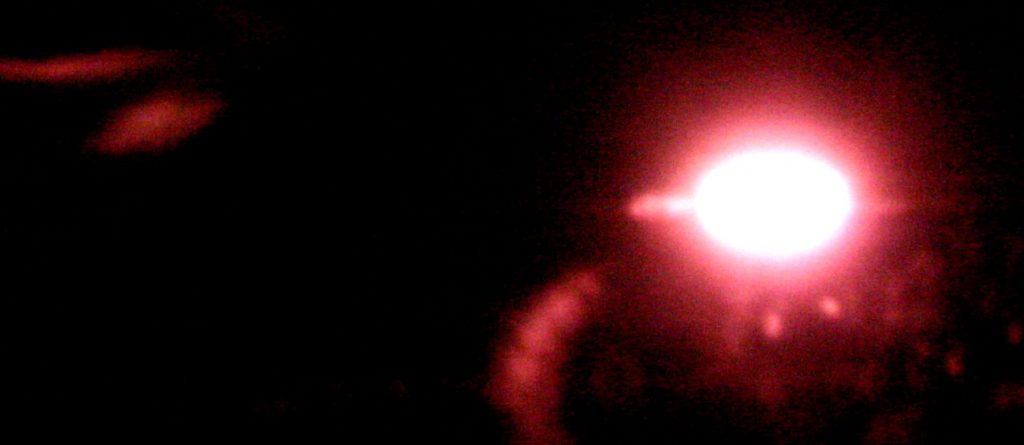 We contacted James Bunnell, who was kind enough to provide RV Lifestyle Magazine with the following sidebar to this story…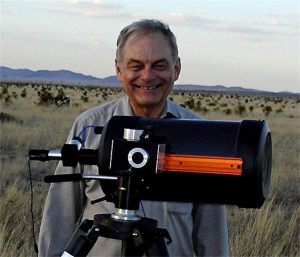 "After being intrigued by amazing Marfa Light displays in November 2000, I started investigating these phenomena and did so somewhat intensely for over a decade. Skeptics will tell you that they are just car lights and/or mirages. Sure, there definitely are car lights and mirages visible in Mitchell Flat and they do catch people's attention, but I am also certain that genuine mysterious light phenomena do manifest, from time to time, in and above Mitchell Flat, east of Marfa, Texas."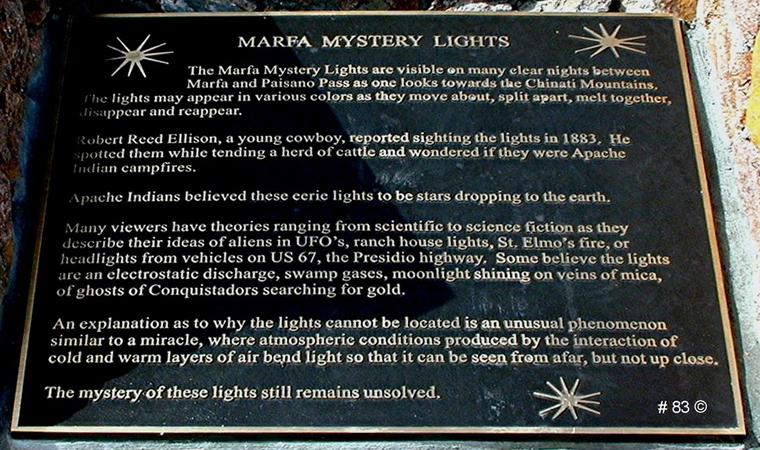 The million-dollar question on the minds of those who have experienced seeing them is "What to heck are these things?" It goes without saying that many smart people have studied them and searched for answers, as have I. My investigation included personal review of automated video from up to ten cameras that recorded every night for many years. A discovery phase that provided me with great insight into all light sources in and around Mitchell Flat including mysterious phenomena I call MLs (mystery lights) as well as night mirages (they definitely do exist at night in the Marfa Basin) along with ranch lights and vehicle lights of every description. Data collection using automated cameras was supplemented with 288 nights of onsite observations using telescopes with single lens reflex cameras as well as many types of sensors. These data collection methods enabled cataloging of behaviours, characteristics and locations and as documented in my 2009 book, Hunting Marfa Lights.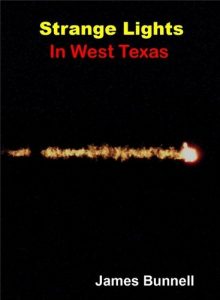 For ML stories from those who have witnessed them, where to look, colour maps and pictures of recorded MLs events, and much, much, more, I invite you to purchase and read my fourth and final 2015 book, Strange Lights in West Texas, in which I offer my explanation regarding the nature and origin of Marfa Lights.
A signed copy may be ordered from my website at http://www.marfatxlights.com/index.html and shipping is free.
RV Lifestyle Magazine's Travel Editor, James Stoness is the author of 'Touring North America', a series of travel guides on CD to help you plan your trips across North America, as well as a series of novels. Visit his website to read his novels and travel guides – https://stonessrvtravel.com/