Heartland RV Introduces New Sustainability-Focused Solar Packages
Elkhart, IN, September 14, 2022 – Heartland RV, a leading manufacturer of high-end fifth wheels, travel trailers and toy haulers, is excited to present a new line of solar packages available across RV models.
SŌL – Powered By The Sun offers multiple tiers of solar energy systems created to meet the growing need of customers for new technology and more sustainable RVing practices.
SŌL – Powered By The Sun currently comes in various tiers:
SŌL Prepped, the baseline tier, provides a roof docking port, up to eight prepped outlets, a 30-amp charge controller and all wiring necessary to add up to two 190-watt solar panels.
SŌL 190 includes one 190-watt monocrystalline solar panel with mounting bracket, an inverter fuse kit, and everything from SŌL Prepped.
SŌL 380 includes two 190-watt monocrystalline solar panels with mounting brackets, a2000-watt power inverter, an external transfer switch and everything from SŌL 190.
And SŌL 330 is for our Fifth Wheel Toy Haulers and includes one 330- watt monocrystalline solar panels with mounting brackets, a 2000-watt power inverter, an external transfer switch, and up to 8 outlets prepped.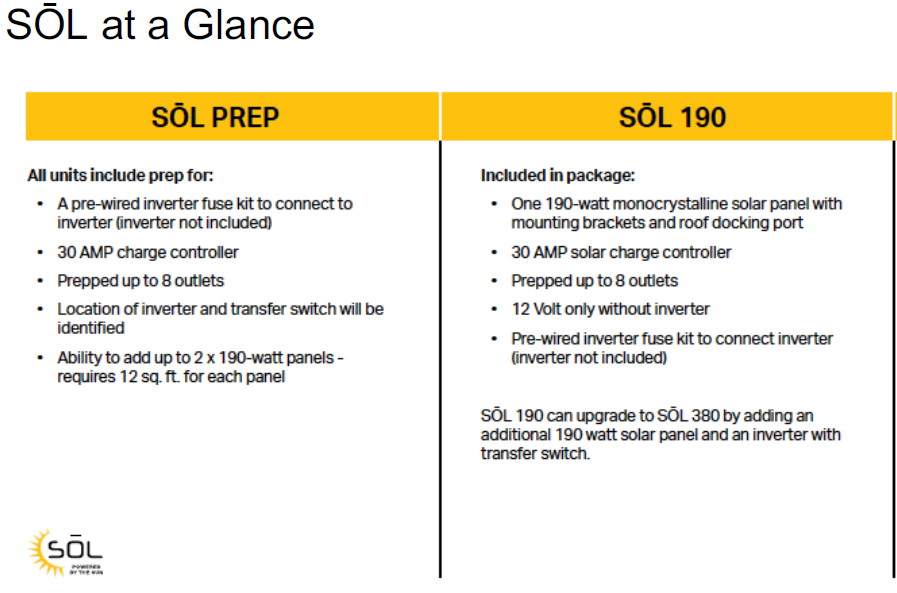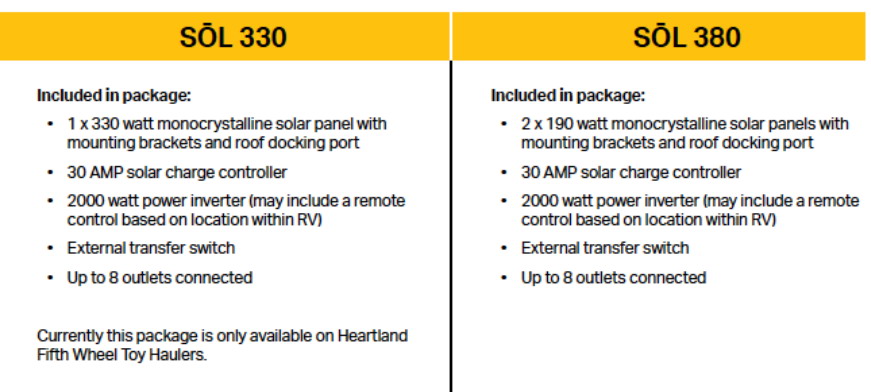 The SŌL – Powered By The Sun system is simple to expand, allowing dealers and customers to increase solar capability and adapt components to customize their solar package. Solar packages are available to purchase through Heartland's customer service and parts department. Heartland's goal is to allow campers to adapt components to their solar needs both in the present day and for years to come.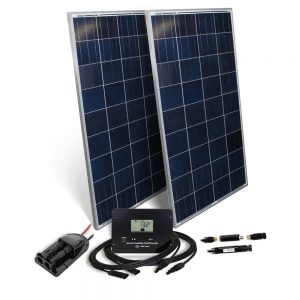 Solar power can help reduce energy costs, provide clean and renewable energy, and offer flexibility in travel. It's also quiet and requires minimal upkeep, which makes the upfront costs an investment in years of low-maintenance use.
The introduction of SŌL – Powered By the Sun helps meet customer demand for robust solar options and joins existing sustainability programs at Heartland. Ongoing efforts are focused on reducing manufacturing waste, increasing recycling of materials and streamlining manufacturing practices with automation.
"SŌL – Powered By The Sun fits into our larger sustainability goals by offering a complete solar solution for every RV model we create," said Jim Fenner, Vice President of Engineering, Quality and Customer Service at Heartland. "As part of the outdoor travel industry, we feel it's our responsibility to provide smart, energy-efficient solutions in our RVs to help preserve the natural beauty of the outdoors for generations to come."
Heartland RV has entered into an exclusive agreement with AIMS Power to provide solar components through distributor Collins & Co. Established in 2001, AIMS Power supplies the largest selection of DC to AC inverters, solar panels, and solar charge controllers to OEMs and the RV aftermarket. The company is headquartered in South Reno, Nevada and will have an additional distribution facility in Davie, Florida in 2023.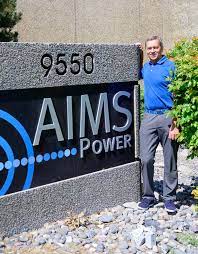 "When Heartland RV decided to add solar across their entire product line, it was an honour for all of us at AIMS Power to be selected as their exclusive partner," said Bruce de Jong, President of AIMS Power. "Together we have designed various systems for every unit they manufacture. Through Collins & Co., we will be supplying products including solar panels, charge controllers, power inverters, and other required equipment for the best mobile experience in the industry."
SŌL – Powered By The Sun packages are available in all new Heartland models starting in October 1, 2022.
To learn more about HEARTLAND® products, visit www.heartlandrvs.com, and join the conversation on Facebook, Instagram and YouTube.
To find a Heartland RV dealer in your area, please visit: https://heartlandrvs.com/find-your-dealer/
ABOUT HEARTLAND RV
Heartland Recreational Vehicles, LLC, manufactures and markets towable RVs through leading brands such as CYCLONE®, NORTH TRAIL®, and PROWLER®. For more information about Heartland RV or its products, please visit www.heartlandrvs.com. Heartland RV is a subsidiary of THOR Industries.