Rolling Along in the Roadtrek RS-Adventurous
Road test and photos by Norm Rosen
The Roadtrek RS-Adventurous embodies the essence of Canadian RV manufacturing ingenuity. Totally at home as a family van, and the ideal size for a couple or a small family, this is the epitome of the class B motorhome category.
---
We first met Jac Hanemaayer back in 1974, when he rolled into Montreal, and stopped by our Camping Canada Magazine office to invite us to take a look at a brand new type of RV. He described it as a cross between a class A and a class C, but it was much more than the traditional class B motorhome of the era. The original Home & Park motorhome incorporated the first truly functional bathroom, with full shower, that we had seen in a motorhome of this size. The vehicle had a host of innovative features that Jac had designed – and all of these distinctive Home & Park developments were in the process of patent applications.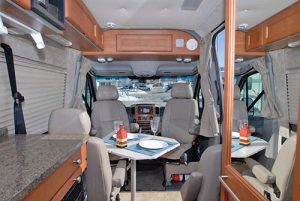 To say that we were impressed with that motorhome would be an understatement. It was a landmark in the Canadian RV industry – so different from anything else on the market that when we visited the annual RV industry trade shows, engineers from rival companies could often be seen crawling under the Home & Park motorhomes to see how Jac accomplished so many interesting adaptations to the conventional van chassis. This continues to this day – 37 years of innovations, and we have photos of people at the shows checking out the patented engineering features of the Roadtrek models!
Home & Park Motorhomes recently changed its name to Roadtrek Motorhomes. Today the original spark of creativity remains strong in the Kitchener, Ontario company. Under the guidance of Jac's son, Jeff Hanemaayer, the Roadtrek motorhomes have become the benchmark for the North American class B motorhome segment, with tens of thousands of loyal owners across the continent. Since 1990, Roadtrek has been the most popular class B motorhome line in North America – it seems that everywhere you roam, there is a Roadtrek in someone's driveway… Dolly Parton and her husband have two Roadtreks… Ronny Hawkins has one, and so do thousands of families throughout Canada, the United States and even Japan – it truly is "a motorhome that drives like a family van".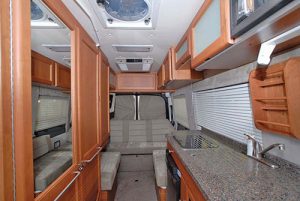 We selected the Roadtrek RS-Adventurous for our 40th Anniversary issue because it embodies the essence of Canadian RV manufacturing ingenuity. Totally at home as a family van, and the ideal size for a couple or a small family, this is the epitome of the class B motorhome category.
In the 21st Century, fuel efficiency is a key element in the feature list for any RV. The 2011 RS-Adventurous is built on the highly acclaimed Mercedes-Benz Sprinter chassis – to our minds, this is a fitting match of two legendary brands. The Mercedes Sprinter chassis is a world-class vehicle, with vast numbers in use in commercial van applications throughout the world. If you haven't driven a European-designed chassis, you are in for a treat. Built for getting in and out of the narrow streets of Europe, the Sprinter chassis is delightfully maneuverable. Engineered for use in countries where fuel is priced far beyond what we are used to in North America, the CRD turbo diesel V-6 engine delivers excellent fuel efficiency. Intended for use where the hills are called "Alps" the chassis is powerful and responsive – a combination that is very hard to beat, regardless of where you drive!
The Mercedes-Benz engineering shines through as you navigate the highways and byways of North America. The Electronic Stability Program integrates traction control and anti-lock braking systems to optimize handling in response to the load carried in the vehicle. Steering and controls are more like a luxury car than a traditional family van – the five-speed automatic transmission is smooth and quiet – the 10-way adjustable seats have lumbar supports and headrests – you could drive all day long in total comfort, and feel refreshed when you reach your destination. It is an immensely pleasurable driving experience, on any roads, in any conditions.
There are several interior floor plans and two chassis lengths within the Roadtrek Sprinter line. We tested the largest model first, then the compact version. You can determine which model best suits the needs of your family.
Comfort and Convenience
The galley in a Roadtrek is reminiscent of an executive jet, where you have all of the appliances in as compact and efficient a space as possible.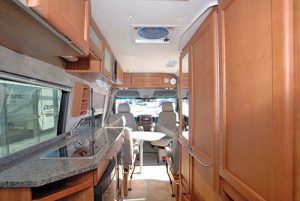 The 2011 RS-Adventurous provides comfortable sleeping accommodations for two to four people, with two rear bedroom configurations – our test model had the optional rear power sofa that converts into a 78" x 69" king-size bed or 78" twin like beds. You can select a dinette that converts to the same size king or twin beds, as you prefer. With the quad front captain's chairs, you can dine and entertain in the front of the vehicle, and keep the rear bed(s) set up for the convenience of you and your travel mate(s) rising or retiring at different times.
While most of the class B motorhomes utilize fully-reclined captains chairs for sleeping accommodations, the Roadtrek RS-Adventurous has a better idea – optional folding mattresses rest on top of the four seats to create two completely flat very comfortable single beds. During the day, the mattresses fold and stow in the rear bedroom, and you can swivel the captain's chairs to watch TV, or enjoy the scenery as you tour – if you don't anticipate the need to sleep more than two people in the vehicle, you can store the optional mattresses at home for another trip. For most Roadtrek owners, the usual configuration of the front lounge area has the quad captain's chairs are swiveled to create a very comfortable dining area for four people.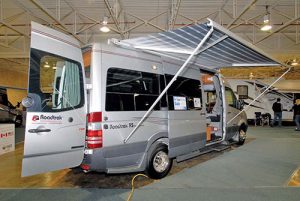 Travelling in a class B motorhome is a unique experience. Every square inch of space has been utilized, often with dual applications. While there are more than a dozen patented innovations in the 2011 model, the most unique and ingenious aspect of the Roadtrek remains the washroom, which features a space-saving design that integrates toilet, sink, and shower, without taking up too much of your valuable interior floor space.
Jet-Age Galley
The galley in a Roadtrek is reminiscent of an executive jet, where you have all of the appliances in as compact and efficient a space as possible. For most Roadtrek owners, the ease of travelling in a class B motorhome, compared to a travel trailer or a larger motorhome, tends to encourage the storage of a limited amount of food and supplies on board – it's so easy to take a trip into town to "stock up". The 3.8 cu. ft 3-way refrigerator is a good size for a vehicle of this type, and the microwave/convection oven is ideal for a small group. You wouldn't expect to have a large galley in a vehicle of this type, but it is amazing what you can do in a Roadtrek – after preparing a few meals, you realize that it has all the kitchen facilities you really need for up to four people. There is even a 12V macerator, which is a real convenience when it comes time to empty the waste water tanks. Instead of relying on gravity through a conventional 3" sewage hose, solids and liquids are chopped and ejected through a 1-1/4" hose.
Ideal for Two or Four, Tours up to Seven!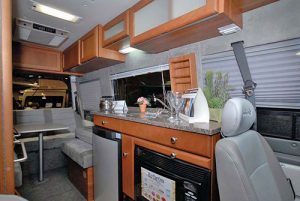 One of the major questions that people ask when they first step into a Roadtrek is "will this be big enough?" The answer, of course, depends on your travelling plans, and your expectations. For two people, the class B motorhome offers a cozy and efficient mode of travel that can double as a family van. For the small family, the generous exterior cargo capacity can expand your versatility. Whether you use the full campground hook-ups or enjoy "dry camping" the Roadtrek is one of the most convenient ways to travel. Depending on your optional equipment, the RS-Adventurous offers up to 81 cubic feet of storage volume.
With the 13' 2″ With the 13' 2″ Thule awning extended, and an after-market add-a-room attached, you can substantially expand the living space at your campsite, and an after-market add-a-room attached, you can substantially expand the living space at your campsite.
You can add a removable armoire or wardrobe in place of the second row of seats, and vary the interior floor plan as required for any trip.
Specifications

Many Roadtrek owners find that they use their motorhome as a "guest room" when visitors arrive from out of town. As a compact vehicle, the Roadtrek fits into the driveway, and is generally accepted in areas where RVs are discouraged by municipal zoning regulations (please check this with your local municipality). If you plan to explore the scenic locations off the main roads, ask your dealer about the four-wheel drive Roadtrek models – they open up a whole new world of RV destinations.
If your recreational lifestyle includes boating, ATVs, or snowmobiles, your Roadtrek is the ideal choice as a tow vehicle. With 5,000 lbs towing capacity for the Sprinter chassis, and up to 8,100 pounds towing capacity for the Chevy 3500 chassis, you are investing in a vehicle that can perform a wide variety of functions. It is also one of the best trailer towing vehicles on the road today – the whole family can ride in comfort in the Roadtrek, and enjoy the trailer for overnight stays. At your destination, just park the trailer, and explore the back roads in the motorhome – it's a sweet life!
Join the Club!
More than 4,000 people in North America are members of the Roadtrek International Owners Club, a chapter of the Family Motor Coach Association – a community of RV enthusiasts who tour the scenic destinations and enjoy a range of rally events and activities all year long. Your Roadtrek dealer can introduce you to club members in your area – it's one of the best ways to meet new friends and share your RV adventures.