Lead photo: 2023 Venture RV Sonic travel trailer scroll down for details…
New RVs for '23 – Part 2
We had the opportunity to tour some of the most interesting new RV models for 2023 – here is a selection of units that embody the state-of-the-art in RV design and technology…
Please click on the blue links to open a new browser window at the RV manufacturer's website for more information, and to locate a dealer in your area, and tell them that you saw this article on the RV Lifestyle Magazine website…

Alliance RV / Paradigm 295 MK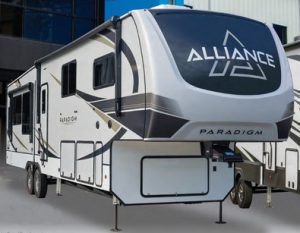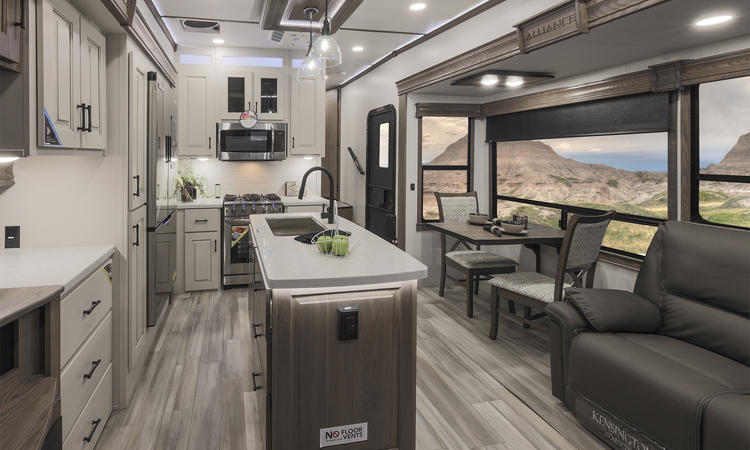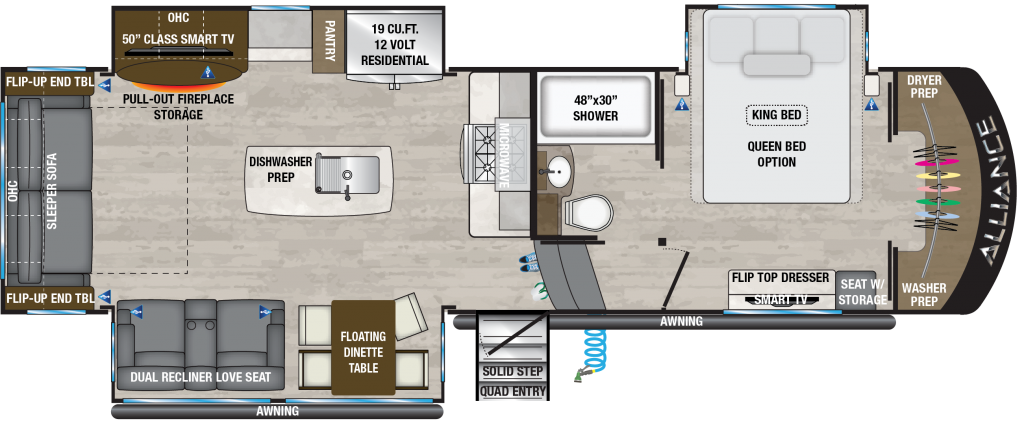 The Paradigm by ALLIANCE RV is the culmination of feedback from thousands of full time RV'ers addressing common concerns ranging from running gear and coded wiring to the kitchen sink. Executed by a team of industry veterans with hundreds of years of combined experience.
For more information, please visit:
https://www.alliancerv.com/fifth-wheel-paradigm
East to West RV / Tandara 5th Wheels


Tandara is a mid-profile 5th wheel brand that is the perfect camping haven. This brand embodies quality, luxury and loaded features – standard. With its stylish artesian maple décor and quality construction, the TANDARA offers only the best-selling mid-profile floor plans in the industry so you can be sure you will have all the essentials of a luxury fifth wheel at an affordable price.
TANDARA– means "camp here" when used by the indigenous people of Australia
For more information, please visit:
https://www.easttowestrv.com/fifth-wheels/tandara
Ember RV Overland 191 MS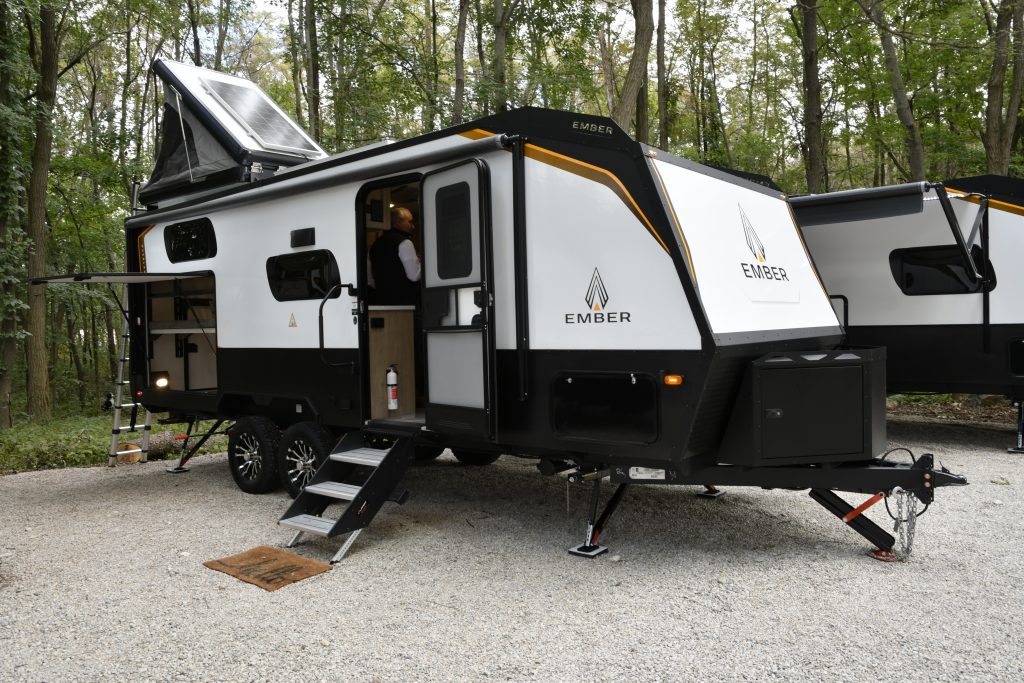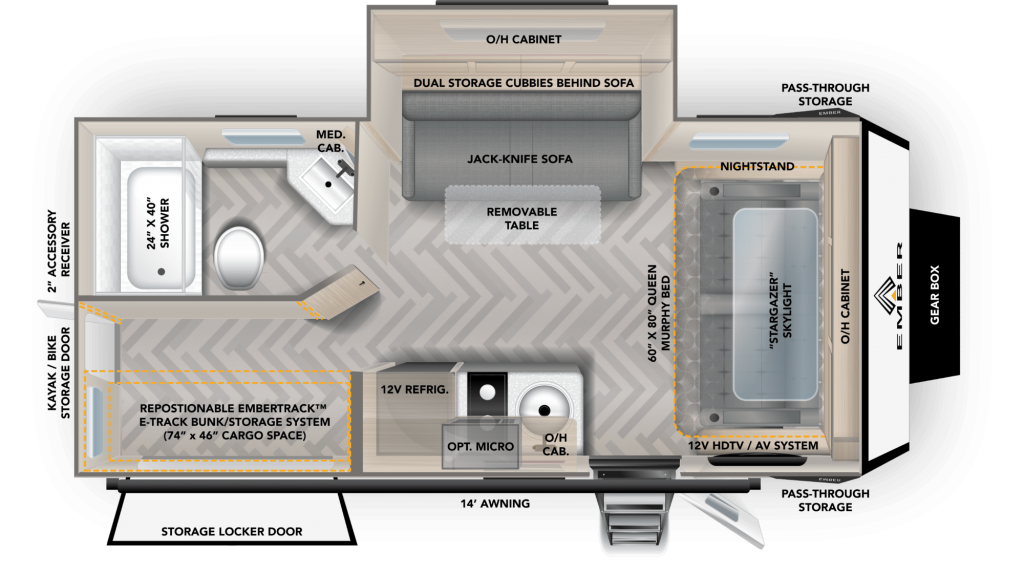 The Ember Overland Series is intentionally designed and built to meet the needs of today's most discerning RV'ers and includes floor plans for families and couples who live life on the go. The Overland Series' striking exterior look and chic interior design is appealing, while its robust and cutting-edge list of standard equipment will empower owners to blaze new trails and seek out unforgettable off-road and off-grid camping adventures.
For more information, please visit:
https://www.emberrv.com/overland-series/
Fleetwood RV – Division of the REV Recreation Group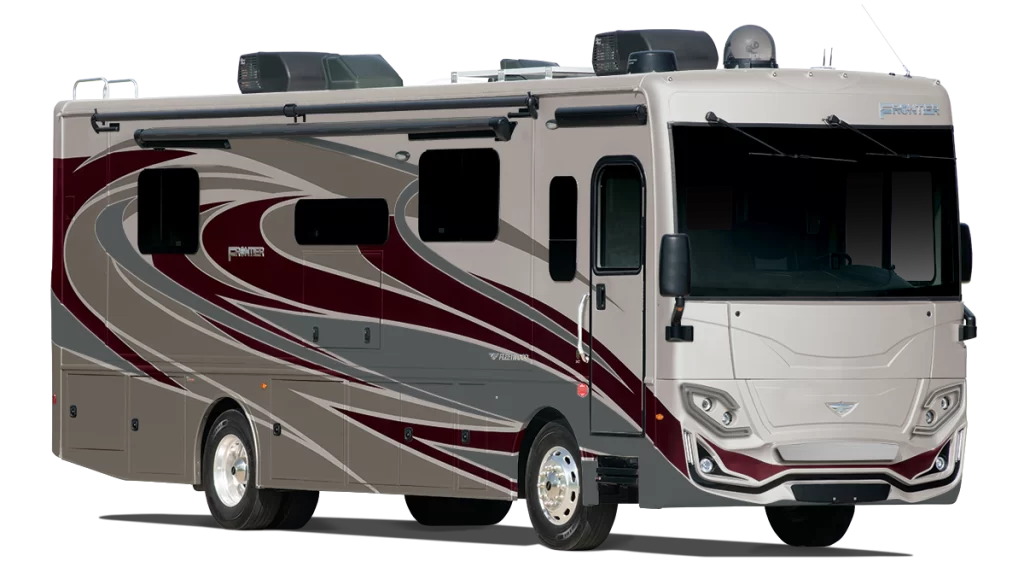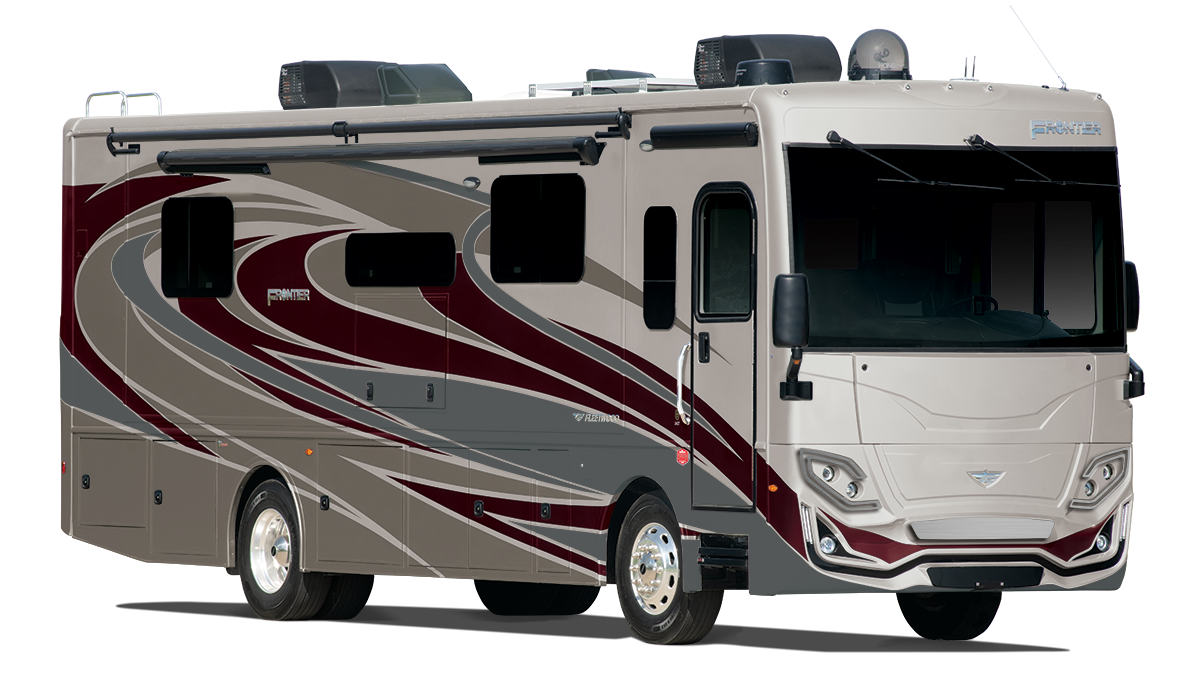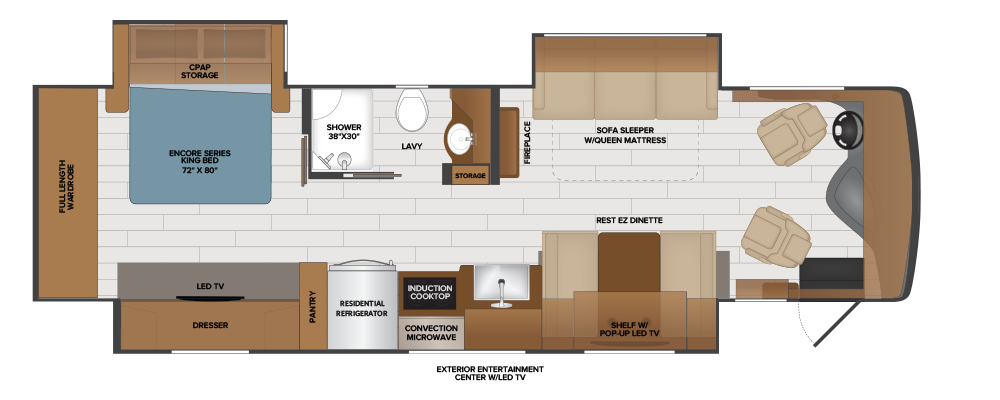 The Fleetwood RV Frontier series  features durable framework, horsepower heft and smooth handling combined with elevated interior decor and premium amenities makes every road trip feel like the best road trip ever.
For more information, please visit:
https://www.fleetwoodrv.com/models/frontier/
Grand Design Reflection 341 RDS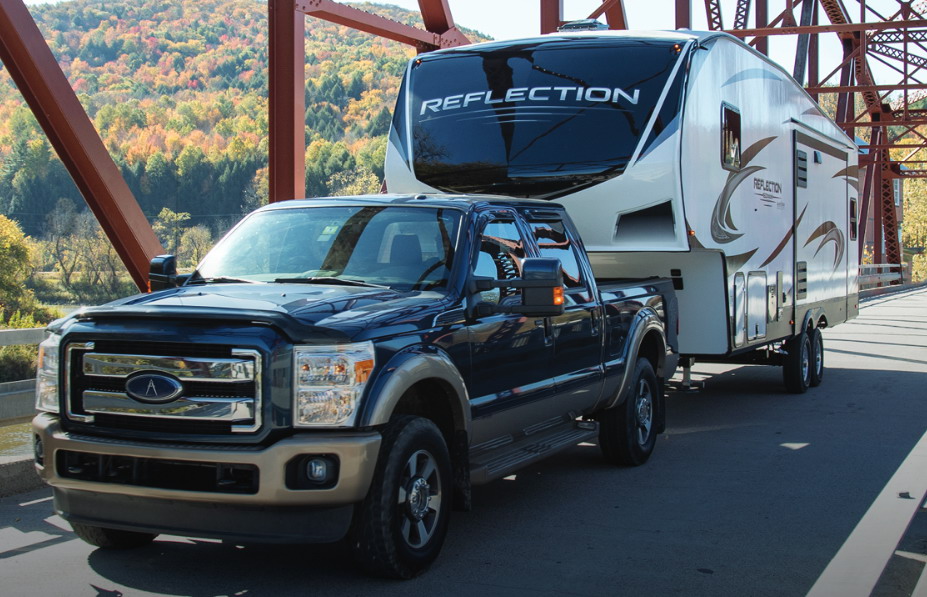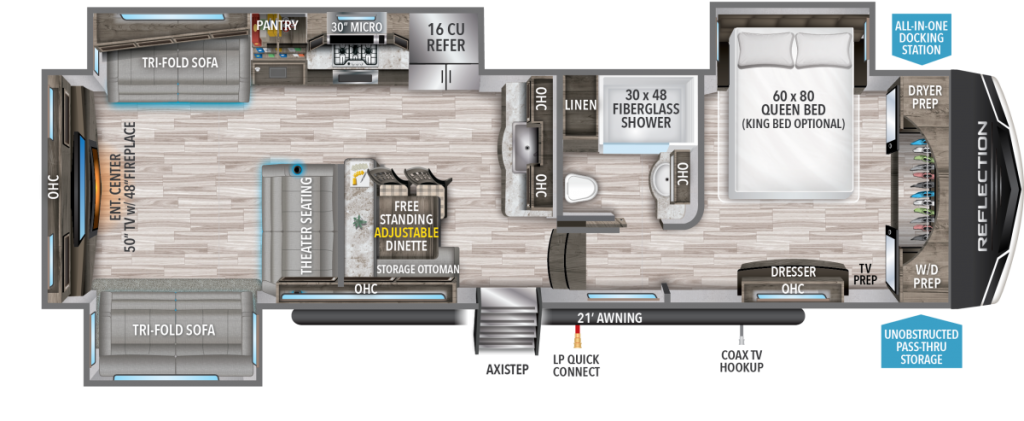 The Grand Design Reflection combines luxury, value, and towability in one amazing package. Grand Design's commitment to exceeding customer expectations, in quality and service, has quickly made the Reflection a top-selling name in North America.
For more information, please visit:
https://www.granddesignrv.com/
Heartland RV Sundance Ultra Lite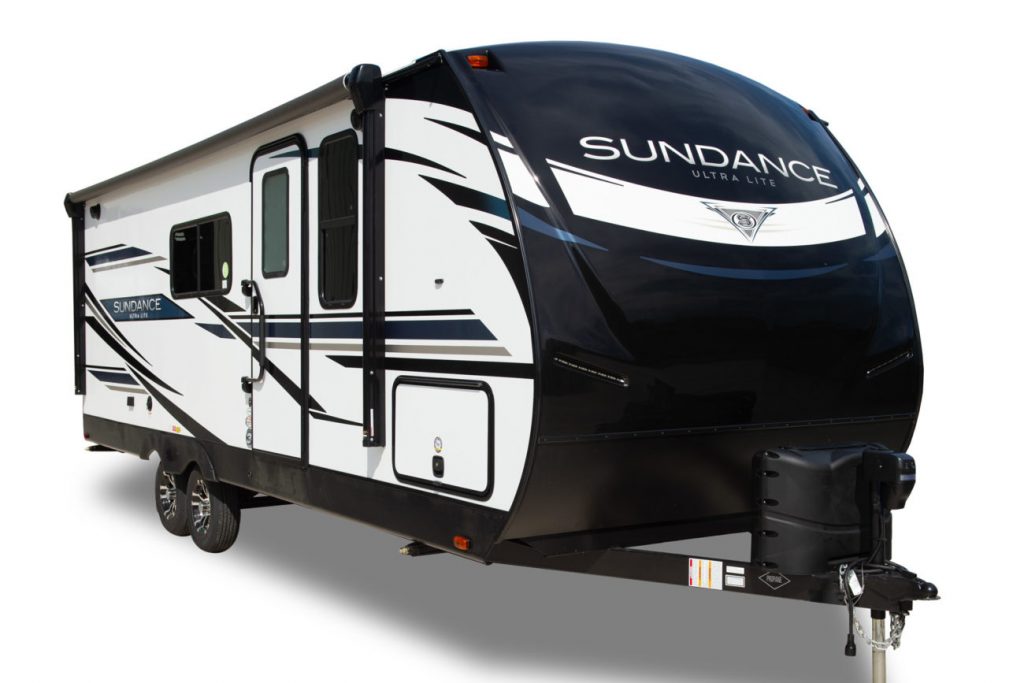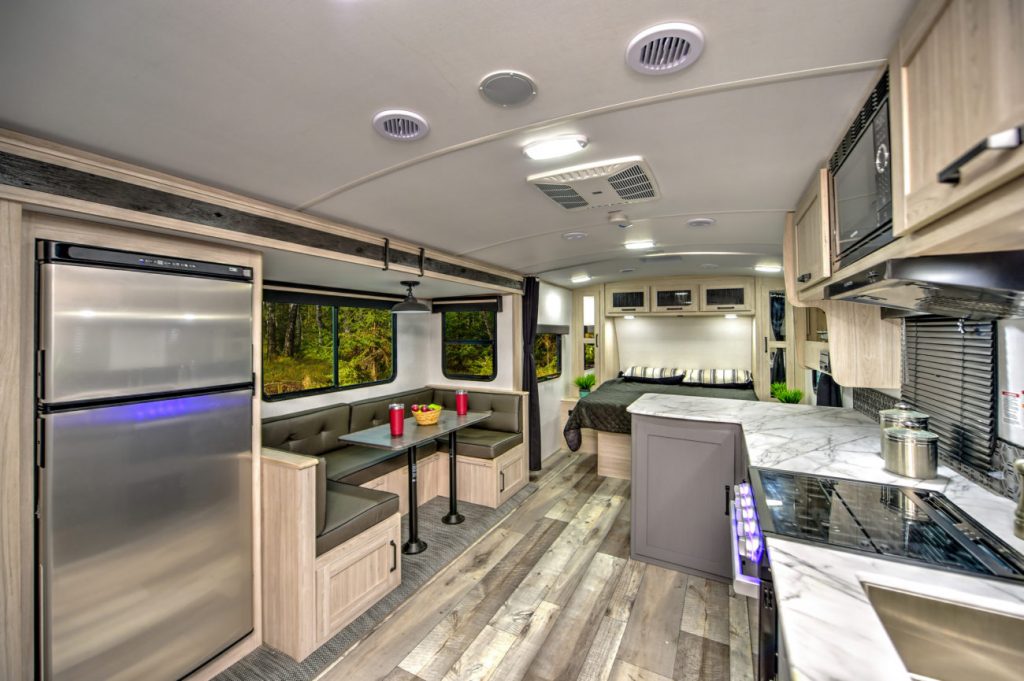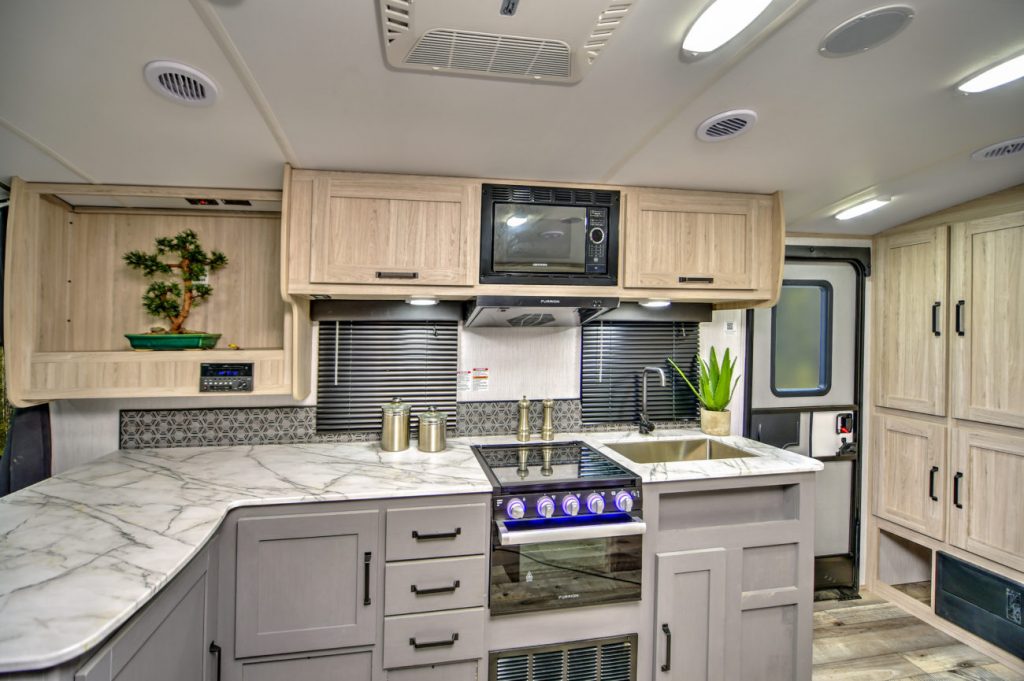 Sundance Ultra-Lite travel trailers, starting at 25 feet long and 4,000lbs. dry, with floor plans up to 36 feet long with your choice of slides, bunkhouses, bonus half-baths and more. Standard features include push-button setup, solar prep and an outdoor kitchen with a griddle – the kind of options you might expect to pay a lot more for.
For more information, please visit:
https://heartlandrvs.com/brand/sundance-ultra-lite/
Watch the video…
Highland Ridge / Open Range 5th Wheels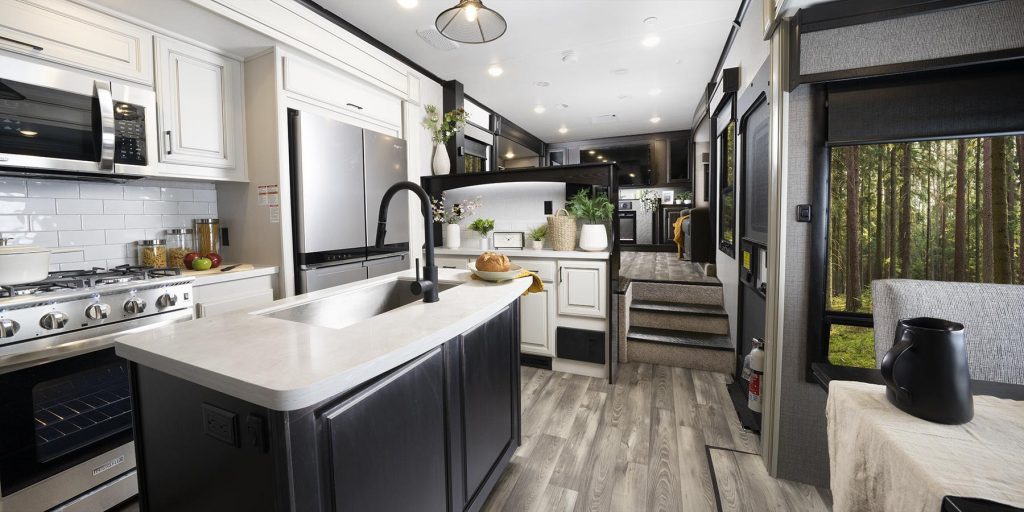 Open Range Fifth Wheels have space to enjoy all the comforts of home. With a 100-inch wide body and 42 inch deep main slide, there's room for residential features like a 24 inch Insignia™ stove, convection microwave, and residential queen-size bed. The VoiceLINK™ voice command system allows you to control lighting, A/C, and the furnace.
For more information, please visit:
https://www.highlandridgerv.com/rvs/fifth-wheels/2023-open-range-fifth-wheels/
Jayco Eagle 321 RSTS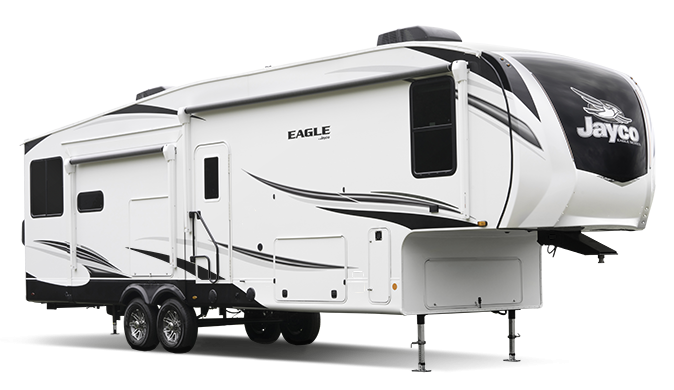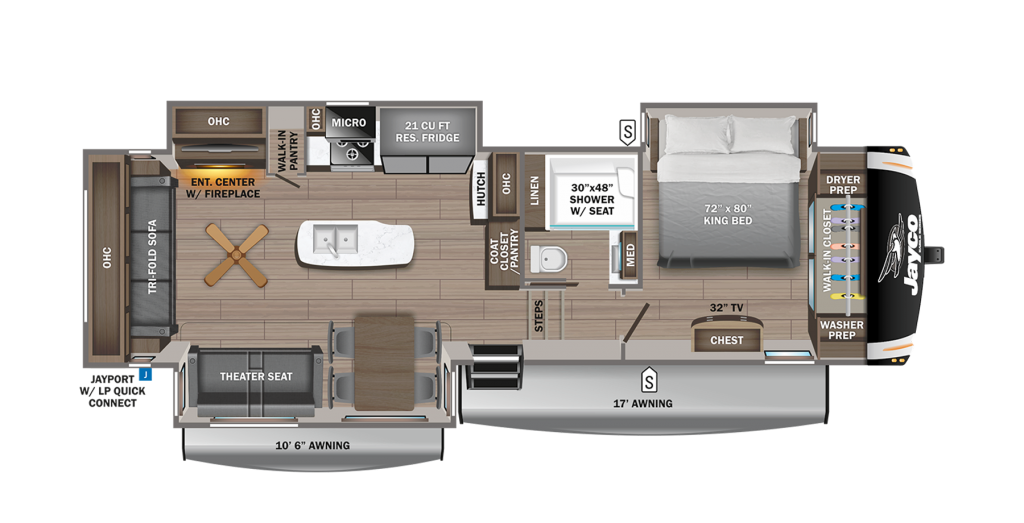 After more than 30 years of success, the Jayco Eagle brand has become known for inventive features and floorplan layouts. The 2023 Eagle Fifth Wheel is no different, with fresh interior design, larger windows and an expanded freshwater tank. Luxurious, with room for upgrades, you'll find features and concepts you can't in other manufacturer's fifth wheels.
For more information, please visit:
https://www.jayco.com/rvs/fifth-wheels/2022-eagle-fifth-wheels/321rsts/
Jayco Jay Flight SLX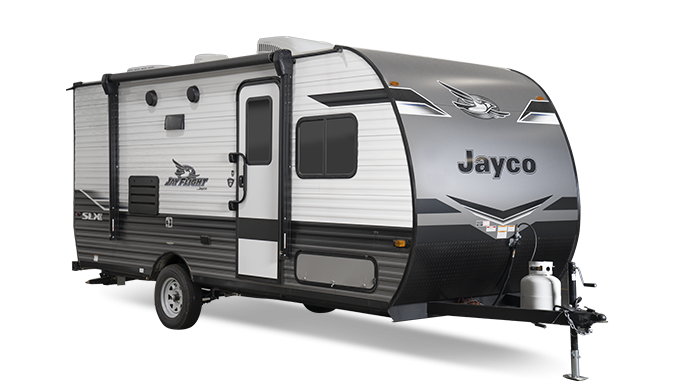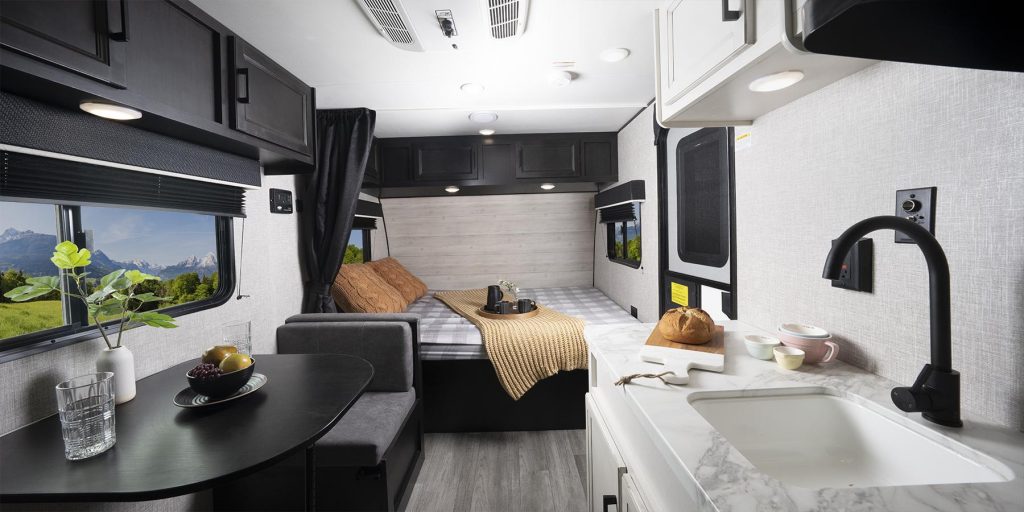 If you're looking for more bang for your buck, then Jay Flight SLX is the trailer for you. Coming in under 3,500 pounds dry weight, this shorter, single-axle travel trailer is the perfect starter in the lineup of Jay Flight campers. The SLX makes getting on the road easier with its simple-to-tow size and back-up and side-marker camera prep standard. It's size and weight give you agile manoeuvrability, and the dark tinted windows will offer privacy and UV protection from those hot sunny days.
For more information, please visit:
https://www.jayco.com/rvs/travel-trailers/2023-jay-flight-slx/
Jayco Precept Prestige Class A Gas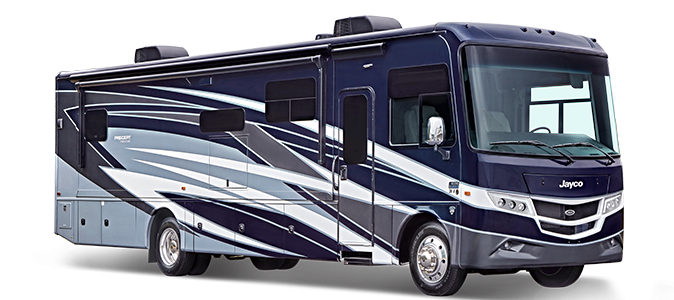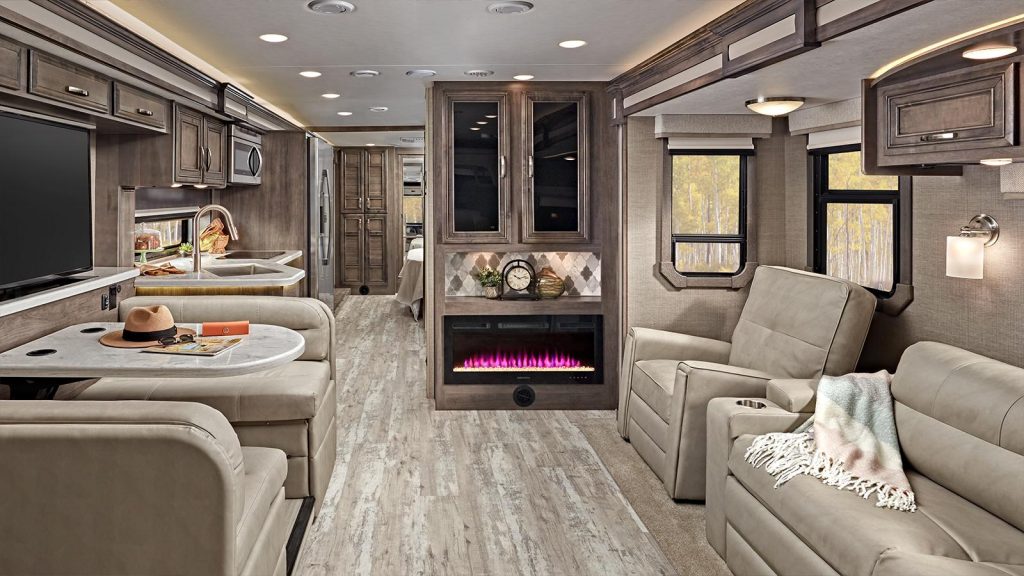 The largest and most luxurious of Class A gas motorhomes from Jayco, the Jayco Precept Prestige features high-end finishes like standard full-body paint, glass tile backsplashes, solid-surface countertops throughout and stainless-steel appliances. Convenient features like the Thetford Sani-Con Turbo Macerator System make your trip more enjoyable by breaking down waste and doing the pumping for you, so it's one less thing to think about while travelling.
For more information, please visit:
https://www.jayco.com/rvs/class-a-motorhomes/2023-precept-prestige/
Keystone Outback Ultra-Lite models 271UFK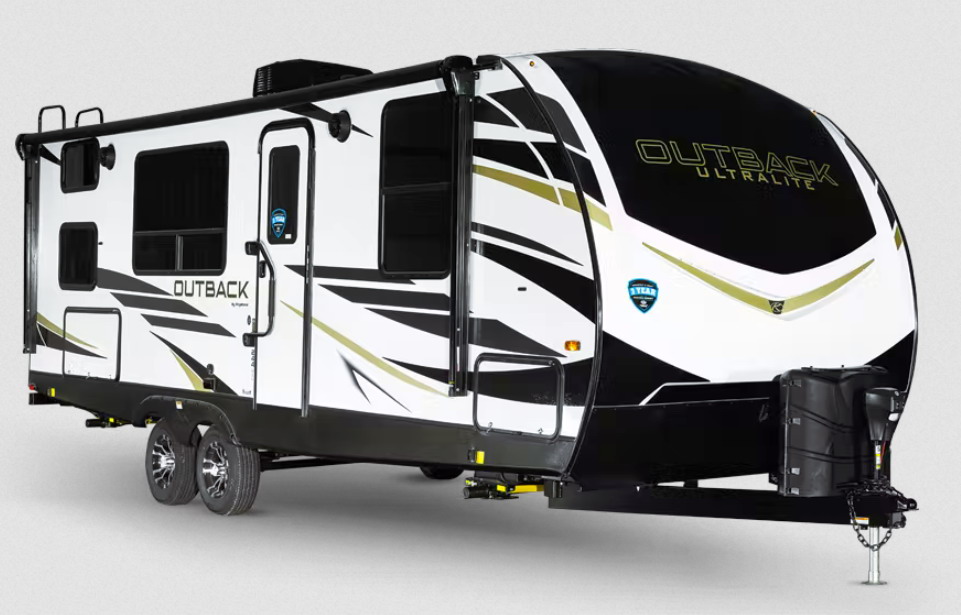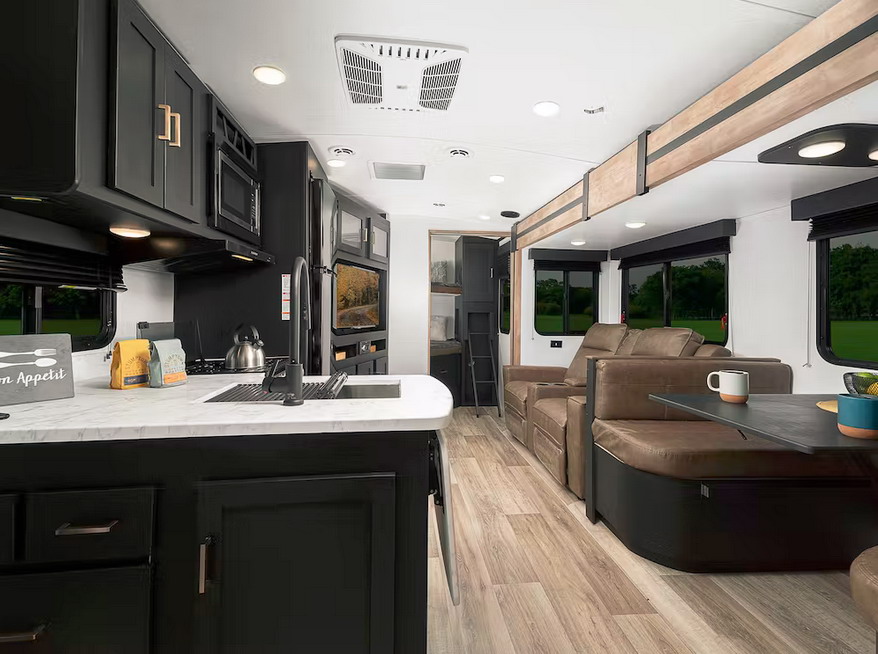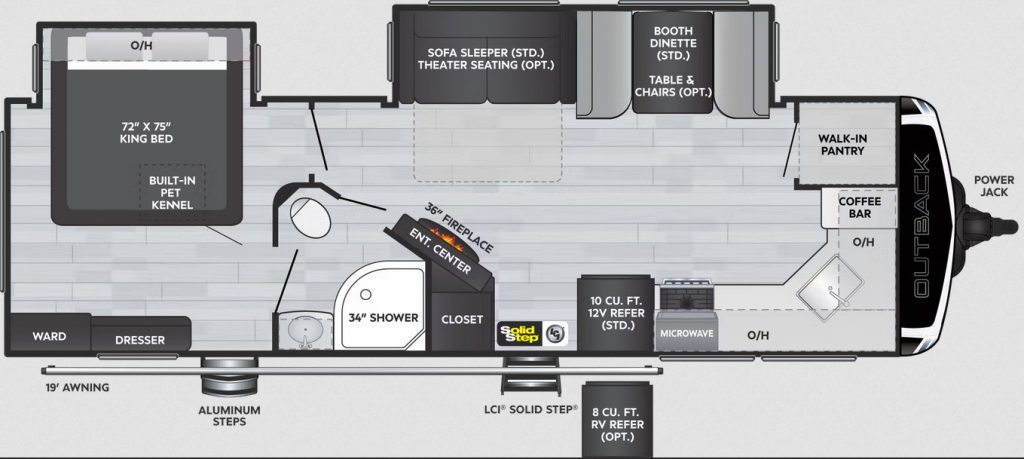 Outback's Ultra-Lite series wraps everything you love about Keystone Outback into easy to tow travel trailers suitable for most modern light duty trucks. This collection offers a range of light weight RV's, including innovative floorplans that are among the best travel trailers for couples and a selection of light weight bunkhouse travel trailers that are some of the best campers for families.
For more information, please visit:
https://www.keystonerv.com/keystone-life/2023-keystone-travel-trailer-rv
Watch the video…
KZ-RV Connect Travel Trailers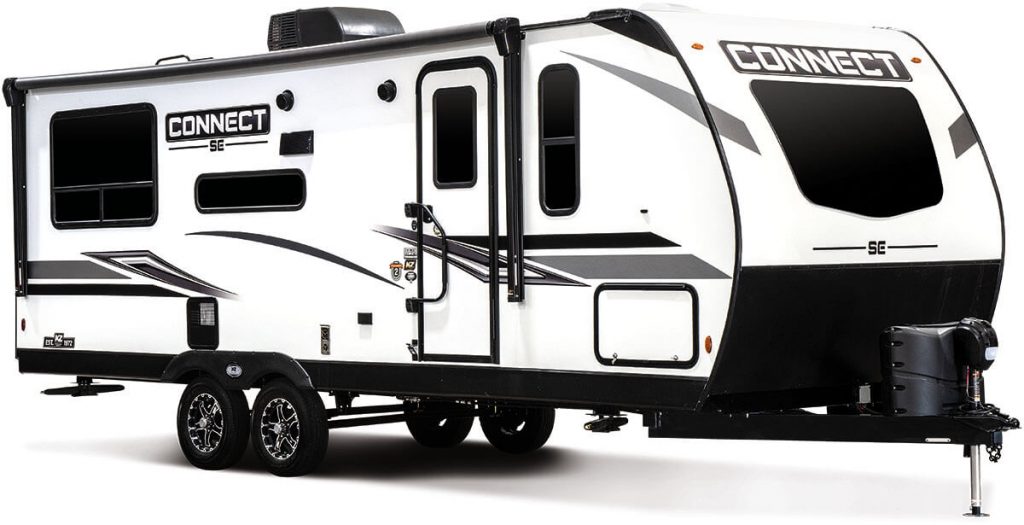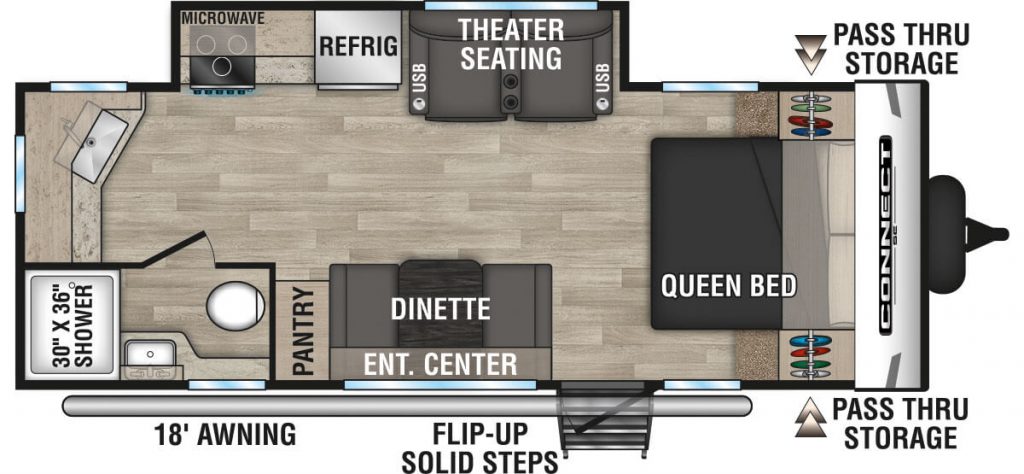 Connect SE is the ultimate travel trailer offering spacious floorplans, yet is still lightweight enough for the adventure of your dreams. In Connect SE, you'll find that exploration has all the comforts of home.
The KZ True 2 Warranty is a 2-year hitch-to-bumper limited warranty that's true to its name. The gold standard in RV protection, True 2 provides double the coverage of the industry norm.
For more information, please visit:
https://www.kz-rv.com/products/connect-se-travel-trailers/
Watch the video…
Leisure Travel Vans – New MBL (Murphy Bed Lounge) models for 2023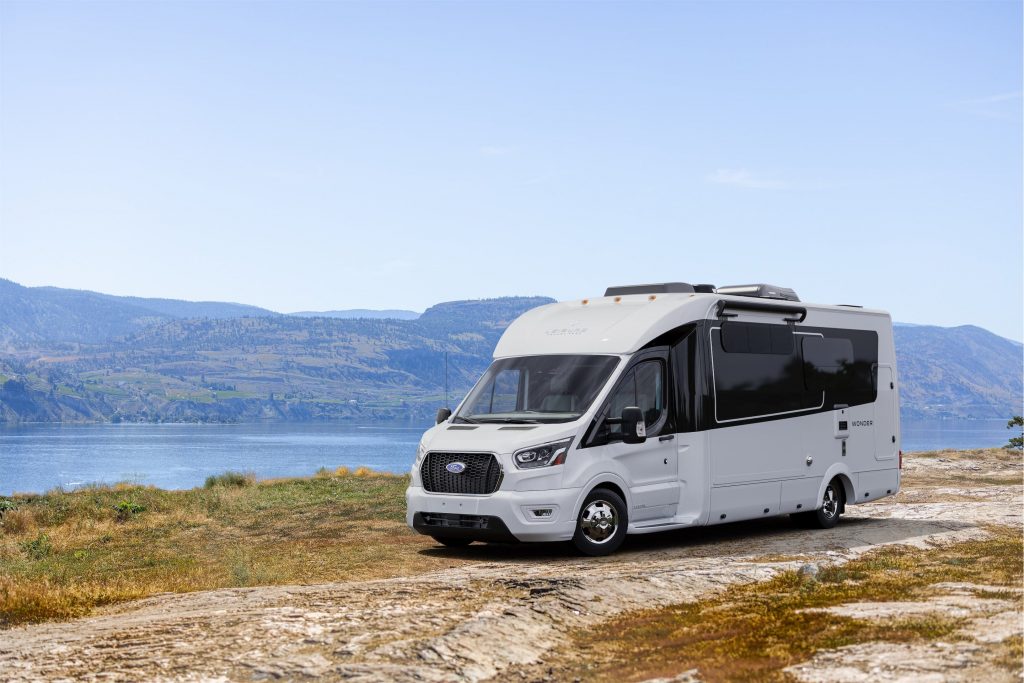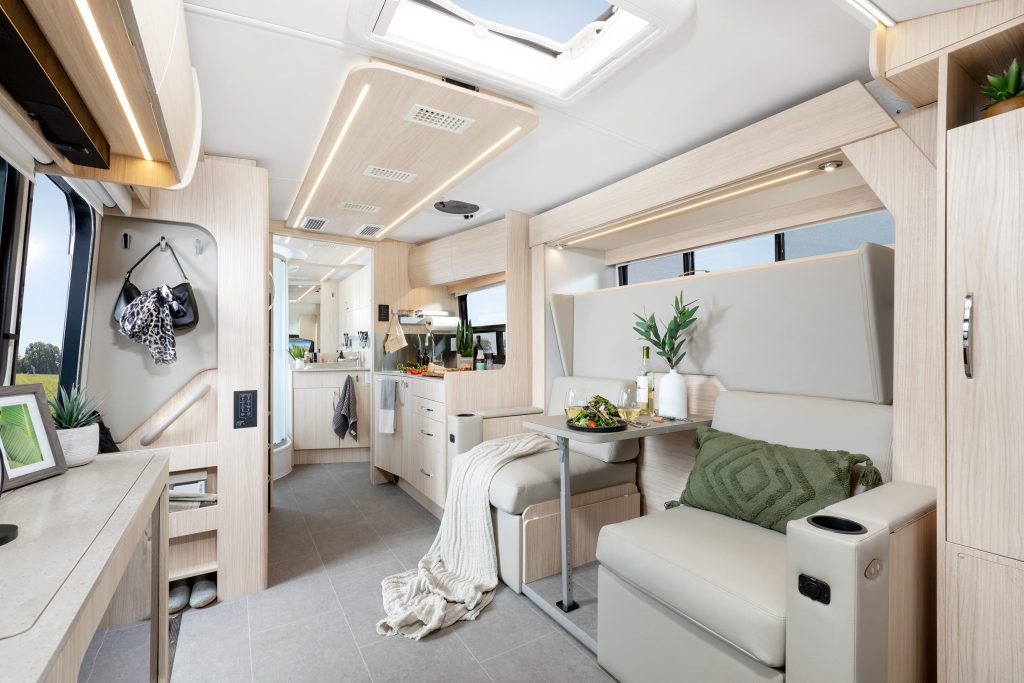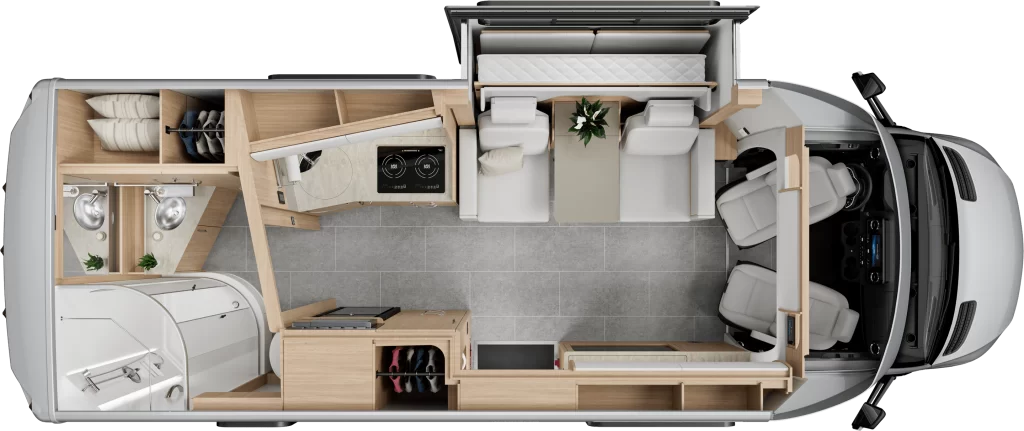 Leisure Travel Vans has a tradition of excellence dating back to 1965, when the parent company, Triple E Recreational Vehicles began production of a small 13-foot travel trailer.
Today, Triple E is a premier manufacturer of Class C motorhomes with a reputation for building the highest quality and most innovative luxury, compact RVs in the industry.
For more information please visit:
Watch the video…
Ozark Toy Haulers – by Forest River Inc.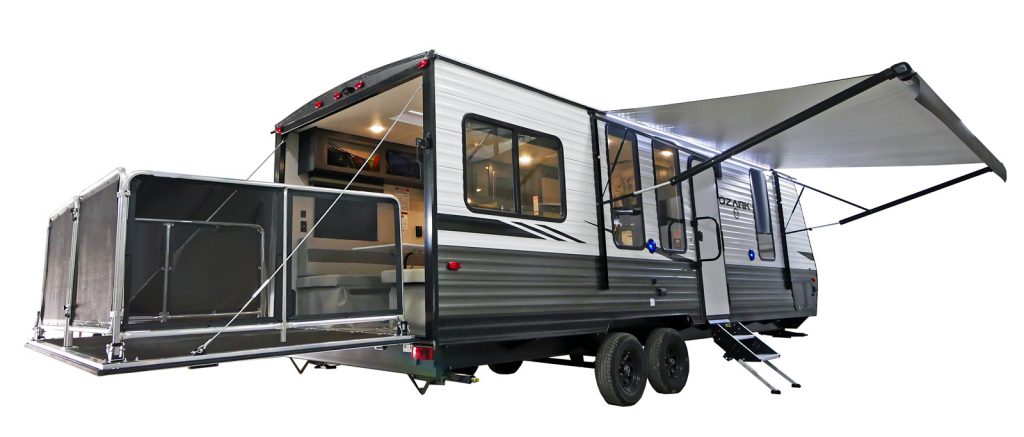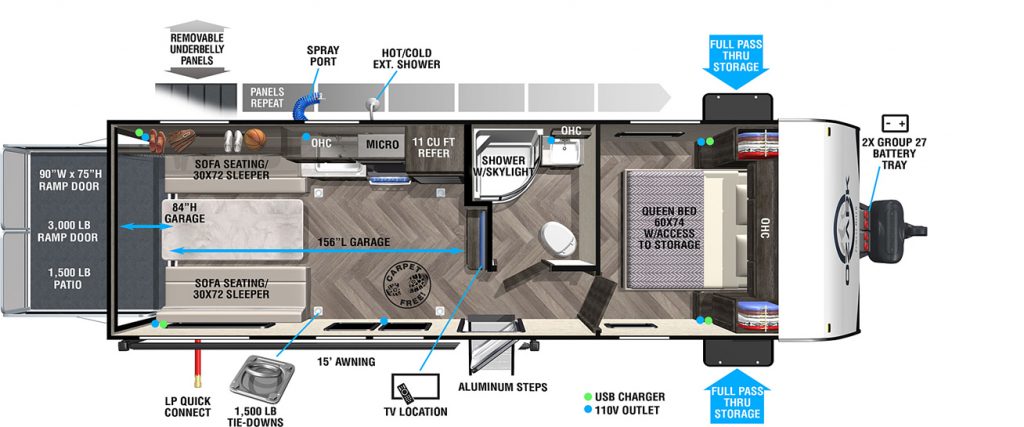 Ozark travel trailers and toy haulers are lightweight, easy to tow, and loaded with standard amenities such as oversized windows, high capacity tanks, and stainless-steel appliances. The unique and spacious floorplans pack in all the features you need and none that you don't, all while maintaining smooth styling, capability and value.
For more information please visit:
http://www.forestriverinc.com/rvs/travel-trailers/ozark
Pleasure-Way Class B Motorhomes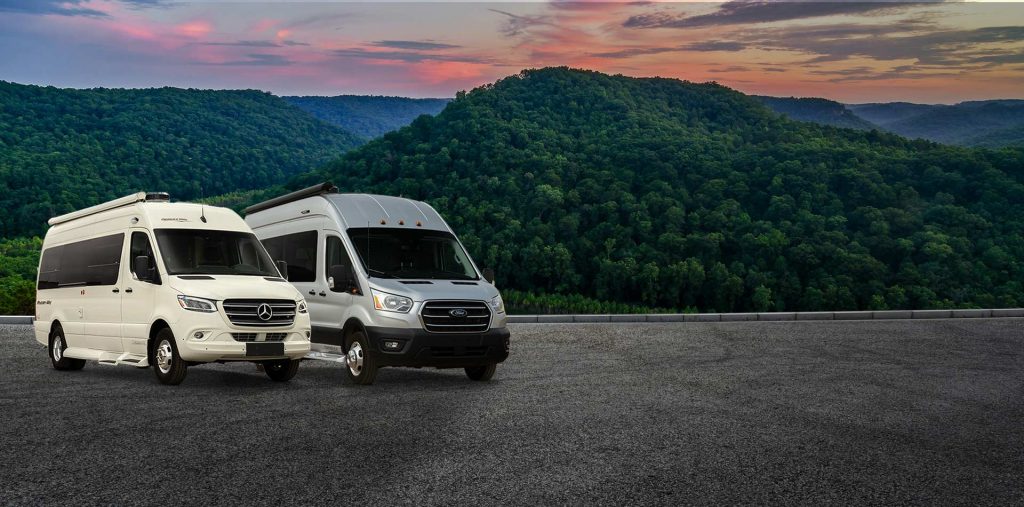 Pleasure-Way Industries has been manufacturing Class B motorhomes since 1986. Since the beginning the company has remained a family owned and operated business placing relationships with their owners, dealers, and employees as a priority. All Pleasure-Way motorhomes are produced in Saskatoon, Saskatchewan, Canada.
For more information please visit:
Go Live to the virtual Pleasure-Way showroom…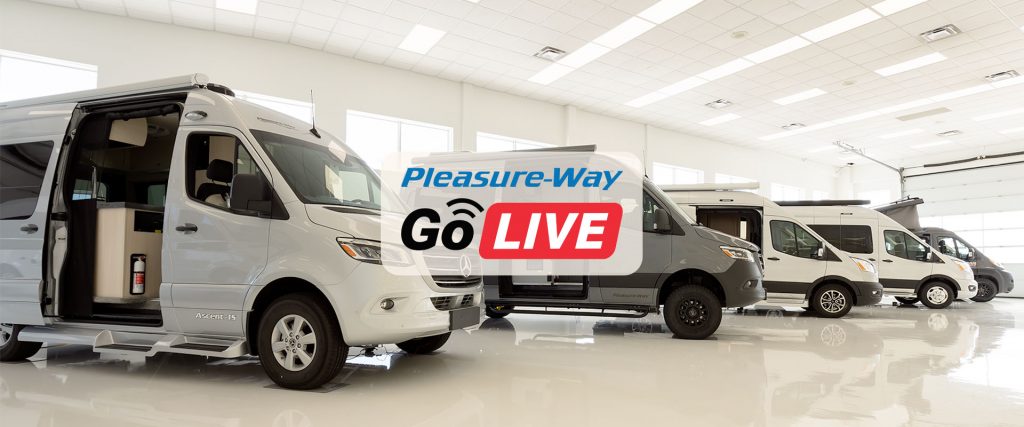 https://pleasureway.com/shopping-tools/golive/
Prolite Ultra Lite Trailers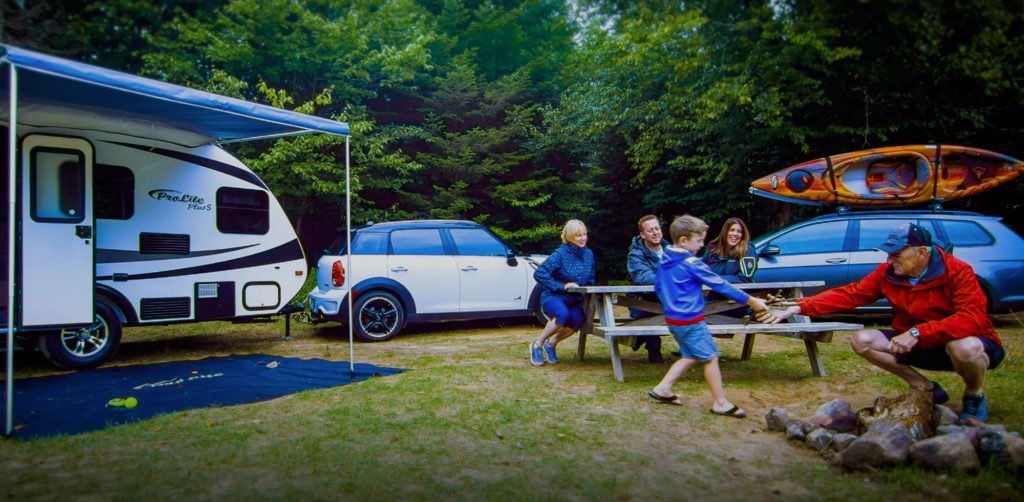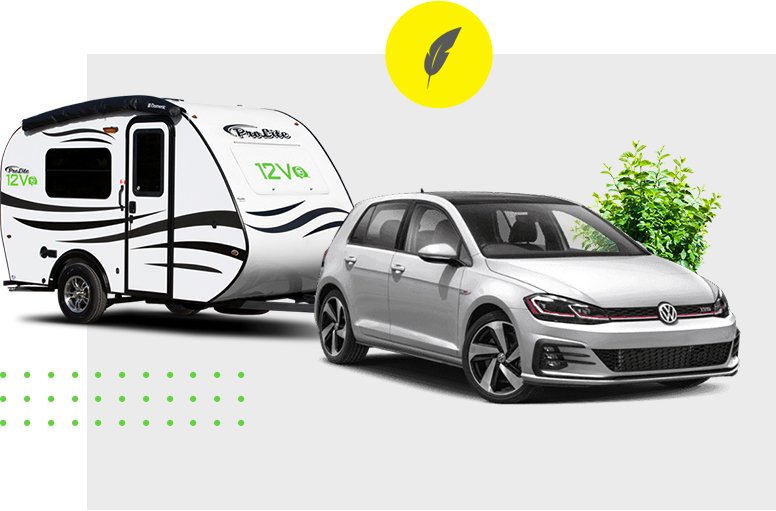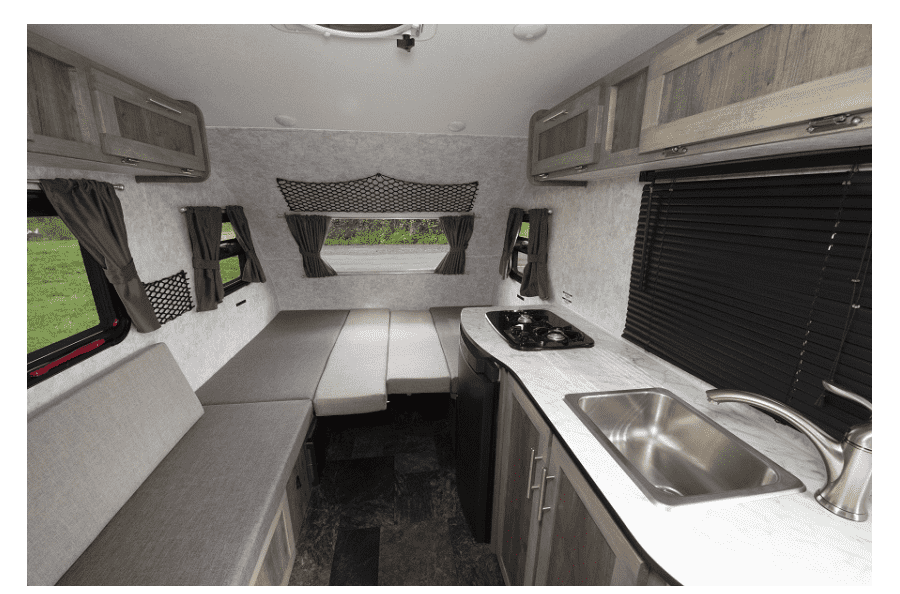 A Canadian manufacturer of ultra light trailers since 2000, Prolite offers a wide range of ultra lightweight trailer models that can be adapted to your everyday vehicle. Prolite travel trailers offer many floor plans that are very user-friendly, and built with pride in Quebec, Canada.
For more information please visit:
https://www.roulottesprolite.com/produits/new-trailers/
Starcraft RV Super Lite Maxx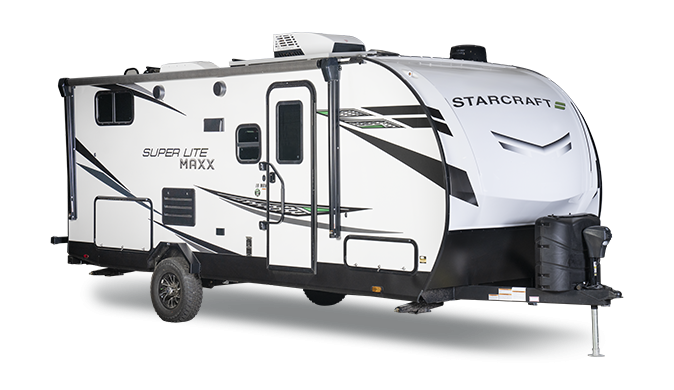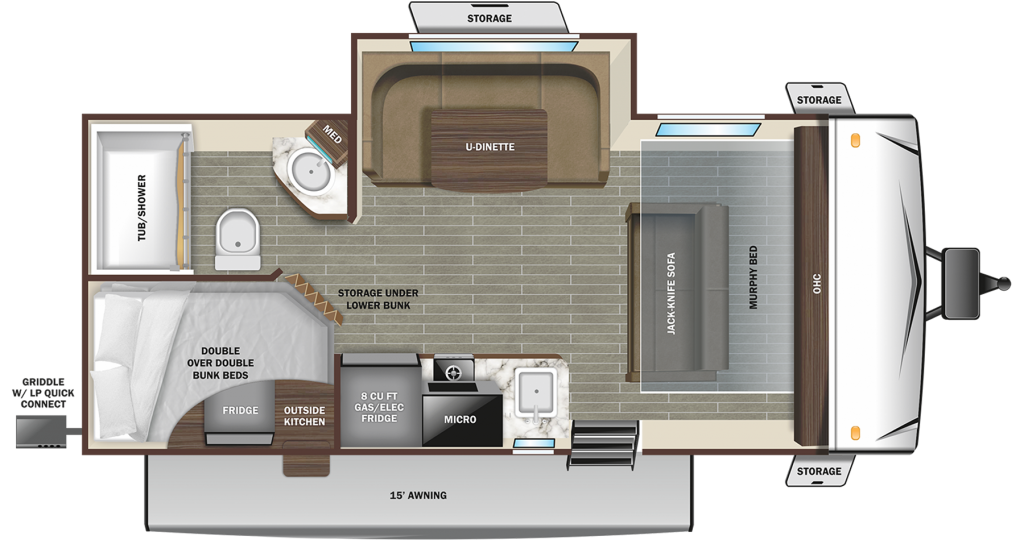 Maxing out on features, but not on weight, the Starcraft RV Super Lite Maxx travel trailer begins its impressive list of features on the outside with a molded front cap with LED lighting and a 200 watt solar system with inverter pre-wire outlets for off-grid capabilities. Inside, blackout roller night shades and a residential high-rise faucet are just some of the amenities you'll find.
For more information please visit:
https://starcraftrv.com/rvs/travel-trailers/2023-super-lite-maxx/
Venture RV Sonic X Travel Trailers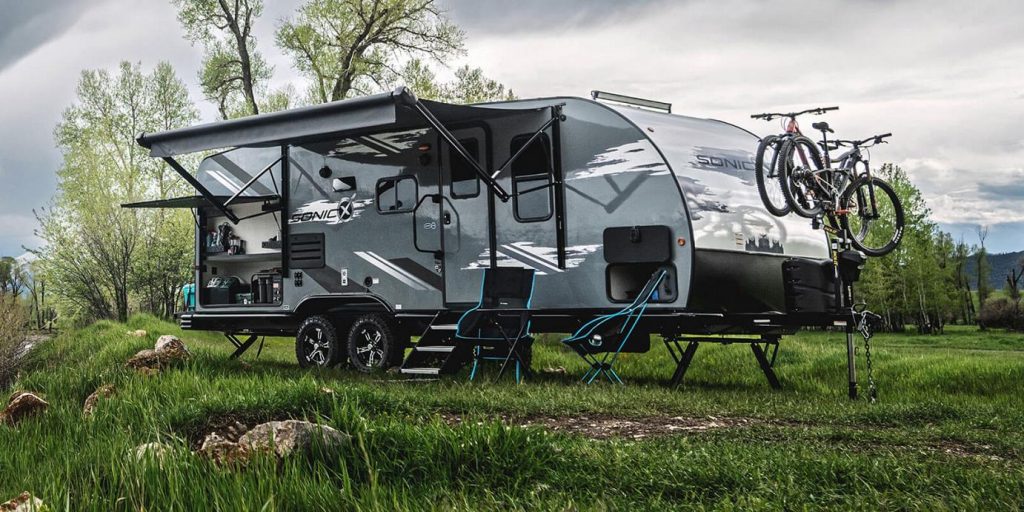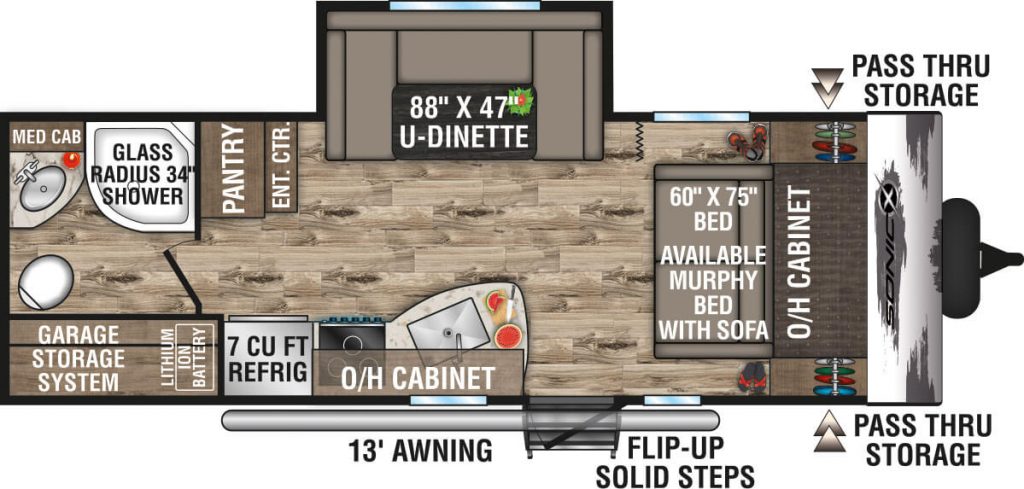 The ultimate self-sustainable RV, Venture RV's Sonic X is like nothing you've ever experienced before, offering off-road, off-grid, off-the-charts adventure.
Sonic X is the perfect city escape for the ultimate traveller, and is loaded with technology with modern appeal.
Venture RV is proud to have been presented with the DSI Quality Circle Award. This award is a reflection of the Dealer Satisfaction Index (DSI) conducted by The National RV Dealers Association (RVDA), and an acknowledgement of our quality standards.
For more information please visit:
https://www.venture-rv.com/products/sonic-x-travel-trailers/
See our first selection of New RVs for '23 here:
Here are your links to our series of articles on New RVs for '23