Lead photo: The luxurious interior of the 2022 Heartland RV Landmark Series – Newport fifth wheel.
New for 22 Part 5
The fifth instalment of our "New for "22 series….
For links to the previous 4 sections, please scroll down to the bottom of this story.
---

Newport Landmark Fifth Wheels by Heartland RV
The Newport fifth wheel is 43'-7-1/2" long by 8' wide, with three slide-outs. Dry weight is 14,843 lbs., GVWR is 18,000 lbs., pin weight is 3,048 lbs. Heartland also offers this series of fifth wheels in Lafayette and Chesapeake models.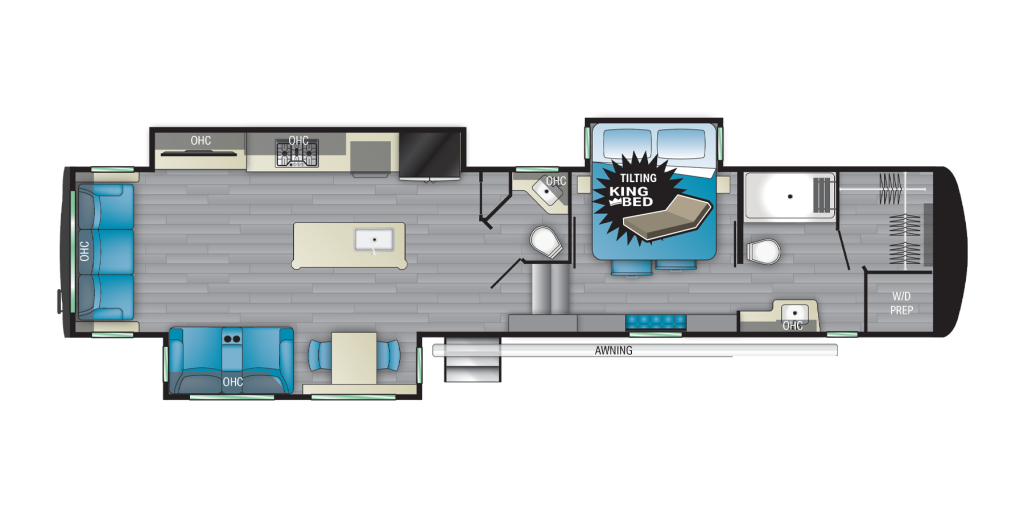 The Landmark Fifth Wheel lineup boasts high-quality craftsmanship, luxury finishes and top-notch details that leave you feeling right at home. From three-sided basement access for 30% more storage capabilities, Azdel laminated sidewalls to "spa baths" with solid surface sinks and marble-looking shower, dual, supercharging USBs and wireless charging stations throughout, Landmark leaves no stone unturned.
MSRP base starts at $180,890 US
For more information, please visit www.heartlandrvs.com
---
ProLite E-Volution Class B Motorhome
This Canadian-made motorhome rides on a Promaster 1500 chassis, powered by a 3.6L V6 gas engine. At 17'8" long by 6.5" wide, it fits nicely into garage and carport locations. The cabin of the E-Volution class B motorhome is entirely electric and renewable energy with its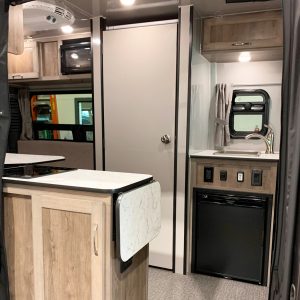 two solar panels of 100 watts each, its inverter of 3000 watts as well as its powerful lithium battery of 250 amps. It will allow you to operate all your household appliances. Its 30-gallon fresh water tank, 15 gallon waste water tank, and cassette toilet will give you all the independence you want.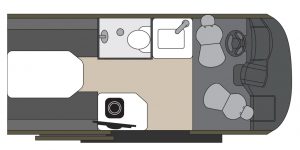 For more information, please visit www.roulotteprolite.com
---
Lance Camper 2445 Travel Trailer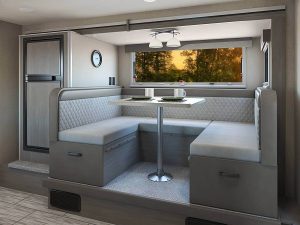 The Lance 2445 measures 29' 10" long by 96 3/8" wide with the single slide retracted. Dry weight is 6,375 lbs., GVWR is 8,500 lbs., hitch weight is 675 lbs.
Kids, grandkids, and friends will enjoy their double-sized bunk beds. Bring along the extra gear thanks to the rear garage storage area and exclusive Lance Load Roof Rack system available on the 2445.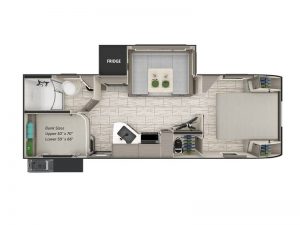 The owner's primary suite boasts a walk-in-sized closet and full queen-size innerspring mattress, positioned to take advantage of the view through the expansive Lance exclusive "SkyView" dual-pane radius front window. The no-compromises residential-styled powder room will have the group drawing straws to see who gets first dibs! You're in complete control with the app-enabled iN-Command Control System, allowing awning, light, HVAC controls, and holding tank monitoring, all from the centralized keypad and your smartphone! And with a sleeping capacity of up to eight, no one will be left home alone!
MSRP base $69,940 US
For more information, please visit www.lancecamper.com
---
Cyclone Fifth Wheel Toy Haulers by Heartland RV
The Cyclone toy haulers come in a variety of floor plan options with unobstructed garage lengths ranging from 11' to 15'. Models include the 4006, 4007,4014C (pictured) and 4270.
The Cyclone 4014C measures 46'7" long by 8'5" wide with the triple slides retracted. Dry weight is 16,302 lbs., GVWR is 21,000 lbs., and pin weight is 3,820 lbs.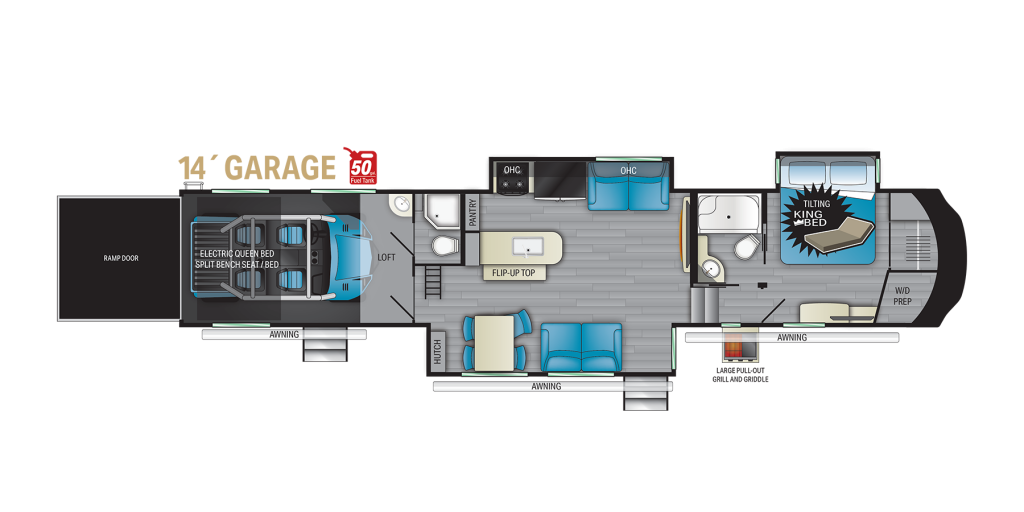 RVers can haul more with the patent-pending Stor-Mor three-sided access to the basement providing 30% more storage, dry camp longer with the industry's largest freshwater tanks (150 gallons) and stay comfortable with a tilting king bedroom suite with 30% more bedroom floor space.
MSRP Base for model 4014C starts at $139,384 US
For more information, please visit www.heartlandrvs.com
---
Cruiser RV Hitch 16RD
The Hitch 16RD travel trailer measures 21'-4" wide by 7'-3/8" wide, with a dry weight of 3,586 lbs., and a GVRW of 4,884 lbs.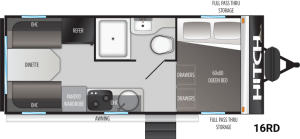 Three models are available in this series: the 16RD (pictured), 18RBS, and 18BHS.
Built to handle extreme terrain but towable with lightweight vehicles, the Hitch is the newest product line to be introduced by Cruiser RV. Hitch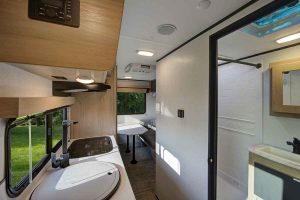 is a fun, industrial built ultra-lite travel trailer equipped with unique features for today's adventurous camper. With an all-aluminum superstructure, Azdel composite walls, and plywood floors it holds true to Cruiser RV's mission of building Great American Trailers. Cruiser RV are introducing several new features on this product line that will reduce maintenance, improve durability, and allow our customers to go anywhere they want to enjoy their adventure.
MSRP base for the Hitch 16RD is $34,737 US
For more information, please visit https://cruiserrv.com/
---
ProLite E-Volt Travel Trailer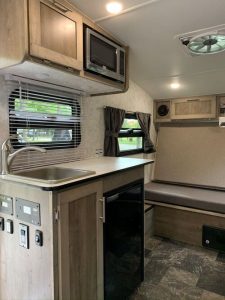 The new ProLite E-Volt travel trailer measures 16'9" long and 6'6" wide, weighs 1,990 pounds and can be towed by most SUVs and vans. It sleeps 3 people. Its huge 72 x 74 sofa bed will appeal to older children, as will its dining area which turns into a 74 x 44 bed in the evening. With four 100-watt solar panels, a 3000-watt inverter, and a powerful 250-amp lithium battery, you can convert your 12-volt energy into electrical power to run all your domestic appliances.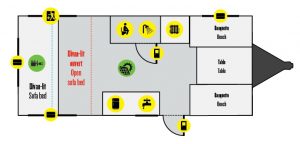 The E-Volt toilet-shower area as well as its 15-gallon clear, gray and black water tanks will give you all the independence you desire. The E-Volt trailer comes with a powerful battery, solar panels, 3000-watt inverter and 100-amp charger, and includes an integrated electric heater, an electric induction hub, a 3.2 cu. ft. electric refrigerator, an 8-foot box awning and six tempered glass windows providing you with magnificent light. Popular options include A/C, outdoor shower, AM / FM / CD / MP3 / Bluetooth radio.
MSRP base $37,750 CDN
For more information, please visit www.roulotteprolite.com
---
Lance Camper 650 Truck Camper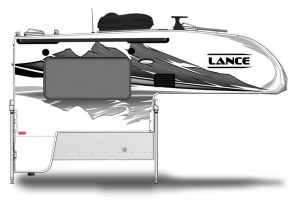 The Lance Camper model 650 measures 15' 6" long by 86" wide with a box length of 6'10", and weighs 2,061lbs.
Explicitly designed for properly equipped half-ton pickup trucks with 5′ and 6′ beds, the 650 is a high-quality, full-featured lightweight truck camper built for the active lifestyle with 100% Lance DNA! With a dry weight of just over two thousand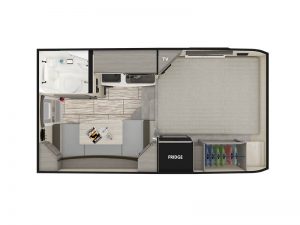 pounds which includes class-leading standard features like aluminum frame construction, radius acrylic tinted thermopane euro windows, tankless water heater, ducted heat, one-piece      PVC roof, Bluetooth/app-enabled audio system, and Euro-Ply framed cabinets; the 650 is the perfect match for many of today's popular half-ton trucks!
MSRP base $37,549 US
For more information, please visit www.lancecamper.com
---
DRV Mobile Suites 41RKDB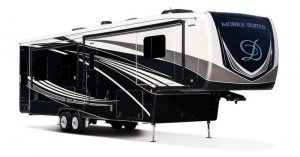 The DRV Mobile Suites 41RKDB measures 41'3" wide by 101" wide with the quad slides retracted. Dry weight is 18,300 lbs., GVWR is 22,000 lbs., pin weight is 3250 lbs.
This is the model that started the DRV Mobile Suites line – it is the foundation

that DRV is built upon. It offers all the comforts of home, all the conveniences of a residential kitchen and the peace of mind that comes from knowing you've chosen what DRV refers to as the best construction available on the market today.
Three models are offered in this series: the 41RKDB (pictured), the 40KSSB, and the Houston.
MSRP base for the 41RKDB is $164,594 US
For more information, please visit www.drvsuites.com
---
Pleasure-Way Ascent TS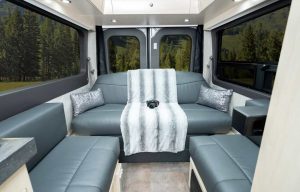 The Ascent TS is a prime example of form following function as it strategically incorporates all our intuitive design and technology inside the most compact Sprinter model we build. The ingenious floorplan provides a generous living area, separate private bathroom, well equipped galley with new pull-out pantry, and the most comfortable sofa bed found in a Class B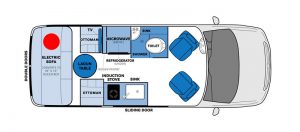 motorhome. Whether it is rush hour traffic, a short haul to the grocery store, or an open road, the Ascent's short length makes any trip effortless. Enjoy the versatility to use this motorhome as a second vehicle, or feel confident on any camping adventure. The Ascent TS is the total package.
MSRP – Please consult your dealer.
For more information, please visit www.pleasureway.com
---
Coachmen Apex Remote 16R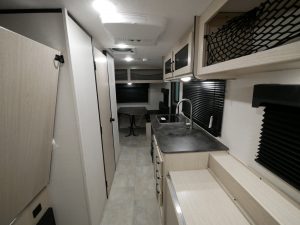 The Apex Remote 16R measures 19'7" long by 7' wide, with dry weight of 2,860 lbs., GVWR of 3,800 lbs., and hitch weight of 330 lbs.
Weighing under 3000 pounds, the Apex Remote 16R offers many full size features that are not found in this weight class.  The 16R has a separate toilet and shower, 6 cubic foot refrigerator, excellent storage, 50 gallon freshwater tank, and a dinette that fits four for entertaining.  This travel trailer also doubles as a mini toy hauler allowing rear loading for larger items such as bikes, kayaks, coolers, and other exploring needs.  The Remote's laminated, aluminum framed, durable construction, is built to get you off the grid and on your way to adventure!  This trailer is built for todays downsized tow vehicles.
MSRP base $18,755 CDN.
For more information, please visit https://coachmenrv.com/travel-trailers/apex-nano/16R/5341
---
See the first 4 articles in the "New for '22" series – here are the links: