(Makes 2 servings)
Ingredients
2 tablespoons (30 mL)  all purpose flour
2 tablespoons (30 mL)  grated Parmesan cheese
1/2 teaspoon (2.5 mL)   paprika
3/4 teaspoon (3.75 mL) lemon pepper
1 pound (454 g) yellow perch fillets, pickerel, or other mild fish
1 cup (250 mL)  1 % milk
Directions
Preheat the oven to 450° F (205° C).
Combine the flour, Parmesan cheese, paprika, and lemon pepper in a medium-size bowl. Mix well.
Wash the perch fillets and pat dry with paper towel.
Pour the milk into a separate medium-size bowl.
Lightly oil a baking sheet.
Dip each fillet into the milk and then into the flour mixture. Coat the entire surface of each fillet with the flour then gently shake the fillet to remove any excess flour.
Place the fillets on the baking sheet.
Bake the perch, uncovered, for 10 minutes or until the fish flakes easily when touched.
---
Another Best-Kept Secret Exposed!
Traveling in an RV not only leads to those out-of-the-way places, it provides the luxury of staying in your own "home" while you do it. One of our favourite such spots in Southwestern Ontario is Erieau. Many people who have lived in Ontario all their lives have never heard of this gem. The people who live in Erieau like it like that.  But things are changing. Their best-kept-secret is becoming a desired destination for RVers, bikers, fishermen, and sun-worshippers. They come for the perch, the pickerel, the produce, and picnics on the public beach.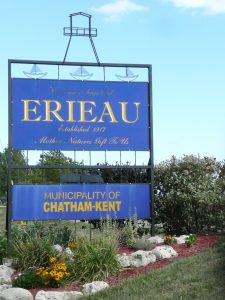 Erieau sits at the tip of a peninsula jutting between Lake Erie and Rondeau Bay. It lies in Canada's deep south, on the migratory path of birds and butterflies. The village is surrounded by tomato, tobacco, corn, carrot, cauliflower, broccoli, radish, and onion fields, and the blueberry, apple, peach, and cherry orchards of the Municipality of Chatham-Kent. Unique Great Lakes' fishing boats cast their nets off shore and haul in yellow perch and pickerel to be served at village eateries, Eau Buoy Galley and Molly & O.J.'s.  The Eau Buoy Variety sells Pol-Kabobs, marinated pork on a stick, another local product created by a local family business. Nearby attractions include Rondeau Provincial Park, South Buxton Raceway, Smith and Wilson Estate Winery, Buxton Museum, Uncle Tom's Cabin, and RM Classic Cars.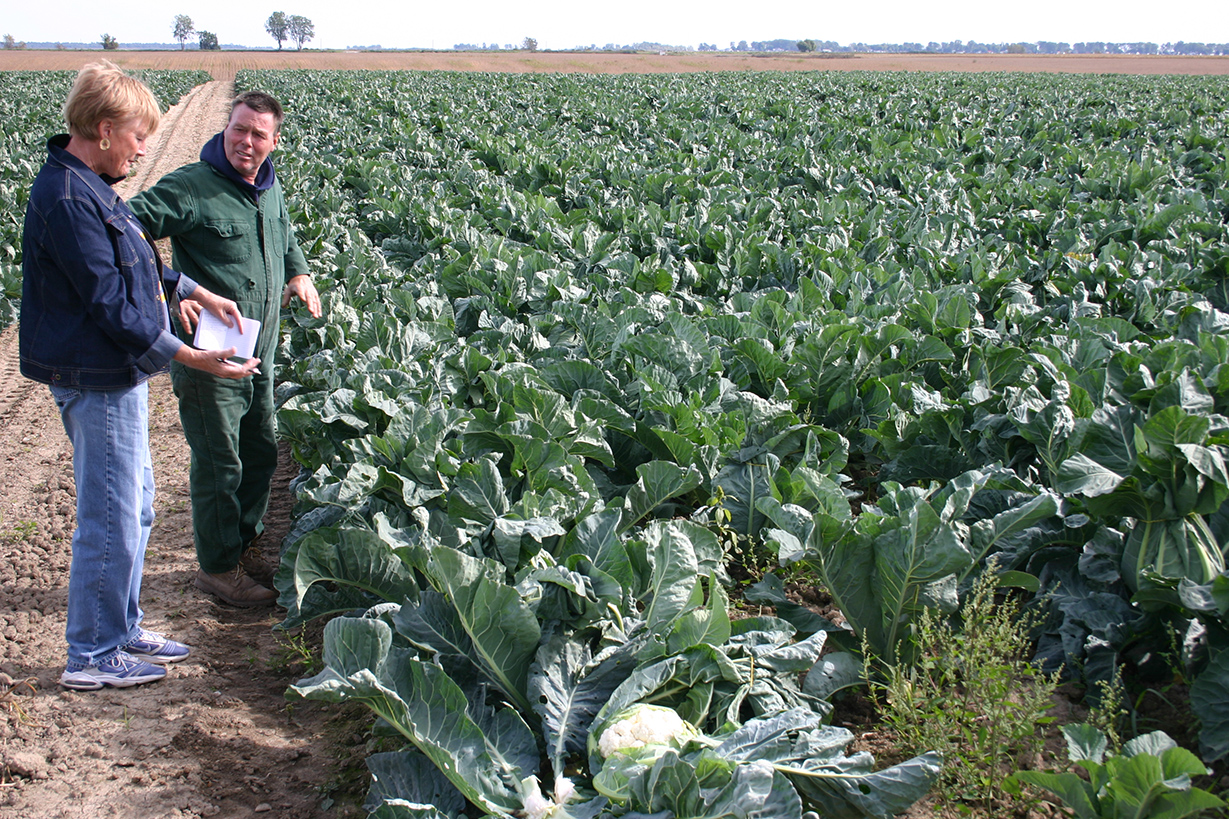 This summer we spent a full day in Erieau enjoying the Home and Cottage Tour and Art in the Boulevard. The cottages on the tour ranged in age from new to 100. Styles included a modern dream home overlooking the bay and a generations-old summer cottage with original plank flooring, wood burning stove and wooden-shuttered porches leading out to the sandy lakeshore. The weather was perfect. Lake Erie behaved much like the Mediterranean, with varying shades of turquoise and a few, tiny white caps. It is known to imitate the Atlantic on occasion. Its unpredictable personality can change without warning. Thus the amount of ship wrecks over the years, and consequently the assortment of sea glass along the beach.
Our Erieau experience led to this easy Lake Erie yellow perch recipe.
---
Follow The Cooking Ladies on Facebook, Twitter, Instagram and Pinterest. Links are on their website: www.thecookingladies.com
Phyllis Hinz & Lamont Mackay are authors of On The Road With The Cooking Ladies, Let's Get Grilling https://amzn.to/2OSGLbZ and a new series of guidebooks Stratford For All Seasons https://amzn.to/38w4bvu