(Makes 2 to 3 servings)
Ingredients
1/4 cup (60 mL) canola oil

1 cup (250 mL) white vinegar

1/3 cup (80 mL) barbecue sauce

1 tablespoon (15 mL) dried rosemary

1 teaspoon (5 mL) dried thyme leaves

2 teaspoons (10 mL) garlic powder

12 large chicken tenders
Directions
Combine the canola oil, white vinegar, barbecue sauce, rosemary, thyme, and garlic powder in a bowl. Mix well.

Place the chicken in a container with a lid.

Pour the marinade over the chicken. Cover. Shake well to coat the chicken with the marinade.

Refrigerate and marinate for 4 to 5 hours. Turn the chicken several times while marinating.


Barbecue over medium heat until the chicken tenders are browned and cooked through.
---
Rollin' On The River…
For a few days last summer, we switched our RV for a 40-foot houseboat rented from Happy Days Houseboats in Bobcaygeon, Ontario. Our highway was the Trent-Severn Waterway, a 386-kilometre system of locks and dams connecting lakes and rivers between Trenton and Port Severn, Ontario. We discovered that living aboard a houseboat is basically the same as living in an RV. However, we soon found out that operating a houseboat is nothing like driving a motorhome.
Once Happy Days put us and our friends Ruth and Roger through a training session and answered all our questions, we were "on the road." Only this time, rather than driving at 60 miles per hour, our top speed was 5.1 miles or 8.3 nautical miles per hour. Herons on our left were actually on our port side. Bull rushes on our right were in fact on the starboard side. The steering wheel was now a helm. Life preservers replaced seatbelts. Unlike the motorhome, as we floated along, apart from the person at the helm, we could stroll the deck and take photos of cormorants, ospreys in nests, lily pads, and football size beehives hanging in trees..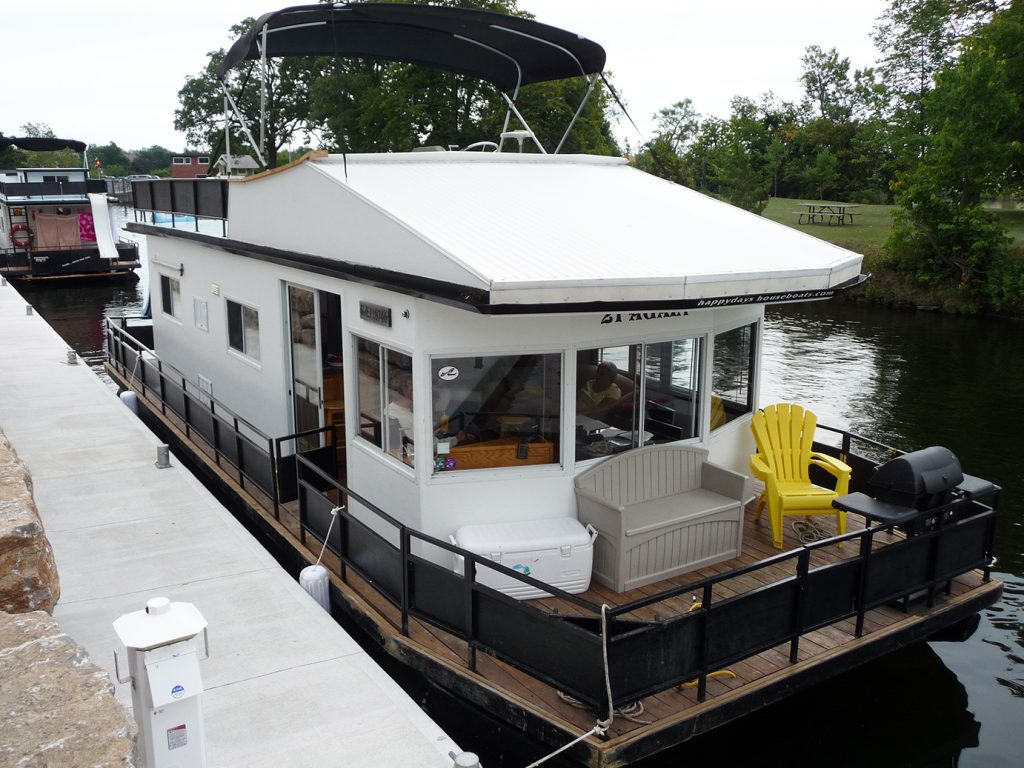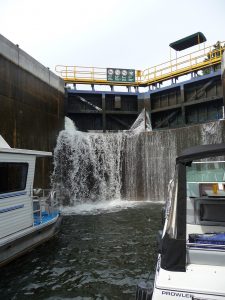 Our first experience at maneuvering in and out of a lock took place at Lock #32 in Bobcaygeon. Our hero was Scott, the lockmaster. In typical lockmaster fashion, Scott  provided necessary directions and gentle guidance even though we were performing a bit like a bumper boat. It was "all hands on deck" as we finally got the houseboat settled into place. The lock gates closed behind us, and water flowed into the watertight chamber by gravity from above. When the water in the lock reached the same level as upstream, the gates opened in front of us and we continued on our way. At the Kirkfield lock, we floated into what felt like a huge outdoor swimming pool and hydraulic lifts lowered us and the swimming pool to the river below. Each time we maneuvered the houseboat in and out of a lock, we got a little better at it. By the time we returned the boat to Happy Days Houseboat rentals, we were planning our next houseboat adventure!
Just like we RV'ers love to cook outdoors, an onboard barbecue was a welcome appliance on the houseboat. This recipe is easy and tasty either on land or water.  
---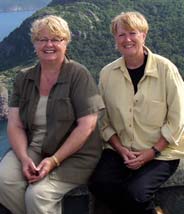 Follow The Cooking Ladies on Facebook, Twitter, Instagram and Pinterest. Links are on their website: www.thecookingladies.com
Phyllis Hinz & Lamont Mackay are authors of On The Road With The Cooking Ladies, Let's Get Grilling https://amzn.to/2OSGLbZ and a new series of guidebooks Stratford For All Seasons https://amzn.to/38w4bvu