Don't Sell Your RV – Renovate it
After 14 years on the road, we downsized from a 40-foot Class A to a 25-foot Class C. We were excited. Never again would we have to plan on how we were going to turn around in a parking lot before we drove in. Even without a bedroom, our Class C has more sleeping areas than our Class A. For example, there was the cab-over bed, a dinette that collapsed into a bed, and a foldout sofa with a queen-size blow-up mattress. Rather than sleeping just two like our precious motorhome, we could now sleep six, or so we thought before we tried to live in it.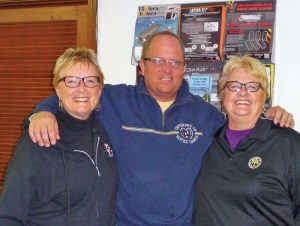 The Cooking Ladies with Steve Paul from The Mobile Outfitters.
We soon discovered that the cab-over bed was claustrophobic, the dinette-bed was the size of a crib, and the blowup mattress inflated into challenging shapes resembling mountains and valleys. We were getting no sleep. Our new RV floorplan was making us crazy and cranky.
After replacing the inflatable blow-up mattress several times, we decided we had to either sell the RV or renovate. We loved everything else about the vehicle so renovation was the logical choice.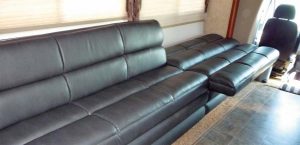 The end-to-end jack-knife sofas fit perfectly in the unit. We would gain floor area, more seating capacity, and two comfortable beds.
We drew our floor plan to exact measurements and worked out the details with aftermarket RV specialists, The Mobile Outfitters. We discovered that end-to-end jack-knife sofas would fit perfectly into the dinette and pullout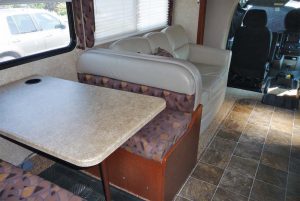 sofa space. We would gain floor area, more seating capacity, and two comfortable beds.
We don't hesitate to renovate our houses whenever a floor plan doesn't work, or when wear and tear begins to show. Why not approach our home-on-wheels the same way?
The Mobile Outfitters have dealers all across Canada. To find a dealer go to www.themobileoutfitters.com and click on the dealer locator tab.
Recipe
Easy rustic fruit pie – a renovation of an old-time favourite.
INGREDIENTS
1 Pre-made pie dough (Pillsbury Pie Crust works best. You can find it in the refrigerated section of most grocery stores.)
4 large, unpeeled apples, pears, peaches, or nectarines
2 tablespoons (30ml) melted butter
1/2 teaspoon (2.5 ml) ground cinnamon
2 tablespoons (30 ml) brown sugar
1 tablespoon (15 ml) white sugar
DIRECTIONS
Pre-heat oven to 400°F (205°C) Cover a cookie sheet with parchment paper or oil lightly.
Unroll pre-made pie dough and lay it flat on the cooking sheet.
Cut chosen fruit into 10 to 12 slices and pile the fruit high in the centre of the dough with the skin side up for colour. Leave about 1.5 inches (3.8 cm) of dough uncovered around the rim.
Fold the rim up around the fruit. Crease dough as needed.
Melt the butter and stir in the ground cinnamon.
Brush the rim with the melted butter mixture and drizzle the remaining butter over the fruit.
Sprinkle the brown sugar over the fruit.
Sprinkle the white sugar on the pastry.
Bake for 50 minutes or until the crust is cooked through and golden brown.
Please visit The Cooking Ladies' website at www.thecookingladies.com or email them at info@thecookingladies.com