The Versatility of BBQs
When our home base was our test kitchen on the north shore of Lake Erie, the patio was bursting with barbecues. Propane, charcoal, electric, and wood-pellet-fired smokers. Our job was to test them all. Not a tough assignment. Only the coldest, windiest, and rainiest weather kept us from cooking outside. We often went days without turning on the stove, especially when we were creating our grilling cookbook. While in "cookbook quarantine", every recipe was developed around the barbecues, from breakfast, lunch, and dinner, to appetizers and desserts. We think On The Road With The Cooking Ladies, Let's Get Grilling is our best cookbook. The recipes and methods make grilling fun.
Some of the barbecues on the test kitchen patio were too large and too heavy to take with us on the road but it's amazing what can be created with a small grill that fits easily into the RV.
This is one of our favourite barbecue recipes. The cedar plank adds a distinct smoky flavor to the fish and a novel element to the presentation. When we created this recipe, we caught our salmon at a fish shop located on the dock at Discovery Bay Marina in Campbell River, British Columbia. Any fresh salmon on the end of a line or in a store qualifies. Let's get grilling!
(Makes 4 servings)
3 tablespoons (45 mL)      brown sugar
1/2 tablespoon (7.5 mL)   garlic powder
1 teaspoon (5 mL)             hot sauce
3 tablespoons (45 mL)      soy sauce
1/2 tablespoon (7.5 mL)    sesame oil
1/4 cup (60 mL)                dark molasses
4                                        boneless, salmon fillets, skin on (approx. 6 oz/170 g)
Soak 2 cedar planks (approx. 12-inch/ 30-cm) in cold water overnight.
In a bowl, combine the brown sugar, garlic powder, hot sauce, soy sauce, sesame oil and dark molasses. Stir well.
Preheat the grill on medium-high (450 to 550°F/230 to 288°C) for 10 minutes with the lid closed.
Place the salmon fillets, skin side down, on the wet cedar planks. Place the planks on the hot grate.
Spoon and spread half the brown sugar mixture over the salmon.
Cook the salmon with the lid closed for 15 to 20 minutes depending on the thickness of the salmon and the thickness of the cedar. The cedar will smoke the fish.
Halfway through the cooking, baste the salmon with the remainder of the sauce. Do not turn the salmon over.
Check the cedar planks occasionally. Be prepared to sprinkle baking soda on any flames.
The salmon is cooked when the flesh is firm, but moist.
Lift each fillet from the cedar planks, leaving the skin behind.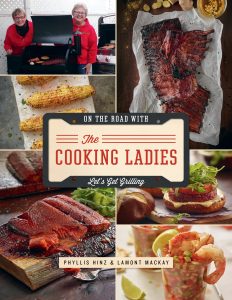 The Cooking Ladies' 10th cookbook, "On the Road with The Cooking Ladies, Let's Get Grilling", is available on Amazon at http://amzn.to/2CjLfR0 and wherever books are sold.
Follow The Cooking Ladies' on Facebook, Twitter, Instagram, and Pinterest. Links are on their website: www.thecookingladies.com