2021 marks RV Lifestyle Magazine's 50th anniversary year and we have highlighted some favourite previously published recipes from Phyllis Hinz and Lamont Mackay, otherwise known as The Cooking Ladies.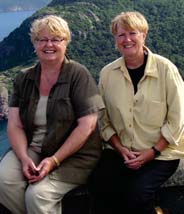 This 'Tortilla Soup' recipe, which makes two servings, first ran in RV Lifestyle Magazine in 2005 in Vol. 33 No. 7.
INGREDIENTS:
– 2 Tbsp. butter                                       – ¼ each yellow & green zucchini, diced
– ½ medium onion, chop fine                  – ¼ each red & pepper, diced
– 2 cloves garlic, chop fine – ¼ medium potato, diced  
– 2 cups chicken broth                                  – 1 cup cubed, cooked chicken
– 1 cup water                                                 – 4 to 6 drops hot sauce
– 1 medium carrot, cut in rounds                – 2 flour tortillas
– 1 jalapeno pepper, seeds removed, thinly sliced      
– 3 Tbsp. fresh cilantro, chop coarse
– 1 stalk celery, chopped    
METHOD:
In a medium saucepan, combine the butter, onion, garlic and celery over medium heat. Stir until the onion is transparent.
Add the chicken broth, water, carrot, green and yellow zucchini, potato, red and green pepper, jalapeno pepper, chicken, hot sauce and cilantro. Cook until the vegetables are tender. While the soup is cooking, prepare the tortilla topping.
Cut two flour tortillas into quarters and then into one-inch long strips, each 1/2-inch wide. Heat a non-stick frying pan over medium-high heat. Spread the tortilla strips around the bottom of the frying pan. Lightly brown and turn the tortilla strips often in the frying pan until crisp but not burnt.
Ladle the soup into bowls and top with tortilla chips.
–
Phyllis Hinz & Lamont Mackay are authors of On The Road With The Cooking Ladies, Let's Get Grilling https://amzn.to/2OSGLbZ and a new series of guidebooks entitled Stratford For All Seasons https://amzn.to/38w4bvu.
You can find The Cooking Ladies on Facebook/ Twitter/ Instagram or on their website at: www.thecookingladies.com.