The popular trend of entertaining by serving food on boards began with charcuterie boards, a traditional French way to present sausages, sliced salamis, hams, and pâtés alongside pickles and other complementary accompaniments. We all know, whether in an RV kitchen or at home, the advantage of being able to prepare ahead provides the opportunity to enjoy the party just like everyone else!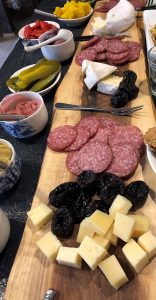 Creative cooks have turned traditional charcuterie boards into artistic food palettes by using them for meats and cheeses, seafood, fruits and veggies, bread and crackers, breakfasts, desserts, and accompaniments like dips, sauces, pickles, preserves, nuts, and dried fruits, or a full-blown, eye-popping combination of all-of-the-above. We enjoy the colours, textures, shapes, and variety of food. Not to mention the range of material and shapes of the boards; from wood, glass, slate, marble, porcelain or plastic. It's all about the food and presentation. Portions are small, appropriate for self-service and easy pick-up.
Food boards allow us the opportunity to experiment with sweet and savoury flavour choices. Serving prepared foods on boards means the possibilities are endless. Be creative. Be an artist. Set out the board and join the party.
We have created one sweet and one savoury recipe. Roasting enhances the sweetness of the grapes. Mortadella is a less salty meat than the prosciutto usually used to wrap asparagus. Both are interesting additions to a charcuterie board.
---
ROASTED GRAPES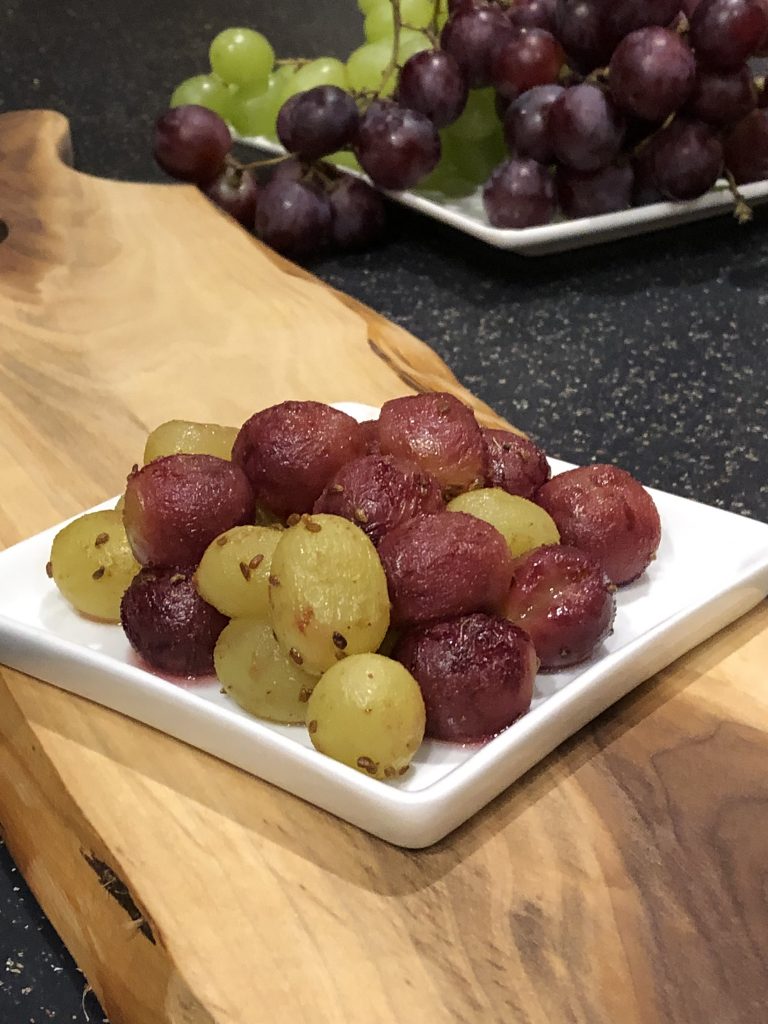 (Makes 5 servings)
20 individual                     red seedless grapes
20 individual                     green seedless grapes
1 tablespoon (15 ml)         extra virgin olive oil
1/2 teaspoon (2.5 ml)        anise seeds
Rinse and dry the grapes.
Place the grapes in a bowl. Sprinkle the grapes with the olive oil. Toss the grapes in the olive oil to coat them evenly.
Sprinkle the grapes with the anise seeds.
Spread the grapes on a baking sheet lined with parchment paper.
Pre-heat the oven to 400° F (204° C). Bake the grapes for 5 minutes on the centre rack.
---
MORTADELLA-WRAPPED ASPARAGUS, IN THE OVEN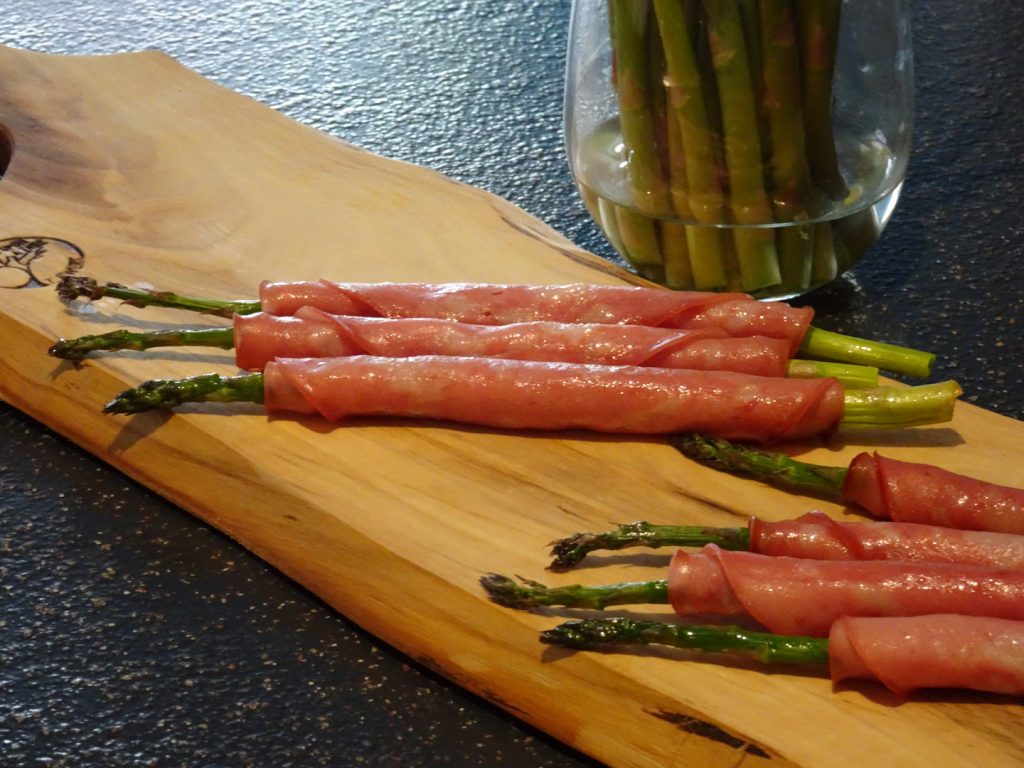 (Makes 5 servings)
15           spears fresh asparagus
15           thin slices mortadella
Preheat the oven to 400° F (204° C).
Line a baking sheet with parchment paper.
Trim the tough ends of the asparagus to make uniform spear lengths.
Wrap one slice of mortadella around each asparagus spear. Place the wrapped spears on the baking sheet.
Bake for 5 minutes on the centre rack of the oven. Turn the spears over and roast for another 5 minutes.
---
The Cooking Ladies' 10th cookbook, "On the Road with The Cooking Ladies, Let's Get Grilling", is available on Amazon at http://amzn.to/2CjLfR0 and wherever books are sold.
Follow The Cooking Ladies' on Facebook, Twitter, Instagram, and Pinterest. Links are on their website: www.thecookingladies.com
For more recipes click here.