2021 marks RV Lifestyle Magazine's 50th anniversary year and we have highlighted some favourite previously published recipes from Phyllis Hinz and Lamont Mackay, otherwise known as The Cooking Ladies.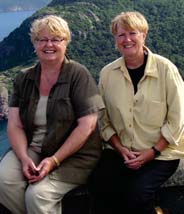 This 'Sweet and Hot Pot' recipe, which makes six servings, first ran in RV Lifestyle Magazine in 2017 in Vol. 46 No. 4*
INGREDIENTS:
1 1/2 lbs (3.3 kg) pork tenderloin
6 cups (1.5 L) chicken broth
1/2 cup (125 mL) sweet red chili sauce and 1/3 cup (60 mL) soy sauce
2 tbsps (30 mL) chopped ginger
1 red bell pepper (thinly sliced)
2 cups (500 mL) button mushrooms (stems removed)
2 cups (500 mL) napa cabbage (sliced 1/4-inch thick)
6 oz (350 g) stir fry chow mein noodles
8 oz (227 g) fresh bean sprouts
3 green onions (chopped)
20 snow peas (ends tripped, cut into half)
1 cup (250 mL) fresh cilantro leaves / chopped sesame seeds (if desired)
METHOD:
Freeze the tenderloin. Take it out of the freezer to sit in the refrigerator overnight. While still partially frozen, trim any fat from the tenderloin and slice the meat crosswise, paper thin.
Pour the chicken broth into a large wok or large pot. Add the chili sauce, soy sauce and ginger.
Bring the mixture to a boil. Boil for 2 minutes to blend the flavours.
Stir in the meat. Cook for 4 minutes.
Add the red peppers, mushrooms and cabbage. Stir and bring the liquid back to a boil. Cook for 2 minutes.
Stir in the noodles and sprouts. Bring liquid back to a boil and cook for 1 minute.
Stir in the green onions and snow peas. Bring the liquid back to a boil.
Turn off the heat. Stir in the cilantro.
Serve in bowls and sprinkle with sesame seeds if desired.
–
To read Vol. 46 No. 4, click HERE and, if prompted, enter the Promo Code: RVLFREE2017. Sweet and Hot Pot can be found on page 18 of this issue.
–
Phyllis Hinz & Lamont Mackay are authors of On The Road With The Cooking Ladies, Let's Get Grilling https://amzn.to/2OSGLbZ and a new series of guidebooks entitled Stratford For All Seasons https://amzn.to/38w4bvu.
You can find The Cooking Ladies on Facebook/ Twitter/ Instagram or on their website at: www.thecookingladies.com.