2021 marks RV Lifestyle Magazine's 50th anniversary year and we have highlighted some favourite previously published recipes from Phyllis Hinz and Lamont Mackay, otherwise known as The Cooking Ladies.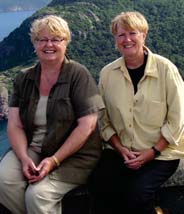 This 'Fresh Tomato Cannelloni' recipe, which makes 8-10 servings, first ran in RV Lifestyle Magazine in 2007 in Vol. 36 No. 3.
INGREDIENTS:
canola oil
6 oz/180 mL low-fat cottage cheese
6 oz/180 mL light ricotta cheese
6 oz/180 mL mascarpone cheese
6 oz/180 mL Romano cheese
3/8 teaspoon/1.9 mL ground nutmeg
1 egg, beaten
18 cannelloni noodles
2 tablespoons/30 mL olive oil
4 garlic cloves, chopped
10 fresh tomatoes
3/8 teaspoon/1.9 mL dried basil
3/8 teaspoon/1.9 mL salt
METHOD:
Lightly oil or spray a 9 x 13 inch (22.5 x 33 cm) baking dish with canola oil. Combine the cottage cheese, ricotta cheese, mascarpone cheese and Romano cheese in a bowl. Add the nutmeg. Stir well. Add the egg. Stir well.
Loosely stuff the cannelloni shells with the cheese filling. Set aside.
Heat the olive oil in a saucepan over medium-high heat. Add the garlic. Cook and stir until the garlic is tender.
Finely chop the tomatoes and save the juice. Add the tomatoes and their juice to the saucepan. Bring to a boil. Reduce the heat to medium-low and cook for 10 minutes. Stir often.
Preheat the oven to 350° F (175° C). Pour a thin layer of sauce into the bottom of the baking dish. Place the stuffed cannelloni noodles side by side in the dish on top of the sauce. Pour the remaining sauce evenly over the noodles.
Bake for 1 hour or until the noodles are tender.
–
Phyllis Hinz & Lamont Mackay are authors of On The Road With The Cooking Ladies, Let's Get Grilling https://amzn.to/2OSGLbZ and a new series of guidebooks entitled Stratford For All Seasons https://amzn.to/38w4bvu.
You can find The Cooking Ladies on Facebook/ Twitter/ Instagram or on their website at: www.thecookingladies.com.