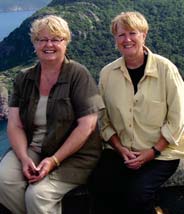 THE COOKING LADIES
by Lamont Mackay and Phyllis Hinz
The official motto of the province of Québec, Je me souviens, I remember, reflects a reverence for the past. Inscribed over the main door of Quebec's parliament buildings in 1883, the motto has appeared on Quebec license plates since 1978.
Respect for the past is very evident in Quebec City where the old walled section was designated a UNESCO World Heritage Site in 1985. We hiked cobblestoned streets to Place Royale, the site of Samuel de Champlain's headquarters in 1608. It is a comfortable space with greenery-filled planters hanging on ancient stone walls, multi-coloured roofs, and the oldest church in North America, Notre-Dame-des-Victoires. Nearby, the immense Fresques des Québecois mural depicts the story of Quebec City with visual illusions of historic figures and leading Quebec artists looking out the building's windows.
In this community built upon layers of history, Quebec City chefs create contemporary cuisine using regional and local produce. For example, at Restaurant Initiale, 54 rue St. Pierre, Chef Yvan Lebrun's modern dishes are delicate, brightly coloured, multi-textured, and flavor infused. At the Fairmont Le Château Frontenac, the iconic historic hotel that overlooks the river, stone walls, cannons, and the Dufferin Terrace boardwalk, Executive Chef Baptiste Peupion includes trendy, simple back-to basics cooking methods to create his internationally celebrated menus.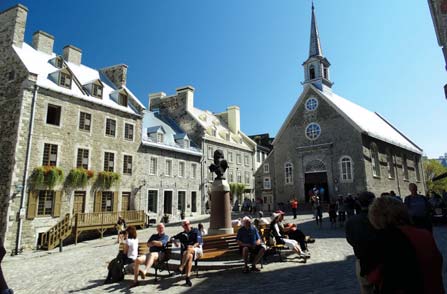 Chef Baptiste and his staff tend an herb garden on the fourth floor of the hotel, and honey bee hives on the sixth. Natural food ingredients are only an elevator ride away, to provide wonderful meals for restaurant guests. We had to go to the grocery store for the honey in this recipe.
---
HONEY BREADED CHICKEN STRIPS
(Makes 4 servings)
INGREDIENTS
1 1/2 pounds (680 g) boneless and skinless chicken breasts
1/3 cup (80 mL) mayonnaise
1/8 cup (30 mL) honey
2 tablespoons (30 mL) finely chopped fresh parsley
3/4 cup (180 mL) dry bread crumbs
1/4 cup (60 mL) grated Parmesan cheese
1/2 teaspoon (2.5 mL) garlic powder
1/2 teaspoon (2.5 mL) salt
1/2 teaspoon (2.5 mL) pepper
parchment paper
DIRECTIONS
Slice each chicken breast into 1/2-inch (1.25 cm) wide strips.
Preheat the oven to 350° F (175° C).
While the oven is heating, mix the mayonnaise, honey, and parsley in a bowl.
In a separate bowl, combine the breadcrumbs, Parmesan cheese, garlic powder, salt, and pepper.
Place parchment paper on a baking sheet.
Coat the chicken strips with the mayonnaise mixture, then roll them in the bread crumb mixture. Shake off excess crumbs.
Place chicken strips on the baking sheet.
Bake for 30 minutes or until the chicken is no longer pink in the centre.
Please visit The Cooking Ladies' website at www.thecookingladies.com or email them at info@thecookingladies.com