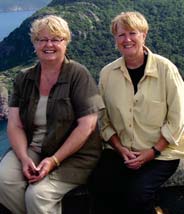 THE COOKING LADIES
by Lamont Mackay and Phyllis Hinz
One in every five Canadians has a connection to Pier 21 in Halifax, Nova Scotia. For 43 years between 1928 and 1971, one mil-lion immigrants, refugees, war brides, evacuee children, and displaced persons passed through this immigration gate-way. Now a national historic site, Pier 21 also served as the departure point for 500,000 Canadian military personnel during the Second World War.
While walking through the building, we caught a glimpse of the immigration experience. Ships' rosters displayed the names of passengers who bundled up everything they could to start a new life in Canada. A cut out of the tight quarters of a transatlantic crossing created an appreciation for the space and luxury we have in our RV. Photos and films depicted the questioning and customs procedures every immigrant had to face. A railroad car represented the long journey many took across the country from Halifax to unknown cities or distant, isolated farm communities. Personal stories of the newcomers described the many challenges. It was an emotional time, the joy and excitement of a new beginning and the sadness at leaving loved ones and a homeland behind.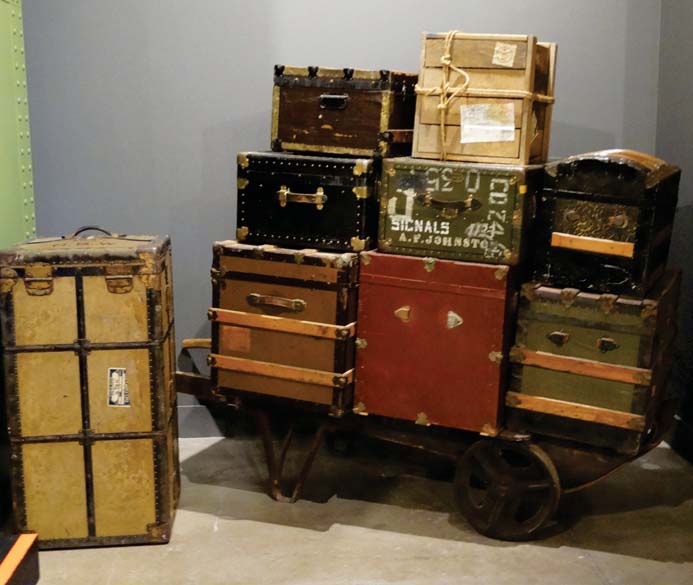 Displays of suitcases and battered trunks include personal treasures that people carried with them to begin again. In preparation for the unexpected, many hid food in their luggage. Sausages, hams, bread, olive oil, and wine were confiscated by Canadian customs officials. North American food was often confusing for new arrivals. They considered cornflakes to be something for animal, not human, consumption. Fluffy, sweet white bread was mistaken for cake. Even mustard was different, yellow not brown.
Many of the ingredients in this happy hour and holiday entertaining recipe would have been familiar to people entering Canada at Pier 21 – smoked meat, cheese, dark mustard, and multi-grain bread.
---
DEVILED HAM SPREAD IN A BREAD BOWL
(Makes 15 servings)
INGREDIENTS
7 oz (200g) smoked ham, cubed
9 oz (250g) light cream cheese, softened
1 cup (250 mL) shredded medium cheddar cheese
3 tbsps (45 mL) sweet green relish
1 small onion, quartered
1 garlic clove, quartered
1 tbsp (15 mL) Dijon mustard
1 round loaf multigrain bread, unsliced
DIRECTIONS
Place the cubed ham in a food processor. Process until finely chopped.
Add the cream cheese, cheddar cheese, relish, onion, garlic, and mustard. Process until smooth.
Cut the top off the loaf of bread and hollow out the centre of the loaf.
Break the bread lid and the removed centre of the loaf into bite-size pieces.
Fill the bread cavity with the deviled ham. Serve with a small cocktail knife to spread the deviled ham on the pieces of bread. When the bowl is empty, cut it into bite-size pieces as well.
Please visit The Cooking Ladies' website at www.thecookingladies.com or email them at info@thecookingladies.com