RVing is on the rise from coast to coast in Canada and how affordable a family trip is depends on a number of factors. Are you an RV owner or will you rent – and if so, what kind of unit? Will your trip be a three-day weekend or do you plan to hit the road for a week or more? And last, but certainly not least, where will you go?
To help answer some of these questions three well-known RV groups in Canada worked together to release the updated 2020 Family Vacation Cost Analysis, which analyzes and compares several different travel options to highlight the fact that RV travel remains "an affordable and cost-effective way to vacation". 
The Recreation Vehicle Dealers Association (RVDA) of Canada, the Canadian Recreational Vehicle Association (CRVA) and Go RVing Canada consulted and worked with The Portage Group Inc., who conducted the 2020 study which provided a cost comparison between vacations taken via RV and those where travellers stay in hotels or private rentals and travel by other means.
The study, which can be obtained on the RVDA website, revealed that: RV vacations are generally less expensive than those where the travel party stays in a hotel/motel, and that towable RV vacations are also more economical than private property rentals. (The report is based on "available data from sources as identified and were accurate at the time of collection in September, October and November 2020".)
The vacation cost analysis was based on a hypothetical family consisting of two adults and two children, travelling by different modes of transportation and staying in different types of accommodation (at campgrounds, motels/hotels, or Airbnb). The following five trips were analyzed (all with a 'start date' of Friday, July 16, 2021):
·         Trip 1 – Montreal, QC to Algonquin Provincial Park, ON for 3 Days
·         Trip 2 – Halifax, NS to Quebec City, QC for 10 Days
·         Trip 3 – Toronto, ON to Sturgeon Falls, ON for 3 Days
·         Trip 4 – Brandon, MB to Drumheller, AB for 10 Days
·         Trip 5 – Vancouver, BC to Banff National Park, AB for 7 Days
Origins were selected based upon travel distance and the availability of commercial air service while also ensuring the distance between origin and destination was large enough that air travel is a realistic alternative. For those travelling by RV, the cost of ownership (depreciation, maintenance, insurance and storage) was factored in based on the average nights RVs are used each year.
It found that the lowest cost vacations are those taken in tent camping trailers and travel trailers. These trip configurations were, on average, 16% lower than driving and staying in Airbnbs, 37% lower than driving and staying in hotels, and 57% lower than flying and staying in hotels.
The savings range was 7% to 27% compared to Airbnb, 32% to 44% compared to drive and hotel, and 48% to 71% compared to flying. (The actual cost difference varies significantly depending on the cost of accommodations in a destination, trip length and distance.) 
RVDA of Canada President, Eleonore Hamm, said: "The purpose of the 2020 Family Vacation Cost Analysis is to highlight the fact that there are cost savings when travelling by RV. First-time buyers often ask our dealer members about affordability and this study gives concrete examples of what a typical RV trip might cost."
Shane Devenish, CRVA President, added: "RV travel can reduce your family's vacation costs when compared to car and air travel. One of the trips analyzed was a Vancouver to Banff National Park vacation. This very popular 7-day trip costs about $2,887 with a travel trailer. Doing so with a personal car and hotel, costs would be closer to $4,950."
–
The table below is a summary of the total costs and cost per day for each trip for each of the six trip configurations.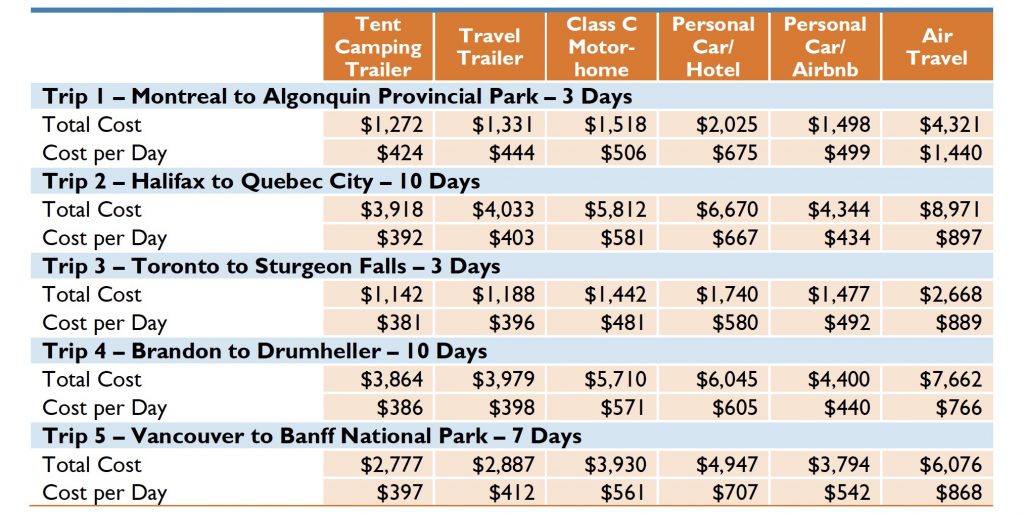 In addition to major expenditures required from the start to finish of each vacation, such as average fuel and food costs (showing that campers and RVers spend less on dining out compared to vacationers who hotel or motel it), The Portage Group also factored in estimated costs of various types of RV ownership.*
Go RVing Canada President Chris Mahony said that understanding the affordability of RV vacations and travel is one of the most common searches on their website. He added that "RV enthusiasts see that they can not only have a safe and convenient way to travel, but also incur cost-savings. The report highlights that they will spend less per day when compared to other types of vacations analyzed".
Based on the parameters and data samples in this study, RV vacations are generally less expensive than those where the travel party stays in a hotel/motel. However, while towable RVs are more economical than private property rentals, an Airbnb vacation can be more economical than one in a Class C motorhome.
*RV ownership: The RV cost of ownership per day is based on the number of days the RV is used through the year and is a significant driver of total trip cost. The more often a travel party travels, the lower the daily cost of ownership which would widen the cost gap in favour of RVs. Likewise, holding onto the RV longer will also generally result in a lower daily cost of ownership.
—
The Recreation Vehicle Dealers Association of Canada (RVDA) is a national federation that exists to protect and promote the interests and welfare of RV Dealers across Canada to enable the industry to maximize its potential.
The Canadian Recreational Vehicle Association (CRVA) is a non-profit organization comprised of leading recreational vehicle manufacturers and suppliers of the components that go into RVs that are sold in Canada.
The GoRVing Canada coalition serves as the Canadian RV camping industry ambassador to provide the public and media with information about the benefits of RV travel.