Tow Vehicles – Class of '22
Complied by Garth Cane
Since the pandemic era began, millions of North American families have turned their attention to RV vacations as an alternative to the conventional modes of travel and accommodations. As a result, demand for tow vehicles – new and used – is at an all-time high, complicated by a shortage of computer chips and components that has the automotive industry scrambling to complete the production of 2022 vehicles. With the surge in demand, prices for tow vehicles are at a premium – but this is likely to change as the supply chain logistics are ironed out… so you may want to do your research now and keep your eye on the retail prices for tow vehicles as 2022 supply and demand "normalizes".
From a technological perspective, RV factories have experienced strong demand for new camping units and automotive manufacturers are providing us with many new tow vehicles that are capable of hauling everything from small 3,500-pound campers to large 36,000-pound fifth wheel trailers. Trailer towing packages are offered on many vehicles, bringing enhanced convenience to the RV towing experience – but please note that unless you happen to encounter an automotive salesperson with real-life experience towing an RV, you are likely to get the best advice on tow vehicle selection and towing components and accessories from your local RV dealer.
CHEVROLET TRUCKS
The 2022 Chevrolet Silverado is available with four engine choices, a 2.7L Turbo DOHC with active fuel management, a 5.3L V8 with variable valve tuning, a 6.2L V8 with VVT dynamic fuel management, and stop/start, or a 3.0L DOH I-6 Turbo Diesel engine. The 2.7L will have a Hydra-Matic 8-speed auto transmission, and the others will be equipped with a Hydra-Matic 10-speed auto transmission. You will be able to order a regular cab, double cab, or crew cab equipped with the trailer package. The 2.7L can haul up to 9000 pounds, the 5.3L can pull up to 11400, the 6.2L 11900, and the 3.0L diesel will tow 9000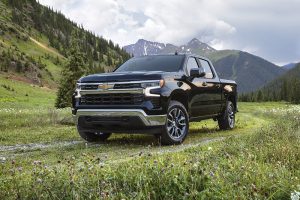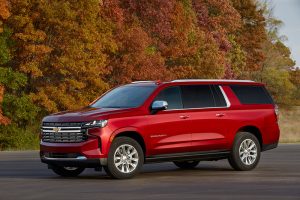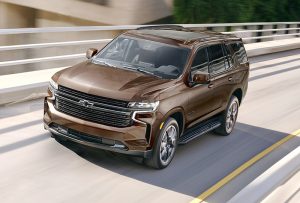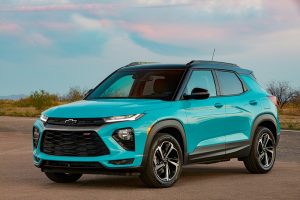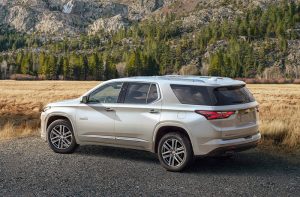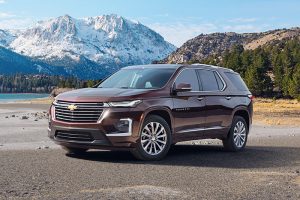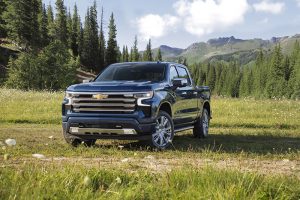 CHRYSLER / DODGE / JEEP / RAM
https://www.chrysler.ca/en
https://www.dodge.ca/en
https://www.jeep.ca/en
https://www.ramtruck.ca/
The 2022 Chrysler Pacifica delivers an athletic exterior appearance, available all-wheel-drive (AWD) capability paired with Pacifica's class-exclusive Stow 'n Go seating, more standard safety features than any vehicle in the industry. The Pacifica Hybrid is still the first and only plug-in hybrid minivan and achieves more than 80 MPG, has an all-electric range of more than 30 miles and a total range of more than 500 miles. The Pacifica can tow 3500 pounds.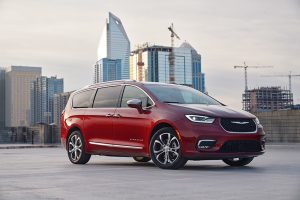 The Dodge Durango embodies power, performance, and speed like no other SUV. Its daring design, premium interior and intelligent infotainment system deliver an unforgettable driver-oriented experience. High-performance features deliver torque, horsepower, and towing capability The 2021 Durango outperforms others with Best-in-Class available towing of up to 8,700 lb available on the R/T with the new Tow N Go package.
The state-of-the-art 2022 Grand Cherokee is designed inside and out to deliver unmatched capability and composed driving dynamics. Its renowned 4×4 systems (Quadra-Trac I, Quadra-Trac II, and Quadra-Drive II), Quadra-Lift air suspension and Selec-Terrain™ traction management system instill Grand Cherokee with the Jeep brand's legendary 4×4 capability. 
Standard on all models is the all-aluminum 3.6-liter Pentastar V-6 engine. The award-winning 5.7-liter V-8 engine is available on Overland, Trailhawk, Summit and Summit Reserve. The Grand Cherokee is rated to tow 7200 pounds.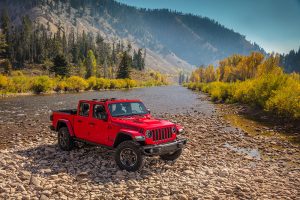 The Jeep Gladiator is equipped with the available turbocharged 3.0L EcoDiesel V6 engine features Engine Stop/Start technology and an eight-speed automatic transmission. It delivers an exceptional 442 lb-ft of torque, up to a 6,500-lb towing capability and 260 horsepower, plus excellent fuel economy. The new MOPAR trailer brake controller will give Gladiator owners the ability to activate the electronic brakes on properly equipped trailers.
The 2022 Ram 1500 is the no-compromise benchmark for durability, technology, efficiency, performance, and convenience with features never before offered in a pickup. The Ram 1500 features up to 12,750 pounds of towing capability and 2,300 pounds of payload. The eTorque 48-volt mild hybrid system delivers improved fuel efficiency in both V-6 (standard) and V-8 configurations. The Ram 1500 is America's most powerful half-ton diesel pickup with 480 lb.-ft. of torque and is rated at an unsurpassed 33 miles per gallon (mpg) highway, delivering up to 1,000 miles of range on a single tank of fuel.
FORD
https://www.ford.ca/ 
The 2022 Ford Ranger features the only Gasoline Turbocharged Engine in its class, the class-exclusive advanced 2.3L EcoBoost® Engine. Pair it with the class-exclusive 10-Speed Automatic Transmission and the Ranger® blows other gas-powered pickups in its class out of the water with a best-in-the-class gas torque rating of 310 lb.-ft. * The 270 horsepower under the hood is mighty impressive too. Ranger can be equipped to tow 7480 pounds.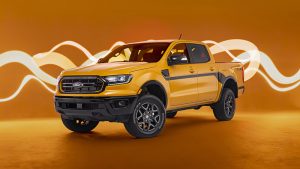 Equipped with the beefed-up, available 3.5L EcoBoost® High-Output Engine, the 2022 Expedition is dynamic, powerful, and capable. The Timberline and Stealth Performance Edition Package both churn out 440 horsepower with 510 lb.-ft. of torque* and an EPA-estimated rating of 12.9 combined mpg. ** The standard 3.5L EcoBoost engine delivers 380 horsepower and 400 lb.-ft. of torque. The Expedition can tow up to 9300 pounds.
Ford Explorer helps you make the most of your next big adventure with a rear-wheel-drive platform and your choice of 4 powerful engines. For additional traction, there's available Intelligent 4WD with Terrain Management System™ 128 and 7 selectable drive modes. And with the ability to tow a maximum of 5,600 lbs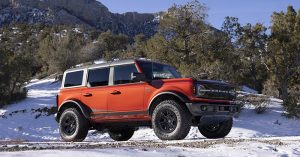 The 2022 Ford Escape has a choice of a Hybrid, Plug-in Hybrid* and EcoBoost® Engines with Auto Start-Stop technology, including a standard 1.5L EcoBoost Engine and the available 2.0L EcoBoost Engine. The available Plug-in Hybrid Escape features a 2.5L iVCT Atkinson-Cycle I-4 Hybrid Engine with a 14.4 kWh battery and 774 km total range. Think of towing a 3500-pound trailer.
The Ford F-Series pickups continue to be the best-selling vehicles in North America, with the F150, F250, F350, and F450 trucks meeting the needs of RV enthusiasts in every segment of the travel trailer and fifth wheel categories. Whether you need a quarter-ton, half-ton, one-ton, or extra heavy-duty pickup, with single or dually configuration, the array of trucks available through your Ford dealer is extensive, and impressive.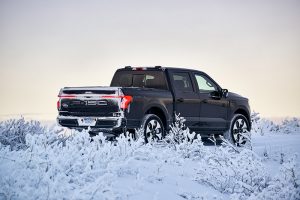 For the moment, the most exciting new tow vehicle from Ford is the 2022 Ford Lightning. This EV pickup has selectable drive modes that help you maintain control over a variety of terrain and road conditions. It produces 563 horsepower and 775 lb-ft of torque for powerful acceleration to enable a tow rating of 10,000 pounds. It has Pro Trailer Hitch Assist that helps you hook up by controlling the steering, throttle and braking to allow you to align the hitch ball and coupler.
GMC Canyon upgraded the mid-size truck over the years to include the AT4 trim and an off-road performance package that adds a 1-inch suspension levelling kit, off-road rocker panel protection, and front and mid skid plates. GMC revealed the Canyon AT4 concept last year, which included a number of off-roading and overlanding accessories. The Canyon with 3.6L engine is rated at 7,000 pounds towing, the 2.8L diesel can tow 7550 pounds.
The new 2022 Sierra Denali Ultimate offers Super Cruise with trailering for divided and compatible highways. It features specific calibrations designed to account for the additional drag and increased braking distance that comes with trailering. When not trailering, Lane Change on Demand and newly added Automatic Lane Change are also available. The 1500 is rated to tow 9400 pounds with the 2.7L turbo, 11,200 pounds with the 5.3L V8, and 13,000 pounds with the 6.2L V8 motor.
The GMC Yukon with the 5.3L V8 can tow 8,400 pounds and the longer Yukon XL is rated at 8,300 pounds. For fifth wheel towing, the Sierra 3500HD with the 6.6L gas engine can tow up to 16,800 pounds, and the 6.6L turbo diesel with a standard 5th wheel hitch can haul 32,000 pounds. If you decide to use the gooseneck hitch, you can tow up to 36,000 pounds.
HYUNDAI
https://www.hyundaicanada.com/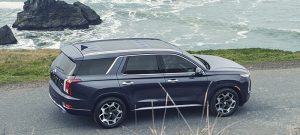 The 2022 Hyundai Palisade has a standard 3.8L GDI V6 engine with 291 horsepower/262 lb.-ft. torque and provides an abundance of power and responsiveness. Idle start-stop technology helps improve fuel efficiency. The standard cutting-edge 8-speed automatic transmission is smooth, yet highly responsive. The Palisade boasts standard multi-link independent rear suspension to enhance handling, driving dynamics and ride quality. Standard trailer sway control.
LAND ROVER
https://www.landrover.ca/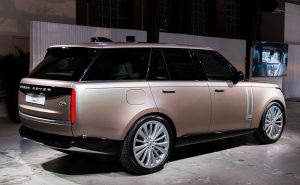 The 2022 Land Rover Discovery is a full-sized, seven-seat, premium SUV with RDE-2 certified diesel engine. All-wheel drive distributes torque to the axle that needs it for optimum efficiency. 3,500-pound towing capacity with Advanced Tow Assist takes the stress out of difficult reversing problems.
LEXUS
https://www.lexus.ca/lexus/en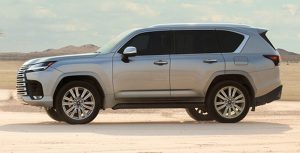 The Lexus RX 350 is the classic RX model – updated for today's luxury driver. Built around a 3.5L V6 with sequential multiport electronic fuel injection and paired with an eight-speed automatic, the RX 350 powertrain develops 295 peak horsepower while delivering smooth, confident acceleration and a fuel efficiency of 10.8L / 100km city/highway combined. Tow rating is 6,500 pounds.
Hybrid Lexis RX450 h . For those seeking maximum space, advanced luxury, and impressive efficiency, Lexus offers the three-row, self-charging hybrid RX 450h L. This model features the same self-charging hybrid powertrain found in the two-row RX 450h. Here, it delivers 308 net system horsepower and a fuel efficiency of 8.1L / 100km city/highway combined. The RX 450h L is available in one fully equipped model.
NISSAN
https://www.nissan.ca/ 
Nissan 2022 Frontier. Building on a proven chassis and frame – one of the most durable in the mid-size truck segment, with multiple industry quality and durability awards – the engineering team refined and tuned the powertrain, steering and suspension with a focus on the demands of North American truck owners. The standard 310-horsepower, 3.8-litre direct injection V6 engine, which was all-new with 93 per cent new or redesigned parts, offers best-in-class horsepower and Torque rated at 281 lb-ft.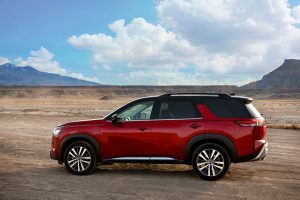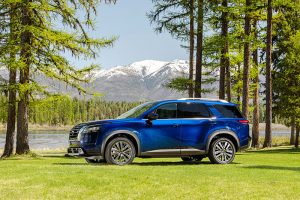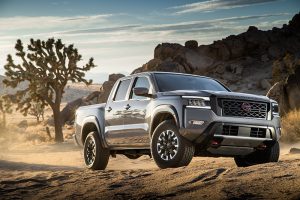 TOYOTA
https://www.toyota.ca/toyota/en/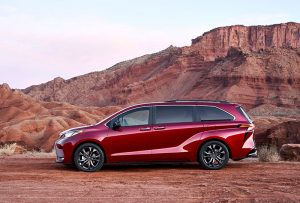 The 2022 Toyota Highlander features a maximum towing capacity of 5,000 pounds when properly equipped, which, when combined including its Trailer Sway Control technology, will make towing and hauling a comfort. This great towing capability, paired with the 2022 Toyota Highlander's spacious seating and interior, means there will be enough room for just about everyone. The gas-powered Highlander is rated to tow 5,000 pounds. The Hybrid model can tow 3,500 pounds.
The 2022 Toyota RAV4 TRAIL is an all-wheel-drive model designed for adventure beyond the pavement. Starting with the XLE trim level, this model adds many trail-ready features – including 19" Trail alloy wheels, bridge-type roof rails, LED fog lights, a dynamic torque vectoring differential with rear driveline disconnect, and a standard towing package that gives the vehicle a 1,588 kg (3,500 lb.) towing capacity.
The third-generation Toyota 2022 Sequoia is completely redesigned and worthy of the "all-new SUV" description. All 2023 Sequoia models will feature the powerful twin-turbo V6 hybrid i-FORCE MAX powertrain. First unveiled on Tundra, this exceptional hybrid produces 437 horsepower and 583 lb.-ft. of torque. Since full-size SUVs need to do it all, towing – whether it be a trailer, boat, or RV – is high on that list of demands. That's why the all-new Sequoia offers up to an impressive 9,000-pound maximum towing capacity, a nearly 22 percent increase over the prior generation.
The all-new 2022 Toyota Tundra is a very exciting model for RV towing applications. The pickup's towing capacity has been increased significantly. While not quite best-in-class, properly equipped 2022 Tundras can now tow up to a maximum of 12,000 pounds with the twin-turbocharged 3.5-liter V6 making a healthy 389 horsepower and 479 pound-feet of torque. Every 2022 Tundra comes standard with automatic emergency braking and pedestrian detection, adaptive cruise control, lane centering and lane-departure prevention.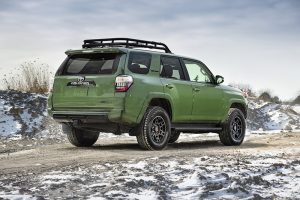 The Toyota 4Runner is an authentic SUV – and that means go-anywhere power and performance, with no compromises. Every 2020 4Runner is built around a proven 4.0L V6 with sequential multiport electronic fuel injection and other engine management technologies that help it deliver 270 peak horsepower and up to 278 lb-ft of torque while also maximizing efficiency and minimizing emissions. All 4Runners are factory-fitted with a tow hitch, 4+7 pin wiring harness, and Trailer Sway Control technology, and are ready to haul up to 2,268 kgs (5,000 lbs.).
For more information on towing, hitch installation, and other RV related concerns, please consult your local automotive and RV dealers. Links to each automotive manufacturer website are included in the article above. 
Follow this link to access the list of Canadian RV dealers at the Go RVing Canada website: https://gorving.ca/find-rv/dealers/
Electrification of the RV Towing Experience
The current trend to electric vehicles will likely result in a dramatic shift in our tow vehicle alternatives as we roll toward 2030. Our RV Lifestyle Magazine Road Test Team have been checking out the EV towing experience, and so far, the new technology seems capable of handling most of the small to mid-size travel trailers – but range and the need to recharge relatively quickly is a concern, and probably will be until the infrastructure catches up with projected demand.
When we look at the cost of fuel in 2022, many people are looking at the idea of pulling their trailer with a hybrid or electric powered vehicle. We are also considering the idea of making shorter trips and staying longer at destination campgrounds. For those who will be "early adapters" of the EV technology, things are progressing at a slow but steady pace. This will improve in the months and years to come – many new EV charging stations are being set up along the major highways, and campgrounds like KOA are starting to install chargers to top up the batteries of your electric or hybrid vehicle. For the time being, EV owners will have to do some careful trip planning to include extra time spent at a service station as your batteries get replenished. Many of the service stations with charging facilities that I have seen on the highways will require you to unhook the trailer so that you do not block the gas pumps.