ADVENTURER 80RB TRUCK CAMPER
MSRP Please see your local dealer
www.adventurercampers.com
The 80RB is Adventurer's lightweight, value leader and fits most popular light-duty, full size super short (5.5'), short (6', 6.5', 6.75') and long-bed (8′) trucks. The unit features a beautiful North/South bedroom with dual side windows, a bright bathroom equipped with a toilet, shower & skylight, an L-shaped galley with plenty of counter space, and a 72" roll-over sofa that makes into a 40" x 72" bed. The fully featured kitchen includes stainless steel appliances like a round sink, 2-burner cooktop, a Dometic 4 c. ft. fridge/freezer, and a microwave. Each camper is backed with Adventurer's 3-year Structural Warranty.
---
ADVENTURER 901SB TRUCK CAMPER
MSRP Please see your local dealer
www.adventurercampers.com
The Adventurer 901SB is best suited for full size, ¾ ton and up trucks. This contemporary model consists of several exclusive features like the largest wet bath in the industry, a big, bright galley and the Electric Power Bunk option. If storage is important to you, the 901SB has got you covered with many storage options like a wardrobe, closet, large pull-out drawers, and exterior storage big enough for your portable generator and gear. Enjoy the stars at night thanks to the insulated Moon Roof located on the ceiling of the queen bedroom.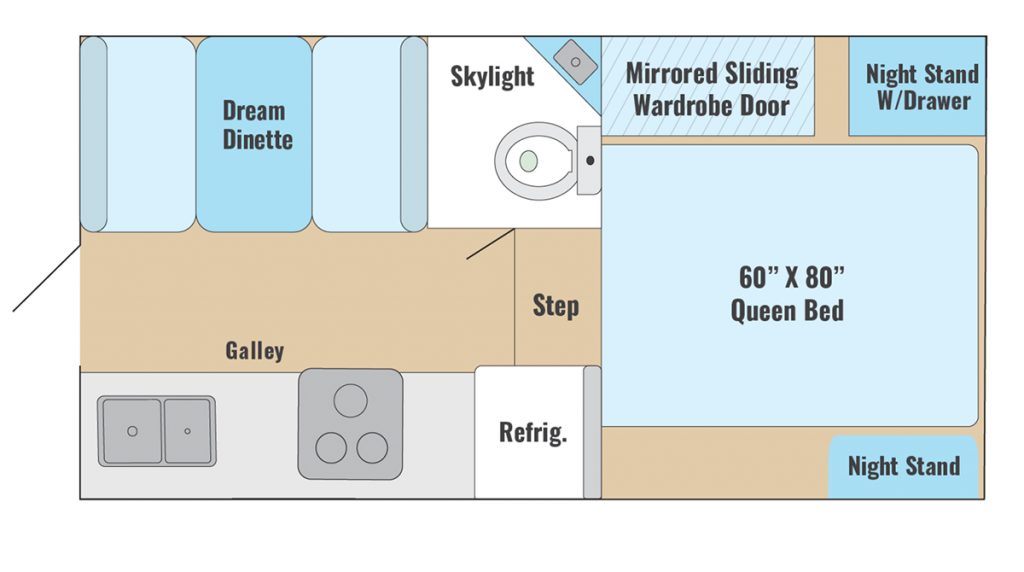 ---
EAGLE CAP 1165 TRUCK CAMPER
MSRP Please see your local dealer
www.eaglecapcampers.com
The Eagle Cap 1165 is a luxurious triple slide camper build for dually and 1-ton trucks. Inside the galley, you'll find an expansive cooking space with a kitchen island and homey, stainless-steel appliances like an oven, microwave, fridge, and double bowl sink. The 1165 offers several exclusive features for the living space, like Theatre Seating Recliners or a Cozy Sofa, a 32" LCD 12V TV, and the Dream Dinette, bringing sleeping capacity to 6. It's your home away from home, with everything you need to travel very, very well.
---
LANCE CAMPER 650 TRUCK CAMPER
MSRP base $37,549 US
www.lancecamper.com
The Lance Camper model 650 measures 15' 6" long by 86" wide with a box length of 6'10", and weighs 2,061 lbs. Explicitly designed for properly equipped half-ton pickup trucks with 5' and 6' beds, the 650 is a high-quality, full-featured lightweight truck camper built for the active lifestyle with 100% Lance DNA! With a dry weight of just over two thousand pounds which includes class-leading standard features like aluminum frame construction, radius acrylic tinted thermopane euro windows, tankless water heater, ducted heat, one-piece P V C roof, Bluetooth/app-enabled audio system, and Euro-Ply framed cabinets; the 650 is the perfect match for many of today's popular half-ton trucks!
---
LANCE CAMPER 960 TRUCK CAMPER
MSRP base $57,692 US
www.lancecamper.com
The 2022 Lance Camper 960 measures 19' long by 96" wide, with dry weight 3,254 lbs. Box length is 9' 11". Designed based on input from experienced truck camper owners across the country, the all-new Lance 960 combines the most desired must-have features, holding tank capacities, and functionality. From the non-slide floor plan to the most comfortable seating arrangements in the industry, the 960 delivers in every category!
---
LANCE CAMPER 1172 TRUCK CAMPER
MSRP base $68,615 US
www.lancecamper.com
The 2022 Lance Camper model 1172 measures 20' 4" long by 96" wide with the two slides retracted. Dry weight is 4,318 lbs. Box length is 11'11". This is no ordinary camper. Lance Camper's flagship double-slide version of luxury in the wilderness has become a standard to which others are compared. Determined to build a no-compromise double slide truck camper while saving as much weight as possible, the 1172 features a dinette "Super-Slide" opposite the dry bath and a galley with a flip-up counter extension. Giant windows and skylights that bathe the interior make for a light and airy experience. The big news comes as the rear wall slides out with a sofa recliner and leg extension "kick-ups" for your relaxation. With both slides open, the space is cavernous. The 1172 is the definition of the ultimate flagship truck camper. As our friends at Lance explain – "Your wait is over".
---
NORTHERN LITE 10-2 EXCDLE
MSRP: Please see your local dealer.
www.northern-lite.com
The newest camper from Northern Lite. This limited edition comes standard with everything you could possibly want in a truck camper; leatherette seating's, solid hardwood tables, dual solar panels and a 24" TV. Box length of eight feet is required for the 10-2EXCDLE, and the unit has a dry weight of 3,285 lbs. Everything is standard, you won't need any options!
---
NORTHERN LITE 9-6QSE
MSRP: Please see your local dealer.
www.northern-lite.com
The Northern Lite 9-6QSE is a true four-season truck camper. The company says it's their shortest long box camper for towing. It comes fully loaded, no need for options as everything is standard. True to its model name, the 9-6QSE is 9-foot 6-inches long with a dry weight of 2,625 lbs.