Previously, RV Lifestyle Magazine has ventured far to the east of the country, to the Island of Newfoundland (read that story here).  This time, we find ourselves on the opposite coast; Vancouver Island.  The island is full of rich treasures to be discovered, plan to be pleasantly surprised at every turn.  From quintessential Canadian desserts, to staggering views in Goldstream, and maybe some roof dwelling goats, you never know what you'll find on the island.  You're going to need some time to explore all of this, and fortunately enough, Parkbridge has two state-of-the-art resorts on the island for you to enjoy.  For this trip, we tour down the coast of Vancouver Island, and the two Parkbridge resorts, Rondalyn and Oceanside, make great stops to bookend your voyage.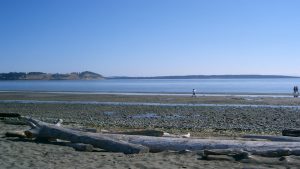 Much like Newfoundland, Vancouver Island, as the name suggests, an island.  This means you will be reliant on ferries to transport you to your destination.  There are three main ferry lines that operate between the mainland and Island.
If you're coming from south of the border, Black Ball Ferry Line runs from Port Angeles, Washington and Victoria on Vancouver Island.  Online reservations must be made 12 hours prior to departure.  For vehicles 18 Ft. and under, the voyage will cost you $65.50 (Vehicle and Driver, additional passenger an extra $18.50), if your RV is over 18 ft., an additional charge of $5.25 per foot applies. Schedules for the ferry depend on season, so be sure to check www.cohoferry.com/schedule before you arrive at the docks.
If you're making the voyage from the Canadian side of the border, BC Ferries is the line you want.  The company operates a plethora of ferries from various locations on the west coast of British Columbia.  If following our route, we suggest the West Vancouver – Metro Vancouver to Nanaimo, Vancouver Island (Route 2) or Route 17, which runs from Powell River – Sunshine coast to Comox, Vancouver Island.  Fares vary depending on the route but expect to pay around $20 per adult (Seniors are free Monday-Thursday excluding statutory holidays) and approximately $50 for your RV, vehicles over 20 ft. are charged $5.80 per foot.  For more information and to view the full schedules, visit www.bcferries.com
The journey down the coast of Vancouver Island begins in Nanaimo B.C. To answer the question at the top of your head, yes, this is the place the famed dessert is named after. This quintessential piece of Canadiana has been a source of pride for Nanaimo and at every turn, you will find the opportunity to dine on a variation of the delectable dessert named after this destination.  If you're really looking for a Nanaimo themed excursion, take a trip down the "Nanaimo Bar Trail."  Travelling along this trail you will get to experience a variety of variations of the Nanaimo Bar and other treats inspired by the dessert.  From the classic to the deep-fried, to the gluten/vegan, to the fudge, to the spring roll or a cocktail, you'll certainly be Nanaimo'd out by the end of the tour!
There's more to do in Nanaimo than chocolate and coconut squares though!  Perhaps the B.C. Ale Trail, touring and tasting your way through local breweries is more your speed. Visit one of the farmers' markets in and around the city to sample local west-coast cuisine.  Head to Newcastle Island, take a tour and then sample some of the locally inspired menus. The Island, called Saysutshun by the Snuneymuxw First Nation, provides an extremely unique experience.
If Nanaimo hasn't tired you out, head north to Coombs, B.C.  Coombs is home to the world-famous Coombs Old Country Market.  An optional stop, this destination is a tad bit out of the way of the rest of the journey.  However, we think the attraction might be worth investigating.
The market has a restaurant, international food, imported gifts and many other things, however, the main draw for the market remains the goats.  Yes, you read that right. The Coombs Market has goats living on its roof.  Legend has it the son-in-law of the owner of the market (which was constructed in the 70's), suggested they "borrow" some goats in order to trim the grass on the roof in advance of the Coombs Fall Fair.  We cannot comment on whether or not wine was involved in this decision.  However, the rest as they say, is history, now each spring a group of goats make their home on the top of the market.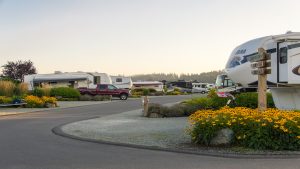 After you've visited the goats, start your voyage down to Rondalyn Resort (www.parkbridge.com/Rondalyn).  After a long day of Nanaimo bars and goats, you're overdue for some rest and relaxation.  Located on a river, Rondalyn Resort is a woodland park retreat where you can unwind and recharge after a long day on the road. Secluded off the main path, Rondalyn is a great place to recharge before heading out again. Staying at Rondalyn gives you access to four golf courses, a heated pool and horseshoe pits to keep you entertained.  If you're partial to fishing, try your luck in their trout pond. There's also a hot tub, basketball court, beach volleyball, access to hiking and biking trails and access to the resort clubhouse.
Rondalyn offers both seasonal and transient sites. Cabin rentals are available as well, or if you're looking for tent camping surrounded by nature, Rondalyn has sites for you as well.  They offer both full and partial service sites, pull-through sites and Creekside sites are available as well.  WiFi internet is available and your site comes with a fire pit and a picnic table.   The resort offers a variety of sites, accommodating even the largest of RVs. Rates are extremely reasonable
Rested and rejuvenated from your time at Rondalyn, it's time to hit the road once more. The next stop on the tour is the town of Chemanius.  Famous for its series of murals, this small town is a nice midway point to stop and stretch your legs. Walk around the town and see if you can see all 29 murals. Part of a revitalization project, the murals have helped the economy of Chemanius, which was once dependent on the operation of sawmills, which was closed in the early 1980s. We recommend taking Chemanius Rd./Highway 1A for a more scenic drive.  Getting here from Rondalyn is going to take you approximately 20 minutes, the town is 25km from the resort.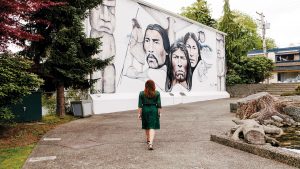 Once you've found all of Chemanius' murals, continue down the coast heading towards the Malahat Lookout.  The drive is just over 51 km, so it should take you under an hour to get there.  You will want to stay on the Trans Canada Highway.  This is a simply stunning scenic lookout.  You'll want to stop for a while and take in the staggering view as mountains and water stretch as far as your eye can see.  This picturesque lookout produces some of the best views along this leg of the journey, be sure to soak in as much as possible.  The calm waters, blue skies and lush green forests dotting the mountains in front of you is a sight you simply must stop to appreciate.
Once you catch your breath, climb back into your vehicle and continue down the Trans Canada Highway.  The next stop on your adventure is Goldstream Provincial Park. Just a short jaunt from the Malahat lookout, this park is part of the Nanaimo Lowlands Ecosection and the Coastal Douglas Fir Biogeoclimatic Zone. Surrounded by 600-year-old Douglas firs, western red cedars and many other species of trees that scrape the skies, Goldstream is filled will hidden gems to discover.
The park is lined with a wide variety of hiking trails. No matter your experience, there will be a trail that suits your skills and delivers some stunning views. The park even offers up wheelchair accessible walks, something you don't find in many places. Goldstream is also home to a variety of waterfalls, including Niagara Falls (not the famous horseshoe falls you're thinking of!) and the falls that gave the park its name: Goldstream Falls.  Arrive during the right season catch the annual chum salmon spawning run.  Every season thousands of salmon are attracted to the region, an event that also attracts a large group of curious bald eagles, nature is on full display during this time.
Goldstream is also home to a handful of railway lines and some associated structures, trestles and railways tunnels.  Though they are outside the boundaries of the park and considered trespassing if you should tread upon them, they make for a nice additional piece of ambiance in the park.
After you have fully explored Goldstream to the best of your abilities, the next stop on our tour is a tad more urban than the sprawling forests from whence you came.  Victoria B.C., the largest city on Vancouver Island, is the capital of the province and has a plethora of options to keep you entertained.  Take a trip and go whale watching, visit the butterfly gardens, explore Beacon Hill Park, sample the local cuisine and visit a few farmers markets.  There's plenty to do in downtown Victoria, be sure to stop and check it all out for yourself. You never know what's going to be waiting for you around the corner.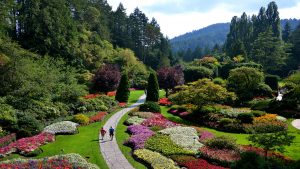 From Downtown Victoria, head north towards Butchart Gardens.  Pronounced Butch (as in Cassidy) – Art, the gardens are a simply remarkable sight to behold.  With 55 Acres, 26 greenhouses and 900 plant varieties in the gardens, it's no wonder why over 1 Million people visit each year.  The gardens are also a National Historic Site of Canada. (https://www.butchartgardens.com/)
In 1904, Jennie and Robert Butchart moved to Vancouver Island with the intentions of founding a cement plant on a rich limestone deposit at the Tod Inlet.  By 1912, the family's production of cement burned through the deposit, and Jennie decided that having a quarry in her backyard wasn't ideal and began transferring topsoil into it by horse and cart.  This was the start of the gardens, creating, what is called today, the Sunken Garden. The Gardens expanded rapidly between 1906 and 1929, with the addition of the Japanese Garden on the seaside, the takeover of their former tennis court with the Italian Garden and the aromatic Rose Garden.  Butchart remains in the family to this day, currently owned by the great-granddaughter of Jennie Butchart.
Wondering how long it will take you to explore this oasis? On their website, Butchart provides three recommended tours, ranging from two to over four hours in length.  Each is listed based on the attractions you will see on your tour.  They also provide an interactive map of the park, so you can appropriately map out your day before you arrive. We'd suggest budgeting a little more time, once you start walking through the park, it's easy to get caught up in the beauty of it all.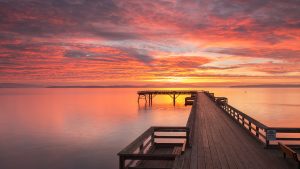 After all of this exploring, it's time for a little R&R.  Just 10 km from Butchart Gardens is your final stop of this tour; Oceanside Resort (www.parkbridge.com/Oceanside).  This award-winning resort is open year-round and serves as the perfect cherry on top of your tour.  Both seasonal and overnight sites are available, featuring 15/30/50amp hookup.  Sites are perfect for RV's of any size with pull-I and out access. Over 69 transient sites are available, be sure to call ahead. As a patron you get full access to all the resort's amenities.  Complimentary WiFi, Cable TV, communal cookhouse with large BBQ and Ping-Pong, a playground for children and more are all offered at this peaceful resort.  The prime location of this RV resort offers you a variety of options in the nearby vicinity: hiking and biking trails, bird watching, boating/kayaking, golfing, horseback riding, whale watching tours and winery tours.
As the name implies, Oceanside Resorts sits right on the water, providing some gorgeous backdrops to your camping experience as well as the refreshing ocean air.  Rates are extremely reasonable. You will find it hard to leave this absolute paradise of an RV resort behind.
But, when you're ready to depart back to the mainland, Oceanside is minutes from the Swartz Bay B.C. Ferry Terminal.  Operated by B.C. Ferries, the rates will be similar to the ones that brought you to the island.
As you journey back to the mainland, reflect on your time on the island, and realize that it won't be much longer until you venture out once more, after all, this was only down one side of the island!
To view the digital edition of the magazine this story appeared in click here.
If you are prompted for a password, please use RVLFREE2017