Lead photo: The rolling terrain of Lancaster County, PA. Photo courtesy Lancaster County.
Lancaster Pennsylvania –
An Eclectic Mix of Trains, Cuisine, and Culture
By James Stoness
Travellers who follow the frenetic I-81 on their annual migration south to Florida, may think of Pennsylvania as a state that features hilly, twisty stretches of mountainous road. Yet only a few miles east of the interstate you can find a prosperous community of farmers living on gently rolling land. It's one of the most appropriate regions to illustrate the concept that when it comes to RV touring, "getting there is half the fun".
If you are looking for a place to visit where you can enjoy a relaxed atmosphere, try Lancaster, Pennsylvania. A tour of the Amish communities shows you a very different way of living in a hectic world. Later, you might drop into the Railroad Museum of Pennsylvania, and afterwards ride the Strasburg Scenic Railroad through some of the best agricultural land in the east.
Time to slow down and enjoy a different pace of life…
Lancaster, PA, has the oldest and largest Amish settlement in the USA. The forefathers of this community began arriving in the early 1700's while attempting to escape hard lives in Europe. The Amish have embraced a way of life that avoids individualism and pride, both seen as having the potential to disrupt the community. The members of the community dress in simple clothing, avoid mirrors, and do not wish to be photographed.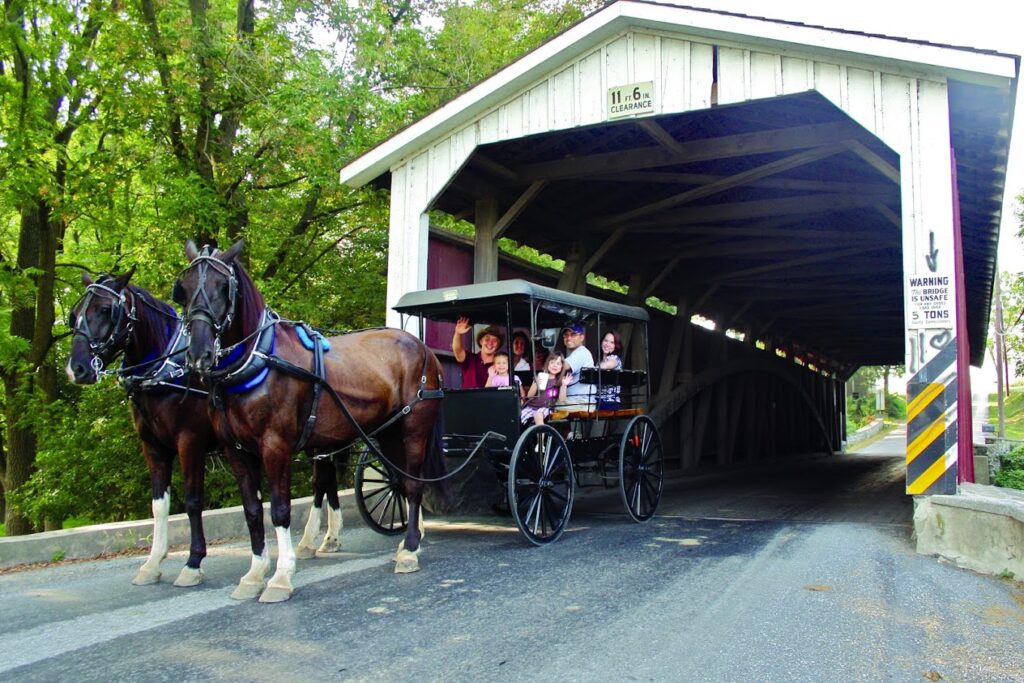 In general, they are a fairly self-contained community, and avoid using cell phones, TVs, and other modern technology. Horse-drawn buggies are the common mode of travel, and this is one of the first things you will notice when travelling on their roads and highways. The interaction of 21st century technology and the traditional Amish ways creates a complicated living environment, and in modern times, there are various orders who view things more moderately. In Intercourse PA, you can visit AAA Buggy Rides to enjoy a ride in a genuine Amish buggy, with an option to extend your ride to include a tour of the famous covered bridges of the county – it's a wonderful way to experience a taste of this fascinating culture.
On Amish farms, multiple horse or mule teams are used to draw farm equipment. You may see a team of horses drawing a round baler that is powered by an engine. For tilling, they use 6-horse teams to draw cultivators and plows. Corn harvesting is an interesting mixture of two large teams, one drawing the cornstalk harvester and chopping the corn stalks into silage, which is loaded into another wagon, also drawn by a team of several horses.
Several equipment companies produce farm implements for the Amish, some towed by large teams, and some towed by large teams but also using a small engine to power the equipment such as a baler or harvester.
The Amish families generally stay together, and turn out every day to help with the work. Neighbours come and help at large projects such as barn-raisings, which are a celebration of teamwork and ingenuity among the entire community.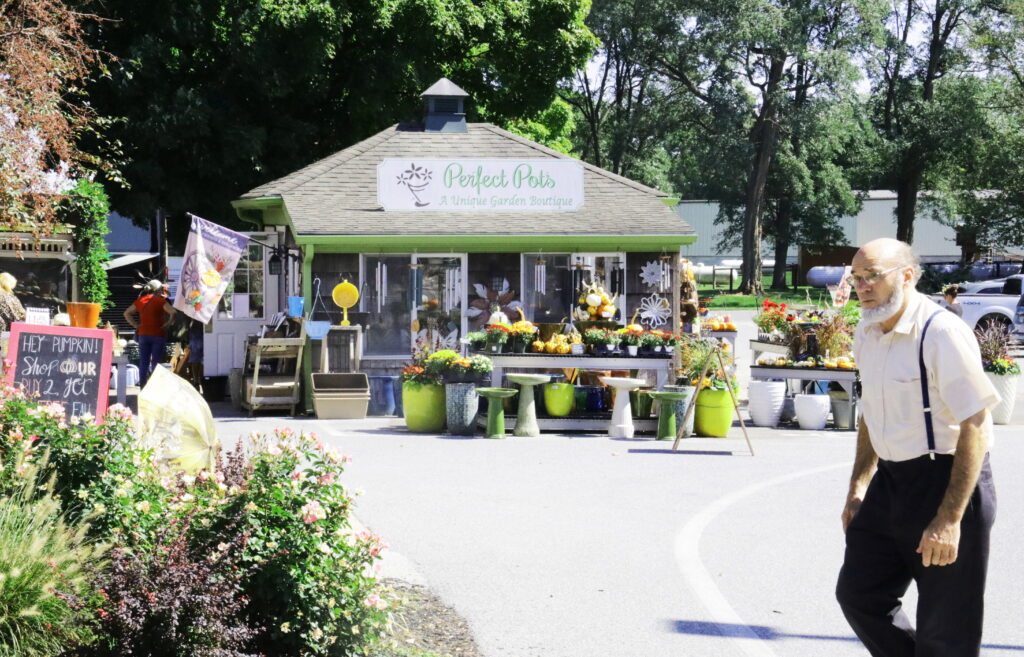 To get more information about their lives, plan a visit to the Amish Village, where on a small 1-acre farm you can visit a realistic farmhouse, visit the animals in the fields or pen, and, not to be missed, visit the Smokehouse Market where you can purchase homemade treats. For a long-lasting souvenir, stop at the Village Store where they feature Amish built crafts.
The Backroads Bus Tour will take you on an interesting 90-minute voyage of discovery through a variety of Amish farms while the driver describes life as practised by the Amish. It's a great way to learn about their lifestyle, history and what they believe. It will also show you some of the very prosperous farms operated by the Amish.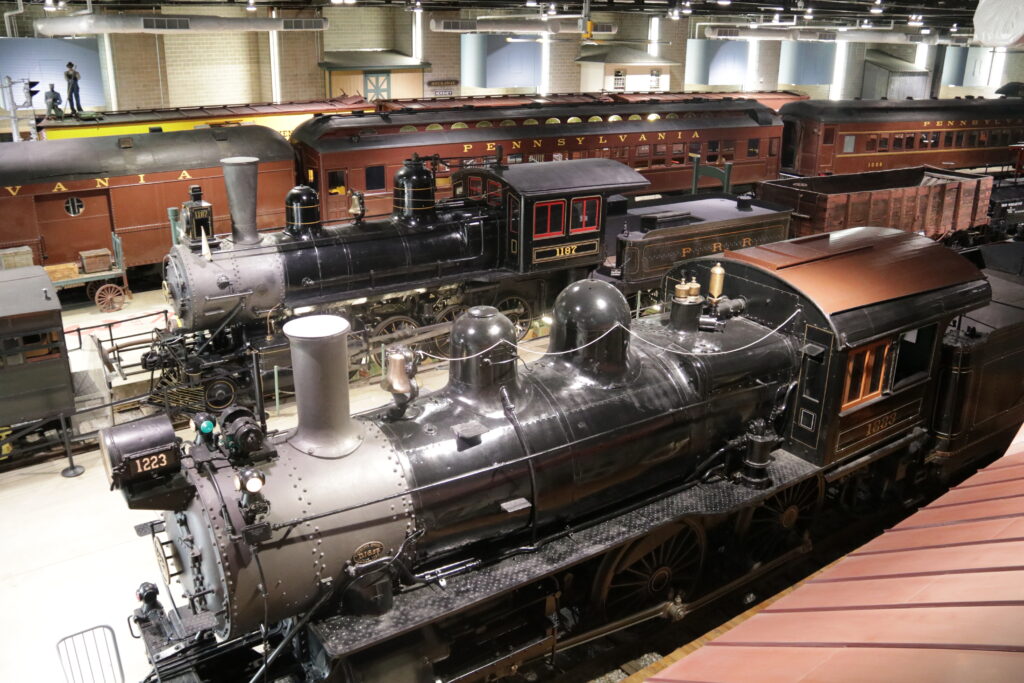 Railroad Technology of the 1800s…
A large drawing card in Lancaster County is the Strasburg Railroad that dates from 1832, when a rail line started up to link Strasburg to Philadelphia. In 1837, the train was drawn by draft animals. Later, the tracks were replaced with heavier rails to carry locomotives. Over the generations, technology passed the Strasburg Railroad by… efforts were made to preserve the history, and after a series of failures, a group purchased the line in 1958 and began tours in 1959.
Today, there is a wonderful opportunity to enjoy a short 45-minute train ride through some of the best of the Amish agricultural fields. The tour ends at the small village of Paradise, and it was here we had a startling surprise. As we left the farmlands and pulled into the village, we were jolted by a loud train horn and the rush and clatter of a fast-moving passenger train. It happened so quickly that basically all I saw was the train disappearing into the distance. Our small quiet track had arrived in Paradise side by side with a busy mainline.
Train aficionados will love this area! You can ride on a selection of trains powered by a vintage steam locomotive – choose from First Class, Dining Coach or an open air car. On special days, you can choose the Luxury Wine & Cheese Ride complete with a sampling of wines, cheese, and crackers.
From November through December, you can ride the Santa's Paradise Express, the Night Before Christmas, the Santa Clause Limited, or the Christmas Tree Train.
There are also trains with theme plays, such as the Legend of Sleepy Hollow, Murder Mysteries, or A Day out with Thomas.
Train enthusiasts will enjoy an opportunity to sit in the engineer's seat for a 30-minute experience of pulling on the power and actually driving a steam locomotive. It will cost $450. For only $275 you can learn about firing the engine, reading the gauges and learning what they mean. It may be pricey, but the steam engine era is passing and you may not get another chance like it.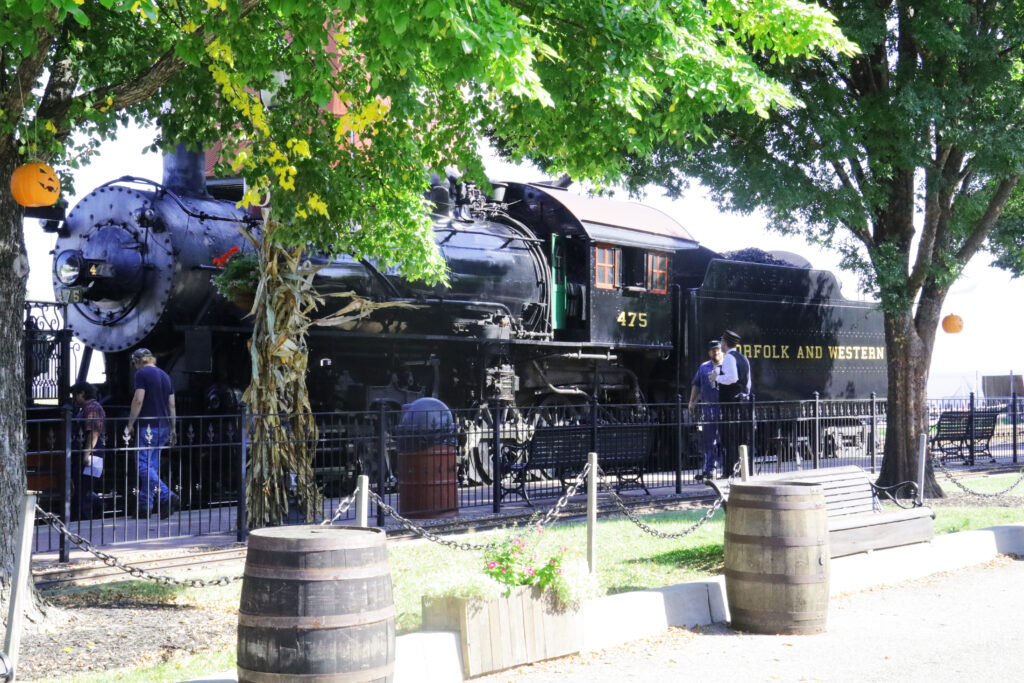 Locomotive 475 is a relative youngster, built by Baldwin Works in 1906. It is the only 4-8-0 class locomotive running in North America and is a very strong engine, flexible enough for a large number of uses, from passenger coaches to heavier freight cars.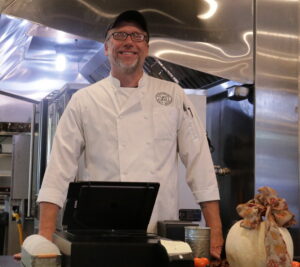 Before you join the train for your ride, pick up some food by stopping on the platform at the Café 1832. You can have a good meal, or just some lunch. They prepare the food right there as you wait. I found the big hamburger with fries was both delicious and filling. A talk with Dave Parsons, Chef De Cuisine, helped us make our choices.
Strasburg, PA, has become well known for its railroad museum, and rightly so. The Railroad Museum of Pennsylvania has more than 100 old locomotives and rail cars. It is a marvellous museum, featuring the history of railroading in Pennsylvania.
Although the museum opened in 1975, it has not ceased to grow. As more and more artifacts were collected, they needed a safe place for storage. Now, many of the locomotives and cars are stored under cover and you can walk across a viewing bridge to look down upon them. This is a perfect place for photos, and afterwards you can go down on the main floor and examine the collection more closely. One large locomotive sits over a pit and you can go down under the engine and see those huge wheels and axles up close.
Another outdoors area holds some newer acquisitions and some of the larger engines. You will also find a variety of equipment slated for rebuilding, or perhaps for parts.
Inside, there is a large working model of toy trains where you may see several trains running at the same time. We found the staff extremely helpful in giving directions, and explanations. The museum is an excellent place to get close-up with some of your favourite trains.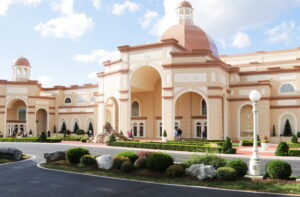 Theatrical Productions…
The Lancaster area has become well known for live Biblical themed performances at the Sight and Sound Theatre. The present impressive building dates back to about 1999, built only a year and a half after a spectacular fire destroyed the original theatre. The new building has expanded the stage from the front of the audience to wrap around the sides, making for impressive action on stage. It's a large building, capable of accommodating 2,000 guests.
We stopped in to view the show 'David'. The stage roof soars above your head allowing some of the sets to reach high above the audience and the sets are very well done, if a little unusual at times. You may be a bit alarmed at seeing a flock of sheep running down the aisle where you just came in, but it is live theatre! The show was well acted, with lots of energy. The main drawback for us was the extremely loud sound system that detracted from the good things happening on stage – as we get a bit older, we often use ear plugs to mute the loud noise at concerts and stage performances, a tip we learned from younger fans of rock music.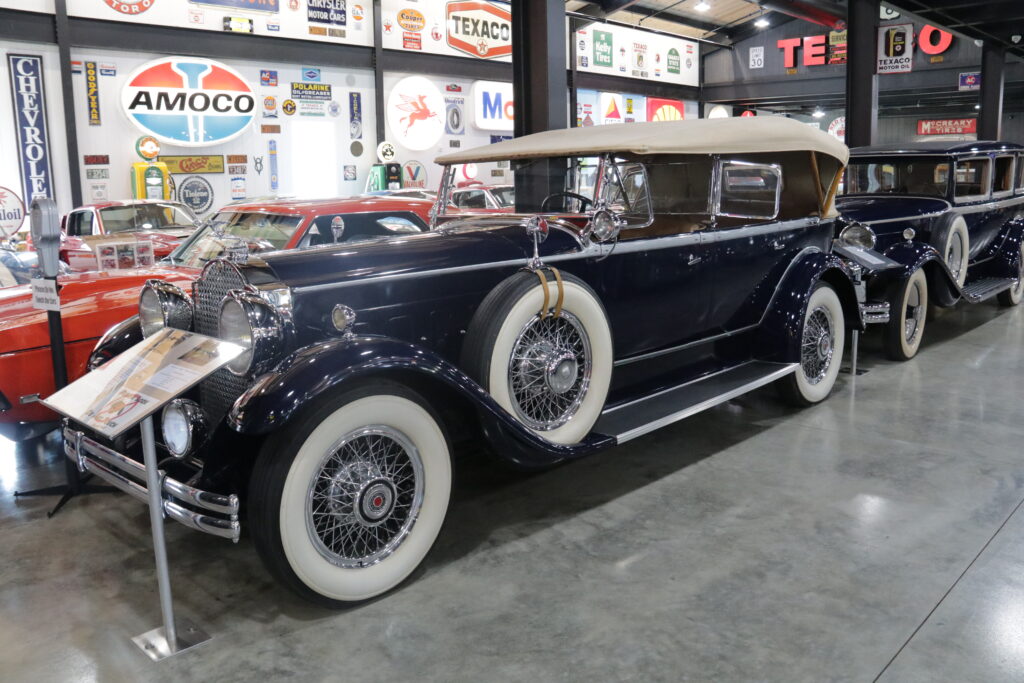 Vintage Vehicles…
We dropped into Barry's Car Barn to see the plethora of old cars dating back from the 1970's. It sure is impressive when you open the door to the garage. The cars are polished to the max and reflect the ceiling lights along their bodies… and the chrome! I had almost forgotten how good cars looked with all their chrome, and their REAL bumpers. Just beautiful! Hanging on the walls and ceiling are the old signs, gas station logos, and all the things that made these cars feel at home, including several gas pumps. I did miss seeing any references to 'Supertest', an old oil company friend to my family.
I was especially interested in the 1931 eight-cylinder Packard. It's an impressive vehicle that carries a magnificent hood ornament. A cherry red Dodge Challenger looks ready for someone to drive away in style, and some nice Chevy models look great. It's important to remember that these vehicles looked like cars you'd like to be seen in – large and comfortable, not to be compared to present day cars that I often think of as "jelly beans with wheels".
Fine Dining…

Huckleberry's Restaurant and Tavern had been recommended to us for a good meal. It's difficult to fully describe the food, except to say it was ample and very, very tasty. Their pot roast was wonderfully tender, the result of long slow roasting with vegetables and beef gravy that worked perfectly with the potatoes.
The restaurant is part of the SteamBoat Inn complex. Here in the middle of farming land, sits a magnificent steamship, at least in shape. It was built in honour of Robert Fulton, who was born nearby, and became known as the father of American steam driven ships.
Camping…
When you visit an area it's great to have a central campground from which you can range outward to see the attractions without having to drive long distances to return to the camp to relax. Country Acres Campground is a long rambling 18-acre RV park with spaces for big RVs, smaller RVs, tents and tent trailers. We enjoyed a wooded site up on top of the ridge with good views down over the park. Separation between the campsites is good – but here is a word of caution. The road up to the ridge campsite is one-way, and some of the entrances to the campsites angle the wrong way, making it very difficult to back in.
For amenities, enjoy the outdoor pool, the pickleball or basketball courts, and the wi-fi signal that will help keep you up on world events, should you feel the need.
If you wish to travel without an RV, rent one of the one-room log cabins complete with bunk beds, refrigerator, microwave, and heating or air conditioning. They have no indoor plumbing, but the facilities are close by. A two night minimum stay is required and no pets or smoking.
The Lancaster area has a large number of attractions, enough to fill the needs of a traveller who makes this area the centre of his trip. We found that the people everywhere were helpful and friendly and willing to make your trip an enjoyable one.
For more information, please visit:
https://www.barryscarbarn.com/
https://fultonsteamboatinn.com/dining-drinks/huckleberrys-restaurant/
Follow this link to book a AAA buggy ride or a covered bridge tour:
Follow this link for a listing of campgrounds in Lancaster County:
https://www.discoverlancaster.com/blog/10-great-campgrounds-lancaster-pa/
Check out this website for additional information on Lancaster County, PA:
https://www.discoverlancaster.com/blog/easy-road-trips-in-and-near-lancaster-pa/
Visit the official website for Lancaster County:
https://www.co.lancaster.pa.us/
For more RV Lifestyle Magazine travel features by James Stoness, please follow this link:
https://www.rvlifemag.com/?s=by+james+stoness
---
James Stoness is the author of 'Touring North America', a series of travel guides on CD to help you plan your trips across North America.
Visit his website to read his novels and travel guides – https://stonessrvtravel.com/