By Andy Thomson
From 1999 through 2014, the most popular combination to leave our store was a front-drive van such as a Ford Windstar, Honda Odyssey, etc. towing what was then called a "lite" trailer, about 30' long. These trailers had bunk beds in the back corner, dinette, the sofa and galley were in a 12 foot by 20-inch deep slide-out which was several inches above the floor. This configuration allowed the trailer to have wheel wells, which results in a low overall height. In the front was a walk around queen bed. They were 30-33' long but were only around 5000 pounds, and because they had independent suspension, and a radically sloped nose, they were quite easy to tow. A V6 van worked very well with them. For a young family, the combination was a cost-effective way to be able to travel with enough space in both the tow vehicle and trailer. Even for those with more powerful vehicle, the fuel economy and handling were much better than towing a taller trailer.
Today, we have three choices in an easy-to-tow bunk model trailer. There is the Vista Cruiser 23BHS, which tows nicely due to its teardrop shape – but the interior space is not as spacious as the "lites" of old. The other two options are the 2445 Lance which is 29' long, or a 30' Airstream bunk model. Both of these have the space, but they don't fit the most cost-effective definition.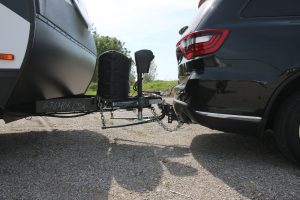 These days, our most popular bunk model is an Imagine 2400BH which is 29' long with a large slide that goes to the floor – which means the trailer has a tall exterior height as the slide has to be above the top of the tires. This is a common layout in many brands. The 2800 Imagine at 32' long is a close second in sales. Due to the aerodynamic drag, we generally we suggest a reasonably potent tow vehicle for these trailers. Although our Caravan has towed many of these units from Indiana, it is not ideal when there is a headwind.
Recently, we had a customer order a 30' Airstream which they originally intended to tow with the fantastic Dodge Durango RT with the Tow n Go package. As nice as the new Durango would be, the customer decided they would like a more cost-effective tow vehicle in terms of both fuel economy and purchase price. What they settled on was a 2014 Durango V6 with the 8-speed ZF transmission and only 66,000 kilometers on it. They were able to buy this for only $27,000.
We wanted to improve the towing performance beyond the capabilities of the stock V6 Durango, and we did this, substantially, with three simple changes. This Durango had soft sidewall P265/60R x 18" tires with a load capacity of 2337 pounds or (450 pounds more than a suburban once had). We changed these to P235/55R x 18" extra load higher performance tires with a load capacity of 1984 pounds, which is well in excess of what this vehicle will ever need. This change accomplished two things for us: we eliminated about 80% of the sidewall roll, which greatly improved steering feel and stability – I would make this change if I never towed anything.
This tire change is really just a change in focus – what sells an SUV these days is a soft mushy ride, and few people test any kind of handling limits on a test drive. We sacrificed some of the softness for more traction and more precise handling. The downsides are that the speedometer reads 108 when traveling 100, and the tread life will be shorter due to the softer, higher traction rubber compound.
By changing the tire size, we also in effect changed the gear ratio from 3.45:1 to a 3.73:1 ratio. Basically, this makes another gear available for towing. With these tires, 6th gear, which is a 1:1 ratio in the ZF 8-speed is 2500 RPM at 100 KPH, which is about ideal for towing with the 3.6 Litre. 7th gear slows the engine to 2205 RPM, and 5th gear is 3200, which is ideal for climbing larger hills at highway speed. Towing the Airstream, about 50% of the driving will be done in 7th gear, with 6th needed for headwinds and moderate climbs.
Changing the tire size this amount necessitated tweaking the front-end alignment to match the tire size change, which you need a good front end technician to do, not a "this is what the specs say" sort of mechanic.
The third change was to upgrade the shocks to Bilsteins, which give the suspension more control without any serious impact on the ride.
As a solo vehicle, these changes transformed the Durango from a vague handling, slightly sluggish SUV into something far more fun to drive and that actually feels connected to the road.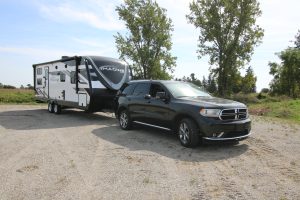 Since we had the Durango for a few days before the customer came to collect it, I thought it would be interesting to see how it performed while towing the tall Imagine bunk model. The day I tested this I had a 15-23 KPH front corner crosswind in one direction, and a tailwind on the return leg of the route. Going into the wind, 5th gear (at 3200 RPM) was needed, but slowing to 95 KPH actually allowed 6th be used at 22350 RPM – but only on perfectly level stretches; the 3.6 does not pay a big mileage penalty at higher RPM, so 95 KPH in 5th was the best choice.
The front corner crosswind pushed the Imagine around a little, but it was easy to drive and quite acceptable. A Hensley or Pro Pride hitch would suite this combination well if you were planning on alot of towing. On the return trip with the wind on the back corner, 7th gear worked quite well with 6th only being necessary for grades.
Fuel mileage changed dramatically with the wind direction, which is to be expected. We logged 24 L/100 into the wind and 19 with the tailwind. Solo at 100 KPH on the highway was 10.3 L/100, which is better than expected – likely due to the reduced rolling resistance of the new tires, and slightly lower ride height. So towing fuel economy is not much better than the more powerful vehicles we often set up with these sorts of trailers, but solo economy is much better.
Total cost of the modifications was $4,300 which also included the wiring, brake control and custom hitch receiver. For our customers, this has worked out well – for $31,300 they have an economical, ideal tow vehicle for their 30' Airstream, that could also serve to handle a trailer less focused on towability.
Durango Tow & Go
The Durango R/T Tow & Go is one of the best tow vehicles you can buy for less than $100,000. Currently, these are priced around $65,000. It is like they asked me how to build it… Still twice as much as the good used one though.
The R/T Tow N' Go Package includes the following equipment:
• 20-inch x 10-inch Hyper Black Aluminum Wheels
• Black 6-Piston Brembo™ Front Brakes, 4-Piston Rear Brakes
• Pirelli Scorpion Zero™ Run-Flat 295 Performance All-Season Tires
• Space Saver Spare
• Bilstein® SRT Active-Dampening High-Performance Suspension
• Electronic Limited Slip Differential
• Performance Exhaust
• Class IV Trailer-Hitch
• Integrated Trailer Brake Controller
• Widebody Flairs