By James Stoness
Arizona has some large mountainous areas. If you are in Arizona and New Mexico in the winter months, these scenic areas are great for travelling through. Its early mining history has left behind a variety of towns, many worth a stop. There are also numerous ghost towns, and they require a bit more effort to reach, often on 4WD roads.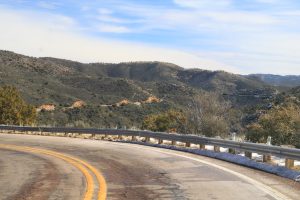 The following scenic drive has plenty of options. You can turn off on several major roads and only follow part of the tour. You can deviate from the scenic route to avoid some parts of the route that go through steep mountains, and then rejoin the tour later.
Many winter RVers to Arizona visit the big tent in Quartzsite during late January. The desert surrounding the town is a haven for boondocking snowbirds who use BLM land for their camping. It's not for everyone. Too many campers move in as close neighbours, even though those already set up may have thought they had picked a lonely spot, in which to relax. With so many campers, numbering in the thousands, it's crowded and dusty, and noisy. It used to be noisy from generators. Now, add to that the plethora of ATVs and off-road vehicles, and it's not peace and quiet that you will find.
A fairly nice drive out of Quartzsite is to head north to the Plamosa Road and head toward Bouse. Boondocking here is quieter, although during show days it may be crowded. Look for these campsites to appear just over the pass of these low mountains. This is an easy drive, with good mountain and cacti scenery. Turn off the highway on any access onto the desert and enjoy quiet nights, and skies so clear at night that it looks like you can reach the stars.
To head out and continue on the scenic drive, head to Bouse, and then go Southeast on AZ-72. You are now in a valley with dry farming, and some irrigation from an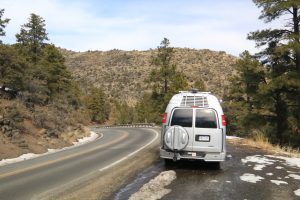 irrigation canal. A drive to the east on a valley sideroad could take you to a huge circular irrigated field, likely watered from a deep well. The railroad to the side is a main line and runs to Parker and into California.
Turn northeast at Hope on US-60 and climb up through the hills past Salome. The narrow gap you've driven through widens out to a slightly rising, broad valley, with the railroad at the side. Without water, the normal vegetation is creosote bushes and a few saguaros. Sometimes you pass old deserted fields, abandoned because the water source is gone.
A large Saudi Arabia company recently purchased 10,000 acres for 48 million dollars. They are growing hay and sending it back home for their huge dairy operations. They are drawing their water from deep aquifers and are lowering the water table, causing many problems for the original inhabitants.
Aguila has a lot of farm land, but it looks poorly used. Turn north on AZ-71 and leave the flat land on a straight highway which soon enters rough land and begins to climb and curve through the mountains.
Arizona has produced a lot of mines. Its barren hills make it easier to search for outcrops of minerals. Congress was home to a huge gold mine, now abandoned.
You are appr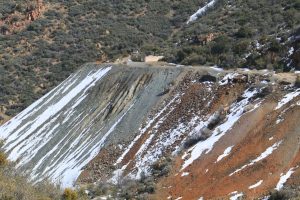 oaching the beginning of serious mountain driving. US-89 enters the mountains on the White Spar Highway. It is very twisty as you climb to Yarnell at 4800 feet. On the descent you reach miles and miles of a white steel pipe fence, part of which helps fence the Maughan Ranch that controls 500,000 acres of rolling hills and lots of ponderosa pine.
A variety of ranchland, evergreens, and hilly terrain takes you to Wilhoit. Facing you is a canyon where you wind your way over two mountain ranges reaching over 3000 feet elevation. These mountains are heavily dissected into gullies and canyons. You follow a gully until it becomes possible to cross it with the highway, and then you come out of the gully, and often you can look across at the road you have just driven on, only going the opposite direction.
Then there is a long, twisting descent, and a loop around what appears to be a volcano, its conical shape being very obvious, and arrive at Prescott.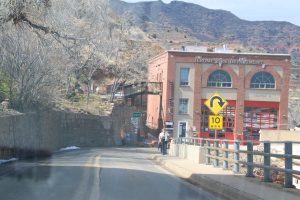 North of Prescott, switch to 89A to Jerome. With the mountains in the distance, the highway starts out across rolling dry country but quickly enters a deep valley and then climbs through switch backs and slow curves. It's a beautiful drive, but not good for large rigs particularly because of the narrow road and sharp turns right in Jerome . If the weather cooperates, you might have nice cumulous clouds floating in a deep blue sky, highlighting the thick evergreens.
You can approximate your elevation by watching the plants along the route. The open land below 3,500 feet will have scattered shrubs such as creosote bushes, but as you rise into the 5,000 foot level more evergreens appear, especially red cedar, which are a form of juniper. As you approach 7,000 feet you will see more and more ponderosa pine, a beautiful tall growing pine tree,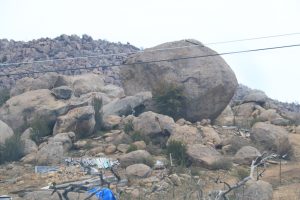 often spraggly branched. Once you recognize these bits of vegetation, you will find it easy to judge your elevation in the far south. Cottonwood trees live below 6,000 feet and can range in height from 30 to 100 feet. They look for shelter and moisture and are usually found in canyons along streams, or by springs.
As you twist up towards the pass, some of the mountains would look very bare if it weren't for the shrubs and the occasional larger tree. It isn't too long before the tree growth covers up the bare ground and the scenery improves dramatically. Rocky cliffs and bald rocky spots protrude above the forest. Views are really good when you can find a pull-off and look back, and down, into the canyons.
As you descend you'll seem to notice the slow, sharp curves more, because you are having to cut your speed by braking. When the speed sign says 15 mph, you'd better believe it!
Along the side of the river you will find dumps from one of the mines. Obviously not much concern by the mine owners where the rubble and dirt end up. It's just dumped on the side of the cliff, and then erodes downward into the river.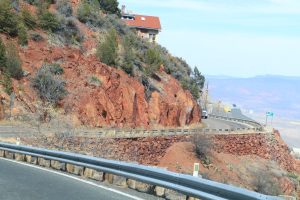 After a set of sharp switchbacks, and after you drive past the mine dump, you have good views of the valley beyond Jerome, all the way to the Mogollon Rim. As you reach the edge of town you encounter a very narrow road, overhanging rocks on one side, and a sharp cliff on the other. The trip into Jerome is like threading the needle. The street is narrow, and crooked. Then you reach a very sharp hairpin turn, right in town, and descend a crowded street lined with buildings. If you want to park, it'll be difficult with an RV, maybe possible with a car. Jerome produced huge quantities of copper, silver, and gold, and it is a town on the edge of a mountain. A couple of long switchbacks get you clear of Jerome.
At Clarkdale you can book a ride on the Verde Canyon Railroad and spend an afternoon gazing up at the coloured cliffs of the Verde River, from the vantage point of a train seat.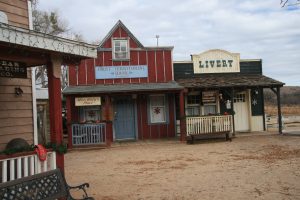 You can enjoy a great Western show, accompanied by a sumptuous meal at the Blazin M Ranch, just north of Cottonwood. There is convenient camping at the Dead Horse Ranch State Park just next door to the Blazin M.
Northeast of Cottonwood is the town of Sedona which draws a lot of visitors because of the beautiful red rock visible in the cliffs, buttes and pillars, particularly along AZ-179.
Head south on AZ-179, then south on I-17 until you meet AZ-260 east. Here you return to mountain driving up onto the really spectacular scenery of the Mogollon Rim (pronounced Muggy-own). It is an elevated table land that stretches from the New Mexico state line westward 200 miles. This region is thickly cloaked with evergreens. Picture a campsite near the rim, shaded by massive ponderosa pine. Your expansive view falls away onto the forests, several thousand feet below and extends across to where the cliff fo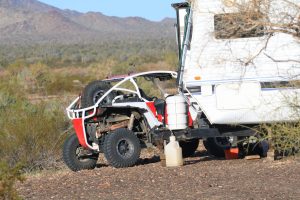 rmed by erosion of the Rim climbs above the talus slopes and the forest.
The Mogollon region was made famous by that prolific western novel writer, Zane Grey, who had his own isolated cabin below the rim. You may have read "Under the Tonto Rim", or "Call of the Canyon', and already have a feeling for this country.  In 1980 a massive fire consumed 30,000 acres, and 60 homes. One of them was the historic Zane Grey cabin where he spent a lot of time in the comfortable days of Autumn.
The Coconino National Forests are a popular region for hiking, and camping, containing 186 trails, including numerous horse trails, and many of the trails are used for biking, hunting and fishing. There are also abundant forest access roads leading through the forest. They may be rough, and could be slippery if wet.
Turn south on AZ-87 and descend through open forest and several sharp switchbacks past the little communities of Strawberry and of Pine. These places are losing their rustic beauty as people from Phoenix build summer homes, and permanent homes. You get the idea as you drive this way that you are on the vegetation route as you pass the communities of Strawberry, Pine, Rye, and Punkin.
Head south on AZ-188 when you reach it, and proceed to Roosevelt Lake. As you come near the lake the valley to the east opens up and there is evidence of farming and ranching in the area. The lake is a reservoir created by the building of a dam across the Salt River. It's one of six dams on the river. It buried part of the Salt River, and several miles of Tonto Creek whose w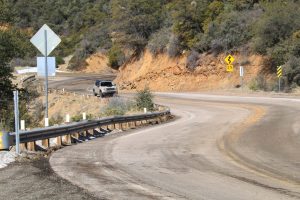 aters come from the flow off the Mogollon Plateau. The lake provides fishing and sport recreation and there are campsites available. The lake provides water to Phoenix and the irrigated farms along the Salt River.
A gravel road, AZ-88, follows the river towards Phoenix, and after a tortuous climb above the river,  it turns into pavement. It's a fine drive, very twisty and hilly. The road was built to get machinery into the chain of dams they built on the Salt River, and now it's a scenic route, and can be busy.
As you approach the turn-off to US-70, you drive past the western side of a mineral rich complex of mountains. Hundreds of millions of pounds of copper came out of those mountains leaving massive dumps and several tailings ponds, but as with all prosperous mines, they come to an end.
At Globe, you switch to US-70 toward Safford. Globe also developed as a mining town. Part of this drive consists of fairly level country with mountains in the distance lining the route, making a very scenic backdrop.
From Fort Thomas to Safford you encounter a strip of farms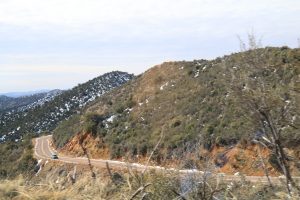 along the Gila River where they grow cotton and alfalfa, and apples. It's the story of the desert country. The soil will grow good crops if it can get water. Of course if the farms here use the water, it's not available for other farmers farther down the river. The road becomes hilly, and somewhat curvy and the terrain is less scenic, with few trees. When we were there in early March, the bare hillsides were cloaked with yellow flowers, with patches of orange and red mixed in. Closer to Lordsburg there is a long fairly straight highway that passes through level country that is not particularly attractive.
At Lordsburg, this scenic drive ends, on I-10. This scenic drive is an option to visitors to the south who don't want to spend all their time on the 4-lane highways. Plan ahead. Leave enough time so that you can explore and not rush. With the exception of the road over the mountain west of Jerome, we have driven all these roads with a 35ft motorhome, towing a car. It can be done, but the drive into and through Jerome is not going to be fun.
For more information, please visit these websites:
Blazin M Show; https://www.blazinm.com/
The Quartzsite Show: https://www.quartzsitervshow.com/
Recreation on the Mogollon Rim :   https://www.fs.usda.gov/recarea/coconino/recreation/scenicdrivinginfo/recarea/?recid=54886&actid=105
Driving trails on the Mogollon Rim:  https://www.fs.usda.gov/recarea/coconino/recreation/recarea/?recid=75019&actid=64
RV Lifestyle Magazine's Travel Editor, James Stoness, is the author of 'Touring North America', a series of travel guides on CDand online to help you plan your trips across North America, as well as a series of novels. Visit his website to read his novels and travel guides – https://stonessrvtravel.com/