Howe, IN, September 21, 2022 – Luxury RV brand DRV Luxury Suites will be unveiling new features, updated decor and a new bunkhouse floorplan at the 2022 RV Dealer Open House in Elkhart, Indiana.
Mobile Suites will introduce a new floor plan called The Orlando, featuring 1 ½ bathrooms with the master bath at the rear of the RV for improved privacy and comfort. It's the only unit in the DRV lineup with a front bunkhouse and a built-in workspace with a desk, perfect for families and remote workers. Rounding out the floorplan's unique details, there's also a spacious cross-conversational kitchen and living room, equipped with full residential appliances, fireplace, entertainment center and seating for four, as well as a full washer and dryer hook-up in the half bath.
Full House will debut a new paint scheme called High Octane, and Mobile Suites will introduce three new paint scheme colours: Havana Moon, Cobblestone Cove and Denali Ridge.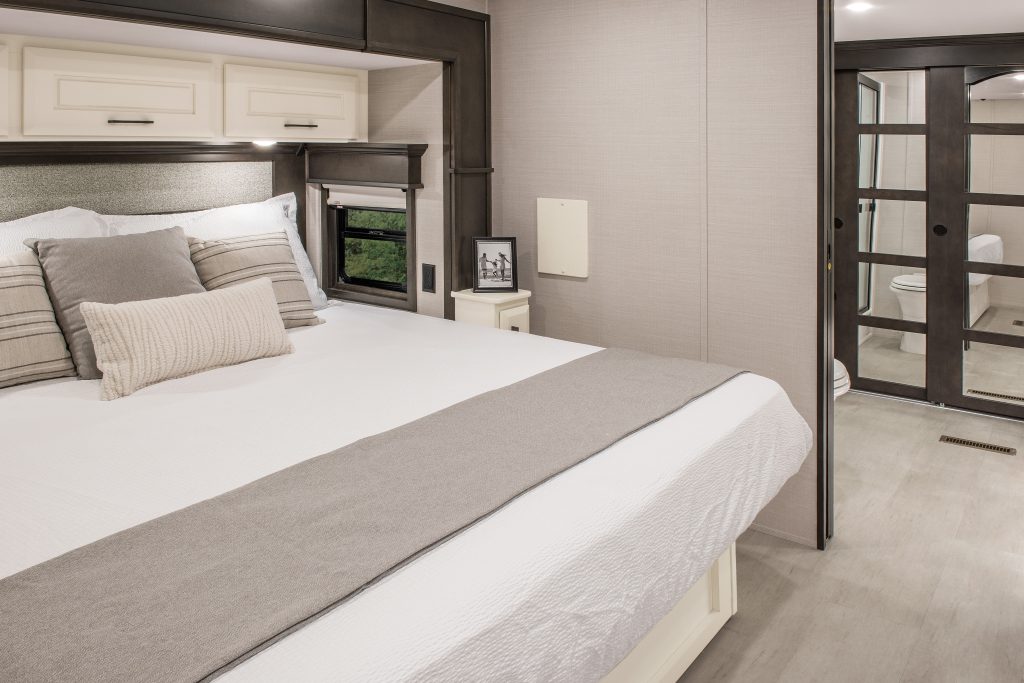 Reworked exterior graphics and fresh interior decor in Italian White all serve to update existing Mobile Suites models to align with current design trends. "We're always looking for ways to improve the luxury and residential feel of our RVs," said Andrea Graves, Director of Design at DRV Luxury Suites. "Design styles change over time, which provide a great excuse to refine the aesthetics of our RVs to suit modern tastes, and make room for new features we know our customers will love."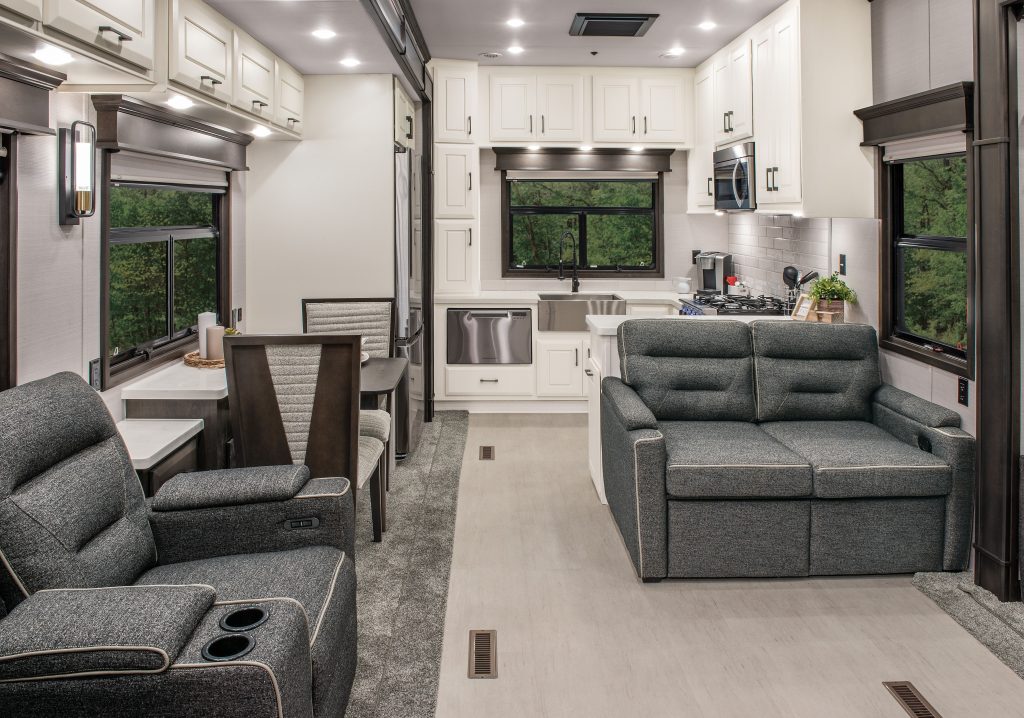 New technological upgrades to DRV Luxury Suites models include devices designed to improve connectivity and safety.
The new Winegard® Air 360+ can receive UHF, VHF and FM frequencies with a range of 55 miles, and the Winegard® Gateway router provides reliable 4G LTE WiFi access almost anywhere. For better RV manoeuvring and visibility on the road, the ASA Voyager® 270 camera system features a three-camera bird's eye view and audible blind spot alerts.*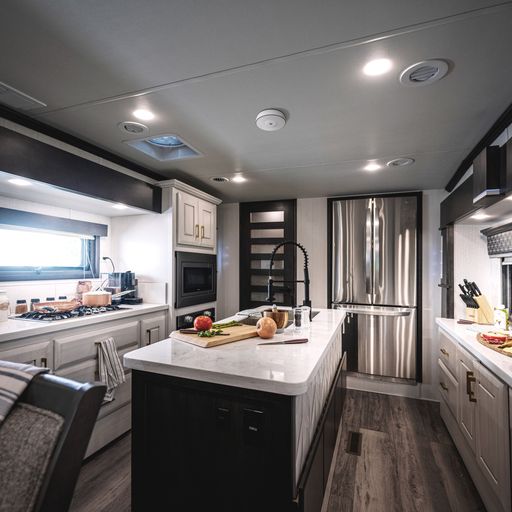 Another optional package includes the ASA iN-Command® system with RV Halo voice, which brings smart home technology to Mobile Suites and Full House models. It allows users to control certain RV functions from their smartphones, including climate control, generators, awnings, slide-outs and levelling, and can monitor the status of tire pressure/temperature, battery and fuel levels, and fresh, black and gray water tank levels in real time. *
"People are used to controlling and monitoring aspects of their homes from their smartphones, allowing them to double check door locks, turn off lights, set their thermostats and more," said Shawn James, General Manager of DRV Luxury Suites. "Smart home technology is even more useful on the road, giving campers a way to control their surroundings and monitor their systems while they're travelling through unfamiliar territory."
These DRV Luxury Suites updates and more will soon be available to experience in person at a DRV dealership in your area – please visit the website dealer locator at https://www.drvsuites.com/dealer-locator.html
*The Voyager 270 and ASA iN-Command® system with RV Halo voice are optional features that can be added during the DRV build process.
To learn more about DRV LUXURY SUITES® products, please visit www.drvluxurysuites.com and join the conversation on Facebook, Instagram and YouTube.
ABOUT DRV LUXURY SUITES
DRV Luxury Suites, LLC manufactures and markets towable RVs through leading brands such as FULLHOUSE®, and MOBILE SUITES®. For more information about DRV Luxury Suites or its products, please visit www.drvluxurysuites.com.
DRV Luxury Suites is a subsidiary of Heartland RVs.