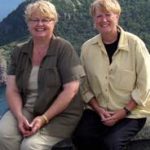 By Lamont Mackay and Phyllis Hinz
(Makes 1 to 2 servings)
non-stick cooking spray
6 tablespoons (90 mL) chocolate devil's food cake mix
1 tablespoon (15 mL) chocolate instant pudding powder
1 egg
3 tablespoons (45 mL) milk
3 tablespoons (45 mL) canola oil
1 tablespoon (15 mL) chocolate chips (optional)
Lightly spray the inside of a large microwavable mug with cooking spray.
Add the cake mix and the pudding powder to the mug and stir together.
Add the egg and mix well with a fork or whisk.
Spoon the milk and oil over top. Stir until all ingredients are blended together.
Gently stir in the chocolate chips.
Place the mug on a microwave-proof-saucer and place in a microwave oven.
Cook cake for 3 minutes on high for a 1000 watt oven
Cake will rise over the top while it is cooking but will shrink down into the mug again.
Remove the mug from microwave and tip cake out onto the saucer.
Eat the cake warm with ice cream, whipped cream or butterscotch syrup.
Please visit The Cooking Ladies' website at www.thecookingladies.com and check out their blog or email them at info@thecookingladies.com
---
Our Motorhome is Happiest on the Road
Last spring, we made preparations to embark on our 15,450-kilometer, 80-day road trip from southwest Ontario to British Columbia and back, to help raise money for charity. Our motorhome, which we affectionately refer to as "Duffer", had been sitting and waiting impatiently for two months. Wrapped like a race car, it was washed, serviced, and ready to roll with our sponsor's names and our faces plastered on all four sides.
A few days prior to departure, we were scheduled for an appearance in Brantford, Ontario. It was time for a test run before the big trip. As we drove down the 401, the motorhome became increasingly more difficult to steer. It was Lamont's turn at the wheel, and with all her strength she managed to pull onto the shoulder. We walked back to the engine compartment to see hydraulic fluid spilling all over the highway. We located a repair shop in Aylmer. On the way there, we had to stop three times to let the transmission cool down.
The real challenge was entering an intersection for a left turn. There was a car approaching from the left, a car parked on the right, 41,000 pounds of diesel pusher resisting the turn and a huge building straight ahead. It took two of us to turn the wheel, one sitting and one standing. Anyone watching must have wondered how many Cooking Ladies it takes to drive a motorhome.
Duffer hit us with another curve on the day before departure. Our coolant level was low for the first time in 10 years. Did the head gasket need replacing? We did not have the 20 hours we were told it would take to fix the seal. We had to find out if coolant was leaking into the engine. We took a sample of the engine oil for diagnosis – similar to a person having a blood test. The report came back as good as black gold.
We three, The Cooking Ladies and the motorhome, had a meeting. It was concluded that if we just got moving, all would be well. And we were right. We drove up hills, over mountains, and onto ferries. We traveled through rainstorms, prairie dust, and endless days of summer heat. We never had another problem. Just like its owners, Duffer is happiest on the road.
When time is tight and you need a treat to keep you going, this microwaveable cake in a mug will make you happy, too.