By James Stoness
Perhaps you wouldn't suspect it as you drive down the 'Strip", but there is much more to Las Vegas than gambling. Las Vegas has become a family town with activities to keep everyone busy for a day, or a week. Certainly gambling is the lure that attracts thousands to the city, but you don't need to gamble to enjoy yourself.
The casinos are huge, as you will find out when you enter one with the intention of having a good meal at one of the buffets. Carpeted paths wind through the casino, taking you past almost any type of gambling you might crave before they take you to the restaurants and the hotel. Eventually you'll reach the restaurant area if you haven't become lost while making the grand tour.
Eating is one of the delights of Las Vegas. Many casinos are well known for creating excellent low cost buffets for breakfast, dinner, and supper. Prices vary from one casino to another, as do the specialties. Also, the casinos have good restaurants offering traditional non-buffet meals with prices ranging from affordable to wow!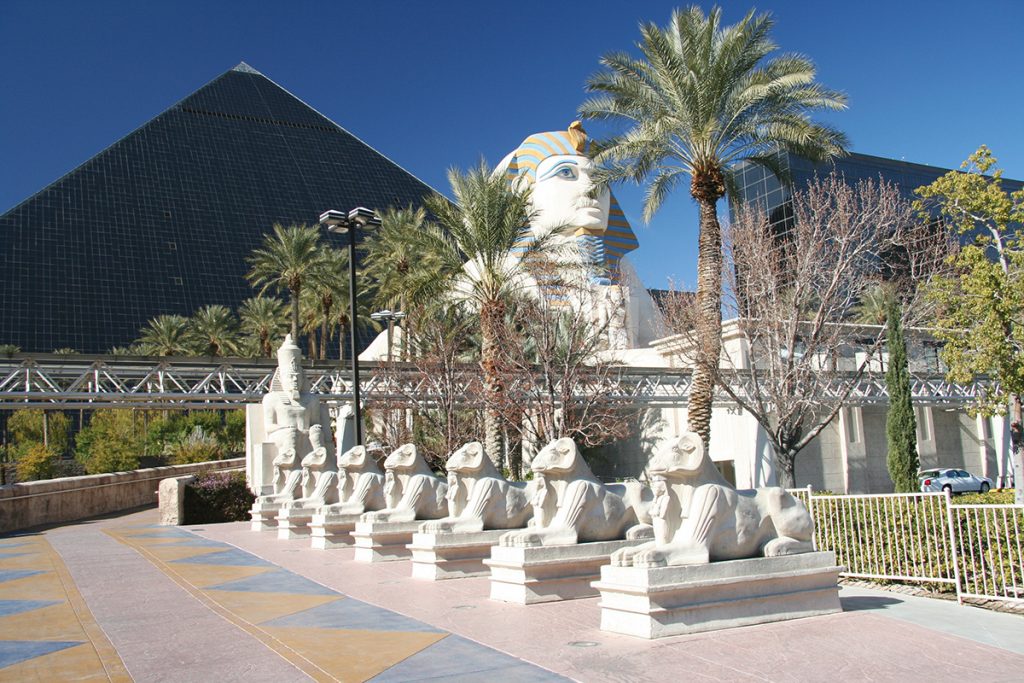 Several of the casinos along the strip are immense, and very grandiose. To attract your attention, and draw you to their casino, many casinos put on special free shows out front, or inside the casino. These show pieces provide some of the most spectacular things to see in Las Vegas. Many of the structures are based upon a theme. At the Luxor you will see the Great Pyramid and statues of ancient kings. New York New York resembles a view of a section of New York City, and Paris Las Vegas has a scale model of the famous Eiffel Tower.
It's a long walk from one end of the strip to the other, and it's made longer by the fact that some street corners don't allow crossing and it's necessary to walk up a side street, climb the stairs, and walk across an overpass and climb back down to street level. Remember too, that many casinos take up a whole block so you will walk a long ways if you want to visit several of them.
Public transportation is always there to help. CAT, the Citizen's Area Transit buses provide 24-hour service. The Deuce is a fleet of double-decker buses that service the strip during part of the day. The best deal is to purchase a daily ticket, and then get on and off whenever and wherever you want.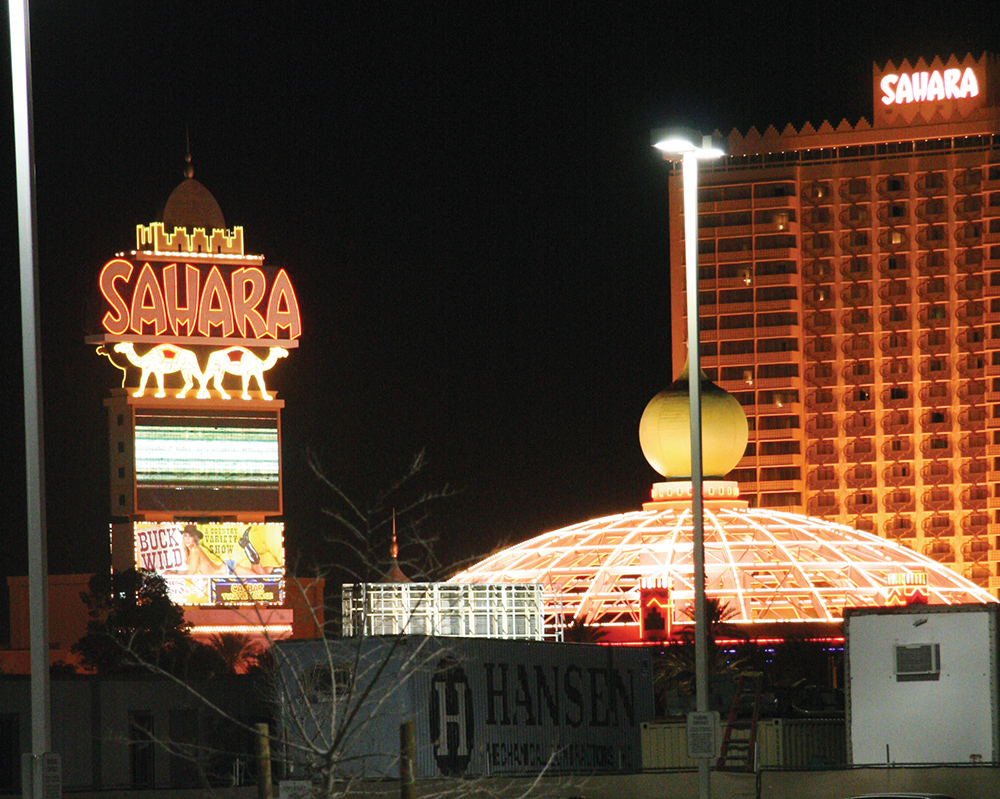 A monorail runs between MGM Grand and Sahara hotels on the east side of strip, and on the west side there is a free monorail connecting the Excalibur, Luxor, and Mandalay Bay casinos, with another between Treasure Island and The Mirage.
Here are a few of the attractions that are available for free, or in some cases almost free:
Outside the Treasure Island Hotel and Casino is the scene of Siren's Cove where in the evening the Sirens of Treasure Island put on a battle with pirates, sinking the enemy ship in a great display of pyrotechnics, and vicious fighting.
Visit MGM Grand and see the Lion Habitat, a 280 square metre viewing area surrounded by lions going about their lives, and interacting with their trainers.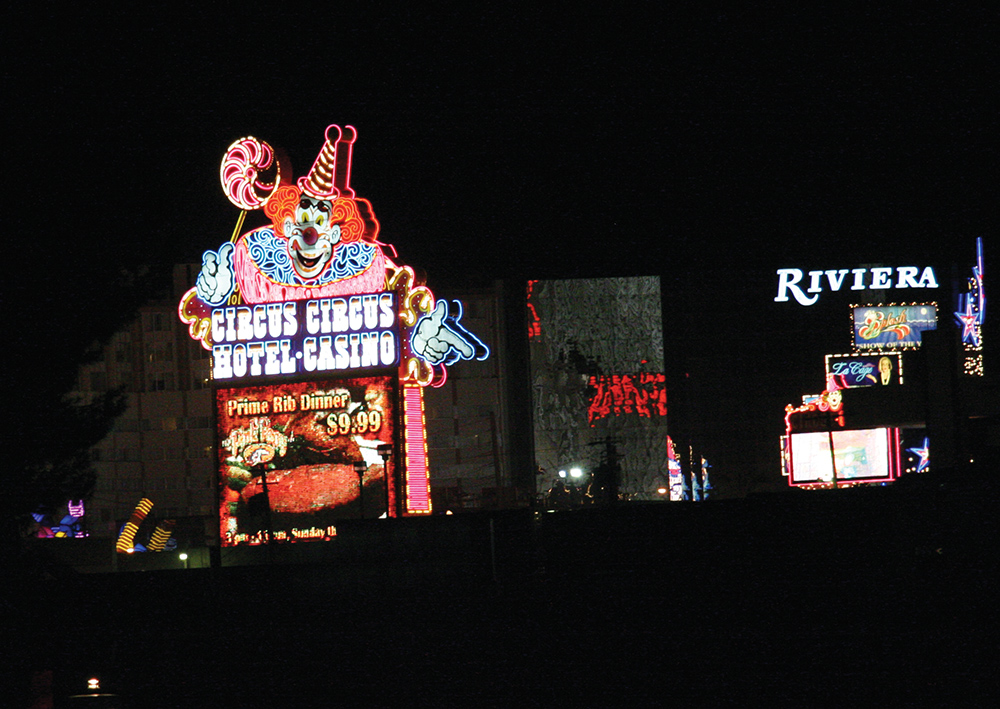 Circus Circus puts on circus acts regularly throughout the day. These shows are very short and only worth while if you happen to be passing the door at the time. Inside the Adventuredome is a theme park that children will love but the rides are not free. There are several different rides. Mini golf is available as is a climbing wall.
The Fountains at Bellagio Hotel and casino are spectacular, and so they should be at a cost of forty million dollars. With 4500 lights, and 1200 fountain nozzles the fountain show is choreographed to music. Inside, beyond the lobby is the Conservatory and Botanical Gardens which is a huge atrium filled with exotic plants and flowers.
The Mirage has an attractive waterfall but after dark you'll hear or feel some rumbles and then the volcano erupts with leaping flames and churning water. This is quite impressive, especially when you feel the heat from the eruption.
The Shark Reef at the Mandalay Bay Hotel and Casino charges for a visit to its oceanic wonders. Their huge tank houses a large number of species in several exhibits.
Not on the strip, but worth seeing are the following: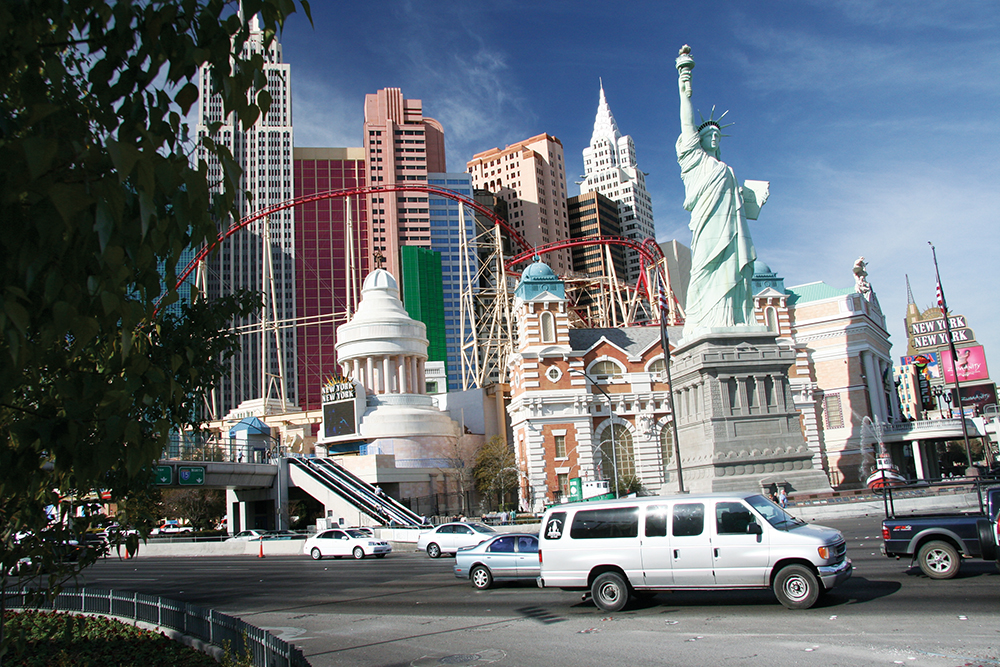 Sam's Town Hotel and Casino where the rooms are built around an indoor atrium, with a nine storey glass roof enclosing a 2300 square metre indoor park with trees, waterfalls and paths. This is located on the corner of Boulder Highway and Flamingo Avenue, about 10 kilometres from the strip. Their Sunset Stampede show has fountains that jet up 8 storeys high in sync with the music. This is a nice place to stroll and rest on the wooden benches along the walks.
Sixteen kilometres from the strip is the Ethel M Chocolate Factory with a self guiding tour, and demonstrations, and a free sample. Of course there is a Chocolate Shoppe too. You can also walk through their Botanical Cactus Gardens where there are several hundred species of the plant.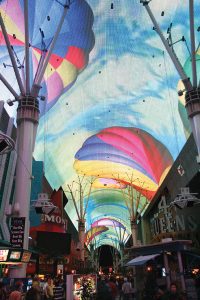 You should not pass up a visit to Fremont Street in the downtown area for the Fremont Street Experience. Here in a landscaped four block section is a sound and light show with 2,000,000 lights fastened high on a grid over the street. The streets are covered with a 70 million dollar canopy, 27 metres up, 430 metres long covered with 12.5 million LED modules, 180 strobes and 8 robotic mirrors. A programmed picture show zooms along above you, and you may see jet planes flying at high speed accompanied by the roar of jets faithfully reproduced with a 540,000 watt sound system. During Christmas week you might see Santa with his reindeer, and his sleigh full of gifts flying through while the streets are filled with seasonal music.
There are also live stage shows at some street intersections. Nearby are shops open late for your convenience, and of course, the inevitable casinos.
Children might like to visit the Lied Discovery Children's Museum with its huge number of hands on exhibits.
Casinos feature many shows for your entertainment. You might want to hear Neil Diamond, or Engelbert Humperdinck, or Canadian Paul Anka, or perhaps watch the magic of Rick Thomas. To see what is on, pick up TODAY IN Las Vegas (weekly visitor guide), or WHAT's ON, at a casino for a complete current list of what's happening, and where there are great prices on meals.
Las Vegas is a busy, vibrant town with lots of traffic. There are two choices when it comes to camping at Las Vegas. On the outer edges of the city you can find several campgrounds. If you want to be right on the strip, try the campground located just behind the Circus Circus Casino. Some people feel that it's worth a little more to be camped only a few minutes from the strip where they can easily return to the RV for a rest, a dip in the campground pool or hot tub and then return to the strip. We certainly enjoyed the views of the night lights on the casinos from our camp site right behind the Circus-Circus Casino.
Here's the link: https://www.circuscircus.com/hotels/rv-park/
Those campgrounds that are farther out may be cheaper, and usually have a shuttle bus that will take you to a specific location on the strip. The disadvantages are the travelling times and the fact that you will have to stay in town until another shuttle bus is ready to pick you up. Also, there usually is a last return hour around ten o'clock which means if you want to stay longer you'll likely have to hire a taxi to get back. We enjoy being a reasonable distance from the hectic pace of the Strip – take a look at my article on Sam's Town KOA –
https://www.rvlifemag.com/settle-in-at-sams-town-koa/
Las Vegas really shows up at night. Walking down the strip when it's dark reveals the fantastic variety of light decoration. Several of the attractions provided for free by the casinos run only in the evenings when the event will be especially impressive.
In 1829 the Mexicans found a desert oasis where Las Vegas now stands. Mormon settlers came there. After the railroad came to town in 1890 the town grew but exploded only after the 1931 legalization of gambling. Now Vegas is a major convention town and receives over 30 million visitors per year. Over 100,000 marriages take place in town each year and offering the facilities and services is a big business for the town.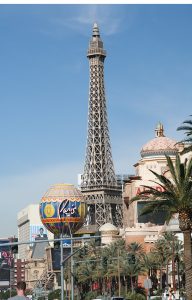 Las Vegas changes yearly, some would say monthly. The big casino you liked the last time you were there may be gone. Casinos are subject to implosion by appropriately located explosives whenever the owner, or new owner, feels that a change is needed. Why renovate, when you can rebuild bigger and fancier?
In early days one of the limiting growth factors was the scarcity of electrical energy. During 1931 the government began to build Boulder Dam, renamed Hoover Dam, on the Colorado River. The project provided flood control on the river, water for irrigation of the southwest and water for Las Vegas for many uses, including a great many golf courses. The road across the top used to be a twisty scenic drive but now RVs cannot use this route without a security inspection. A new road and bridge are being built to bypass the dam. This is scheduled for completion in 2007.
Las Vegas is a miracle in the desert with its huge buildings, busy streets, and vast light displays, all surrounded by the arid desert. For a change in lifestyle drop in to the desert city and let someone else look after you for a little while. You should enjoy it!
For Extra Information:
https://www.vegas.com/ – good source of info – look under attractions.
RV Lifestyle Magazine's Travel Editor, James Stoness, is the author of 'Touring North America', a series of travel guides on CD to help you plan your trips across North America, as well as a series of novels. Visit his website to read his novels and travel guides – https://stonessrvtravel.com/