Q&A With Tyrel Williamson of OK Tire
Topic: Trailer Tires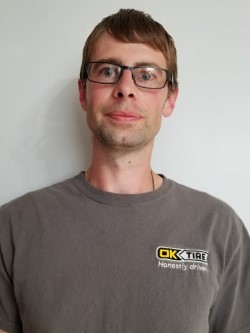 The right trailer tires will help keep you and your passengers safe and give you peace of mind while out on the road. We spoke with auto expert Tyrel Williamson of OK Tire Swan River, MB to discuss how to pick, maintain and store your trailer tires to get the most out of your purchase.
What should drivers keep in mind when checking trailer tires, anything to look out for?
Some of the things to look for when checking trailer tires include tread depth (minimum tread depth would be 2/32 of an inch or 1.5 mm), air pressure, cracking on the sidewall and tread area, uneven wear (which could be a sign of worn suspension components), bent or misaligned axles or loose wheel bearings. Examine the tires for any bulges in the sidewall caused by broken cords or bulges or lumps in the tread which are caused by belt separation.
Does OK Tire service trailers? Tire change, rotation etc.? How often do you recommend a trailer be serviced by OK Tire?
Most OK Tire locations service trailers and this includes tire changes, repairs, inspections and wheel bearing servicing. I would recommend having your trailer serviced at the beginning of the season and again if you notice any issues.
Is overinflation or underinflation a risk? If so, why and how can drivers check?
Inflating a tire beyond what it can safely hold can cause a catastrophic failure of the tire. If tires are underinflated, the weight carrying capacity of the tire will be reduced and may not safely support the weight of the trailer and could also cause the tire to fail. Drivers can check tire inflation with a tire pressure gauge that has the ability to measure to at least the maximum pressure the tire will hold. This is listed on the sidewall of the tire. Remember, tires should always be checked when cold!
Are there different types of trailer tires to choose from? If so, what are the main differences?
The big difference between trailer tires is the construction, radial and bias are the two different types. Radial tires tend to wear more evenly, are less likely to get flat spots when stationary for long periods, have less rolling resistance and generally last longer. Bias tires have a stiffer sidewall which can reduce trailer sway.  Load ratings are another difference, be sure the tires are the correct load rating for the weight of your trailer. Light Truck (LT) tires are designed for light trucks and have softer sidewalls to allow them to flex going over bumps to provide a more comfortable ride. Special Tire (ST) tires are tires designed for use on trailers – they have a much stiffer sidewall than an LT tire due to having larger diameter steel cords. Stiffer sidewalls are desirable for trailers because they reduce trailer sway.
Should tires be stored for the winter months? If so, how and what are the benefits?
Proper storage will extend the service life of your trailer tires. Trailer tires should be covered to protect them from the UV rays of the sun if stored outside. Tire covers are available from RV shops, even a piece of plywood leaned up against the tires can work. Leaving weight on one spot of the tire for long periods can cause flat spots which can be avoided by jacking up the trailer when not in use.
Do you have any tips on shopping for trailer tires?
When shopping for tires for your trailer be sure that the tires are an ST tire designed for trailer use. Radial tires have many advantages over bias ply tires but never mix radial and bias tires as they perform differently and mixing them can negatively affect the handling characteristics of the trailer. Always be sure that the tires can safely carry the weight of the trailer, including any cargo inside. If you're still not sure what tires are right for your trailer, one of our knowledgeable service technicians in your neighborhood would be happy to answer any questions you have.
About OK Tire
OK Tire is the largest independent tire and auto service retailer in Canada and has been part of the Canadian landscape since 1953. There are over 300 independently owned and operated OK Tire locations across the country. They offer a full range of services for all applications including passenger vehicle, light truck, RVs, trailers and more. Each location is unique, tailoring its offerings to meet customers' needs and covering everything in, around, on or behind any vehicle. Customers receive nationwide warranties on automotive services and the personal service of a local owner/manager who lives in, shops in, and supports their community.
For more information visit www.oktire.com