This is part 1 of our 3-part series of 2022 Travel Trailer spotlights from the

RV Lifestyle Magazine

2022 RV Buyer's Guide issue.
Here are your links to part 2 and 3:
https://www.rvlifemag.com/2022-travel-trailers-part-1-a-d/
https://www.rvlifemag.com/2022-travel-trailers-part-2-e-k/
www.rvlifemag.com/2022-travel-trailers-part-3-l-w/
To view the full content of the 2022 RV Buyer's Guide issue, please follow this link, and use the password RVLFREE2017
https://77260755.flowpaper.com/RVL512BGs/#page=1
---
Airstream Basecamp

 
Approx. Price: Please See Dealer
www.airstream.com 
Built for adventure, the Basecamp is designed for those who want to see the world.  It's lightweight and towable with an SUV, seats five and sleeps two.  The Basecamp is 16'3" L x 7" W, has a dry weight of 2,585 lbs. and a GVWR of 3,500 lbs. Once you get Basecamp set up, spread out a little with outdoor extras like the standard visor and optional tents.  Two unique tent options attach to either the door-side or rear of the trailer.  When used together, they give you 120-sq.ft. of sheltered outdoor space.
---
Airstream Classic 30RB

 
Approx. Price: Please See Dealer
www.airstream.com 
Designed for long-term adventurers or full-time living, the Classic is 31'" L x 8'6" W, has a dry weight of 7,788 lbs. and a GWR of 10,000lbs. The classic has a hitch pin weight of 886lbs. Inside you'll find abundant storage, elegant design, private sleeping quarters and spacious living areas.  The Classic is truly an icon of the American highway.  Built with the traditional craftsmanship and durability that's given Airstream their renowned reputation, you'll feel right at home no matter how far you roam.  Popular features include a powered patio awning, black tank flush system, solar package and a convertible dinette. 
---
Bigfoot 25B25RQ

 
MSRP: Please see your local dealer.
https://bigfootrv.com
The Bigfoot RV 25B25RQ measures 25' 6" long, 8' 4" wide, and 9' 2" tall, and weighs 48,63 lbs, with a GVWR of 7600 lbs and a hitch weight of 640 lbs.  All Bigfoot Travel Trailers feature light-weight two-piece fiberglass exterior and high-density insulation, along with thermal pane windows, making them an ideal multi-season towable RV. High-quality standard interior features such as porcelain toilets, spring filled mattresses, day/night shades, skylights and deluxe fabrics make the Bigfoot experience second to none. To make your Bigfoot travel even more enjoyable, a Maxxair Fan, dual propane tanks with auto changeover, black tank rinse, and heated and enclosed water tanks are standard in all of the trailer models. With popular options such 13,5000 BTU air conditioner, exterior showers, DVD player and LCD TV upgrades, BBQ hookups and solar energy you can customize your Bigfoot Travel Trailer for just the way you want to RV.
---
Black Series Campers HQ21

 
MSRP $109,999
www.blackseries.net
Black Series is one of hottest selling off-road travel trailers in America. This popular travel trailer has independent suspension and rugged aluminum composite diamond plate exterior giving it a tough outer shell. Inside the amenities and comfort is anything but tough. Soft accent lighting and luxurious cabinetry make the interior seem more like a hotel, than a trailer designed for outdoor living!
---
Black Series Campers
HQ17
MSRP – please see your local dealer.
www.blackseries.net/travel-trailers/hq17.html
Our friends at Black Series Camper describe the HQ17 as "A Trailer Designed for Families". The HQ17 is an intelligently designed family hauler based on a concept of exceptional durability. The 24.3', 6,062 lb. trailer is intended for on or off-road adventures, with 11.8 inches of ground clearance, and construction that focuses on rugged durability. The unit is tough on the outside, but luxurious on the inside, with all the comforts of a modern RV, including full kitchen, bathroom, and entertainment components. As the Black Series Camper team explains, from the suspension system to the armored chassis, power system to water tanks, the Black Series HQ17 has achieved unparalleled off-road capability and provides long-term living support in the wild, bringing a safe and comfortable travel experience to every passenger.
---
Coachmen RV
Apex Remote 16R
MSRP base $18,755 CDN.
https://coachmenrv.com/travel-trailers/apex-nano/16R/5341 
The Apex Remote 16R measures 19'7" long by 7' wide, with dry weight of 2,860 lbs., GVWR of 3,800 lbs., and hitch weight of 330 lbs. Weighing under 3000 pounds, the Apex Remote 16R offers many full size features that are not found in this weight class.  The 16R has a separate toilet and shower, 6 cubic foot refrigerator, excellent storage, 50 gallon freshwater tank, and a dinette that fits four for entertaining.  This travel trailer also doubles as a mini toy hauler allowing rear loading for larger items such as bikes, kayaks, coolers, and other exploring needs.  The Remote's laminated, aluminum framed, durable construction, is built to get you off the grid and on your way to adventure!  This trailer is built for todays downsized tow vehicles.
---
Coachmen RV
Apex Nano 186BH
MSRP base approximately $31,165 CDN, or $38,964 US.
https://coachmenrv.com/travel-trailers/apex-nano/16R/5341
The Apex Nano 186BH travel trailer measures 22'9" long by 7'6" wide, with dry weight of 3,626 lbs., GVWR of 4,700 lbs., and hitch weight of 446 lbs. The 186BH is a single axle, double over double bunk unit weighing only 3600 pounds! There is great space and storage throughout including an oversized front window that offers an amazing view and lots of natural light. It has big sleeping areas for the growing family and enough room to bring some friends too! Apex Nano delivers many amenities of a larger travel trailer but for the mid-size SUV. For the family on the go, this trailer is great for the camp site or getting off the grid for a few nights with our standard Off Grid Package. Most popular options: 12 Volt Heat Pads. All-Terrain Tires with Aluminum Rims.
---
Coachmen RV
Apex Ultra Lite 256BHS
MSRP base $58,383 or $46,697 US.
https://coachmenrv.com
The Apex UltraLite 256BHS measures 29'11" long by 8' wide, with a dry weight of 5472 lbs., a GVWR of 7600 lbs., and a hitch weight of 694 lbs. At under 30', this UltraLite separates itself from the competition with plenty of space, storage, and sleeping arrangements. The 256BHS will sleep 10 with accommodations for all with ample seating, plenty of kitchen space, and an abundance of storage throughout. All of this while still staying under 5500 pounds. On the outside it offers a nice camp kitchen under the 18' awning along with a rear loading door for your camping needs. Apex achieves this light weight by using dual Azdel construction, lamination and vacuum-bonding processes, and aluminum framing throughout. This makes for superior construction. Most popular options include: Theater seat in place of hide-a-bed. 50 AMP service with second AC. 50 AMP prep., Frameless Windows.
---
Coachmen RV
Catalina Legacy 263BHSCKLE
MSRP (base) $42,665 US
https://coachmenrv.com/travel-trailers/catalina 
The Catalina Legacy 263BHSCKLE is the perfect floorplan for families of every size! The trailer measures 32'6" long by 8' wide with slide in, 11' wide with slide extended. Dry weight is 6,270 lbs, GVWR is 7600 lbs, hitch weight is 724 lbs. The Catalina Legacy has sleeping capacity for 8-10 people and is loaded with industry leading standards. Standard features include an exterior camp kitchen including a griddle cooktop and bottle opener, a 200lb capacity cargo flip down utility rack, a battery disconnect, a power awning with multi-color LED lighting, JBL Premium Exterior Speakers, an enclosed underbelly that holds radiant heat, and double door entry for easy and efficient access. Most popular options include: 100 W Solar Package with 480W Solar Controller, Electric Fireplace, Solid Step Stairs, Tri-Fold Sofa, 15K A/C.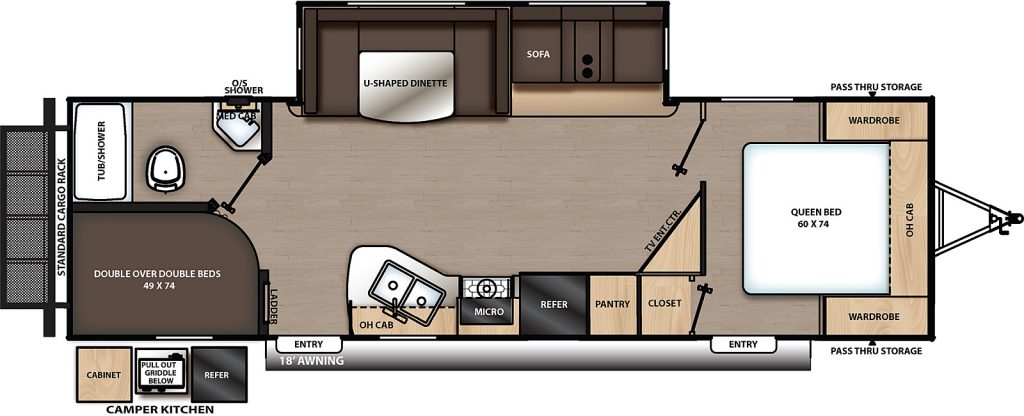 ---
Coachmen RV
Spirit Ultra Lite 1840RBX
MSRP base price is $31,755 US
www.Coachmenrv.com
The 2022 Spirit Ultra Lite 1840RBX measures 22'7" long by 96" wide with the single slide retracted, and has a dry weight of 4,358 lbs., a GVWR of 6,000 lbs., and a hitch weight of 528 lbs. The lightest Spirit floorplan to date, the 1840RBX is the perfect couples coach for those looking for a simple, easy to tow trailer with plenty of modern amenities. Only 22 feet overall, and just over 4,000lbs, this dual axle travel trailer features a front panoramic window, a large radius glass door shower, upgraded jackknife sofa, and of course Spirit's famous Max Bed Storage.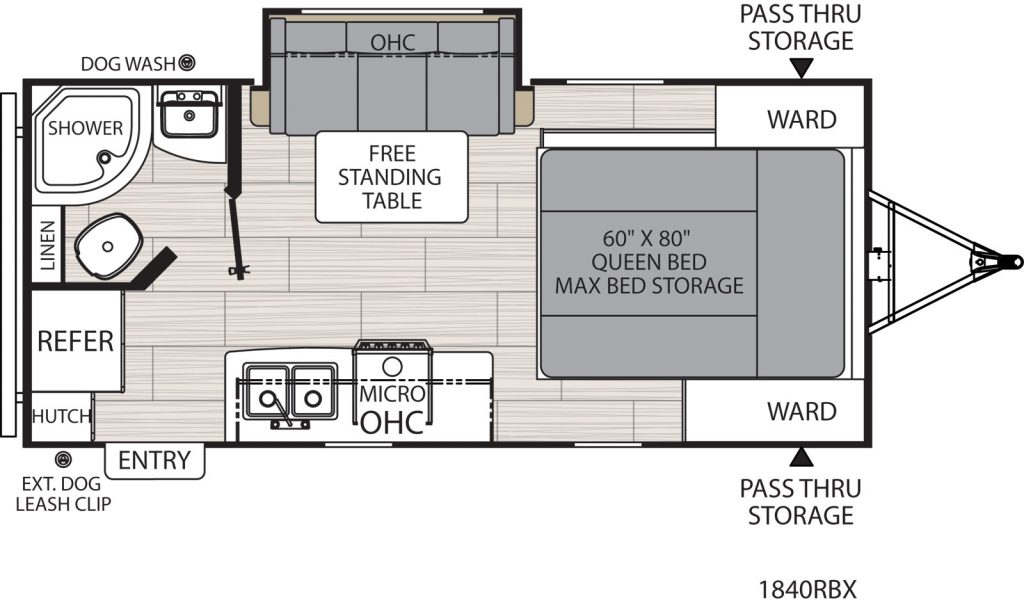 ---
Coachmen RV
Northern Spirit Ultra Lite 2557RB
MSRP: $39,962 US
www.coachmenrv.com
This popular couples' coach comes standard with an abundance of storage such as the Hidden Pantry Storage and famous Max Bed Storage. Perfect for couples looking to get away, this wide-open floorplan features a large u – shaped dinette in the kitchen, and the upgraded recliners across from the entertainment center are a very popular option. This travel trailer measures 29'3" long, 96" wide, dry weight is 5,824 lbs, GVWR 7,600 lbs, hitch weight 648 lbs. Most popular options: Theater seating, 50 amp service.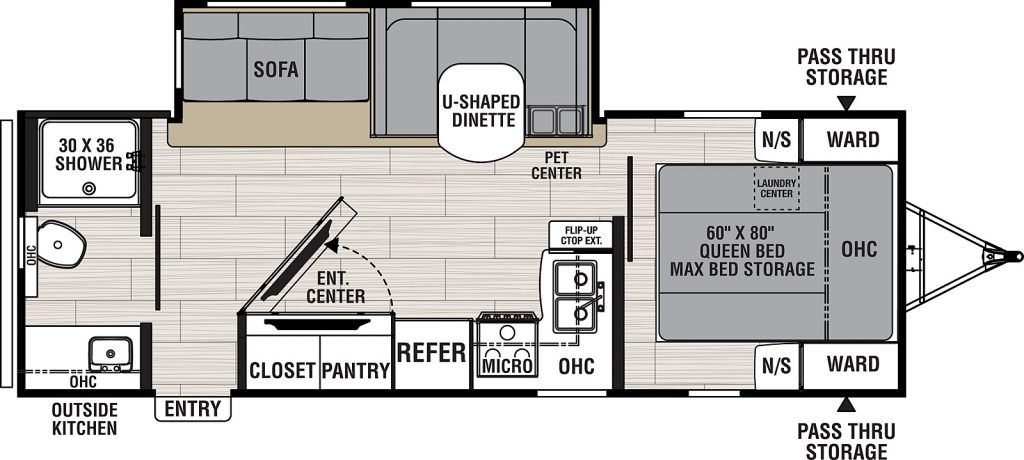 ---
Coachmen RV
Spirit 2557RB
MSRP Please see your local dealer
www.coachmenrv.com
The Coachmen Spirit 2557RB is a popular floorplan with unbelievable storage featuring a hidden swing out pantry and our Max Bed Storage. Measuring 29'3" long by 96" wide (with slide in), the trailer weighs in at 5,842 lbs. (dry) with pin weight of 648 lbs. and GVWR of 7,600 lbs.  A large bathroom and an outside kitchen make the 2557RB a favourite.
---
Cruiser RV
Hitch 16RD
MSRP base for the Hitch 16RD is $34,737 US
https://cruiserrv.com 
The Hitch 16RD travel trailer measures 21'-4" wide by 7'-3/8" wide, with a dry weight of 3,586 lbs., and a GVRW of 4,884 lbs. Three models are available in this series: the 16RD (pictured), 18RBS, and 18BHS.Built to handle extreme terrain but towable with lightweight vehicles, the Hitch is the newest product line to be introduced by Cruiser RV. Hitch is a fun, industrial built ultra-lite travel trailer equipped with unique features for today's adventurous camper. With an all-aluminum superstructure, Azdel composite walls, and plywood floors it holds true to Cruiser RV's mission of building Great American Trailers. Cruiser RV are introducing several new features on this product line that will reduce maintenance, improve durability, and allow our customers to go anywhere they want to enjoy their adventure.
---
Shadow Cruiser
239RBS
MSRP base for the 239RBS starts at $42,733 US.
https://cruiserrv.com
The Shadow Cruiser 239RBS measures 27'-11" by 8'3/8" wide with the single slide retracted. Dry weight is 5,768 lbs., GVWR is 7,670 lbs., hitch weight is 670. Other models in the series include the 225RBS, 257MKS, 259BHS, 269RLS, and the 277BHS. We asked our friends at Shadow Cruiser to describe the essence of this line – "With Shadow Cruiser, we make it easy for families to go out and make memories that will last a lifetime.  Because of our aluminum construction and feature packed trailers, Shadow Cruiser makes it stress-free for you and your family to pack up and hit the road.  With offerings from smaller couple's coaches to bunkhouses that sleep up to 10, Shadow Cruiser has the Ultra-lite choices you're looking for.
---
Dutchmen
Kodiak 2921FKDS
MSRP Please see your local dealer
www.dutchmen.com
Kodiak has bonded construction featuring a lightweight super structure aluminum design, and 100 per cent wood free composite flooring. The Kodiak Ultimate continues to pave its way as an industry leader in the Ultra-lite market. Kodiak is feature rich in amenities with a modern interior look. Some of the many features that are standard in the Kodiak Ultimate Series: farm-style kitchen sink, 10 cu. ft refrigerator, two fireplaces in all couples' units, underbelly LED lights, king size bed, aluminum steps, no carpet, and maxx air vent in the living area.