Check out these cool camping and RV products at an RV dealer in your area…
Thomas Payne Euro Recliner
The Thomas Payne Collection of RV furniture, from Lippert Components, includes a range of seating options designed specifically as replacement furniture for your RV. Every model comes partially assembled in boxes sized to fit through the 26" wide door of your RV.
Whether you have a travel trailer, a motorhome, or a fifth wheel, the new Euro Recliner will add a touch of flair and a great deal of comfort. The recliner is available in your choice of three, all-new PolyHyde vinyl upholstery colors: Millbrae, Altoona, and Grummond. The PolyHyde vinyl fabric is durable and extremely low maintenance — allowing you to simply wipe off any spills or dirt. The chair is also available in Norlina woven fabric, which is great for RV owners traveling with kids or pets. The Euro Recliner features a high-density foam core interior, padded armrests, and headrest.
The Euro Recliner is easy to operate – one pull of the lever on the side of the chair lets you recline up to 59" for supreme comfort. This chair measures approximately 26″ W x 33″ D x 39″ H, with a sitting surface that measures 20″ W x 20″ D x 19″ H.
For more information, please visit: https://store.lci1.com/euro-recliner-chair-with-footrest-various-colors-euro-chair
Gator RV Sewer Hose
The popular Duraflex RV sewer hose kits from NTP/Stag have been rebranded for 2022 under the Gator name. The kits are offered in two hose styles and three configurable lengths.
The Gator RV Sewer Hose wire reinforced kits feature a hose made of 21 mil polypropylene reinforced with steel wire ribbing. The hose resists crushing if stepped on and holds it shape when bent.
Polymer-ribbed Gator RV Sewer Hose kits feature a hose made of 24 mil polypropylene to withstand abrasions. The polymer-ribbed hose also will hold its shape if stepped on.
Both hose styles are equipped with 360-degree twist-lock swivel fittings with rubber gaskets to ensure leak-free connections, and a 90-degree clear elbow so you can easily see when drainage is complete.
Hose kits are available in 15, 20 and 30-foot lengths. Two or four drip caps, depending on the hose length, are included. Gator RV Sewer Hoses fit into a standard 4-inch square RV bumper.
For more information, please visit your local RV dealership.
Prodigy® iD Proportional Trailer Brake Controller
The Prodigy iD brake controller from Tekonsha seamlessly integrates a colour LED display into your vehicle's dash, providing easy-to-read diagnostics and alerts. Once installed, you can enjoy fingertip trailer brake control using the rotary knob to easily adjust settings. Start by downloading the Tekonsha Edge mobile app, which allows you to easily set Power and Boost, store multiple trailer and driver settings, and much more.
The Prodigy iD seamlessly integrates into your vehicle for a clean in-dash appearance.
For more information, please visit: https://www.tekonsha.com/product/90920_trailer-brake-control-proportional
Hopkins Vue SMART
The Hopkins Vue SMART rear view camera is the ideal device to add rear vision to your travel trailer, fifth wheel, or motorhome. Designed to facilitate easy do-it-yourself installation, this camera uses existing wiring for your RV running light to power the device, and the universal mounting bracket adapts to work on any RV. The LED lights help with viewing dark areas, and the camera has adjustable light settings for optimal viewing.
The Vue Smart rear view camera works with the Hopkins Towing Solutions® App to send a wireless and crystal-clear video image to your smart device via Wi-Fi signal. The high-definition camera shows a full 152° wide-angle view, and you can use your smart device to take a picture or record hi-def video.
The Vue SMART camera is waterproof and withstands harsh environments. The unit has a 1-year warranty.
For more information, please visit: https://hopkinstowingsolutions.com/?t=products/towing-cameras/50050
AquaFRESH High Pressure Water Hose
The AquaFRESH high pressure drinking water hose from Valterra is a non-toxic hose designed for RV sites where water pressure can be as high as 160 psi. The hose features pre-installed hose savers on both ends, and an easy-to-use hose gripper.
Available in ½ inch and 5/8-inch diameters, and lengths of 10', 25', 35', and 50', the hoses are manufactured from NSF listed materials.
For more information, please visit your local RV dealer, or surf to: https://www.valterra.com/product-ad/aquafresh-blue-drinking-water-hoses/
AeroShield Wind Deflector
The AeroShield Wind Deflector from Icon Direct reduces the overall wind resistance as you tow your travel trailer at highway speeds, and practically eliminates wind turbulence trapped between the tow vehicle and the fifth wheel or trailer. The result is better handling, better fuel efficiency, decreased wear on your vehicle, and reduced "bug splatter" on the front of the trailer. The AeroShield can be adjusted to any angle for maximum aerodynamic efficiency.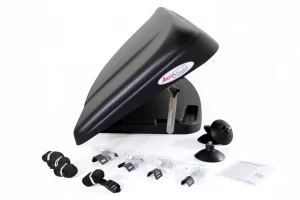 The AeroShield is very easy to install, folds down when not in use, and comes in two sizes – 56" x 22" and 48" x 22", and your choice of black or white. The AeroShield ships completely assembled, with mounting hooks for quick installation on your tow vehicle. The AeroShield fits most vehicles – with no drilling or vehicle modifications required.
For more information, please visit https://www.icondirect.com/aeroshield-wind-deflector/
T-Chock from Stromberg Carlson
The T-Chock from Stromberg Carlson is a strong and convenient way to chock your wheels for stability in the campsite. It only takes a few seconds to use the built-in handle to place the T-Chock between the RV's tandem wheel and then use the supplied 3/4" wrench to set the pressure against the tires.
Adjustable for tandem wheels that are spaced from 2" to 17" apart, the Stromberg Carlson T-Chocks are the ideal way to eliminate much of the movement that occurs as people walk around inside the RV. The rust-resistant coating assures many years of trouble-free camping stability.
Available through your local RV dealer.
For more information, please visit: https://www.strombergcarlson.com/product/t-chock/
For a very informative video, please visit: https://youtu.be/8mDnnMsNTgo