When construction of our new house was delayed, our RV became our home on wheels!
By M.B. "The Wagonmaster" and Karen "The Cookie Lady" Wilson
This article appeared in RV Lifestyle 37-2
Our two kids, two dogs and two cats all moved out of the family home within a six week period.
We became instant empty-nesters.
Since M.B. and I no longer needed our two-storey home in the Greater Toronto Area, we decided that we would move outside the Toronto area to get away from the hustle and bustle of the big city.
Twenty years ago M.B. jokingly stated that "when he retired he wanted to move to the Sarnia area".  His reason, as always, made perfect sense – so we would be three hours closer to Florida when we became snowbirds.
We found a location on the southeast end of Petrolia, Ontario.  The lot size was exactly double what we had in Brampton and it backed onto a cornfield.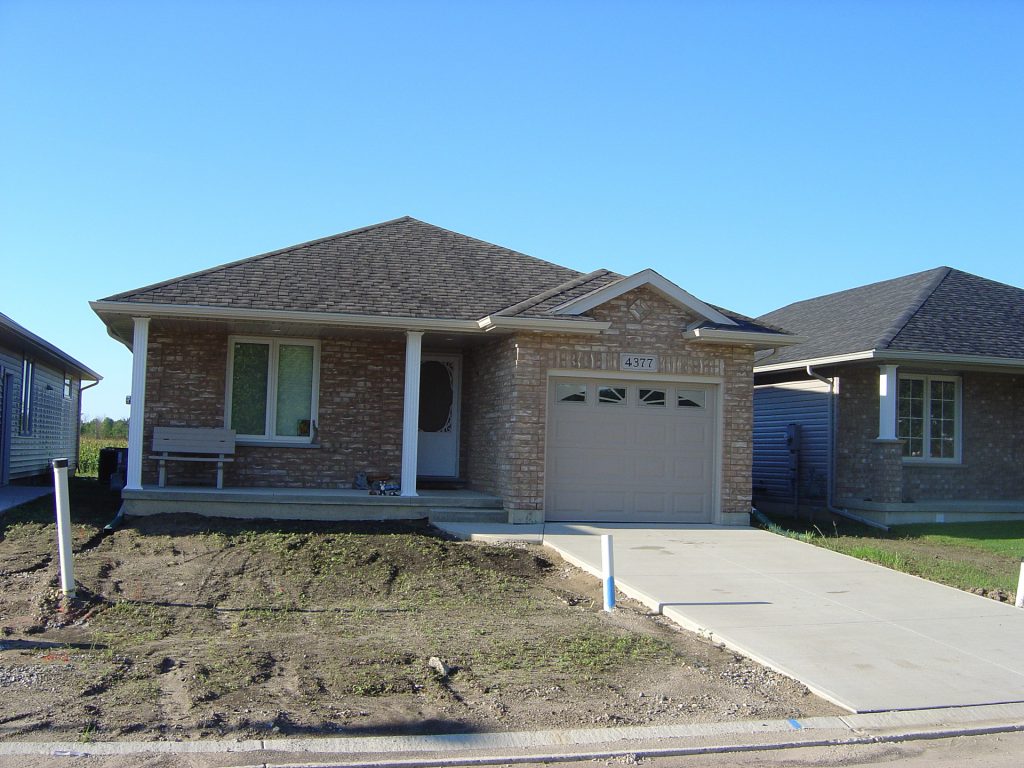 We found a builder and decided that we wanted to build a two-bedroom bungalow on this deep lot.  The plan was an open concept with the kitchen, dining area and great room on the main floor.  A large master bedroom with a walk-in closet, a bathroom with a 6-foot soaker tub and a second bedroom (which we would make our office) and laundry room would complete the first floor.  The basement had a large finished family room, a third bedroom and a bathroom with a double shower.
With a deposit on the lot, we put our home in Brampton up for sale.  The real estate agent encouraged us to buy some new furniture because when the kids moved out they took quite a bit of our furnishings, dishes and linens with them.
The problem arose when we found a buyer. We wanted a 90-day closing day so that our new home would be complete, but the buyer wanted to move in by the end of the month.
Wheel Estate to the Rescue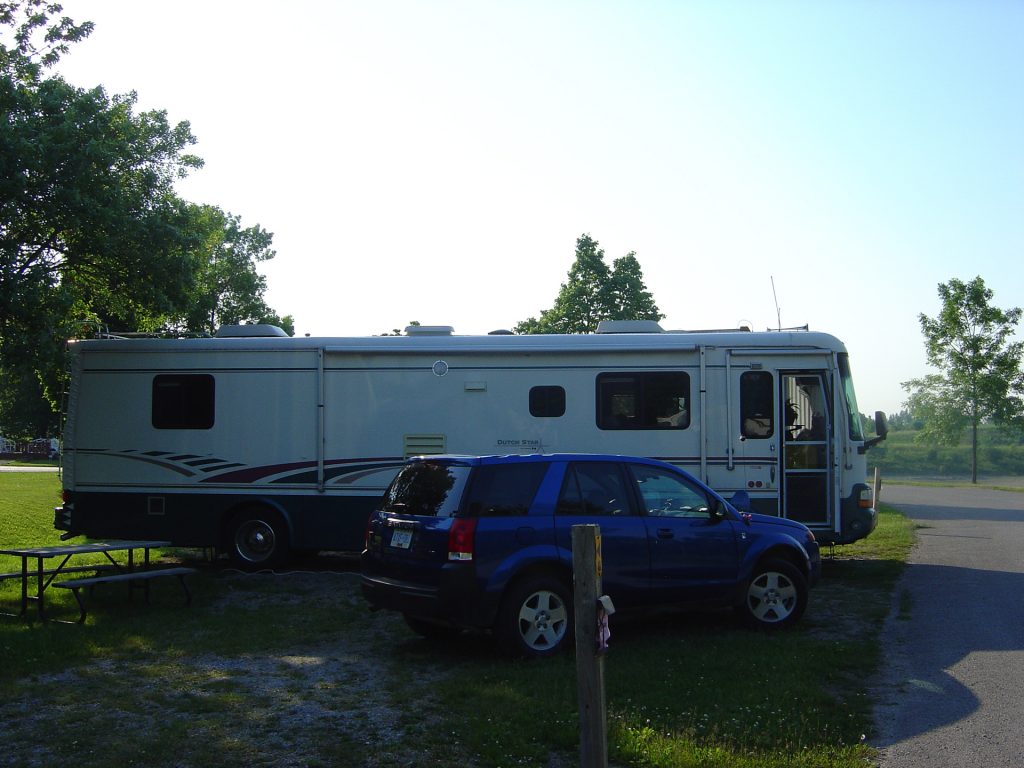 Those who have experienced the scheduling dilemmas of a home move know how stressful the situation can become when the buyer and seller are not quite working on the same calendar page… for RV'ers, however, the logistics are not quite so dramatic – we decided to move into our motorhome and wait for our new house to be completed. Always optimistic, we thought we would only be in our motorhome for two months.
Using an RV as a temporary home base a natural and comfortable decision, but when we sat down to plan the logistics, we realized that there were many considerations that could turn our two-month adventure into either a pleasant interval between moving out and moving in – or an episode to be avoided. Obviously, the motorhome was not going to accommodate all of our belongings from the house, and we had a parallel set of the basic household items in the RV to begin with. It was like a giant jig-saw puzzle – the first thing we did was pack up the motorhome.  That's right; we packed up all the dishes, pots, linens etc. from the motorhome and moved them into our house.  We then packed up the house contents and replaced them with the motorhome gear.  This way we knew everything that was now in the kitchen, bathroom and bedroom would easily fit back into the motorhome.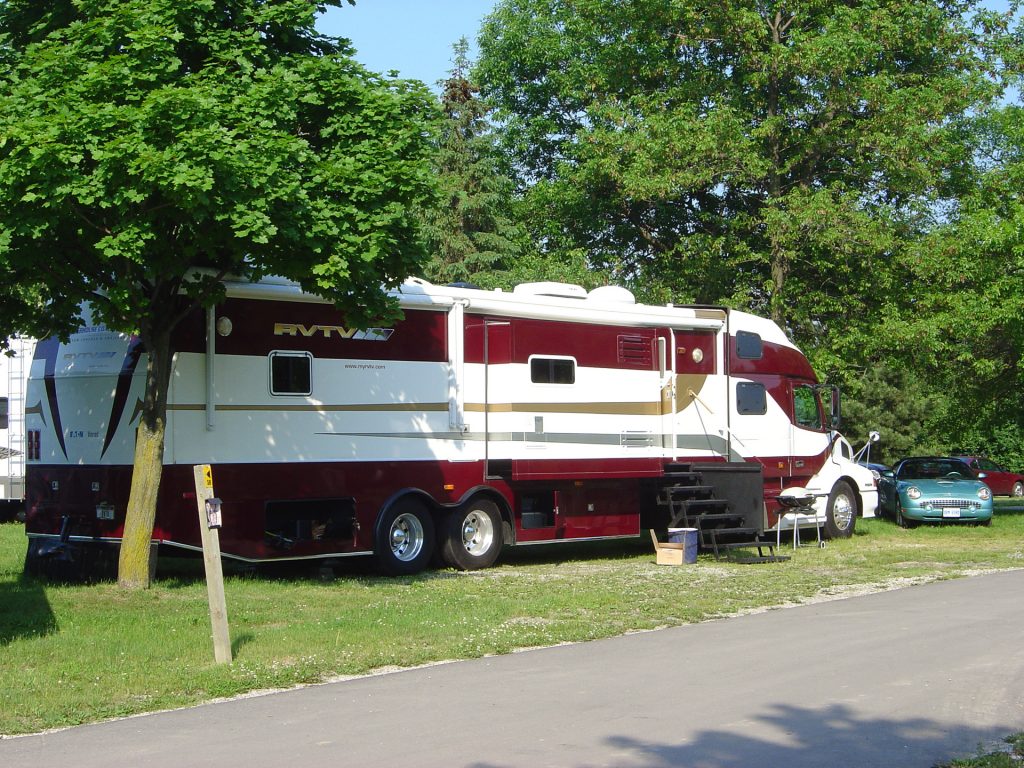 We moved our remaining furniture, clothes and the rest of our belongings into storage (actually, we moved it all into our son's basement and garage in Corunna, Ontario, only fifteen minutes from Petrolia). We moved everything including our bed; all we had in our house was what we brought in from the motorhome. After we emptied the house, we discovered that we did not like sleeping on the floor, so we decided to move into the motor home early so that we would have a bed to sleep on. That was pretty much the culmination of phase one of our project to turn real estate into wheel estate. We now had to find a campground that was open at this time of year and close enough to Brampton that we could come and go as needed. It was the end of April.
We called Indian Line Campground and they said we could bring our motorhome and stay there. This worked out great, as the campground was only fifteen minutes from our home in Brampton. We were able to close the deal on our home in Brampton and continue to run Wagon Trains RV Tours from the motorhome office, while we were parked at the campground.
In May we lead our Branson Music Rally caravan to Missouri, and then returned to Petrolia to check on the house.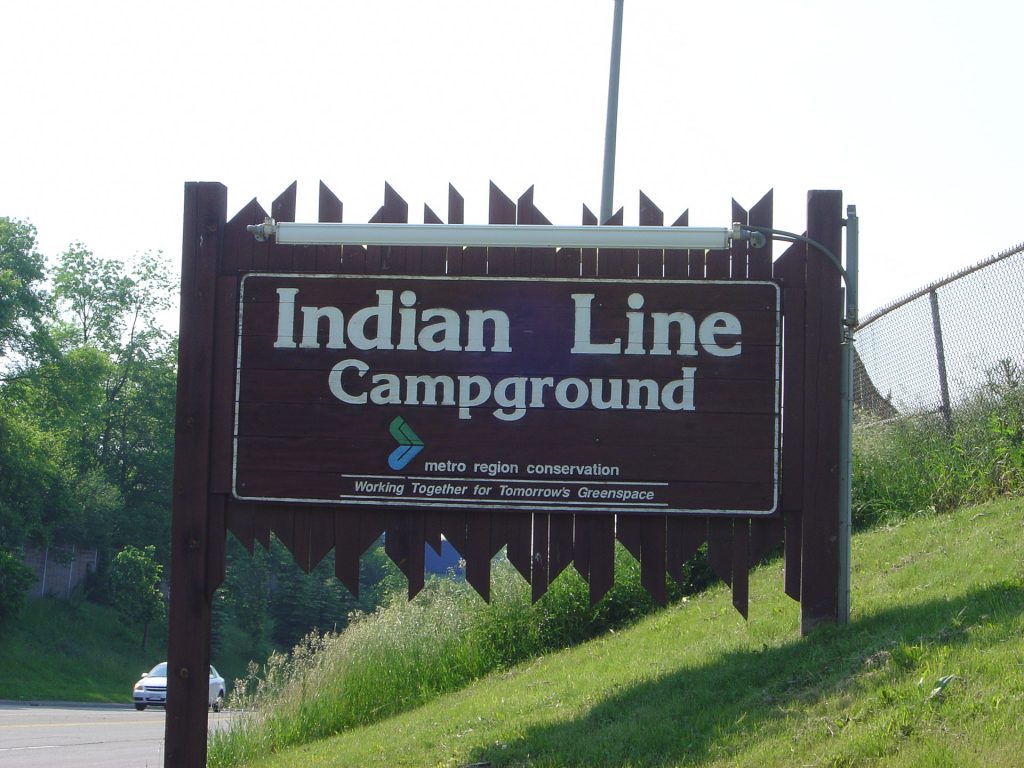 There was going to be a 30-day delay so we moved on to Cookstown, Ontario to run "The Rally" at the Toronto North KOA. After the "The Rally" we returned to the Sarnia area and stayed at Cathcart Park.  Cathcart is a lovely campground right on the St. Clair River.  After spending a few days watching the tankers going up and down the river, we decided to go on holidays and booked into Carson's Camp up in Sauble Beach for a week.  It was nice break. We also went up to Linsday for a visit with Karen's parents.  The many benefits of having our own home on wheels were quite evident on this extended swing through south-central Ontario.
When our new house was finally ready, we moved in with no carpet on the first floor, an incomplete paint job, a broken window, a chipped bathtub and a list of other repairs to be done. We just stayed in the motorhome until the house was completed. Our two-month stay in the RV had turned into a four-month experience… this is not unusual, as our friends say when you are planning home improvements.
We were only in our new house less than a month when we hit the road again for two months to host the Wild West Caravan. We left on August 24 and returned on October 23, 2007.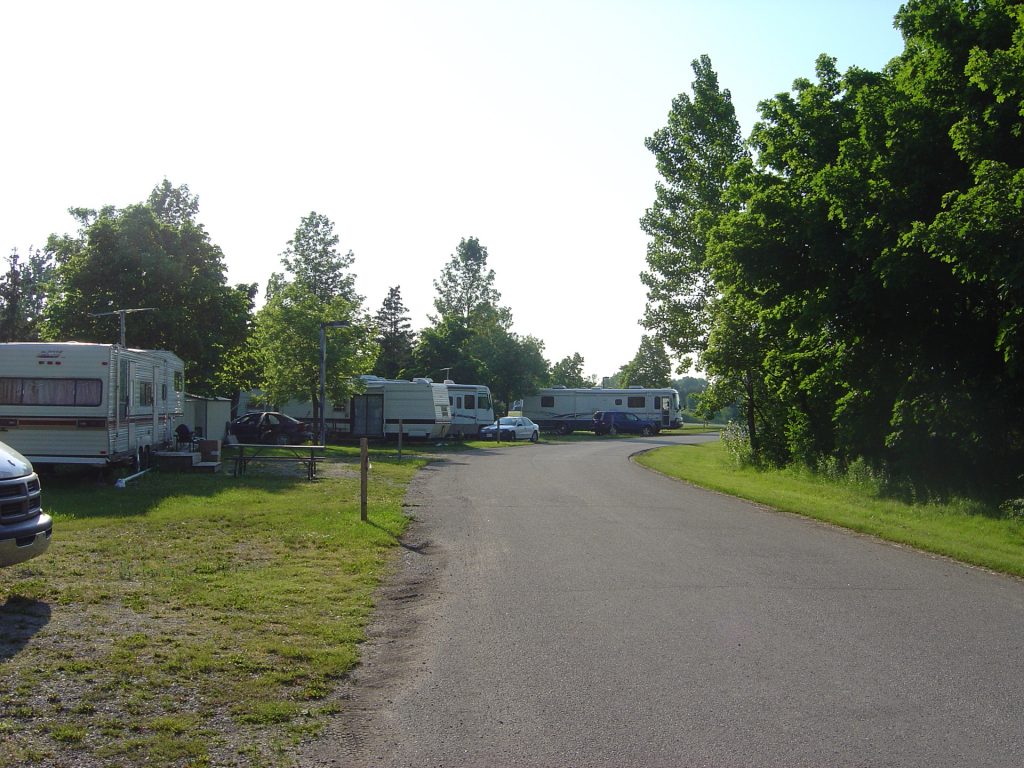 When we returned from this fantastic trip we had only lived in a house for about five months and in our motorhome for five months of the year, but the way we see it, we had been at home all of the time.  Every night we slept in our own bed, prepared our meals the way we liked them and had all the comforts of home in our RV.  We were even able to keep in touch with everyone through cell phones and the internet.
It was a great experience…
When we were finally able to move into our new house and stay for a while, it was a real change of pace. We took some time to get used to small town living, and we now really enjoy it. On Christmas Eve we spotted four deer in the cornfield, just beyond our backyard, you would never see this in Brampton!
If we didn't have an RV to move into, we would have had to move into a hotel or impose on relatives.
After all these years of motorhome adventures we found another use for our RV – even though we were disappointed when the contractors told us that our new house would not be ready on time, we knew that we still had our RV home, and for however long it took to complete our new house, we could just sit back and enjoy the comforts of our home on wheels.