By James Stoness
To most people the term 'West Coast' conjures up images of golden bodies on sandy beaches, surfing the crashing waves under the rays of a gorgeous sun setting over the surging ocean.  This, of course, is what one finds on the Pacific Coast of North America.
There is, however, another West Coast – a patchwork quilt of rural towns, centuries-old farms, and enchanting country inns and restaurants – the western shoreline hinterland of Ontario's Lake Huron.  This picturesque destination offers limitless exciting possibilities for vacationing and relaxation, particularly for the adventurous RV'er.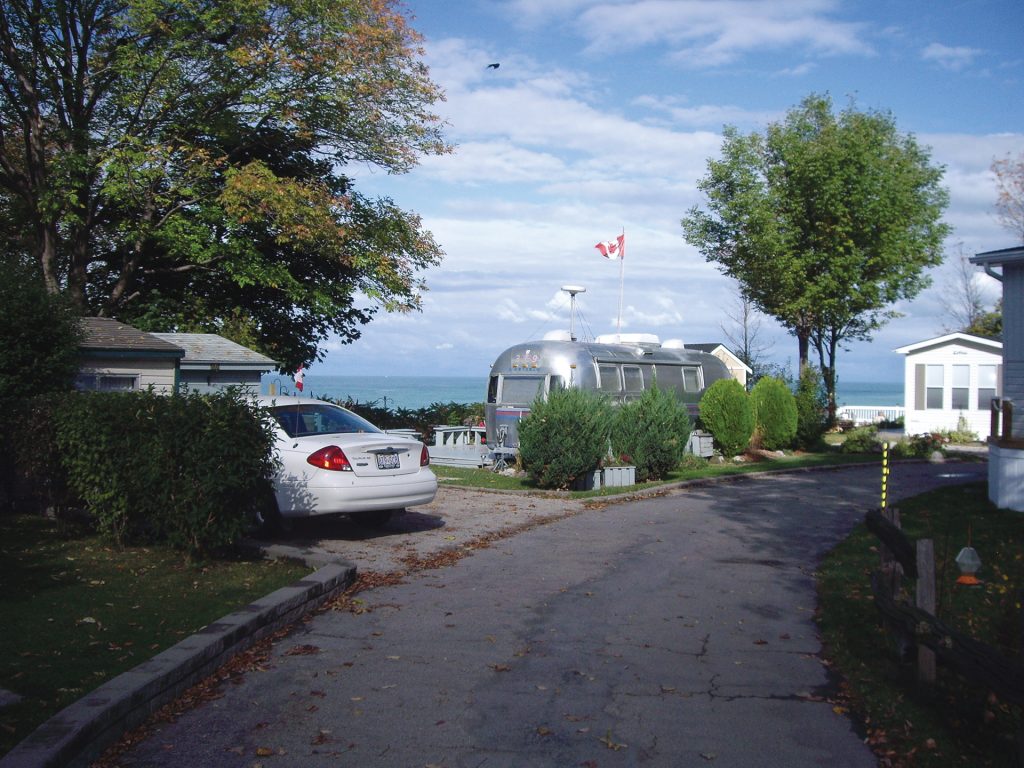 Along Huron's golden shores and inland are many areas with a dense concentration of beautiful vacation parks and campgrounds which cater to a wide variety of tastes and preferences.
Central to the region is the popular resort town of Grand Bend.  The sandy beaches of this summer haven have attracted many visitors from all over Southern Ontario and neighbouring U.S. States.  The town pulses with activity as teenagers and retirees alike crowd the streets and beaches to enjoy the delights of the Ontario summer.
The nearby Grand bend Motorplex features Canada's largest drag racing facility and is the home of Canada's largest drag race rally, which takes place in July each year.  Each long weekend there are exceptional show and race programs followed by Sunday night concerts featuring top Canadian talent.  There are 400 campsites but very few hook-ups, however showers, modern restrooms, and eating and drinking concessions are available on-site.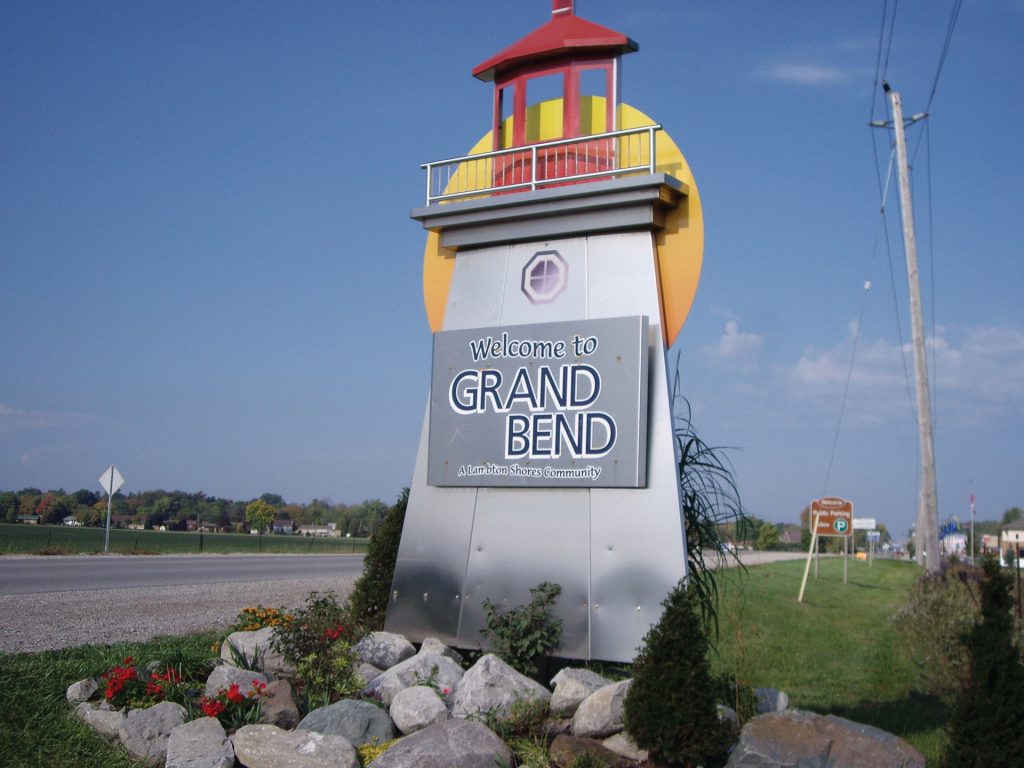 It is conservatively estimated that there are over 15,000 camping and parking spaces within a fifty-mile radius of "The Bend" as it had been affectionately referred to by summer visitors for over 100 years.
Pinery Provincial Park, located just south of Grand Bend, features over 1000 campsites (400 electrical), a 10km beachfront and miles of trail for skiing, biking and hiking.  In common with the many private campgrounds which abound in the area, there are many other activities geared to young and old alike.  As you follow scenic Highway 21 going north ten miles from Grand Bend you will come across the historic settlement of St. Joseph which, in the 1800s, along with the nearby town of Zurich, attracted many settlers from Quebec.  These industrious newcomers flourished in these early years as foresters, fishermen and farmers.  Many of their descendants are now employed in local RV manufacturing facilities in the nearby towns of Exeter and Hensall.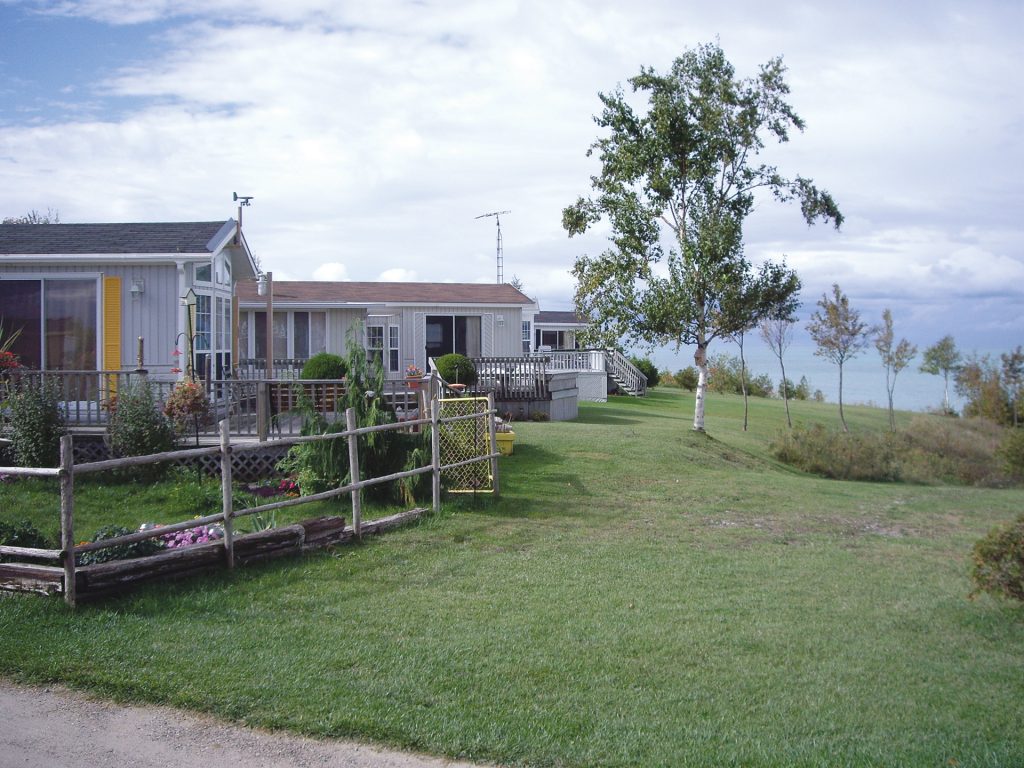 The history of St. Joseph is told through narrative and pictorial signage in the local Memorial Park.  This park originated in the early 1900s with a request from Brother André, founder of the famed Oratory of St. Joseph in Montreal, to erect a statue honouring this patron saint who is said to have affected many miraculous cures through Brother André.
A provincial plaque also honours the visionary Narcisse Cantin (1870-1940) who had plans to build a Great Lakes canal starting at St. Joseph, the settlement he visualized as then becoming a major port.  This system was to have linked Lake Huron and Lake Erie, thus cutting out the lengthy and expensive voyage downriver and around Detroit.  As we now know his dreams never materialized but his early, original concepts resulted in Cantin sometimes being referred to as the "father of the St. Lawrence Seaway" – high praise indeed.
As one continues to travel along highway 21, north of St. Joseph to nearby Bayfield and then onto Goderich there are unlimited opportunities for golfing, sightseeing and camping along the breathtaking shoreline.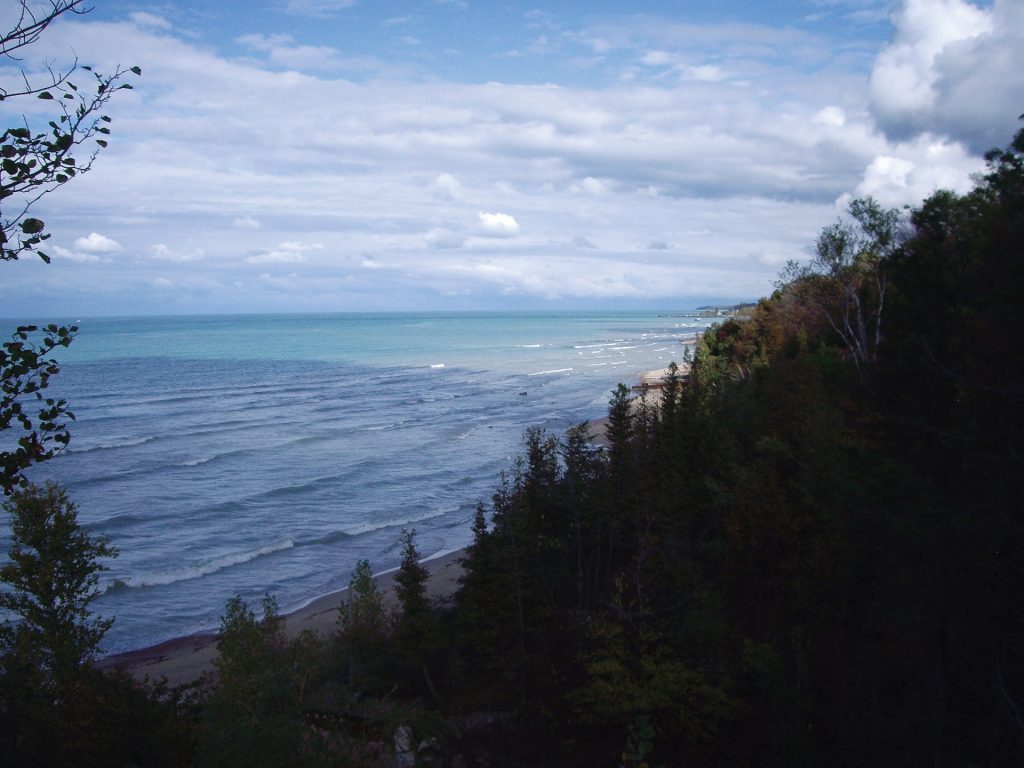 Both towns have well-protected marinas and numerous adjacent campgrounds to cater to the thousands of visitors who flock to these charming coastal ports.  Bayfield is renowned for its friendly inhabitants, beautiful boutiques, and its gourmet dining establishments which feature a wide variety of culinary delights.
Fifteen miles east of Bayfield is the historic Van Egmond house, a Georgian manor which is one of the oldest houses in Ontario.  The builder, Colonel Van Egmond was involved in the rebellion of 1837 when he attempted to bring, what he considered to be, responsible government to Ontario.  He died, untried, in the Don Jail in Toronto.  Today the house is preserved in Egmondville, in its original splendor, providing a fascinating look back at life in the early 1800s.
Goderich has been described as the "Prettiest Town in Canada"- it is a former national champion and runner up in the world "Champion in Bloom" competition.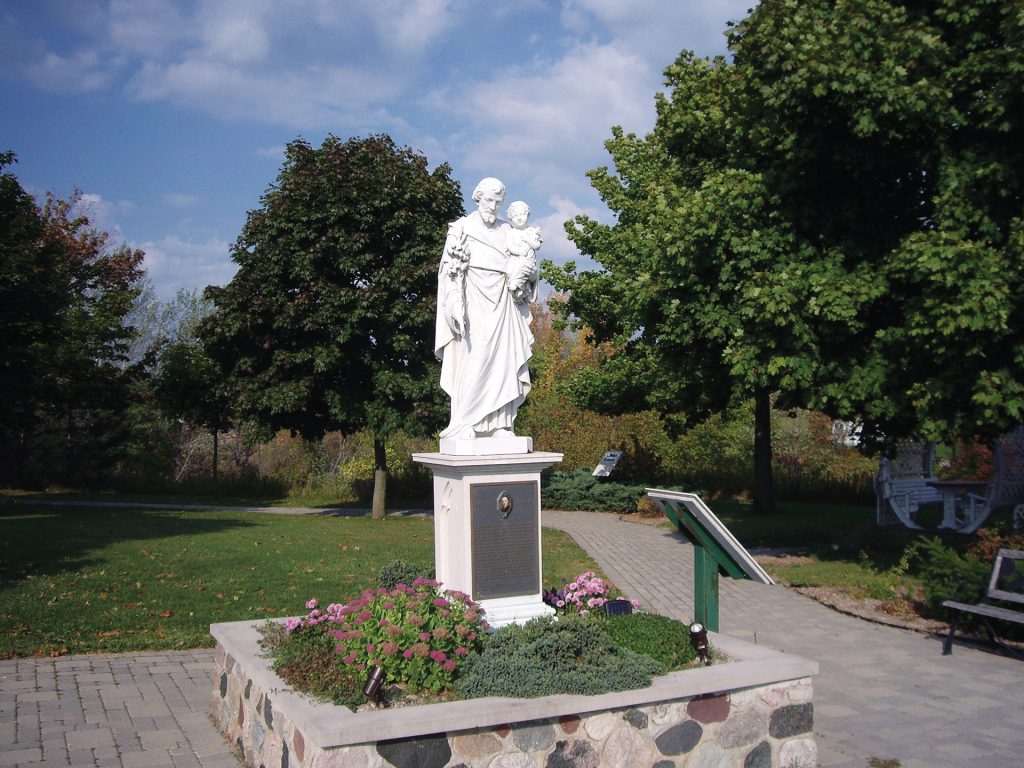 Colourful Dr. William "Tiger" Dunlop is considered to be one of the founders, in the early 1800's, of Goderich.  "Tiger" was a Scottish surgeon and soldier, journalist, politician and adventurer who after an illustrious life and varied career, was buried in the bluff overlooking the town.
Among Dunlop's many accomplishments, he is credited by some with designing Goderich's distinctive, European inspired downtown an octagonal core called "The Square" where streets radiate from the centre- a unique design to be found Canada.  Tiger was a bit of a scallywag who reportedly carried twelve large glasses he nicknamed the "Twelve Apostles".  Eleven where filled with whisky (Scotch, no doubt!) and the twelfth with water- which he called "Judas".
Spectacular sunsets all along Huron's West Coast are considered to be among the most beautiful in the world and are eagerly anticipated when conditions are ideal.  A Goderich tradition is the "Pipe Down the Sun" ceremony featuring the Celtic Blue Highlanders which takes place every Friday night from July 6th to August 24th.  The show is free and is one of the highlights of the Goderich summer as a myriad of colours illuminate the evening sky to the stirring sounds of the bagpipes.
Approximately an hour's drive north of Goderich is Kincardine which is considered to be the gateway to Bruce Peninsula's Cottage and Campground Country.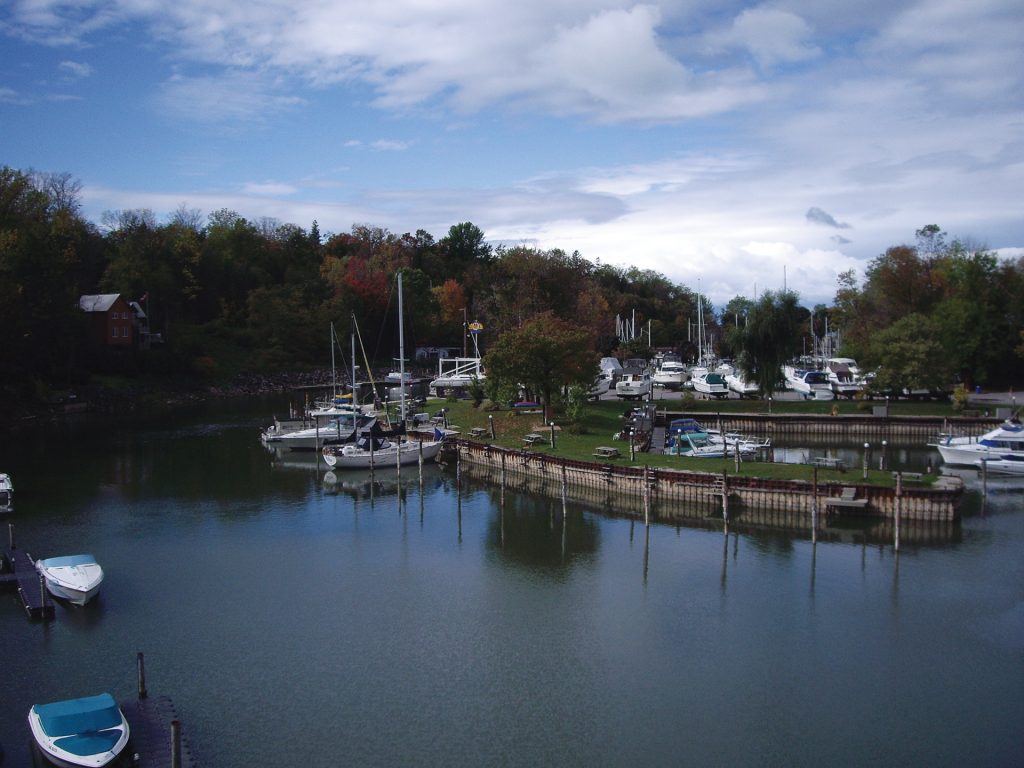 The beach in this beautiful little town has been certified to fly the Blue Flag, an internationally recognized and respected eco-label, for beaches achieving the highest standards.  Kincardine beaches thus join more than 2600 in 36 countries worldwide acknowledged as meeting the 27 strict requirements based on water quality, environmental management and education, safety and service.  Quite an accomplishment for such a small town and one which should attract recreational visitors and tourists alike.
During the summer, Kincardine's Scottish Heritage is remembered with Saturday evening pipe band concerts and parades, a Scottish Highland Festival and Games, and a Mass Band "Gathering" Festival.  There is also a summer Musical Festival in August which brings the big names of the jazz and classical music scenes to town.
Proceeding further north on Highway 21 one passes Bruce Power Visitors' Centre near Inverhuron which contains a picnic area and balcony with a panoramic view of the huge nuclear power complex.  Close by are several huge wind turbines that generate power as Ontario's first wind farm.  Camping is available at Inverhuron Provincial Park and at several other RV parks in the area.
Port Elgin, a family destination, is one of the busiest resort communities on the Lake Huron Shoreline and is brimming with exciting things to see and do.  The town has plenty of accommodations to choose from- bed and breakfasts, motels, cottage parks, and many campgrounds and RV parks.
Spectacular sunsets can be viewed from "The Harbour"- a favourite vantage point for romantics and photographers.  In the Fall season this "Town of Maples" provides a glorious show of autumn colours as the sturdy maple trees that line the streets attract many visitors to Port Elgin.
Just north of Port Elgin is Southampton, the oldest port on the Bruce Coast.  Southampton market displays an enormous choice of merchandise and is very popular with locals and tourists alike.  Its peaceful beaches provide one of the most idyllic communities on Lake Huron.  Walking tours allow one to explore the community's historic architecture, the Bruce County Museum and other scenic vistas.  Another landmark is the Chantry Island Lighthouse.  Tours include return boat passage, guided commentary and a visit inside to view the lighthouse and keeper's quarters.  Another interesting venue is the Saugeen First Nation where local native artisans display and sell a full range of beautiful handicrafts.
Thousands of tourists from the metropolis of Toronto and all parts of Ontario flock each summer to the silky soft sands of the Sauble Beach area located a few miles north of Southampton.  To accommodate these vacationers fully serviced RV Parks with amenities such as TV hookup, internet provisions, pools and a wide variety of other facilities are available as well as the usual array of other accommodations.
Sauble Beach Amusements provide a wide variety of fun opportunities such as bumper boats, mini-golf, roller coaters, go-kart tracks and a whole host of activities to keep vacationing families happy and their time occupied.
Sauble Beach is another Blue Flag recipient and has been consistently voted by leading newspapers as one of Ontario's best and most popular beaches.  It's commercial and shopping centers are modern and very popular catering to the varied tastes of the many diverse groups that throng to the ever-popular resort.
Sauble Falls Provincial Park features the well known waterfall, as well as a campground, playground and a tourist visitor's centre displaying the ecology and history of the area.  In the spring and fall, Lake Huron rainbow trout and salmon thrash their way up the falls to the delight of onlookers.
Highway 21 turns inland and becomes Highway 6 just below Wiarton – the "groundhog capital of Canada."  On the first weekend in February, Wiarton Willie, the renowned predictor of spring's arrival, hopefully makes an appearance to herald the advent of spring.  Farmers Market opens Friday morning during summer and offers many succulent treats to delight the palate.  A feature of the area is the Rocky Raccoon Café whose chef is from Nepal and whose combination of specialties blending Asian, European and Canadian dishes has created a remarkable global cuisine.
The Bruce Peninsula basically originates the Niagara Escarpment and winds its way through southern Ontario to Manitoulin Island. Following spiny, rock backbone is the Bruce Trail which provides treks and cliff top vantages with spectacular views!
The rugged north shore offers panoramic views of rocky headlands, extensive forests, and the brilliant blues of the Huron and Georgian Bay.
The Bruce trail and Huron's West Coast are generally considered to end at Tobermory, the "Tip of the Bruce" peninsula.  Tobermory is a village that has retained its quaint charm with beautiful manicured flowerbeds, and extensive boardwalks and walkways.
As in many other parks of Ontario, festivals, summer activities and the like abound.  Boat tours around the island, bays and coastal inlets are readily available as are kayak and other watercraft rentals.  Tobermory is also recognized as the "Scuba Capital of Canada" due to the shipwrecks that lie off its rocky shores and the diving, snorkeling and other activities that take place in its sparkling waters.
For those not wishing to go underwater, glass bottomed boats provide excellent opportunities to view shipwreck and activities through the crystal clear waters.
The ferry that operates between Manitoulin Island and Tobermory is known as "Chi Cheemaun" which is Ojibway for "Big Canoe."  This is one of the most popular scenic, highway routes in Ontario.  This service is provided from approximately May 4th to October 14th each year and is a must do for those in the area.
There are many other attractions to be enjoyed on the other "West Coast" which are yours to discover on the RV Roads to Adventure!
RV Lifestyle Magazine's Travel Editor, James Stoness, is the author of 'Touring North America', a series of travel guides on CD and online to help you plan your trips across North America, as well as a series of novels. Visit his website to read his novels and travel guides – https://stonessrvtravel.com/