Text and photos by Art Dack
This article originally appeared in RV Lifestyle 37-1
If you were suddenly transported back in time and awoke in Alberta's glacial valley, along the Oldman River banks, you might expect to see a herd of dinosaurs grazing in this lush paradise!  The rich oasis of cottonwood forests, along the 325-foot deep valley floor, is a stark contrast from the "badland's" barren, cactus-covered slopes overlooking from above. The wetlands, created along the river's floodplain, have not only spawned a diversity of unique landforms and ecosystems, but offer a beauty and serenity that attract visitors from afar.
In reality, the valley was formed long after the dinosaurs disappeared.  Historians estimate it was about 10 to 15 centuries ago after the last continental glacier retreated that its glacial water runoff excavated this valley.  A series of smaller tributary valleys, called coulees, were also carved out of the landscape and they intersect the main basin's floor, providing easy valley access for roads and its many pathways.  The valley is part of the headwaters of the South Saskatchewan drainage basin, which flows from the eastern Rocky Mountain slopes into the Hudson Bay located 2285 kilometres (1420 miles) downstream.
Climbing eastward, up and out of the valley, visitors will be delighted to discover Alberta's fourth largest city, Lethbridge, with a population of about 80,000.  Overlooking this majestic playground, much of the Oldman River Valley falls within their city limits and it has been preserved as one of North America's largest urban park systems, at about 4,000 acres.
DESTINATION-LETHBRIDGE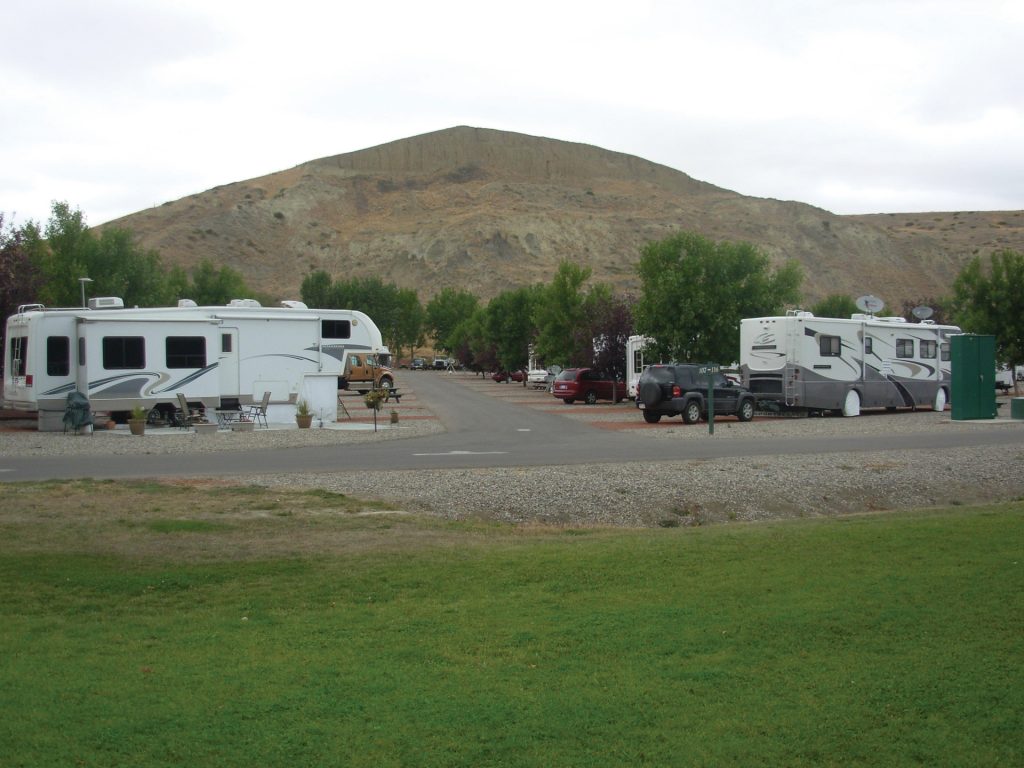 Our destination, Bridgeview RV Park – one of two RV Parks in Lethbridge, is nestled along the Oldman River banks in this grandiose valley.  Conveniently located along Highway #3, it is practically right next door to Paradise Canyon Golf Resort, one of five courses in the area and it is renowned as one of Southern Alberta's number-one-rated championship courses.  Bridgeview RV Park offers 163 sites and is open year-round.  Many sites are drive-through and most are fully serviced with power supply up to 50 amps.  Part of the Holiday Trails Resort network, they provide top-notch amenities including a clubhouse, laundromat, swimming pool, playground and they even offer a variety of scheduled activities for their guests.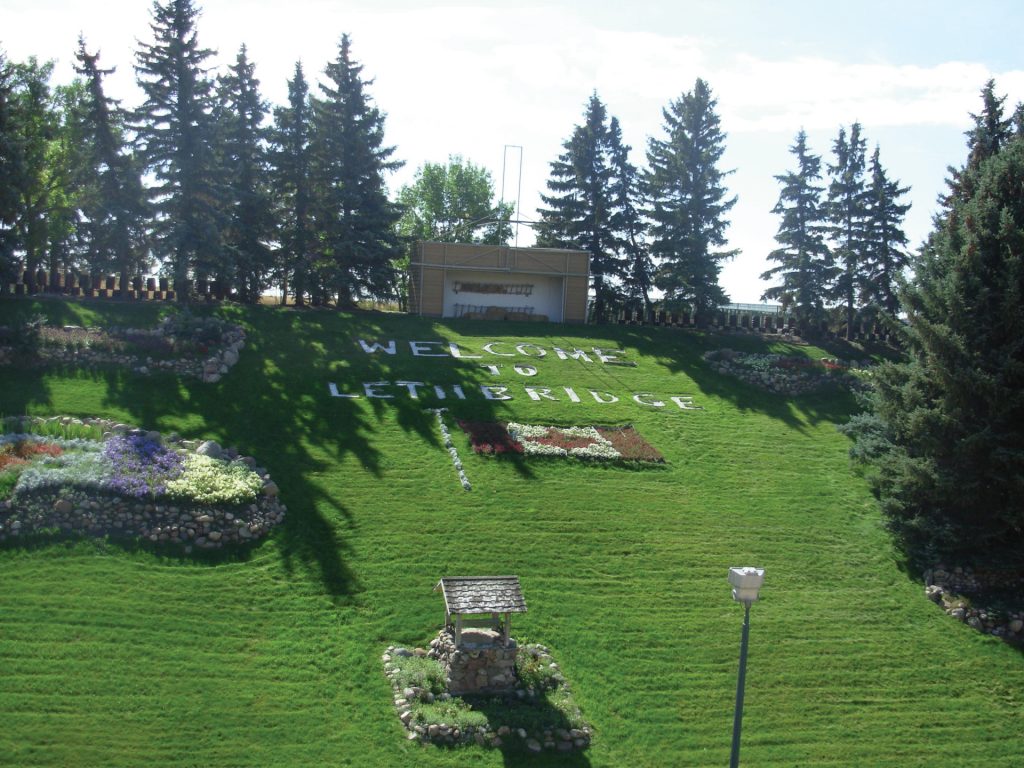 Lethbridge's City Centre, only about 2 kilometres from Bridgeview RV Park, is a lush paradise with views of the Rocky Mountains and is widely known as Alberta's "Garden City."  Boasting warm winters and mild summers, Lethbridge claims to be one of the sunniest cities in Canada.  Their roots can be traced back to 1869 when a group of American whiskey traders established Alberta's first and most notorious trading depot, "Fort Whoop-Up," to trade their illegal whiskey to the Plains Indians in exchange for buffalo skins and robes.
The following year, in 1870, the peaceful Oldman River Valley erupted with war cries during the last major inter-tribal Indian battle fought in North America.  Two traditional enemies, the Blackfoot and Cree, fought in areas throughout the valley and history reports that about 300 Crees and 60 Blackfoot lost their lives in this melee.
LOCAL ATTRACTIONS
The modern-day Fort Whoop-up Interpretive Centre commemorates the region's early history and is a very popular "attraction of action" for visitors.  Their electronic displays, sights and sounds provide an innovative backdrop for the numerous interactive activities that pay tribute to the legacy of the many peoples and events that shaped Western Canada's history.  Here you will find a delightful staff of professionals who are always entertaining and you never know quite what to expect while visiting this unique historical attraction.  Reliving the era of the late 1800's, they have recreated a sometimes chaotic atmosphere that "bustles with entrepreneurial spirit and is laced with rebellious corruption."  However, be forewarned that visitors to Fort Whoop-up should "expect the unexpected" and will very likely encounter "notorious villains seeking profit and adventure."  As part of the exciting and diabolical adventures portrayed, these villains have even been known to rob or shoot their guests!
While in Lethbridge, history buffs should visit the Sir Alexander Galt Museum.  Their award-winning exhibits, which attract over 50,000 visitors annually, include a growing collection that exceeds 20,000 artifacts and 300,000 archival documents and photographs.  Local folklore claims that some people think the museum is haunted!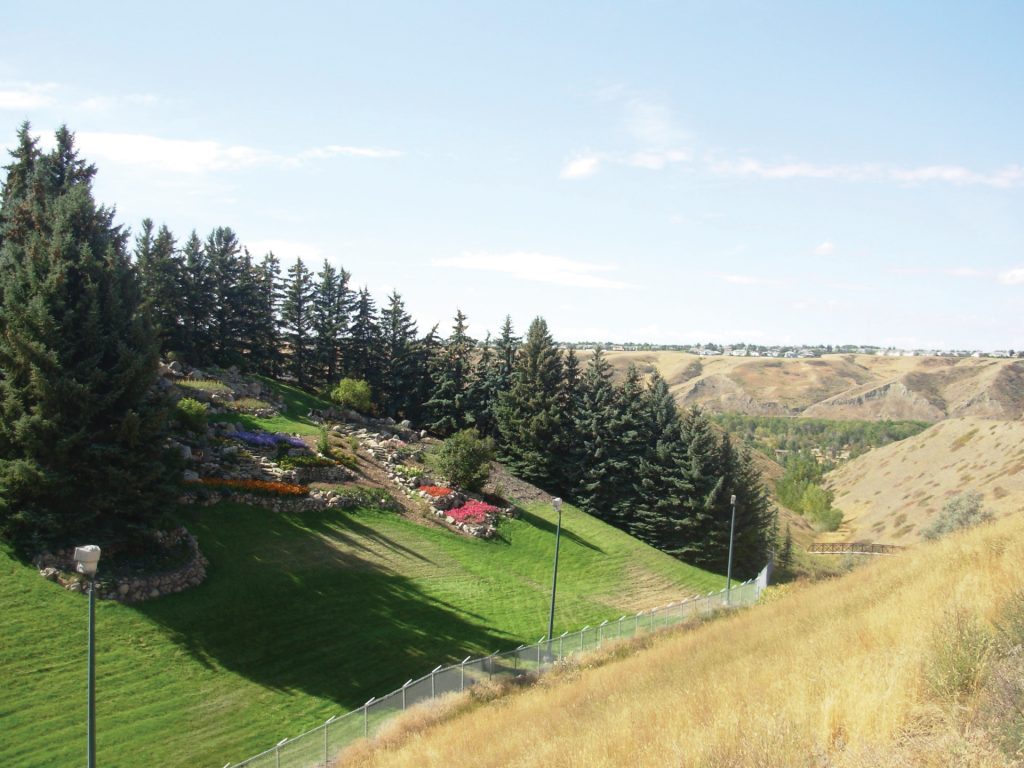 For nature lovers, there are a variety of parks that include a network of over 62 kilometres (39 miles) of hiking and biking paths, walkways and equestrian trails.  The Helen Schuler Coulee Centre, situated in the Oldman River Valley, offer visitors a chance to experience nature first-hand and provide guided or self-guided tours.  Locals are quick to warn visitors that the valley is home to a variety of wildlife that includes rattlesnakes and even scorpions, although we were informed that encounters, with any of these critters, are extremely rare.  The Centre's staff advised us that the local scorpion population is not the "stinging type" and their bite contains less venom than a bee or wasp.  The snakes inhabiting the valley are Prairie Rattlers and, while relatively common in other areas, in Alberta they are considered a species at risk and protected by law.  Their venom is not very potent and there has never been a death in Alberta that has been attributed to these predators.  Local tour guides advise hikers to be vigilant about keeping their pets on a leash to protect them from all types of wildlife inhabiting the valley.
One of this Garden City's most popular attractions is the Nikka Yuko Japanese Gardens.  The garden was created as a centennial project, in 1967, and symbolizes Japanese and Canadian friendship.  It is known as a place of contemplation and peace, encompassing five traditional garden styles that are joined by meandering paths.  Japanese cultural events, gardening and pruning activities, art exhibits and cultural vignettes are some of the highlights offered at this attraction.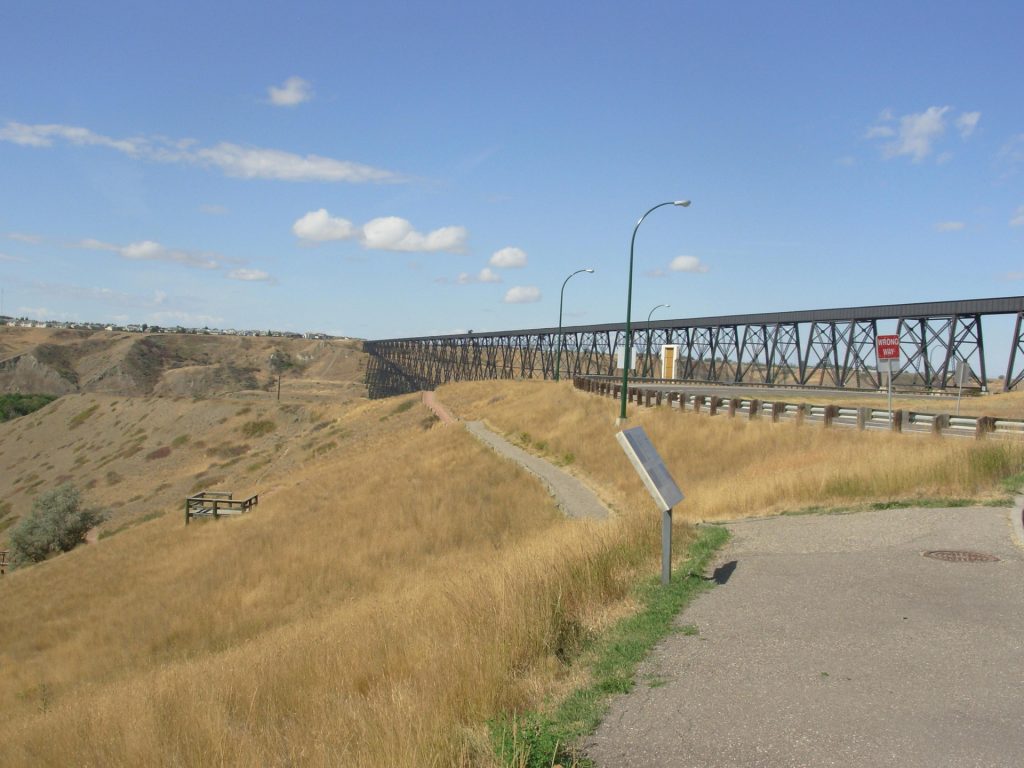 Always a topic of discussion, among travelers to this city, the most visible and prominent landmark is CP Rail's High Level Bridge.  The massive river valley railway crossing was completed in 1909 and the structure remains one of the longest and highest trussel-type bridges anywhere in the world.  It is over a mile long at 5,327 feet (1624 meters) and towers 314 feet (96 meters) above the riverbed. The bridge contains 12,436 tons of steel and its girders provide nesting sites for a variety of birdlife, including Canada geese, red-tailed hawks and great-horned owls.
ATTRACTIONS CLOSE BY
Located 10 minutes east of Lethbridge, the town of Coaldale is home to the Birds of Prey Centre. The largest of its kind in Canada, this state-of-the-art refuge provides shelter and protection for a large variety of feathered animals, many of which arrive injured and are nursed back to health.  Guests not only have the opportunity to view these stunning birds of prey, in a natural environment that showcases their splendor, but in many cases you can even handle them.
One of the best known and most fascinating attractions, in the region, is about 40 minutes northwest of Lethbridge near the town of Fort MacLeod.  Head-Smashed-In Buffalo Jump is a world-renowned interpretive centre that has preserved one of the area's most important historical landmarks.  Geographically, it is located where the foothills of the Rocky Mountains meet the Great Plains and is known to be one of the largest, oldest and best preserved buffalo jumps in the world.  Designated as a UNESCO World Heritage Site in 1981, the site was used continuously by aboriginals, who inhabited these plains, for over five and a half centuries.
CARDSTON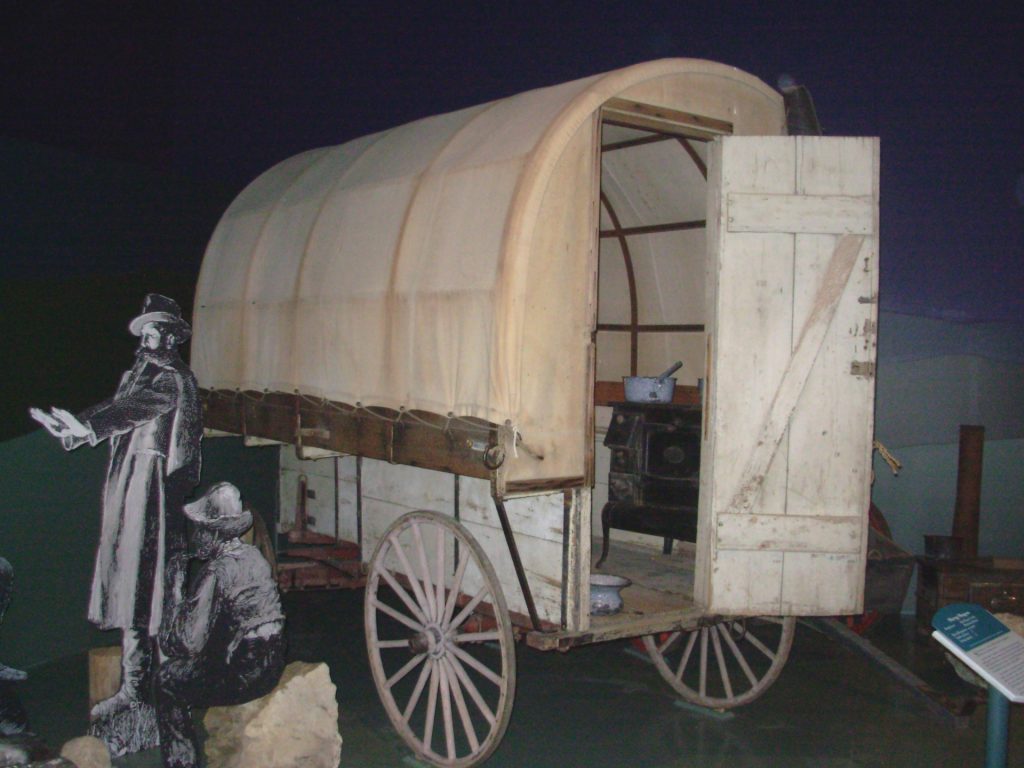 We took a day trip to the town of Cardston, which is located about 40 minutes south of Lethbridge and is home to several interesting attractions.  The Remington Carriage Museum, which opened in 1993, houses one of North America's largest collections of horse-drawn vehicles.  Named after a local business man, Don Remington who donated his life-long collection of 49 vehicles, the historical centre now displays more than 225 vehicles.  Visitors are tantalized with an electrifying snapshot of this bygone era of horse-drawn transportation which, at its peak, supported over 30,000 manufacturers across North America.  Situated on a 20-acre site, adjacent to Lee Creek, they offer plenty of activities including carriage rides, facility tours, special events, interactive displays and fine dining.  The Museum even has a movie theatre that features a recollection of the booming 19th century carriage industry.
One of the displays at the Remington Carriage Museum showcases an early ancestor to our modern RVs.  In the last quarter of the 19th century, when much of the Great Plains were devoted to sheep ranching, nomadic Shepherds frequently moved from one grazing area to another.  Sheepwagons were developed to serve as "mobile homes" for shepherds and their families during the summer grazing season.  They provided occupants with basic shelter and were equipped with a stove, bunk and cupboards.  One of the earliest manufacturers of sheepwagons was a Canadian Blacksmith, named James Candlish, who began building and selling them in Rawlins, Wyoming back in 1884.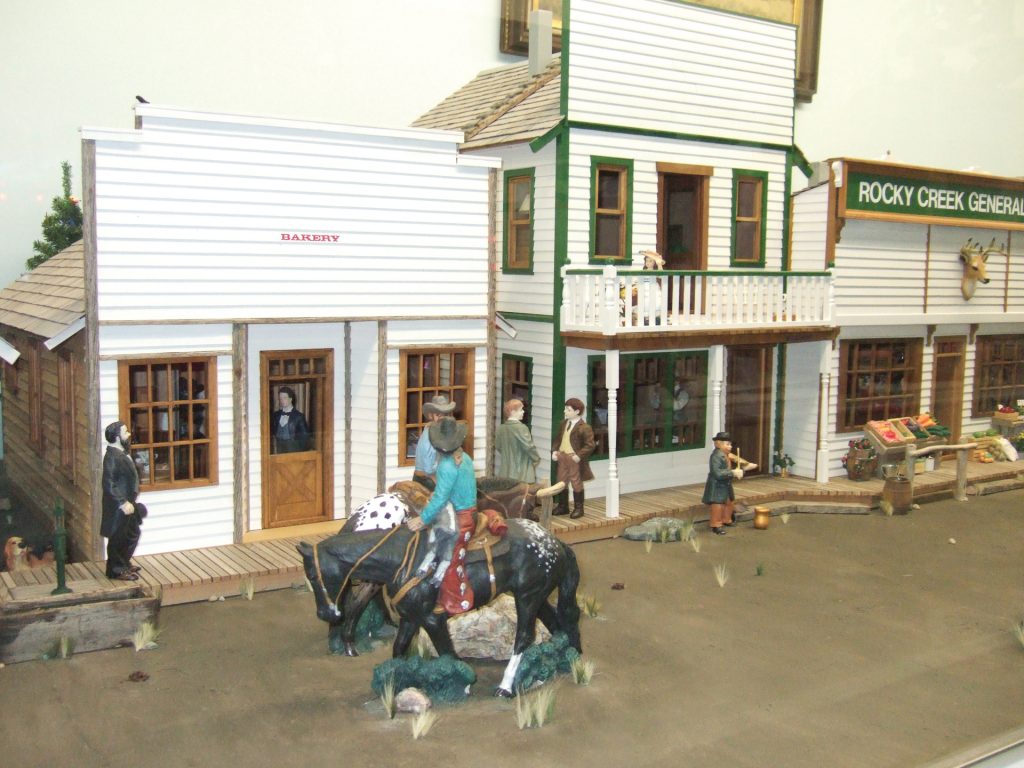 Another popular attraction, in Cardston, is the Museum of Miniatures operated by Carol and Roy Wittman.  The Museum is a culmination of the many years Roy spent pursuing his passionate hobby of building and collecting miniatures.  The "biggest miniature display" in southern Alberta depicts early life in the Wild West and has grown to include a variety of Indian villages, buffalo herds, wild animals, pocket-sized horse-drawn wagons and an active western town, all constructed on a 1/12 scale.  The western town features a blacksmith shop, school, church, general store, stables, hotel and much more.  Over 150 figurines are scattered throughout the miniature town.  In addition, the museum exhibits authentic Indian artwork and their diverse collection includes about 150 miniature cars and trucks, all constructed on a 1/24″ scale.
GETTING THERE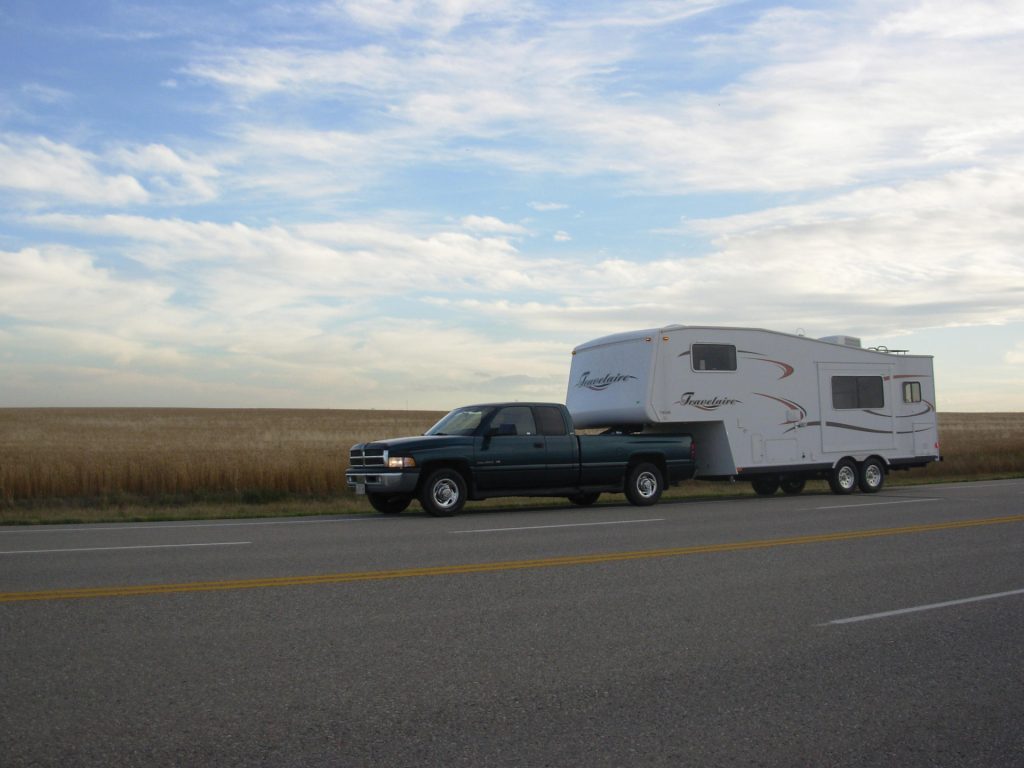 Lethbridge is easy to get to from anywhere in southern Alberta.  With convenient highway access from all four directions, Lethbridge is situated about two hours southeast of Calgary, one hour north of the U.S. border and only about an hour and a half from the Rocky Mountains.  In addition, there are many other world-class attractions located only a short distance away.  Waterton National Park, located in the southwestern portion of the Province, and Montana's Glacier National Park are about a one hour drive and The Royal Tyrrell Museum of Palaeontology, at Drumheller, is about three hours north.
Sometimes, as Canadians, we forget that there are many beautiful and interesting attractions right here in our own backyard.  Our tour of Southern Alberta was just one more classic example of our many superb and memorable Canadian destinations!
For more information, please visit: www.lethbridge.ca