Prince Edward Island:
Eight Provincial Campgrounds…
Endless Adventure!

By Verna Lynne Weeks, Tourism PEI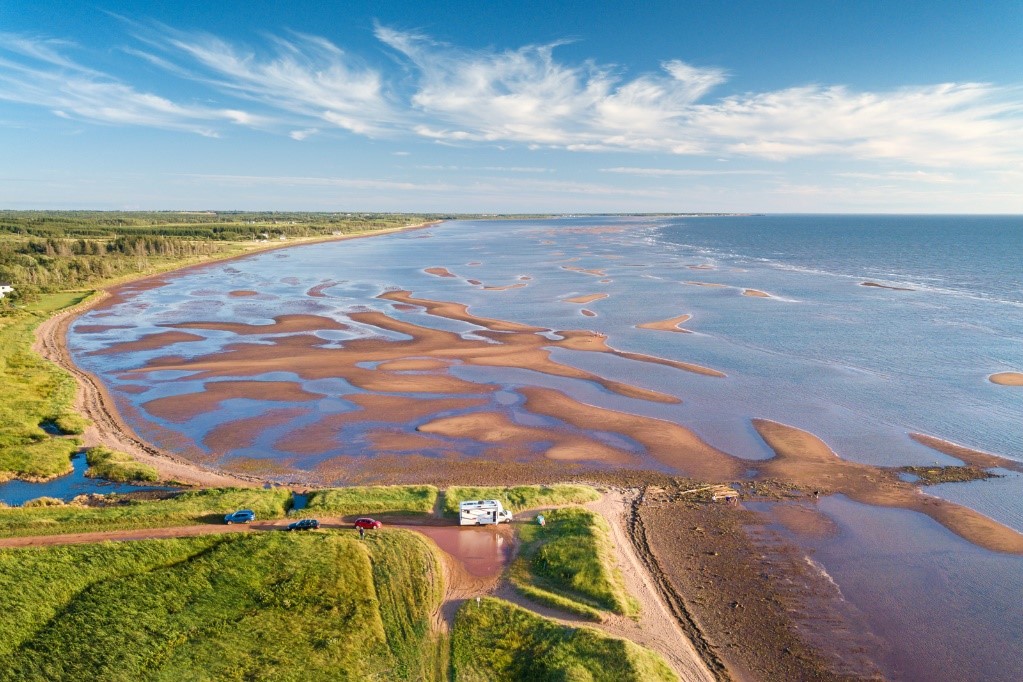 Prince Edward Island is a favourite destination for RV'ers from across North America. Located on the east coast of Canada, Prince Edward Island is small in size but incredibly abundant in stunning scenery, outdoor adventure, culinary delights, friendly people and authentic experiences.         
In fact, the Island's size is one of its greatest assets – you are always close to your next adventure.
The Island, as it is affectionately called, always leaves a big impression on visitors. Its size and shape means you can plan your tour to begin at one entry point and end at another. Arrive via the Confederation Bridge from New Brunswick anytime or sail with Northumberland Ferries from Nova Scotia across the Northumberland Strait from May to December – you choose.
Along the Points East Coastal Drive to the east, you are always close to a provincial campground and one of 50 beaches. If you plan to arrive or leave PEI via the ferry, the Northumberland Provincial Park and campground is a great place to stay to explore eastern Prince Edward Island. Here, you can enjoy beach-front camping and a supervised beach with fabulous views of the Northumberland Strait and the sounds of seals at play. Access to the Confederation Trail for cycling and hiking is nearby. The campground has 52 sites in both wooded and open areas with pull-through options.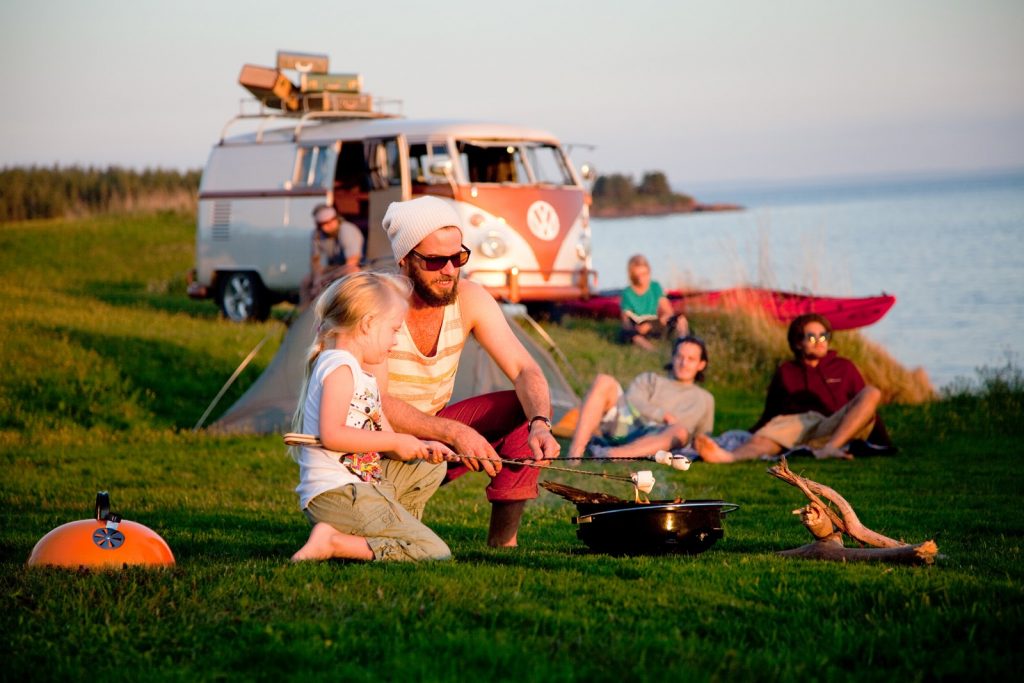 At Panmure Island Provincial Park enjoy long stretches of white sand beach with a sheltered bay on one side and the Gulf of St. Lawrence on the other. At one kilometre in length, this small land mass is connected to the mainland by a causeway. Discover the province's oldest wooden lighthouse, considered by many to be one of the most picturesque views from the scenic viewing tower. The campground offers a small number of premium three-way sites, restaurant, beach house with change rooms and a kitchen shelter.
In summer, the shores of Panmure Island were a traditional visiting spot for the Mi'kmaq, who have lived here for 12,000 years, to dig clams, mussels and quahaugs. Today, the Native Council of Prince Edward Island hosts its annual Abegweit Pow Wow near the park during the third weekend of August.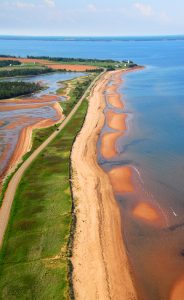 Brudenell River Provincial Park is the largest campground in the eastern PEI with supervised children's programming each day as well as a marina, tranquil riverfront beach and swimming pool for all ages to enjoy. Horseback riding, kayaks and paddle boards are available for a fee on the premises. Within walking distance is a four-star resort with two championship 18-hole golf courses, a boutique spa as well as access to the Confederation Trail.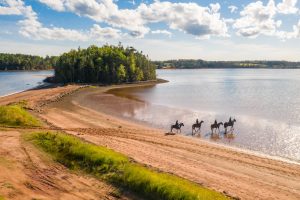 Also in the east, Red Point Provincial Park and campground offers a supervised beach nestled on the Northumberland Strait, daily interpretive programs for children and wide-open green spaces for flying a kite or tossing a ball. With beautiful beaches, sandstone cliffs and stunning views, beaches in this area are well known for digging clams and beachcombing for sea glass. As you journey along the coastline, you'll find yourself slowing down to take in the abundance and the beauty.  This northeastern corner of the province, called "Up East" by the locals, is dotted with attractions for all ages including the "singing sands" at Basin Head Provincial Park, Elmira Railway Museum, East Point Wind Farm, tuna charters at North Lake, East Point Lighthouse and Cherry on Top Creamery.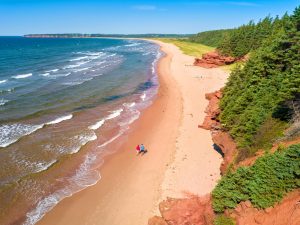 To the centre of the Island, in the area known as Green Gables Shore, the largest provincial campground is Cabot Beach Provincial Park. This park is popular with families for its large playground, activity centre with daily programming and supervised sandy beach. This area is a dream come true for RVers who love of Anne of Green Gables and world-class musical performance. Within 10 kilometres is the beloved Under the Spire Music Festival at the historic St. Mary's Church and only a short distance further is the famed Lake of Shining Waters at Park Corner.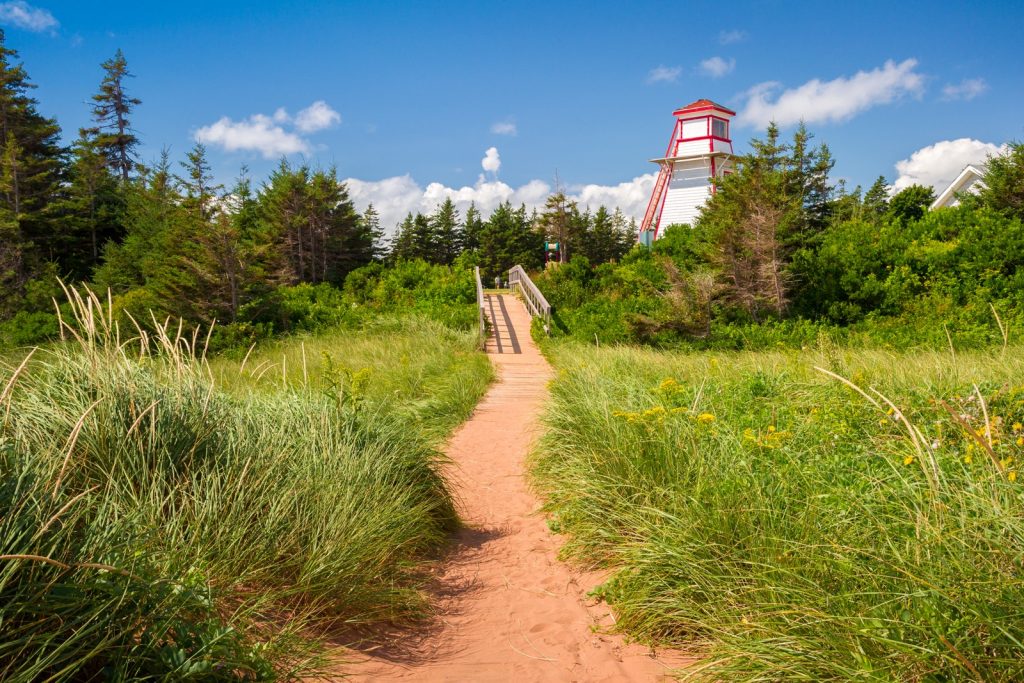 Up west along North Cape Coastal Drive, Linkletter Provincial Park and campground offers quiet, wide-open green spaces with sites for big rigs overlooking Bedeque Bay. This is the closest provincial campground to Summerside and the Confederation Bridge.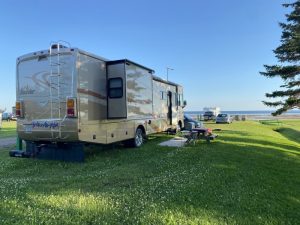 Just a few kilometres further along the south shore, Cedar Dunes­­ Provincial Park also offers ocean-front camping for all sizes of RVs . This park is popular for its beautiful, supervised beach that stretches for miles and its proximity to the West Point Lighthouse. For a small admission fee, you can tour the historic lighthouse museum and climb to the top for a stellar view of the Northumberland Strait. You will not see a more remarkable backdrop than the sun and ocean meeting as the sun rises and sets here. With zero light pollution, you can also enjoy star gazing with "stars that rival any planetarium" according to a visitor.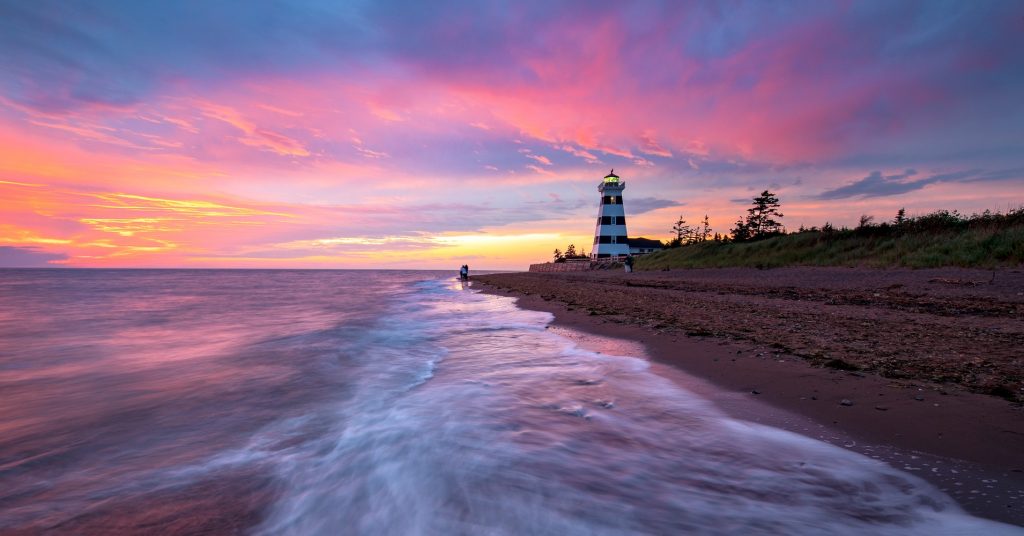 Just a minute down the shore from the lighthouse, you'll discover the West Point Harbour with its colourful fishing shack signs, pub and gift shop. The closest town of O'Leary is home to the Canadian Potato Museum. After the compulsory photo opp in front of the world's largest potato, grab a bite at the on-site country kitchen. Local menu favourites include fully-loaded baked potatoes and seaweed pie for dessert. Museum staff would be happy to book you for a tour of a working potato or dairy farm (available Tuesdays and Thursdays from mid-June to September). The tour is followed by step-by-step, hands-on instruction on how PEI Potato Fudge.
Over on the north shore near Alberton, Jacques Cartier Provincial Park is named for the Island's first European visitor who came ashore to this area in 1534. He remarked that this was "the fairest land 'tis possible to see!"  This park offers a beachfront campground and supervised beach with panoramic views of the Gulf of St. Lawrence.
Here, warm, shallow and rich bays and estuaries provide excellent conditions for the world-famous Malpeque Oyster to grow, earning the region the distinction of being the leading oyster producer in Canada. As the saying  goes, "when in Rome…" or in this case, when in Canada's Oyster Coast, you've got to shuck (and eat) an oyster. You'll find an assortment of fresh shellfish and seafood just a short drive away at the Royal Star Seafood Fish Mart in Tignish.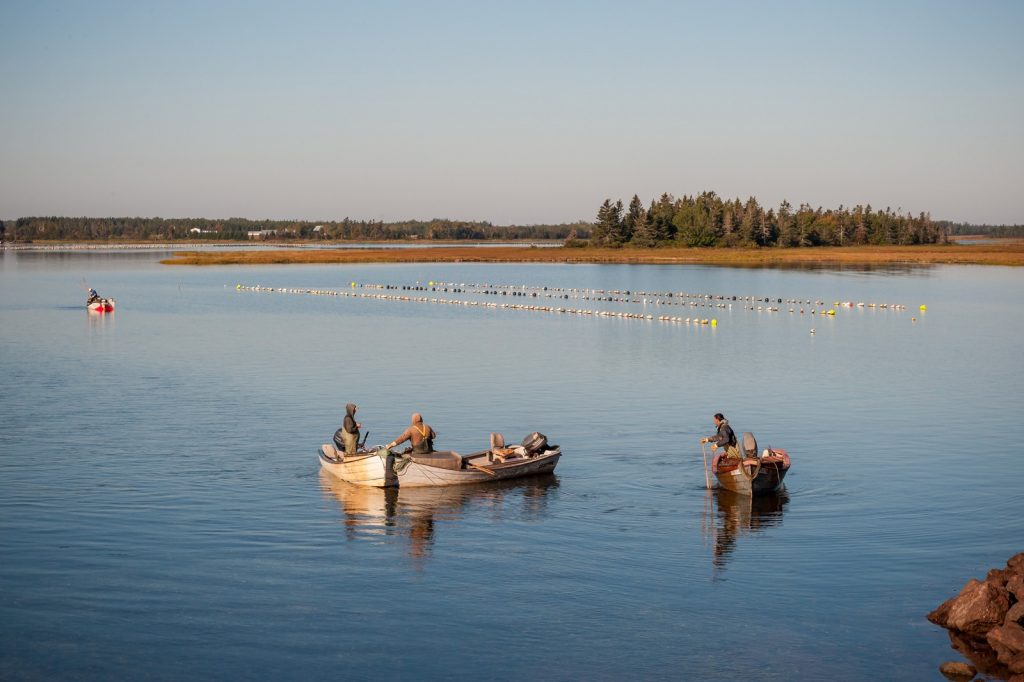 Oyster fishing near Jacques Cartier Provincial Park, PEI
Whether you decide to book several provincial campground sites or choose just one for the duration of your visit, it is easy to explore attractions and coastal drives from tip to tip while on Prince Edward Island. You'll find yourself stopping again and again for photos of grazing cows, fishing boats, country churches, pretty painted houses, quaint small towns as well as historic and iconic landmarks.
Come find your Island!
Book your campground reservation online at www.peiprovincialparks.ca or call toll-free 1-877-445-4938.
For more information, please visit:
PEI Parks: www.peiparks.com
What to Do: tourismpei.com/pei-adventure
Confederation Trail: tourismpei.com/pei-confederation-trail
2022 Visitor's Guide: tourismpei.com/visitors-guide
Check out these 5 reasons to make PEI your 2023 RV destination…
Five Reasons to Make Prince Edward Island Your Next RV Destination