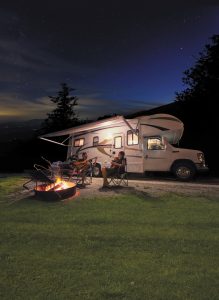 Camping off-grid, or dry camping comes with a whole new set of considerations for RVers. One of the most important is asking themselves: "where will my power come from?" "How will we keep produce fresh, beverages cold, music playing, lights on and coffee brewing?" RV dealership staff are now tasked with educating their customers about how they can make this happen. This presents an amazing opportunity to be the resource for solar power and dry camping. Today, provincial and private campgrounds are filling up faster than ever, yet some RVers will get lucky if they are diligent with planning. Provincial parks allow booking several months in advance and popular campgrounds will sell out within just a few minutes. The alternative is driving to the campground in hopes there is a site available on a first-come-first-serve basis. These are just a few of the many reasons RVers are choosing to camp off the grid, where they can find secluded and peaceful areas to cook a hotdog over an open fire or fish the stream.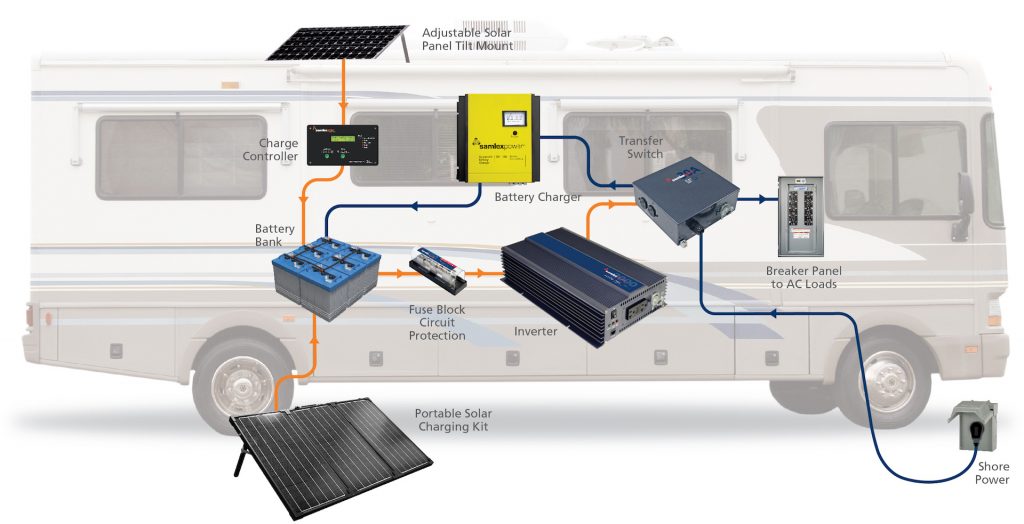 Customers need to understand that there are two distinct power systems in most RVs: 12-volt DC power (battery), and 120-volt AC power (household). 12VDC power is stored in the batteries which are charged by a converter, and the 120VAC power being supplied by a connection to shore power. The 120VAC system is great for powering household appliances like hairdryers, microwaves, coffee makers and medical devices.
Not all inverters are created equally, and RV owners need to be vigilant when selecting the proper inverter. This is an opportunity for education and to show off the expertise of your parts department staff.  Utilizing an inverter sizing guide, you can determine a customer's power needs during a typical day off-the-grid. Since there is no shore power while dry camping, they will need a way to convert the power stored in the batteries from 12VDC to 120VAC to power these appliances. Many people think that they need a solar system–and that may very well be part of the solution–but what they really need first is a power inverter.
Modified Sine-Wave Inverters are a lower-cost option, for a customer who wants to power simple things like toasters, irons, and lights.Pure Sine-Wave Inverters provide 120VAC from the batteries that are identical to Shore-Power. This type of inverter is the best choice for RVers who want to power sensitive electronics like computer equipment, giving the customer flexibility in what they want to power.
Regardless of the type of inverter, they are all sized by wattage (watts), so it is important that the customer gets the right size for their needs. The most popular size of inverter for an RV is 2000 watts, because, at this size, it allows for a microwave to be powered. Some customers will have higher power requirements, that is why it is always important to evaluate their specific needs.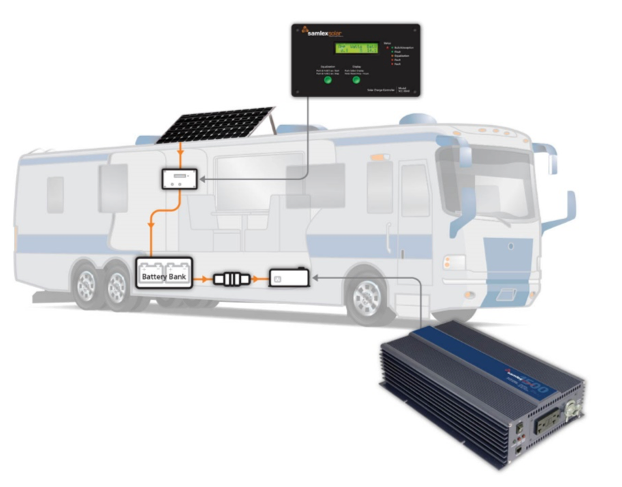 Campers have enough to consider when they're heading out on a camping trip and may forget about where their power is going to come from. People will inevitably plug something in that may not work with a modified sine inverter, leading them to ask the question, "why isn't my power working?" This situation can be avoided by making sure your customers get a pure sine inverter at the outset.
Now that the campers are using power for their appliances, the batteries will need to be kept charged. Quick and easy to install, a solar charging system is a silent and maintenance-free option.
A solar charging system is made up of two main parts: the solar panel and the charge controller. Made primarily from tempered glass, aluminum, and silicon, solar panels collect sunlight and convert it to DC electricity. A standard 12-volt RV solar panel's voltage will vary depending on how much sunlight it's capturing. In rare cases, this can be over 18-volts, so to avoid damaging the batteries from this high voltage, the second part of the solar system is necessary.
A solar charge controller manages the charge to the batteries and ensures that the voltage is converted to the proper level to most efficiently charge the batteries. Once fully charged, it will switch to a trickle charging, or "float" mode to keep the batteries topped up.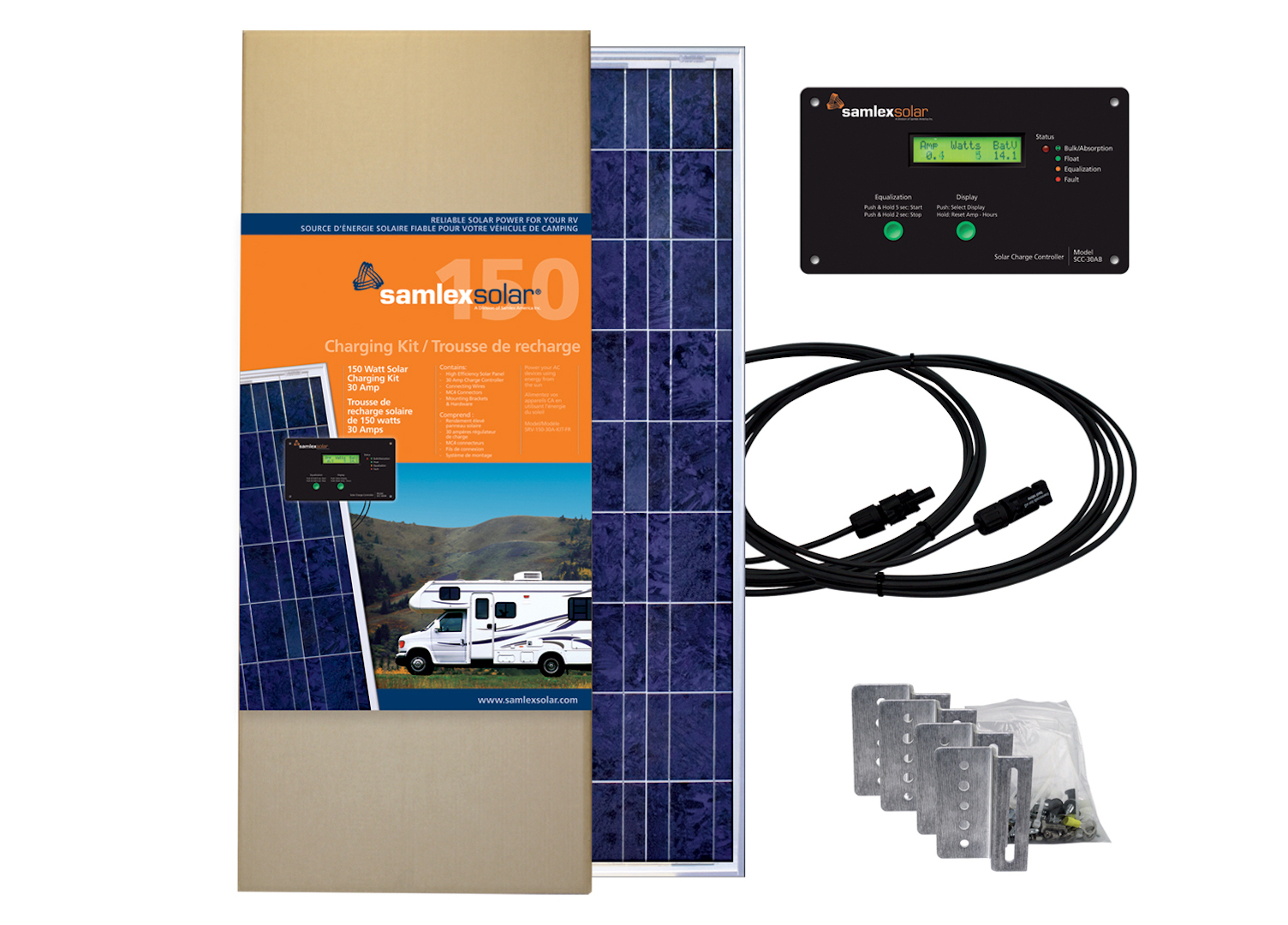 Solar systems can be installed permanently for maintenance-free operation. The solar panels mount to the roof of the RV where they collect the sunlight, and the charge controller is mounted inside the RV, recessed into a wall or in the cabinetry. As long as the sun is shining on the solar panel, this type of installation will always be charging the batteries.
Portable solar charging kits are a great option for someone who wants to be able to park their RV in the shade, but still charge their batteries with solar (a portable kit can be placed up to 50-feet from the trailer). Many new RVs come equipped with a dedicated quick connect plug for these kits, making the connection to the battery easy.
Battery Guards, also known as low-voltage battery disconnects, are a great solution to ensure the health of the batteries. These add-ons will cut off the battery power to the RV before the battery voltage dips down to a level where the battery may be damaged. Known as a "deep discharge", this can severely damage lead-acid batteries, and they will need to be replaced.
A common scenario may be that a customer forgot to turn out the lights in their trailer over the weekend. As a result, the batteries have been completely drained. What is worse is that now they won't even hold a charge, so they need to be replaced. Luckily you have some replacements in stock, and you set them up with a new set.

Samlex America, a Canadian company based in Burnaby, BC manufactures all these parts of the system, and more. Since 1991, Samlex has been a leading manufacturer of RV Inverter and Solar Systems. They provide training programs, selling tools, point of purchase merchandising options, and much more. If you'd like to learn more, please reach out to sales@samlexamerica.com or call today at 1-800-561-5885.