Picnic perfection with Cream Cheese Brownie Cake – in Newfoundland!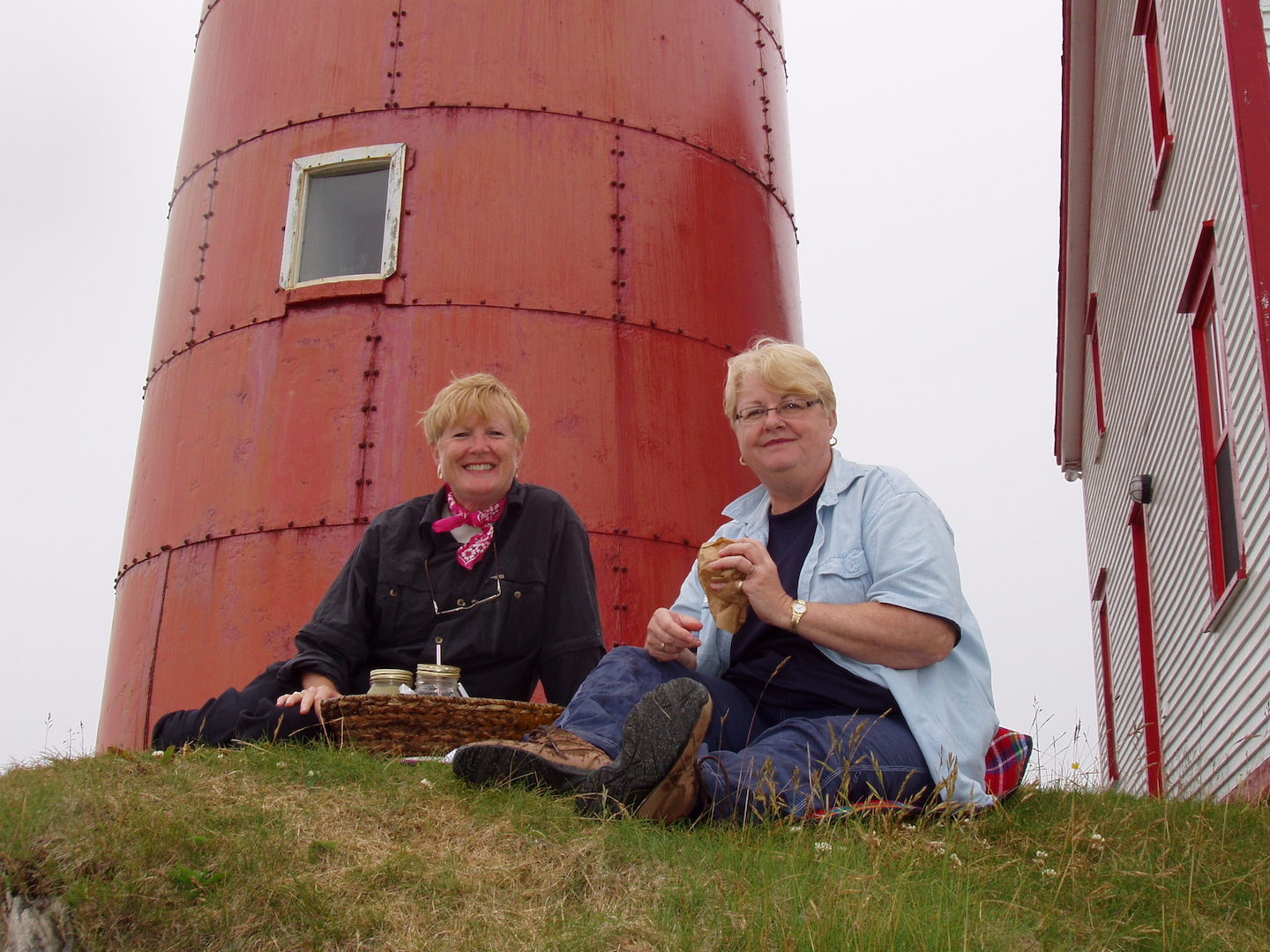 Picnic perfection is a combination of scenery, good food, and fresh air. We found all this and more at Lighthouse Picnics, about an hour drive south of St John's, Newfoundland. At this scenic location in Ferryland we discovered an 1870 vintage lighthouse that has been converted into a very popular lunch destination. We ordered a perfect picnic of sandwiches with freshly-baked molasses-based bread and freshly-squeezed lemonade. It also meant we didn't have to cook.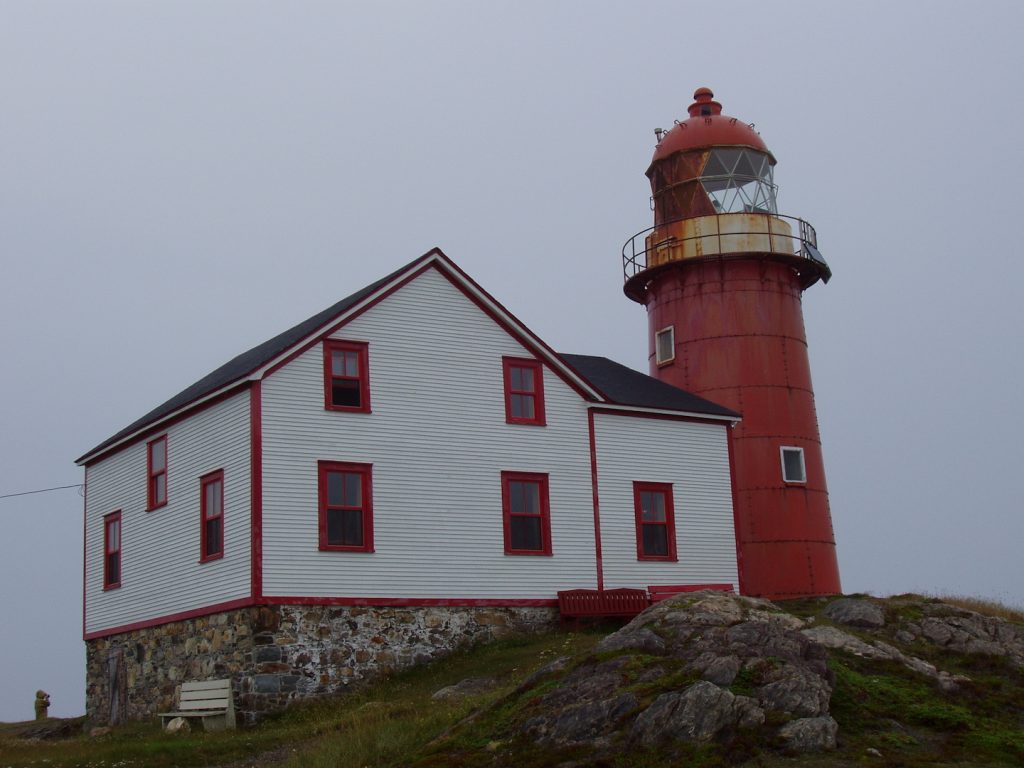 Every Lighthouse Picnics experience begins with about a 25-minute walk uphill from Ferryland's Colony of Avalon, an archaeological dig. The salty scent of the sea sharpened our appetites as we hiked through wild flowers, evergreen shrubs, and a garden. A natural isthmus provided a vista of open water on both sides of the path.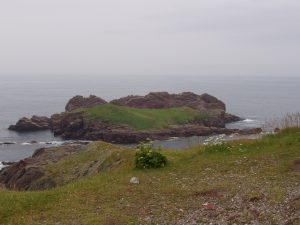 We chose a blanket and spread it at a spot overlooking the ocean. Waves crashing on the rocks below competed with the sounds of seabirds soaring in the wind above. Between bites and sips we watched for whales. Rainy-day picnics are fun too. They are an occasion to picnic inside with hot tea and a book from the lighthouse library. A word of caution. Over the years, these picnics have become very popular. Rain or shine, reservations are a must.
Ferryland is known for its beauty, historic riches, arts community and, in our estimation, the perfect picnic. This cake would be a perfect picnic dessert in any location. It goes well with whipped cream and ice cream.
---
CREAM CHEESE BROWNIE CAKE
(Makes 16 servings)
Ingredients
1 cup (250 ml) all-purpose flour
1/4 cup (60 ml) cocoa powder
1/2 teaspoon (2.5 ml) baking powder
1/2 teaspoon (2.5 ml) salt
10 tablespoons (150 ml) butter (divided)
3/4 cup sugar (divided)
2 1/2 tablespoons (37.5 ml) Nutella or other chocolate spread
4 eggs
4 ounces (113 g) cream cheese, at room temperature
2 tablespoons (30 ml) all-purpose flour
Directions
Preheat the oven to 350° F (176° C).
Spray an 8 x 8 baking pan with cooking oil. Cover the baking pan bottom with parchment paper, with 2 inches of paper overhanging on two sides. Set aside.
In a large bowl, combine the flour, cocoa powder, baking powder, and salt. Mix well. Set aside.
Divide the butter into two portions: 8 tablespoons and 2 tablespoons. Set aside. Divide the sugar into two portions: 1/2 cup and 1/4 cup. Set aside.
Melt 8 tablespoons of the butter in a microwave. Transfer the butter to a mixing bowl.
Add Nutella and 1/2 cup of sugar. Lightly beat 3 of the eggs and add to the bowl. Mix well.
Add the liquid mixture to the dry mixture. Combine until just moistened, do not overmix.
In a separate bowl, combine the cream cheese and the remaining 2 tablespoons of butter, melted. Add the remaining 1/4 cup of sugar, the remaining egg lightly beaten, and the 2 tablespoons of flour. Whisk until smooth. Set aside.
Spread the chocolate batter evenly in the prepared baking pan.
Spoon the cream cheese mixture over the chocolate batter. Using a knife, swirl the white batter into the dark batter.
Bake for 25 to 30 minutes or until a toothpick inserted in the center comes out with moist crumbs attached.
Using the parchment paper, lift the cake to a cooling rack. Tip the cake upside down, remove the paper, and return to the rack right side up, to cool.
---
The Cooking Ladies' 10th cookbook, "On the Road with The Cooking Ladies, Let's Get Grilling", is available on Amazon at http://amzn.to/2CjLfR0 and wherever books are sold.
Follow The Cooking Ladies' on Facebook, Twitter, Instagram, and Pinterest. Links are on their website: www.thecookingladies.com