As RV enthusiasts spend more time on the road, they want the convenience of having their own toys when they arrive at the campground. Many of us like to take our bikes, scooters, and motorbikes with us when we go camping. For water sports fans, kayaks and canoes are always fun to have on a trip, so we need to get our boats up on the roof. We see many RVs on the road that are equipped to carry electric bicycles, handicap scooters, golf carts, dirt bikes, and even large motorcycles like Harleys and Gold Wings. Unless youy have one of the specially designed SUVRVs (sport utility recreational vehicles) with a "garage" for your toys, you have to look for a suitable carrier to be able to take your toys along on your travels.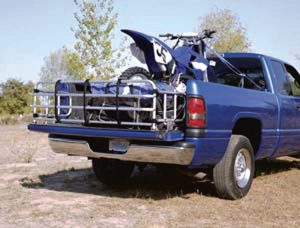 There are many different style carriers on the market, some as basic and affordable as the Top-Line ladder mount bicycle rack that fastens two bikes to the roof ladder on the back of the RV. This is a low cost method of carrying your bikes but you have to remember not to overload the fastenings for the ladder. Top-Line also builds a model that allows you to fasten your camp chairs to the ladder. Other models can be fastened to the square rear bumper found on many travel trailers.
Can't bear to leave your scooters behind? Several carriers can handle standard or electric scooters, like these Ecoped models, now available at affordable prices through Wal-Mart locations across Canada. For more information visit www.ecoped.ca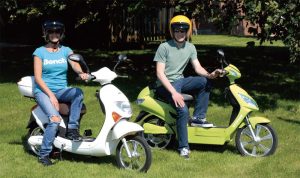 UltraFab manufactures many products for RVs, from hitches to car dollies, to power trailer movers. They have an Ultra MX motorcycle carrier and Ultra MX tray style cargo carrier that fits into the 2" square hitch receiver at the back of your car or motorhome. This is often used to support a portable generator, insulated freezer chest, or up to three bikes with the accessory clamps. The carriers are made of rugged steel construction, powder coated for resistance to weather. It has convenient tie down holds to secure your load. The XL unit is rated to carry 500 pounds.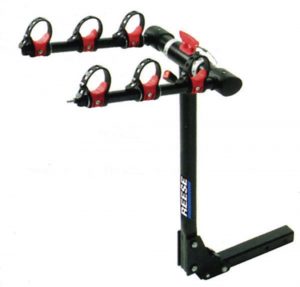 Reese Products offers several bike racks that will slide into the hitch receiver on the back of your vehicle and can hold up to four bikes safely. Many of the bike racks also allow you to tow a car behind your motorhome. When you have extra cargo that won't fit inside your vehicle, you can get a carrier with rails and cargo nets to hold many different sized parcels. These often come with lighted corner markers in case your tail lights are obscured by the cargo. For those who do not want to have their carrier develop rust and corrosion over the years, Reese provides a lightweight 22×56" polypropylene model 13600 that can carry up to 500 pounds. It can also be flipped up when not loaded to reduce the overall length of your vehicle.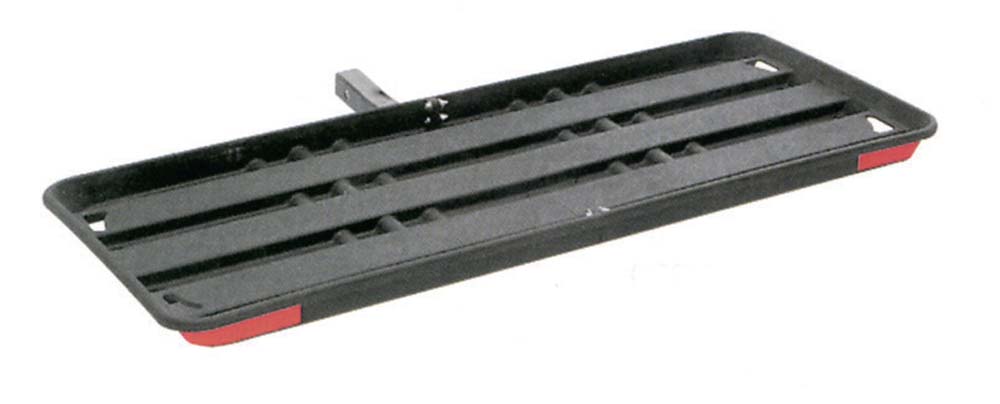 A few years ago, Reese introduced the Rola Adventure System from Australia to Canadian RVers. This unit combines a 13.5 cu ft storage pod and a cargo tray that will swing out of the way to allow you to open the rear door of your SUV. Rooftop racks are available for bikes, duffel bags, canoes, and kayaks.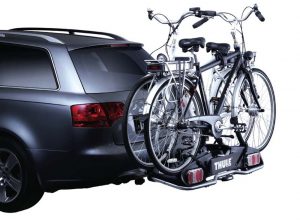 Thule makes a variety of bike, ski, and sport racks, roof boxes, cargo bags, baskets, and hitch mounted boxes that are designed to be a perfect fit for each vehicle to carry your gear safely and securely. There are racks to carry your bikes, canoes, and kayaks on the roof of the car, on the roof of your hard top camper, and on the rear of the car or motorhome. They also have enclosed rooftop boxes that are great for carrying your camp chairs, skiis, and snowboards securely in a weatherproof environment.
SportRack, from Granby Quebec, makes roof mounted storage boxes with from 13 to 16 cu-ft of space for vans and cars, roof baskets to tie down cargo, and many types of carriers that can be placed on top of a car or camper to carry bikes, canoes, kayaks and skis or snowboards. There are Thule models designed to be mounted in the hitch receiver to carry up to four bikes. The Escape towing hitch mounted rack carries up to four bikes and includes a hitch-ball mount so you can tow up to 2,000 lbs in weight (200 lbs (91 kg) tongue weight) while hauling your bikes.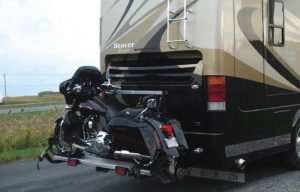 Swagman is another Canadian company, from Penticton, BC, that specializes in racks that can carry all shapes and sizes of bicycles – there are two and four bike models as well as towing and RV approved models. Their Barracuda roof mounted racks are ideal for hard top campers and SUVs, and are designed to install easily on the original equipment roof racks of new vehicles. They also have a selection of two and four bike racks that mount to the 4-inch square bumper on many trailers. They make five models of hitch-mounted racks for two to four bikes. The XP tire mount is designed for vehicles like Jeeps that have a rear mounted spare tire and other models fit in the bed of a pickup truck to carry up to four bikes. The Swagman Titan and Trailhead two arm racks feature antisway cradles to protect your bikes while in transit and the arms can fold down when not in use.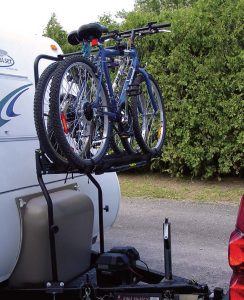 Komo Creation, of St-Cyrille de Wendover in Quebec, makes a selection of enclosed fibreglass carriers that can be used to carry bikes, scooters and wheelchairs. The also make underlifts for large motorcycles like Harley Davidson, Honda Gold Wing and the new Bombardier Spider tricycle, all terrain vehicles and golf carts.
Arvika Marketing, of St-Phillipe of Quebec, manufactures a line of TopPOP bicycle carriers to utilize the space between the tow vehicle and the trailer. The fifth wheel model gets the bikes up above the tailgate of the truck and the travel trailer model lifts the bikes above the propane tanks on the tongue of the A-frame.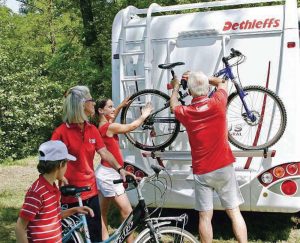 Fiamma makes several models of bike carriers including the 200J-D Carry-Bike for vans with double rear doors. It is not necessary to drill holes in the vehicle, except for the security screws. The rear door can be opened without removing the bicycles. This rack can be combined with the Deluxe 6 DJ ladder. There are new and improved versions allowing the installation of the rail support base in two different positions, one standard and one lower to make it easier to load the bikes. The Carry-Bike Pro is recommended by industry experts because it is the strongest bike carrier on the market and is ideal for heavier electric bikes. Its solid telescopic rail support offers the best way to fasten it to the motorhome wall.
Blue Ox has been known for many years for its' line of tow bars and base plates that allow RV'ers to tow their car behind a motorhome. Blue Ox started in 1926 as a farm equipment company, and over the years has developed the Kar-Tote and a wide range of unique products for RV applications. They manufacture hitches, braking systems, steering controls, bed savers for 5th wheels, carriers for bicycles and sport carriers for large motorcycles. Let the SportLift I handle the heavy lifting for you. This handy carrier uses an electric winch to lower the platform all the way to the ground, then lifts your cargo safely and securely into place. Positive dead bolt stops ensure your load stays in the raised position. The 24" by 90" steel deck tray gives you plenty of room for a bike, or any other kind of cargo you require. The whole unit is powder coated black. You can even load from either side, tow up to 5000 lbs., and tie down your load with built-in tie down locations. The Sport Carrier has a 48" X 84" steel deck plate that will carry two motorcycles, a golf cart or whatever else your trip calls for. It features a removable tire stop, and allows you to tow up to 5000 lbs. You can load from either the curb or street-side.
Hydralift, of San Clemente in California, offers many different types of heavy duty lifts for motorcycles, ATVs and golf carts, including a model for Bombardier's Can-Am Spyder. Their patented design includes the most powerful hydraulic system with an automatic locking system that will keep your motorcycle safe and secure. They also have lightweight lifts for Class B vans, Class C motorhomes and 5th wheels that are designed for the mobility scooter market. Their lifts are sold through RV dealers across Canada.
Hollywood Racks, of Los Angeles, has been making great racks since 1973 when they built trunk racks in the back of their bike shop. They are built with high quality steel and aluminum with thick powder coat to resist the elements. Generous amounts of padding protect both the bikes and the car and the racks come with a lifetime warranty.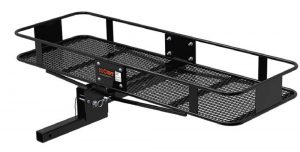 Curt Manufacturing not only manufactures a complete line of hitches and brake controls for towing trailers and 5th wheels, but also has a full selection of bike racks to fit in the hitch receiver of the family car, and cargo carriers that can mounted on the roof or on the rear of an SUV that is being towed behind a motohome. Hitches and bike racks can be made available in custom colors to match your car. Curt bike carriers can hold up to four bikes of various sizes and shapes. The tilt-away feature allows access to trunks and tailgates and the rubber cradles protect the bike's finish.
Many of our camping friends find that as they get older, they need assistance with handicap scooters and wheelchairs, but do not want to stop travelling. Harmar Mobility produces lift and ramp products that enhance people's mobility, independence and quality of life. Products include Inside and Outside Lift Systems, Hybrid Platform Lift Systems and Portable and Residential Ramp Systems. Founded in 1998 by Chad Williams, Harmar Mobility has quickly risen as the industry leader through an ongoing commitment to making your mobility products mobile. They offer a mobility solution for virtually every vehicle and mobility device available through a complete line of premium auto lifts and access ramps. Harmar Mobility's lifts and ramps are built simpler, stronger, lighter and easier to use. All products are designed with the consumer in mind, focusing on easeof- use and durability.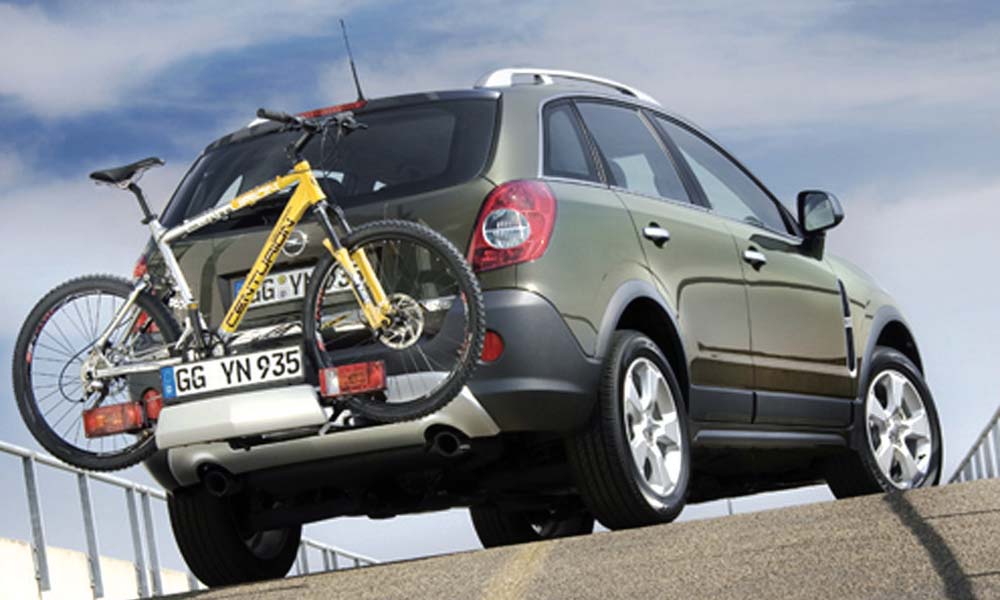 General Motors in Europe has developed a sleeker, more elegant method to hauling your bike of choice; its Flex-Fit system consists of an integrated bike rack that covertly hides within the rear bumper of your automobile, and at the press of a button, the system pulls a stunt akin to those found in highly touted spy films. By sliding out from beneath the vehicle in order to holster the bike and expose a secondary license plate (in case the boys in blue need to check up on you), it removes the hassle of affixing a rack to your ride. Once the bicycle has been removed, the mechanism slides conveniently back into the vehicle, leaving no trace of the SUV's carrying abilities. The system is only available on the (European) Opel Antara at the moment, and while we aren't sure if the Flex-Fit will ever find its way onto vehicles destined for America, having a bike on board could be an excellent backup should you run out of fuel (or money to afford it).