Air Lift Company confirms new LoadLifter series kits for 2022+ Toyota Tundra
LANSING, MI, November 22, 2022 – Aftermarket air suspension manufacturer Air Lift Company has verified the new two-wheel drive fitment of existing LoadLifter 5000 series kits for the 2022-2023 Toyota Tundra. With the new fitment, these kits now fit both two-wheel drive and four-wheel drive trucks, affecting both available kit options – the LoadLifter 5000 and LoadLifter 5000 Ultimate, featuring an internal jounce bumper.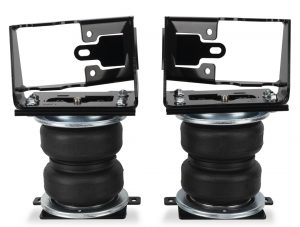 Air Lift air spring kits work with the vehicle's existing suspension to properly level the vehicle, eliminating squat and correcting frequent issues while towing or hauling, including poor headlight aim, unresponsive steering, body roll and bottoming out. The kits are fully adjustable and significantly reduce common towing or hauling issues, allowing users to tow or haul safely and comfortably.
"The LoadLifter series kits are our most popular and come in different versions to meet different budgets and needs," said Cody Wolgamott, product marketing manager at Air Lift. "We have kits available for hundreds of different vehicles and continue to develop new fitments for vehicles old and new so that we can create a safer and more enjoyable towing experience for everyone."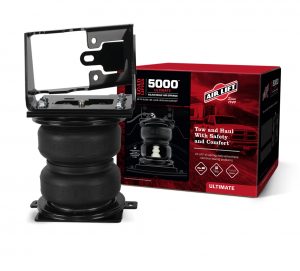 The LoadLifter 5000 (PN 57383) offers up to 5,000 lbs. of load-leveling capacity from double-bellow air springs paired with upper and lower roll plates and ultra-high-strength nylon end caps.
The LoadLifter 5000 Ultimate (PN 88383) offers all of the benefits of the LoadLifter 5000, with the addition of an internal jounce bumper, helping to smooth transitions over rough roads and prevent bottoming out while offering extra protection for heavy loads.
All Air Lift load support air spring kits are backed by an industry-exclusive limited lifetime warranty, covering the entire contents of the air spring kit. Air Lift also ensures customer satisfaction with a 60-day money-back guarantee on load support air springs and on-board air compressor systems.
The Driving Dynamics of Towing a Trailer
For more in-depth information on towing a trailer, please refer to this article from our friends at AirLift…
About Air Lift
Air Lift Company, founded in 1949, is a third-generation, family-owned suspension specialty company based in Lansing, Michigan. Air Lift products are available at retailers across the country and internationally. For more information or additional product photos, find Air Lift Company online at https://www.airliftcompany.com/ or call (800) 248-0892.