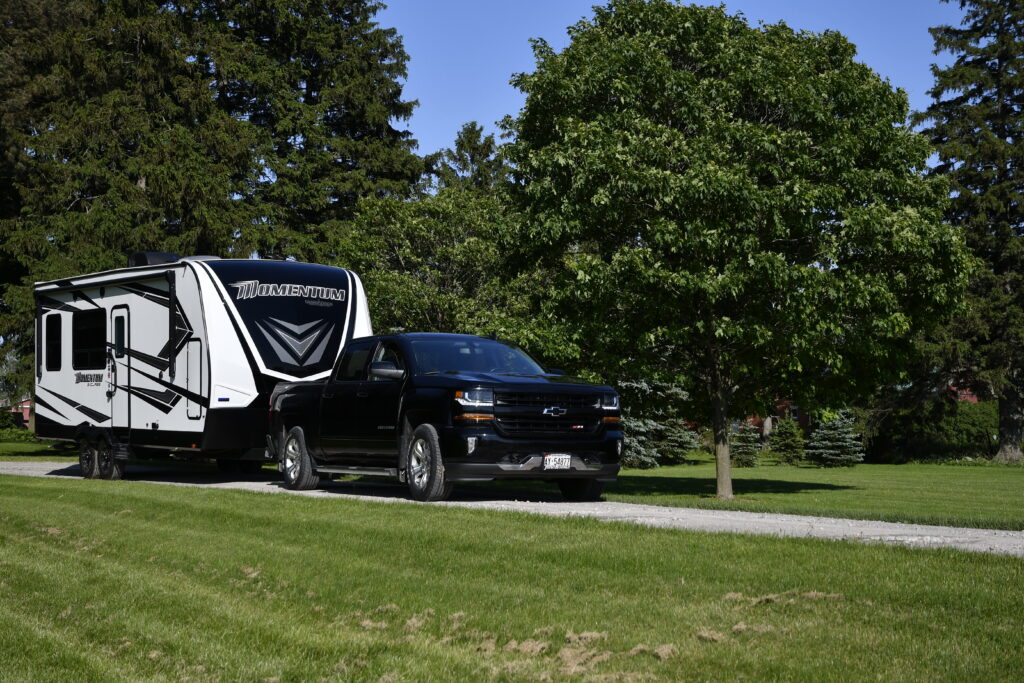 Pre-Trip Checklist
Our RV Lifestyle Magazine road test teams use this checklist before every trip. We asked them to share their experience to help you enjoy a trouble-free RV adventure.
Advance Preparation
Motorhomes / Tow Vehicles
Check engine systems.
Tune-up if required.
Battery condition.
Fuses – plus extras.
Oil level – plus two quarts in reserve.
Transmission fluid.
Cooling system – radiator fluid, hoses and belts.
Tire inflation and condition – pressure gauge
Spare tire.
Brakes, brake lights, spare bulbs.
Lights – turn signals, back-up lights, spare bulbs.
Air filter / cabin air filter.
Trailer / Motorhome RV components
Tire inflation and condition.
Trailer brakes and brake lights.
Running lights, turn signals, backup lights.
Hitch condition and components.
Jack and tire changing tools.
Safety flares, triangles, etc.
RV battery system.
RV electrical hookup wires and adapters.
Interior lights.
Fresh water tank, water pump, fresh water hose and adapters.
Water system pressure test adapter.
Grey and black water tank system, holding tank chemicals.
RV sewer hose, couplings, accessories.
Window and skylight seals.
LP gas system – hose condition, tanks filled?
Stabilizing jacks, hydraulic jack system, levelling system.
Slide-out mechanisms and seals.
Manual slide-out tools.
Awning rails, arms, and material. Tie-downs.
Generator condition.
RV Related Tools
Screwdrivers, wrenches, and special tools for all RV components.
Silicon, graphite, and oil lubricants for RV systems.
Basic DIY tool kit and supplies – clamps, nuts and bolts, electrical tape, circuit tester, etc.
Gloves, safety shoes and overalls.
Emergency work light with spare batteries.
Camping Related Gear
Sleeping bags, blankets, sheets as required.
Flashlights, lanterns, spare bulbs and batteries.
Cooler, freezer packs.
BBQ, grill, camp stove, lighter, supplies as required.
Hot dog / marshmallow forks etc.
Folding chairs, table, picnic items as required.
Rain and foul weather clothing and gear.
Sunscreen and sunburn products.
Insect repellant, insect bite medication.
First aid kit.
Travel and Hiking Gear
Maps, GPS, compass for hiking, etc.
Tent, sleeping bags, ground sheet, related gear.
Battery powered radio.
Weather Radio.
Two-way radios.
Canteen / water bottle with carrier.
Pocket tool or penknife.
Matches, lighter, small tools.
String / rope.
Specialized gear as required for climbing, hiking, etc.
Recreation Items
Fishing, golf, general outdoor sporting equipment.
Walking / hiking boots, clothing, gear, and supplies.
Camera, binoculars, related gear.
Games, entertainment, audio/video portables, etc.
Reading materials – nature guides, travel information, etc.
Personal Items
Wallet, ID, credit cards, etc.
Passport.
Cell phone, charger, back-up power supply, cables, etc.
Spare eyeglasses, sunglasses, related items.
Medications if required – carry a copy of your prescriptions and a list of medications in case of emergency.
Medic alert bracelet if required.
RV Supplies
Pack these items in your exterior storage compartments:
Potable water hose (for drinking water).
RV washing hose and coupler.
Hose repair kit, spare washers.
RV holding tank chemicals.
Sewer hose supports.
Sewer hose extension, coupler and clamps.
Electrical extension – grounded.
Electrical adapters – "dogbones".
Fuses and electrical system repair supplies.
RV cleaning supplies – biodegradable preferred.
General Supplies
Kitchen
Cookware – pots and pans, coffee maker,
Kitchen supplies – aluminum foil, plastic wrap, plastic bags, etc.
BBQ and/or grill utensils and supplies.
Cooking utensils, can and bottle opener, corkscrew, etc.
Oven mitts, hot plates, etc.
Serving utensils.
Plates, cutlery, cups, pitcher, etc.
Tablecloth, placemats, related items.
Table basics – salt and pepper, sugar, condiments, etc.
Food – pre-plan meals for the family, take special dietary items as required, plan to stock up on essentials along the route.
Cleaning supplies – dish soap, paper towels, scouring pads, dish towels.
Garbage bags.
Bathroom
Personal items, toothpaste, toothbrush, shaving kit, etc.
Towels and basic soaps, shampoo, lotions, etc.
Paper products – biodegradable tissue preferred.
Cleaning supplies.
Pet Supplies
Vaccination and license documentation.
Leash, collar, related pet gear.
Pet bed, blanket, towel.
Food, snacks, medicine, grooming equipment, etc.
Food dish, water bowl, floor protector, etc.
Poop and scoop equipment and supplies.
Before You Leave Home…
Stop mail delivery or have a neighbour pick up mail and newspapers.
Put lights on automatic timer.
Leave a radio on so house sounds occupied.
Dispose of perishable items from the refrigerator.
Lock all doors and windows.
Stop any automatic appliances – coffee pots alarm clocks, etc.
Check that all bills are paid up to date.
Arrange to have the lawn mowed or snow shovelled if you plan to be away for more than a few days.
Ask a friend or relative to keep an eye on the house, give them your contact information.
Make a list of your credit card numbers, driver's license, and similar information, and leave it with a relative you can reach in case you lose your wallet.
Before You Leave the Campsite…
Use colour coded ribbons clipped to your sun visor to remind you to disconnect and stow all RV hookups.
Blue – water.
Black – sewer.
Green – electrical system.
Red – LP Gas system.
Yellow – TV antenna.
Orange – cable TV connection.
Brown – RV levelling jacks.
Disconnect and stow:
Water hose.
Sewer hose.
Electrical hookup.
Cable TV connection.
Retract and secure travel locks on…
Awning.
Slide-out sections.
Levelling jacks.
TV antenna / satellite dish.
Skylights / Lumidomes.