Orange Cream Pie
(Makes 8 servings)

Ingredients: 
3 tablespoons 45 ml cream cheese
1 1 Graham cracker pie crust
3 cups 720 ml mandarin oranges
1 cup 240 ml orange juice
3 ounces 85 g orange Jell-O
frozen whipped topping or whipped cream


Directions:
Spread the cream cheese over the bottom of the pie shell and set it in the freezer to cool.
Place the mandarin orange sections in a sieve to drain. Discard the syrup.
Gently press the orange sections to remove any excess juice.
Heat the orange juice in a saucepan to the point of boiling but do not boil.
Add the Jell-O to the orange juice and stir until the Jell-O is completely dissolved.
Place the Jell-O mixture in the freezer to cool.
Add the orange sections to the cooled Jell-O.
Mix well and chill until almost completely set.
Stir the mixture again and place it in the pie shell.
Cover the entire surface of the pie with whipped topping or whipped cream and refrigerate overnight to set.
Lake Placid, Florida: Murals, Caladiums, and Oranges
Lake Placid, Florida, is located 100 miles south of Orlando. A few years ago, in order to attract businesses, new residents, and tourists, the town decided to "pretty itself up". New sidewalks, streetlights, curbs and shrubbery were put in place. At the same time, murals depicting the town's history began appearing on downtown buildings.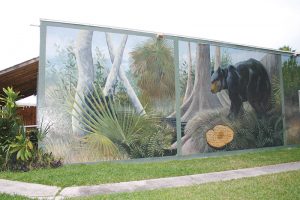 When we visited Lake Placid, there were more than 40 murals. We were told to be sure to check out the one at the Winn Dixie grocery store. We drove into the parking lot, along the side of the building, and immediately heard the sounds of a cattle round-up. Cowboys were yelling "Yahoo" and "Git along" to mooing cattle. Gun shots could be heard over the sounds of bleating calves and hooves shuffling in the dirt. Every few minutes, other tourists driving the mural tour pulled into the parking lot, rolled down their windows, listened, smiled, and continued on.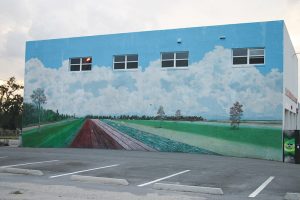 Caladiums? These are plants that most of us up in the north country order from flower shops when, for a special occasion, we want a plant rather than cut flowers. Caladiums are known for their large green and white or green and red leaves. In Lake Placid, the caladiums grow in fields; their bright colours are often compared to the tulip fields of Holland.
As for oranges, all the land approaching the Lake Placid area is filled with row upon row of orange trees. After spending a few days in the area, we knew we would be preparing a recipe with the fresh, juicy fruit.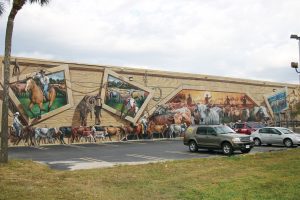 This orange pie recipe uses canned mandarin oranges so that it can be made easily, anywhere, anytime, in a motorhome.
Please visit The Cooking Ladies' website at www.thecookingladies.com or email them at thecookingladies@aol.com