Makes 27 Servings (large batch)
Ingredients 
3/4 cup (180 mL) butter plus butter for cake pans
1 1/2 cups (375 mL) smooth peanut butter
4 cups (1 L) chocolate chips
2 bags mini multi-coloured marshmallows
1 bag mini white marshmallows
Directions
Butter the bottoms and sides of 3 (8×8) cake pans. Set aside.

Bring water to a boil under a double boiler.

In the top of the double boiler combine and melt the butter, peanut butter, and chocolate chips. Stir until smooth.

Remove the mixture from the heat and pour into a large metal mixing bowl.

When the mixture is just cool enough to touch, gently stir in the marshmallows until all marshmallows are coated.

Immediately pour the marshmallow mixture into the buttered cake pans. Spread the mixture evenly in the pans.

Cover and refrigerate until set.

These can be made up to a week ahead and refrigerated until ready to serve.
---
Good Reasons to overnight on Pelee Island
Canada's southernmost inhabited island is located in Lake Erie, on a latitude similar to northern California and the wine growing regions of Europe. You have three options for getting to the island – by ferry, plane, or boat. 
Pelee Island, Ontario, is just the right size – if you enjoyed chatting with someone on the ferry ride you are quite likely to run into them again on the island – probably more than once!
From early spring to late fall, the year-round population of 150 Pelee Islanders swells to include visiting birdwatchers, bikers, butterfly enthusiasts, and wine lovers who can be seen throughout the summer happily wandering through the vineyards.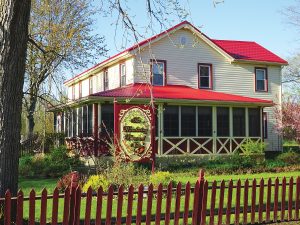 Once a year, hunters from the mainland flock to Pelee Island for the annual pheasant hunt, so it is a good idea to wear bright clothing during hunting season.
We arrived by ferry, without the RV, and drove our car directly to The Anchor and Wheel Inn for a meal of locally caught Lake Erie Yellow Perch. We stayed at The Wandering Pheasant and felt so secure that we accidentally left our key in the door overnight. The next morning, we followed the aromas of sausage and bacon that were wafting across the parking lot from the Royal Canadian Legion, where we joined the regulars for a breakfast of real Canadian bacon and eggs. Lunch was butter-glazed puff pastry with sweet cream cheese and cherries at Conorlee's Bakery, where locals drop in not only for homemade treats, but to find out the latest island news.
We recommend a guided tour of the island with Explore Pelee. There are a lot of "best kept secrets" to discover, like the ruins of Vin Villa, the first commercial winery in Canada, and The Stoneman, an over-sized inukshuk created as a testament to island perseverance. The Shoe Tree, an amusing stop, is literally a tree strung with shoes. Local folklore suggests that one year, during the Running Flat Marathon, an athlete who had arrived on the island without the proper footwear borrowed a pair from the tree.
Unlike the secrets of Pelee Island, this recipe is well known. There are many variations to it. We count on these squares when we need a dessert in a hurry!
---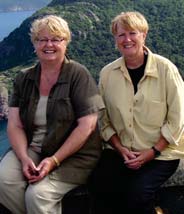 Follow The Cooking Ladies on Facebook, Twitter, Instagram and Pinterest. Links are on their website: www.thecookingladies.com
Phyllis Hinz & Lamont Mackay are authors of On The Road With The Cooking Ladies, Let's Get Grilling https://amzn.to/2OSGLbZ and a new series of guidebooks Stratford For All Seasons https://amzn.to/38w4bvu