Want your own ice hut? You can "create your own legend" with Yetti Outdoors' ice fish houses, available in a wide range of models and colours.
The light and durable aluminum houses are fitted and finished inside and out and have quality foam board insulation. They're built for all-season use and come with a five-year warranty.
Based in Brandon, MN, USA, Yetti launched in 2010 with two basic shell models. Over the years the company expanded its manufacturing to include larger sizes (the 8'x16' is its most popular) complete with furnace, a gas range with cooktop, ambient lighting and many optional upgrade packages.
In 2017, after years of research and listening to customer feedback, Yetti unveiled its next generation of fish houses with the tagline "Bigger, Lighter, Stronger". Models were organized into four different categories based on customer usage to simplify the buying process:
Angler Edition – Built for ice fishing / 13 layouts
Grand Escape Edition – Built for all seasons with RV plumbing / 9 layouts
Traxx Edition – Built for toy hauling and with a ramp door / 10 layouts
Shells & Custom – Built your way
Size options range from 6.5'x12' in the Angler edition (with six fishing holes) to 8'x24′ with nine holes, and five other hut sizes in between. Sleeping areas are built into all layouts in the Angler. The Grand Escapes feature half or full baths and the Traxx editions are optimized for carrying loads and are a popular choice for hunters. Both models offer sleeping options.
While the primary use for the houses remains ice fishing, marketing manager Tom McMahon says he's seen a change in the past five years with many models also being used for camping, as guesthouses at cottages, or even parked outside people's homes for visitors. "We are seeing more Yettis being used year-round for family purposes," remarks McMahon, adding that ice fishing is "a very family friendly sport".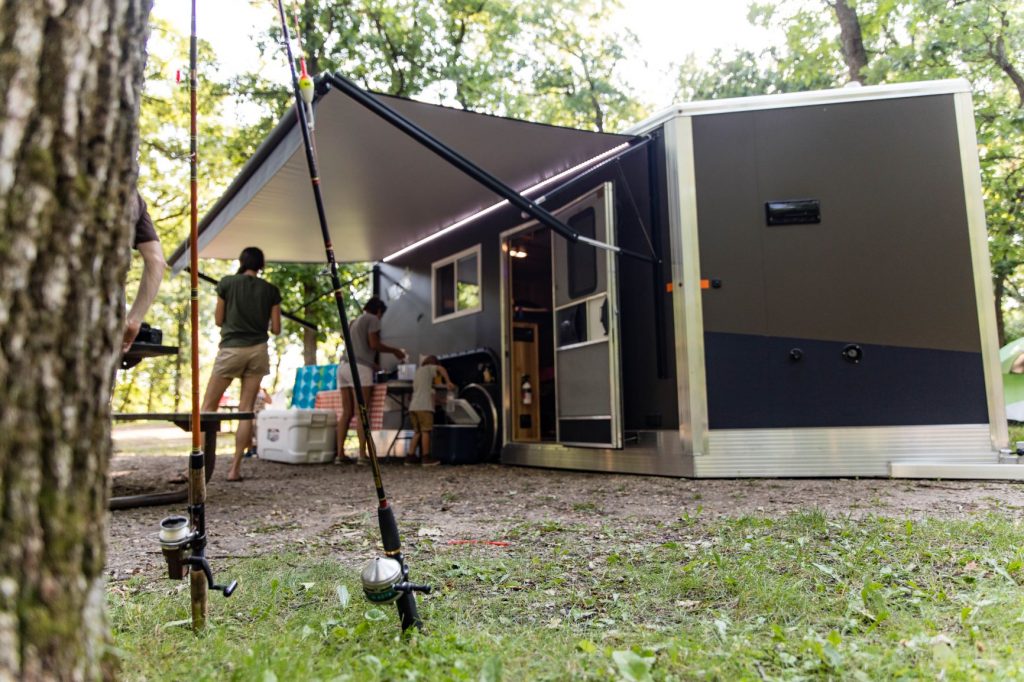 New for 2021 is the 'Smarthouse' iN-Command system, which features touchscreen operations and will allow owners to connect via their phone using Bluetooth technology to control light and furnace settings. Users can easily monitor their houses while ice fishing or hiking. "It's the same technology as seen in many RVs," says McMahon.
Yetti Fish Houses are currently available for purchase at four RV dealers in Canada (Virden and Headingley, MB; Regina, SK; and Whitecourt, AB).
Yetti Outdoors – A Product of Voyager Industries
803 Central Ave N
Brandon, MN 56315 USA
www.yettioutdoors.com / info@yettioutdoors.com