Accessorize at your campsite!
We present some of the latest gadgetry and tools to enhance your travels this season!
---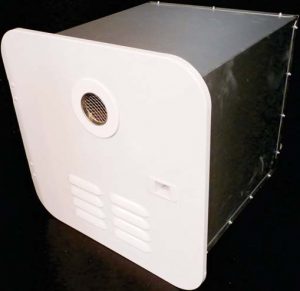 2 ON-DEMAND TANKLESS WATER HEATER
New from Girard Products LLC, the GSWH-2 ON-Demand Tankless Water Heater does the job of a regular water heater without the bulky tank. Its 12 V motor 42,000 BTU's provides the optimum performance for an RV plumbing system. The GSWH-2 is winter ready and its compact design fits in any tank water heater cut out opening. All you have to do is turn on the heater then add cold water to reach the desired temperature.
---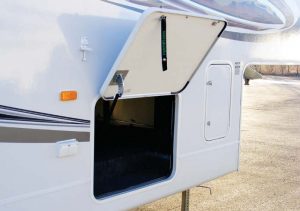 HATCHLIFT KIT
From the company of the same name, the Hatchlift Kit offered by Hatchlift Products LLC is a suitable replacement for most damaged or worn RV Baggage Doors. The kits include a 3M adhesive back mounting plate, gas spring and hardware for lightweight
foam-core RV Doors.
---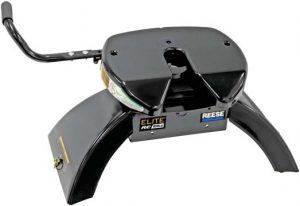 ELITE 26.5K FIFTH WHEEL HITCH PIN
Cequent Performance Products' 26.5K Elite series hitch is a versatile and heavy-duty solution to your fifth wheel towing needs. The 26.5K hitch series has an increased king pin/jaw contact design, king pin indicator and a self-latching jaw. It is rated for 26,500 lbs capacity and 6,525 pin weight capacity.
---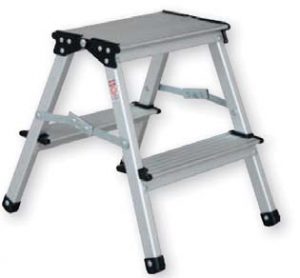 STEP STOOL
This stool is a step above the competition. Less than a foot wide and constructed from aluminum, this foot stool is sturdy, lightweight and easy to stow. When folded, it is only seven inches deep, 12 inches wide and 17 ½ inches tall. The Step Stool from
Stromberg Carlson can carry a maximum load of 330 lbs.
---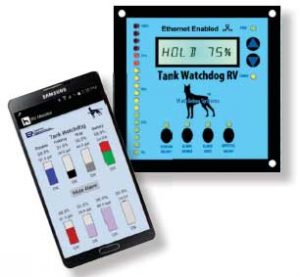 TANK WATCHDOG RV
The Tank Watchdog RV from Electronic Applications, Inc. lets its users reliably monitor their tank and battery levels from an app installed on their phone. The Tank Watchdog RV reads up to 40-inch deep tanks and will notify you when your battery or tanks need attention. Four expansion boards can be added to monitor the RV from multiple locations.
www.http://electronicapplications.com
---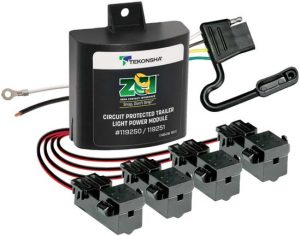 ZERO CONTACT INTERFACE
Snap don't snip with Tekonsha's Zero Contact Interface this spring! The ZCI isolates the trailer light operation from the tow vehicle's electrical system, eliminating all contact with the vehicle's lighting system. The interface uses sensors that snap around the wires to detect if there is any current. The ZCI is rated for up to 4.2 amps for turn/stop and 7.5 amps for taillight trailer circuits.
---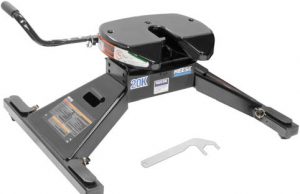 DROP-IN HITCH
The 20k Fifth Wheel Drop-In Hitch is a fifth-wheel solution from Reese that fits RAM 2500 and 3500 HD trucks with factory-installed OE rail systems. Rated 20,000 lb. capacity with 5,000 lb. pin weight capacity, the Drop-In by Reese is SAE J2638 compliant and has a limited lifetime warranty.
---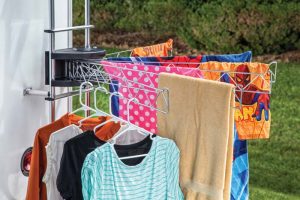 EXTENDA-LINE CLOTHES DRYER
Stromberg Carlson Products' new Extend-a-Line clothes dryer is a convenient and eco-friendly way to dry clothes on the go. The six chromeplated anti-rest arms can support up to 60 lbs. With its wall mounted brackets the dryer can be used in your home or in RV's without ladders.
---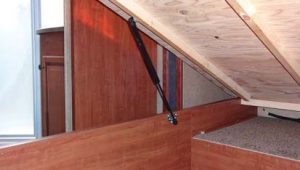 BEDLIFT KIT
Bedlift Kits by Hatchlift are the perfect retrofit lift kit designed for RV bed compartments. Each kit includes full mounting hardware and two gas springs for installation on both sides of the bed. Sizes run from extra small to large and heavy and take about an hour to install.