By The Cooking Ladies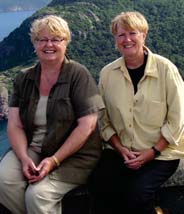 The preparation for this chicken drumsticks recipe requires a little extra work, but it is worth it. Easier to pick up. Less messy to eat. The recipe has two methods – one for those who barbecue all winter and one for those who prefer to cook in the oven.
INGREDIENTS
(Makes 2 to 3 servings)
8 chicken drumsticks
2 teaspoons (10 ml) lemon pepper
2 teaspoons (10 ml) ground ginger
2 teaspoons (10 ml) onion powder
2 teaspoons (10 ml) garlic powder
2 teaspoons (10 ml) each paprika or smoked paprika / canola oil for oiling grates / sweet Thai-style chili sauce
METHOD
With a sharp chef's knife, cut across the bone at the large end of the drumsticks to make a flat surface for standing upright.
Holding the knuckle at the narrow end of the drumsticks, cut through the skin and flesh around the bones where the flesh begins to thicken into the drumstick shape. Use scissors to slice the upper skin. Grasp the skin with a piece of paper towel and pull it up over the knuckles. Discard. Trim any remaining tendons. Use a knife to clean the bare bones and knuckle areas.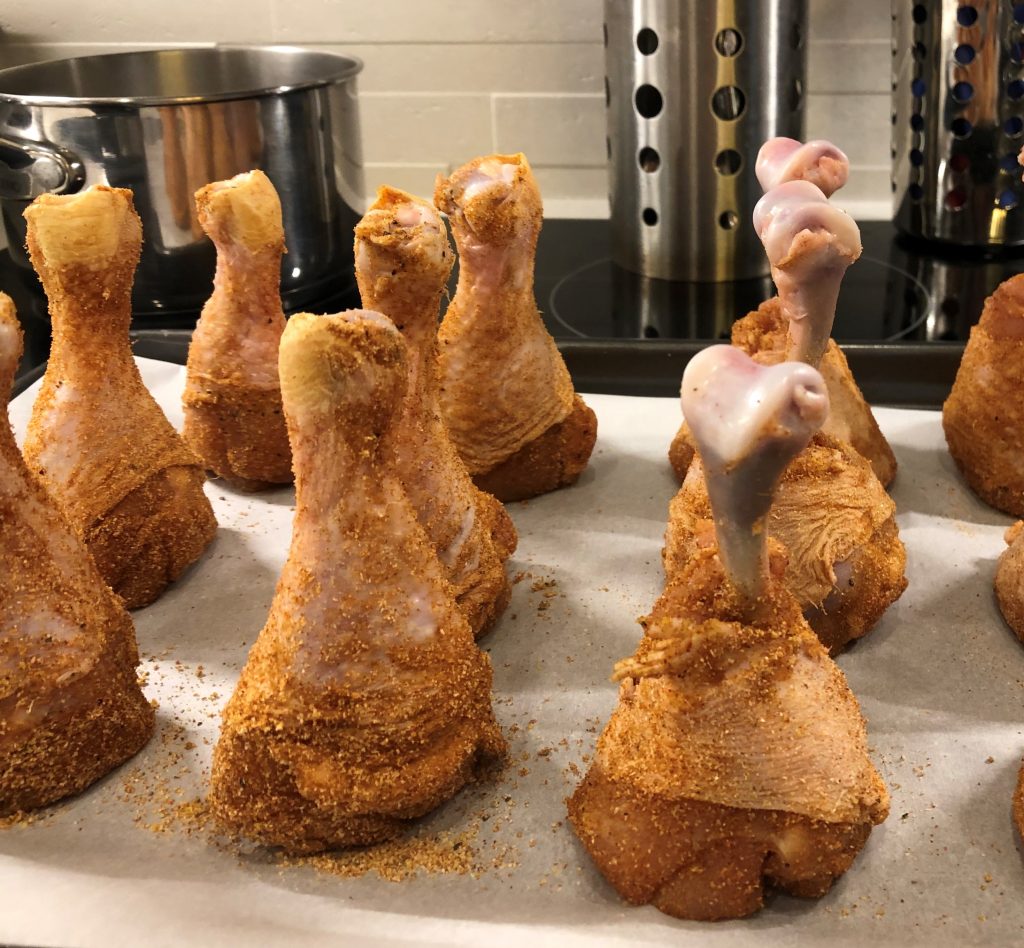 Push the remaining flesh down toward the thick ends of the drumsticks to create lollipops. Pull the skin down over the lollipops, like a sweater. Set aside.
In a bowl, combine the lemon pepper, ground ginger, onion powder, garlic powder, and paprika. Mix well. Pat the dry rub over lollipops.
In the oven:
Preheat the oven to 350° F (176° C). Cook for 30 minutes.
Remove from the oven. Brush the lollipops with chili sauce.
Cook for 10 to 15 minutes more or until the internal temperature is 180° F (82° C) and the lollipops are crispy on the outside.
On the grill:
Wrap the bare bones of the lollipops with aluminum foil to prevent burning.
Preheat the grill on medium-high heat (450-550°F/230-290°C) for 10 minutes with the lid closed. Using a pair of long-handled tongs, oil the grate by wiping it with a piece of folded paper towel dipped lightly in canola oil.
Grill the lollipops for 25-30 minutes, turning several times.
Brush the lollipops with chili sauce. Grill for 10-15 minutes or until the internal temperature reaches 180°F/82°C.
—
Phyllis Hinz & Lamont Mackay are authors of On The Road With The Cooking Ladies, Let's Get Grilling https://amzn.to/2OSGLbZ and a new series of guidebooks Stratford For All Seasons https://amzn.to/38w4bvu
You can find The Cooking Ladies on facebook/ twitter/ instagram or on their website at: www.thecookingladies.com