How a ten-year-old trailer became a luxurious home on wheels to a canine TV star…
Production trailers and motorhomes are commonplace in the movie industry for housing cast and crew but there's a certain fifth wheel in St John's, Newfoundland that serves as a deluxe home away from the film set for a few four-legged TV stars and their trainer, and it's called 'Team Rex'.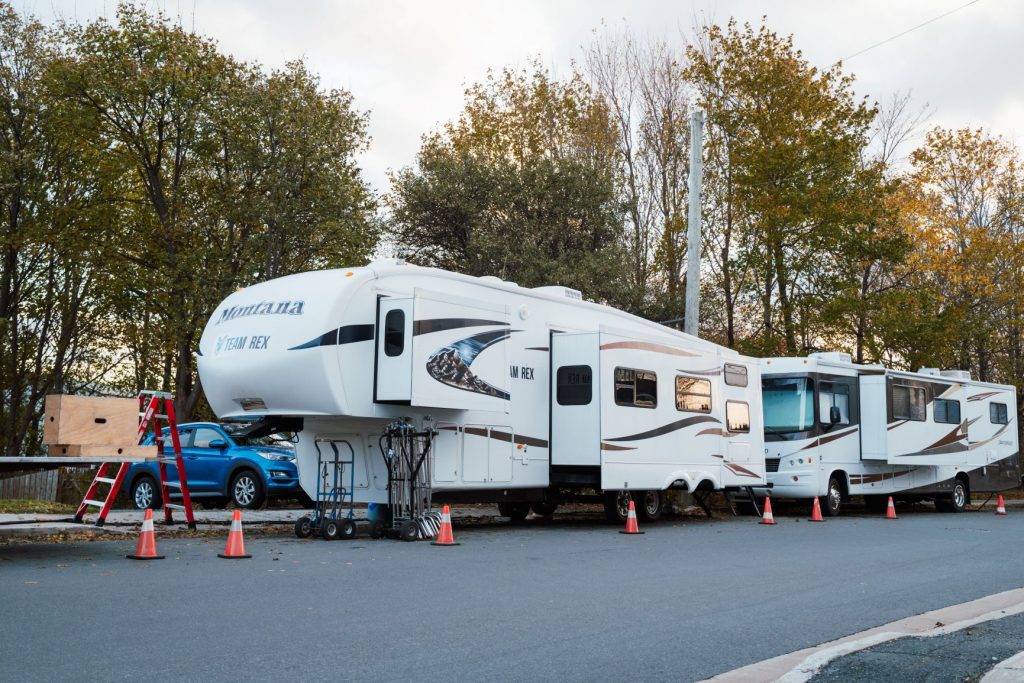 The re-fitted 2010 Keystone Montana Mountaineer 345DBQ belongs to animal trainer Sherri Davis and serves as a relaxing getaway for three of her dogs, one of whom is the star of the Canadian TV show Hudson & Rex. German Shepherd Diesel vom Burgimwald plays Rex in the one-hour, action-packed procedural drama which is set and filmed in St. John's and is currently wrapping its third season. Stunt dogs (and real-life nephews) Is-he and Iko round out the doggy crew.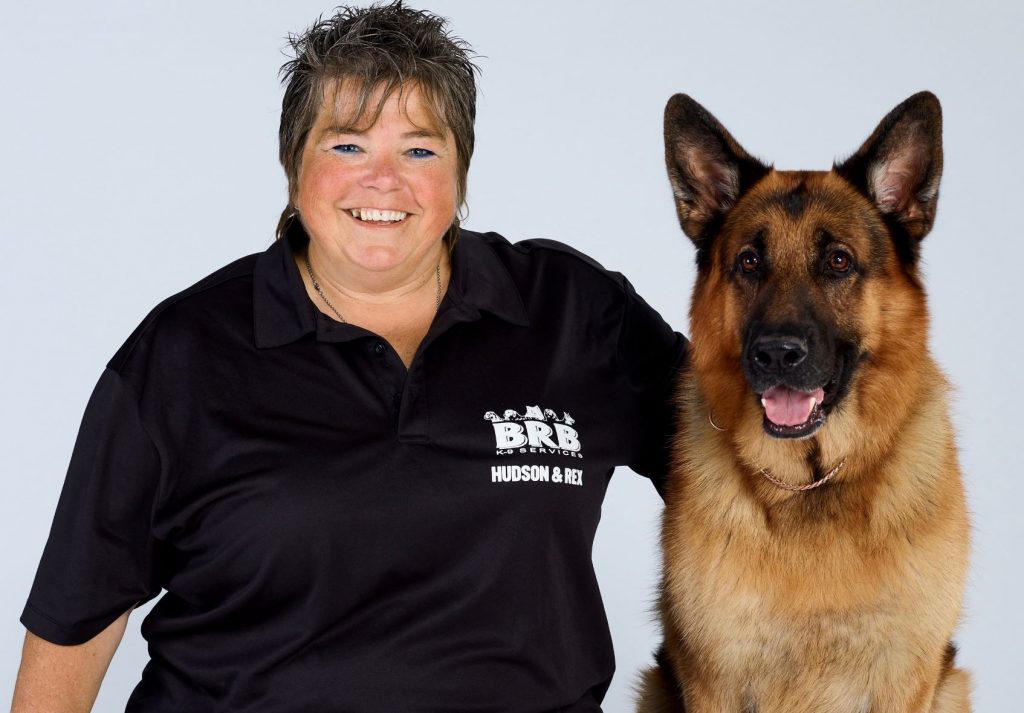 The series focuses on the partnership between Charlie Hudson (actor John Reardon), detective for the St. John's Police Department, and his furry side-kick Rex, an extraordinary former K9. Even the most puzzling case is no match for this dynamic duo – with Charlie's deft investigative work and Rex's keen canine senses, the crime-fighting pair is unstoppable.
The idea to fit to spec a trailer came to Davis while she and the crew were on a location visit at a local trailer park. While the series does have standing sets and green rooms in studio in St. John's (where Davis and the dogs can relax) in order to feature so many of the beautiful locations, the show also goes on the road.
"We had been in a two-room trailer in previous seasons," recalls Davis. "I looked around at all these RVs at the park and the wheels started spinning in my head and I thought: 'Wow. This is what we need!'"
It didn't take long for Davis to invest in a trailer and have it re-fitted to her and the dogs' needs. They now spend their downtime and training weekends at Marine Park near Pouch Cove, a mere 20 minutes N of St. John's and, according to Davis, it's "really changed our world this season." "We have a lake and a pond at the park, there's a designated dog beach area, and we can hike into the hills for magnificent views and a breath of sea air. It's just fantastic and the dogs love it."
The trailer serves as a cozy place for the canines to lay their heads and it's allowed Davis to have a safe place in which to work and unwind while filming the series in these days of social distancing. At 38 ft it has ample space inside; Davis can review scripts with her team plus she's able to conduct virtual meetings from the comfort of her office on wheels.
Originally, before modifications, the fifth wheel slept ten. It now boasts two entrances (a front one for Diesel and a back one for Is-he and Iko where the rear-window once was), non-skid floors, two bathrooms (one with a roomy shower where the dogs get bathed and blow-dried) and two bedrooms; Diesel has his own – with a king-sized bed and favourite Teddy Bear no less – and Is-he and Iko have a separate kennel and bunk area. Both bedrooms have TVs and sound systems for the dogs to chill out in after long days on the set. In between the bedrooms is where Davis has her office area, complete with reclining chairs.
There is ample storage underneath where some gear and props for the dogs are kept, enabling for outdoor training time on the weekends. Diesel, Is-he and Iko are already known at the campground and have human and canine friends alike. (Even though his job requires focus and concentration, in his time off Diesel loves to play!)
Having a trailer has allowed Davis and the dogs to explore the area and discover more of the region.
"I have worked around the world and I have never met such nice and welcoming people as in Newfoundland," says Davis, adding that most of the crew is from the province.
Campground life has given Davis the opportunity to introduce fellow production staff to the outdoors, whether for a hike or a socially distanced bonfire, and sparked something inside of her that she hasn't been in touch with since she was a child – the love of the great outdoors.
"Seeing the kids ride around on their bikes with dogs behind them, playing at the park, or even going to the campground store…it reminded me of family time with my grandparents and how it was to be so carefree as a child. Kids at the campground, doing what kids should be doing, all day in the summer – just playing outside, it's so refreshing to see."
When asked what she now thinks of the RV lifestyle, Davis laughs and responds: "It has really been an eye-opener for me. I am sold on this lifestyle, and, wow, so many campers have dogs! I think that everyone in Canada should buy or rent an RV and start exploring our country."
—
When not on set for Hudson & Rex Sherri Davis runs BRB K9 Services out of Ancaster, ON where she offers training for dogs and other animals. She is admired for her inherent connection to animals. Her clients in film and TV have included the series Murdoch Mysteries, American Gods, Coroner, Designated Survivor, Flashpoint and Lost Girl, as well as the feature film Room among many others.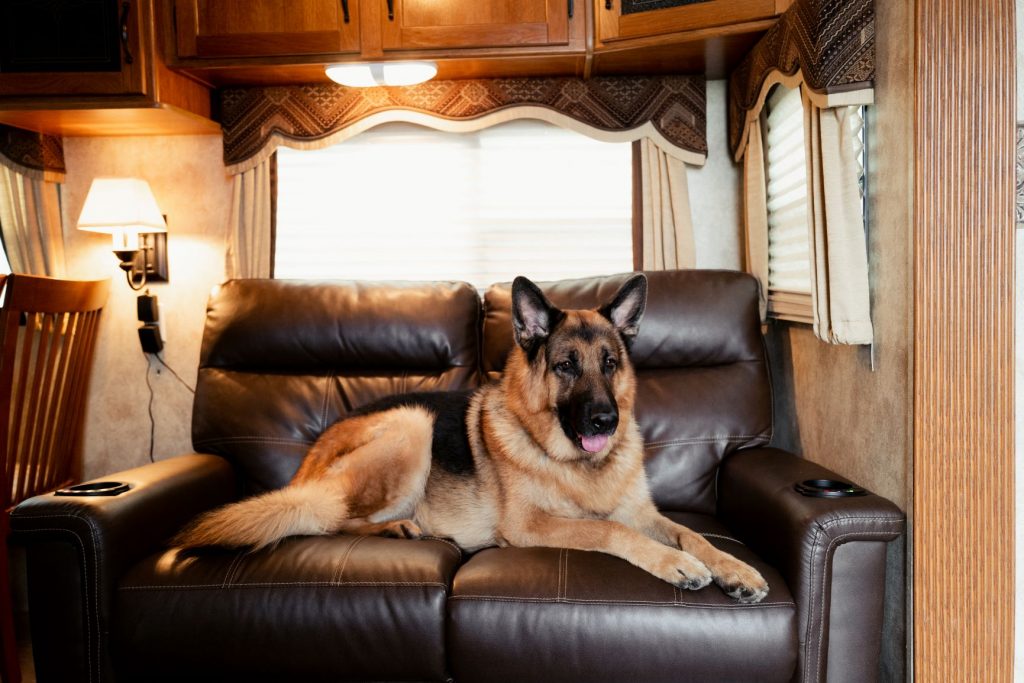 Canadian Kennel Club grand champion Diesel vom Burgimwald is a direct descendant of the Trienzbachtal bloodlines of German Shepherd dogs and related to the dog VA5 Elch vom Trienzbachtal who was the great-grandfather of the original 'Rex' in the European TV series which Hudson & Rex is based upon. Rex is Diesel's first leading role.
The series Hudson & Rex airs in Canada on Citytv and has been sold internationally to over 100 territories. Seasons 1 and 2 are available at Citytv.com and on the Citytv app. The 5th season of the show airs on Citytv – please check local listings or surf the web for streaming services to watch the latest episodes. Season 5 episode 11 airs January 17, 2023, and episode 12 airs January 24, 2023.

Hudson & Rex Season 3 premiered in January 2021. Watch all-new episodes every Tuesday at 9 ET/PT and 8 CT on Citytv or stream live and free at Citytv.com or on the Citytv app.
Hudson & Rex Social Media Handles:
Facebook: facebook.com/HudsonAndRex/
Twitter: @hudsonandrex
Instagram: hudsonandrex / #HudsonAndRex