Lancaster, CA – August 5, 2021 – Lance Camper Manufacturing Corp. is excited to announce the launch of its new Live Chat customer assistance functionality on its product website, lancecamper.com. To continually improve the overall customer experience, live chat has moved from a "nice to have" feature to a "must-have" feature of digital communication.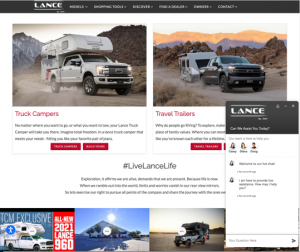 "The lancecamper.com website continues to grow significantly year over year and is the primary source of information on the company and our products," states Bob Rogers, Marketing Director. "Our customers preferred channel of communication is digitally and, on our website. Staffed by both Lance service and sales personnel, our customers are now able to receive an instant response to their questions in minutes vs what had been hours or even days in the past."
J.D. Power found that live chat has become the leading digital contact method for online customers, with 42% of customers preferring live chat compared to just 23% for email, and 16% for social media or forums.
"Along with input from our New Owner Survey, our service departments feedback and our social channels, live chat has become another tool to listen and respond to what our customers want," summarizes Rogers.
About Lance Camper Manufacturing Corp.
Founded in 1965, with headquarters in Lancaster, CA, Lance Camper is the premier manufacturer of high-quality ultra-lightweight composite-built truck campers and travel trailers in North America. RVs, Lance's recent 17th-year win of the RVDA's prestigious and coveted DSI (Dealer Satisfaction Index) Quality Circle Award is a direct reflection of this quality in both their products and the service provided to Lance dealers and consumers for the past 55 years. Lance Camper Mfg. Corp. is a subsidiary of REV Group, Inc.
About REV Group, Inc.
REV Group® companies are leading designers and manufacturers of specialty vehicles and related aftermarket parts and services. Our companies serve a diversified customer base, primarily in the United States, through three segments: Fire & Emergency, Commercial, and Recreation. They provide customized vehicle solutions for applications, including essential needs for public services (ambulances, fire apparatus, school buses, and transit buses), commercial infrastructure (terminal trucks and industrial sweepers) and consumer leisure (recreational vehicles). REV's diverse portfolio is made up of well-established principal vehicle brands, including many of the most recognizable names within their industry. Several of our brands pioneered their specialty vehicle product categories and date back more than 50 years. REV Group trades on the NYSE under the symbol REVG. Investors-REVG