Top Quality Comfort.
Text and photos by Norm Rosen
RV Lifestyle Magazine recently had the pleasure of road testing the very first 2017 Lance 1475 travel trailer to reach the Canadian market. This trailer, a compact, affordable, and beautifully crafted example of the latest in RV design and technology, is an excellent choice for a couple or a small family who enjoy an active RV touring lifestyle.
We towed the Lance with a Jeep Grand Cherokee, which easily handled the trailer's 2495-pound dry weight. While we did not fully load the trailer to its 3700-pound GVWR, it was obvious from the start that the balance and road handling characteristics of the trailer were ideally suited to a mid-size SUV – precisely the market niche that young families are most interested in. The 1475 rides on heavy-duty rubber torsion-bar suspension axles with EZ-Lube bearings. This suspension assures a top quality ride and easy maintenance. Self-adjusting brakes are used to make a properly hitched Lance trailer a pure delight to tow.
COMPACT YET SPACIOUS
With any travel trailer in the sub-20-foot range, utilizing a limited amount of interior space is always a challenge. The 1475 is just 19'8" overall length, with an interior floor length of just 14' 10". We have seen many interior design approaches to compact travel trailers over the years, and this model presents a very functional open floorplan – the sleeping accommodations are spacious, the galley is well thought out, and the bathroom is surprisingly spacious for a trailer of this size.
Of course, we were not at all surprised at how well the Lance engineers designed the interior of this trailer – after all, Lance has earned an excellent reputation for the ingenuity of their truck camper models, and that is where you really have to be concerned with utilizing limited interior space. We were also very impressed with the overall quality of construction – from the choice of materials to the fit and finish, this is a very well made unit. We liked the designer interior décor and the choice of high quality upholstery and appointments.
If you have a minute, check out the video showing how Lance builds their RV products – find it on YouTube by searching for "Lance Camper Factory Tour".
The Lance 1475 is an ultra-light travel trailer designed for the modern lifestyle. The living area features two very comfortable swivel rocker chairs and a small pedestal table – no bulky dinette to take up valuable floor space.
DECOR AND DESIGN
Our test vehicle was decorated in the Palm Springs motif, one of three interior design options. We were impressed with the Surf-X Suedo solid surface lightweight countertops – this is the first time we have seen this product in an RV, and it certainly makes sense to use this material rather than the typical Corian, which is very heavy.
Interior décor is very tastefully put together, with day/night shades covering the picture window in the dining area. We liked the choice of decorative cabinet hardware, and the little extra touches, like the key hanger (a great idea) and the wall clock.
COMFORT AND CONVENIENCE
The Lance Camper 1475 is available with a range of optional equipment. You can choose from three air conditioner models – a Coleman 13.5 unit with wall control; a Coleman 15 unit with wall control, or a Coleman 9 Low Pro with wall control. In cool weather, the standard 18M BTU forced air furnace should be quite sufficient in a vehicle of this size.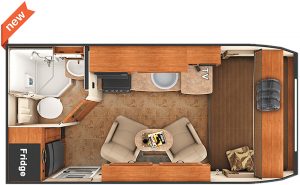 CONSTRUCTION
Lance Camper engineers use 3D CAD programs to run the CNC machines in order to produce precision components, and they build the trailers with stainless steel fasteners to resist corrosion.
The aerodynamic front profile of the 1475 is very impressive. The glossy fibreglass nose cap resists chipping and road damage, and is very easily cleaned to maintain the unit's classy exterior flair. Lance uses a very attractive Euro style tinted acrylic Thermopane front window and a diamond plate gravel guard on the lower portion of the front cap.
Under the fibreglass skin, Lance uses Azdel composite instead of the typical luan wood material, to eliminate rot and mold that often plague conventional RVs, and European Lite-Ply material is used in place of the conventional wood cabinet construction – this product is lighter and stronger than the materials used in conventional trailers. Full torque frameless tinted Dualpane windows and radius corner exterior storage compartment hatches complete the exterior wall construction.
All of the joints between structural components are sealed with anti-wicking material to prevent moisture from transferring to the laminate walls. The result is a lighter trailer with better R values than trailers built with the typical materials.
Up top, Lance features a one piece fibreglass roof, and the roof vents are clamped in place to eliminate the potential for leaks from screw fasteners. The roof has integrated rain gutters and drip spouts, so you will not see the typical black streaks on the side of this trailer.
Lance uses an aluminum framed superstructure to create a very solid yet lightweight trailer. The walls have high-quality fibreglass exterior panels and block foam insulation in a wall sandwich that is pressure laminated with heat-sealing adhesives. The result is a wall that is strong, light, very well insulated and essentially trouble-free.
The 1475 rides on a super lightweight powder coated tempered steel frame chassis that is Huck bolted rather than welded. This construction method is stronger than welding, and eliminates the rust that typically forms on conventional chassis.
IN THE BATHROOM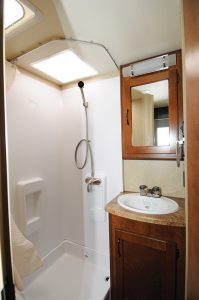 The 1475 has a rear corner bathroom with toilet, shower, skylight, and a compact vanity. Ducted heating keeps this area comfortable on a cool summer evening.
The RV plumbing system features a convenient black tank flush. The RV plumbing system also includes an enclosed insulated and heated fresh water tank, a gas/electric DSI water heater, and a water pump with in-line filter.
IN THE BEDROOM
While the "master bedroom" in a trailer this size is really the whole front of the unit, Lance has provided a very comfortable 60"x80" deluxe queen size innerspring mattress with Pillow Top, and a décor matching bedspread with throw pillows. You can upgrade to optional day/night shades to replace the standard bedroom window mini-blinds. We like the use of LED reading lights in the bedroom area.
IN THE GALLEY
In a compact trailer, your galley countertop space is limited, but Lance provides a reasonably sized single sink with pull-out sprayer faucet and a sink cover to expand your food preparation area.
The 1475 comes with a standard 3-burner range with range hood and backsplash. You can upgrade your galley with an optional 3-burner high-output range with oven and cover, and a microwave oven.
The standard refrigerator is a double door, 3-way, 5 cubic foot model with deluxe door panels.
RV SYSTEMS
The Lance 1475 includes all of the state-of-the-art electrical systems that you would expect to see in a modern RV. The unit features a 45-amp converter/loadcenter that seems to be quieter than earlier models. A systems monitor panel shows fluid levels and battery condition.
We like the energy efficient LED lighting, especially the placement of lights in the ceiling and under the overheads, and the LED vanity lights over the medicine cabinet. The LED patio light and the hitch light are excellent features, and the storage compartment lighting is most appreciated on a dark autumn evening.
There is an AM/FM/DVD stereo system with internal and external speakers, an exterior 120V patio outlet, and a very convenient 12V/USB charging port. The unit has an HD TV antenna on the roof.
CUSTOMIZE YOUR CAMPER
In order to offer a trailer of this build quality at a reasonable price, there are several items that are offered as optional equipment. Here are some of the items that you should considering ordering.
For peace of mind while towing, we strongly suggest that you select the backup camera with vehicle monitor option. Please note that the spare tire on this (and many other 2017 RV models) is an optional item, although the spare tire carrier is standard equipment. We very strongly advise that you order a spare tire from the factory. We also suggest that all Canadian RVer's specify the optional water heater bypass and winterizing valve.
If you are a fan of energy efficient touring, you will want to opt for the factory installed 160-watt solar panel.
We like the optional Fantastic power roof vent for the galley area, and the 24-inch 12V LED TV. We also like the swing-out entry assist handle, especially in wet weather, or when you entertain people who may have a bit of trouble with the RV stairs.
We recommend that you consider ordering the optional 10' power awning with LED lighting, to expand your RV living space at the campsite.
For easy hitching, the electric tongue jack is a great choice, although this trailer is light enough that the manual tongue jack is relatively easy to operate. You can also order a keyless entry lock with key fob.
A pull-out storage tray provides easy access to your gear.
THE BOTTOM LINE:

If you are looking for a very well designed, high quality travel trailer to tow behind your mid-size SUV, the Lance 1475 is an excellent unit to consider. With an open floor plan and great road handling characteristics, it is one of the benchmark units in the category.
SPECIFICATIONS
LANCE CAMPER 1475
Lance Camper 1475
Floor Length 14' 10"
Overall Length 19' 8"
Exterior Width 7' 3/8"
Exterior Height 117"
Interior Height 78"
Gross Dry Weight 2495 Lbs.
Hitch Dry Weight 240 Lbs.
Axle Weight 2255 Lbs.
Cargo Carrying Capacity 1205 Lbs.
GVWR 3700 Lbs.
Tire Size ST205/75R14
Fresh Tank 26 gal.
Grey Tank 26 gal.
Black Tank 22 gal.
Refrigerator 5 cu. Ft.
Propane 5 gal. tank
Furnace 18,000 BTU
Sleeps 2 – 3
---
MSRP as tested: $27212
For more information, and to locate a Lance Camper dealer in your area, please visit www.lancecamper.com