Luxury on wheels!
RV Lifestyle Magazine Road Test and photos by Norm Rosen
We had the pleasure of visiting the team at The Hitch House in Shanty Bay, Ontario – just a few minutes north of Barrie, Ontario on the Highway 11 extension – to view the 2024 Newmar Mountain Aire 3825, a rear diesel class A motorcoach that provides an elegant combination of features and technology.
The 2024 Newmar Mountain Aire luxury motorcoaches are available in five floor plans, ranging from 38 to 45 feet in length. There are two new floor plans, both 38 feet long: 3823 is a quad slide, rear-bed, mid-bath model; and the 3825, which we will focus on in this review, is a full wall slide model with a bath and a half.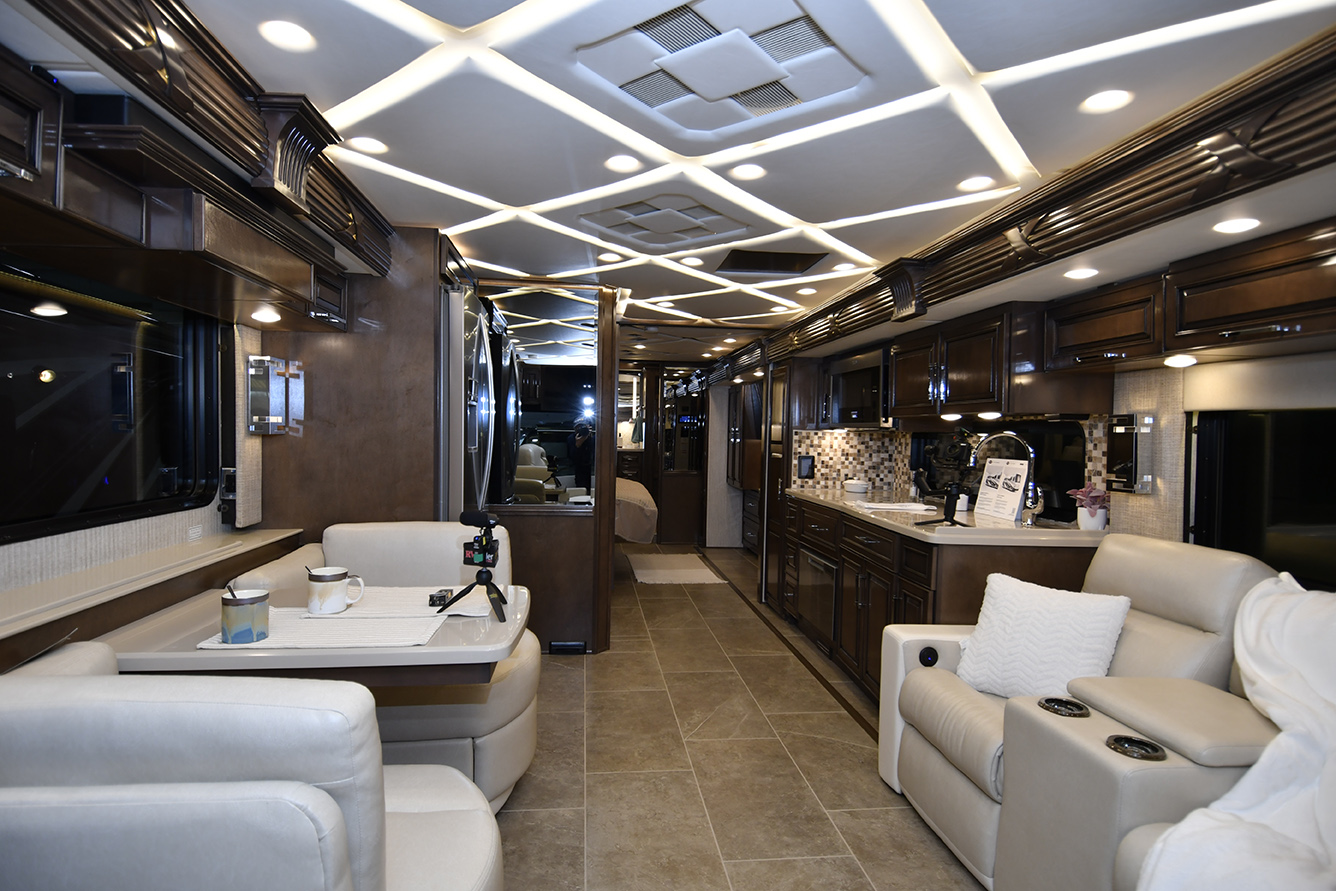 There are many reasons why avid RV enthusiasts choose rear diesel pusher motorcoaches for their touring adventures. The power and durability of the diesel drivetrain is the prime reason so many experienced motorhome owners prefer this segment of the class A category. Newmar's newest model is a 38-foot, 525-hp class A motorhome, built on a Spartan chassis that features a passive steering tag axle for more manoeuvrability. The rear wheels articulate 17 degrees to reduce your turning radius, reduce tire scrub, and enhance manoeuvrability on the road – this is especially useful on winding twisting roads and in parking situations.
With a Cummins 525 hp engine, there is plenty of power to cruise the nation's highways, and the coach easily pulls your toys, thanks to its 15,000 lb towing capacity.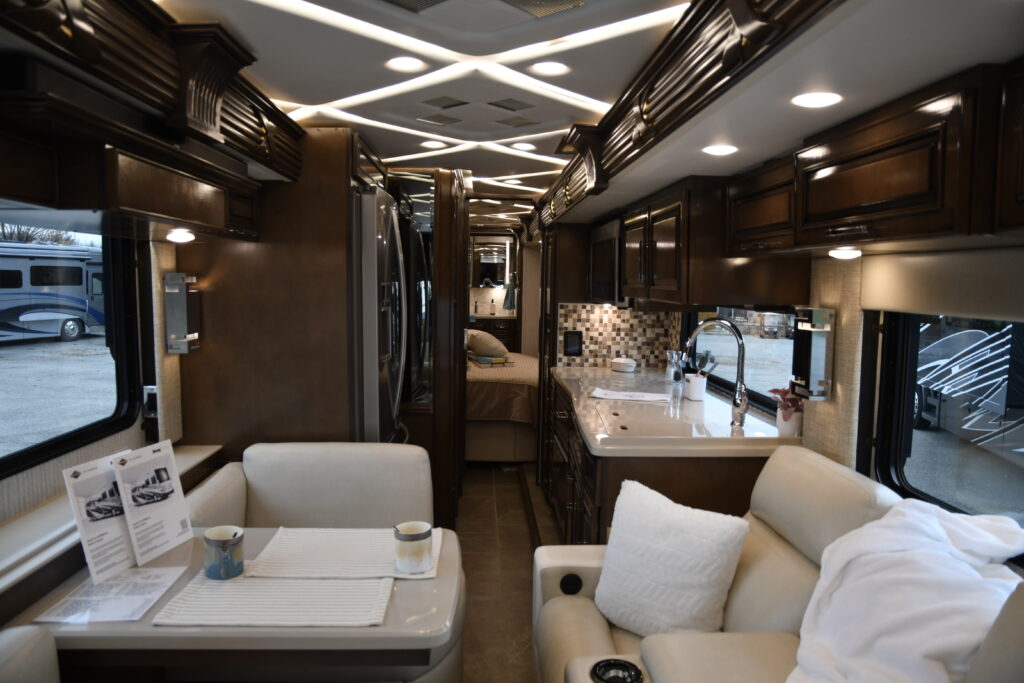 On The Road
Our test vehicle was the first production unit of this type, and while we generally take our RV Lifestyle Magazine road test units for a 500 – 1,000 km spin along a variety of road surfaces and rolling terrain, the Mountain Aire 3825 was only available for a short timeframe, so we relied on Chris McKee, from The Hitch House, to provide analysis of the long-distance driving characteristics of the coach. "This is a very powerful motorhome – with the 38'10" length and a Cummins X12 diesel that puts out 525 hp and 1695 foot-pounds of torque, you can easily tow a trailer with all your toys inside… and it's remarkably easy to drive. You have power steering, air brakes, a "Connected Coach® 12.3" glare-free Glass Dash" instrument panel that displays all of the electronic chassis information, and all the conveniences of a luxury motor vehicle – dual 10" monitors with Nav-N-Go Navigation and Xite Dash Radio with Apple CarPlay®, and a surround video system that shows you all the surrounding traffic – the camera sensors are excellent in low light – it's almost like a night vision system. The shorter wheelbase with tag axle has Newmar's Comfort Drive™, and you have Mobileye® and Lane Tracking and lane departure warning, along with OnGuard™ collision mitigation adaptive cruise control system that lets you set the appropriate distance between your coach and the vehicle in front of you. Every driving system is at your fingertips, with a full array of steering wheel and dashboard controls, and you can adjust the position of the steering wheel and the foot pedals to accommodate any driver, tall or short."
The coach has Villa Ultra Leather sofa and driver/passenger seats with integrated seat belts. The driver's seat has a vibrator for haptic feedback – it is activated if you drift out of your lane while the lane assist function is on. Both driver and passenger seats are heated with power-lumbar, recline, footrest and standard width passenger seat. The passenger seat workstation is very convenient, and we really liked the passenger side GPS – it's an excellent way to have the navigator chart your route without distracting the driver.
Construction –
Chassis
The Mountain Aire 3825 is built on a Spartan® K3 passive steer tag axle 525 Hp chassis powered by a Cummins X12 diesel engine providing 525 HP @ 1,900 RPM and 1,695 lb-ft torque @ 1,000 rpm. The coach has an HWH air leveling system, electronic stability control, and anti-lock brakes. The chassis also features a 3-stage engine compression brake. For cold weather operation, there is a 1500-Watt Block Heater. The Mountain Aire 3825 has recessed fuel and DEF fill access, with crossover to let you fill the tanks from either side.
Above the chassis, Newmar builds the Mountain Aire on what they refer to as the STAR Foundation – a precisely engineered, Newmar-exclusive steel superstructure designed to improve chassis strength and durability while delivering a ride that is quieter and more stable than anything you have ever experienced in a Class A coach. The STAR Foundation is carefully welded to every Newmar luxury chassis and nearly every diesel chassis at Newmar's in-house welding facility.
Take a look at the video for an in-depth description of Newmar's Star Foundation chassis superstructure – please follow this link: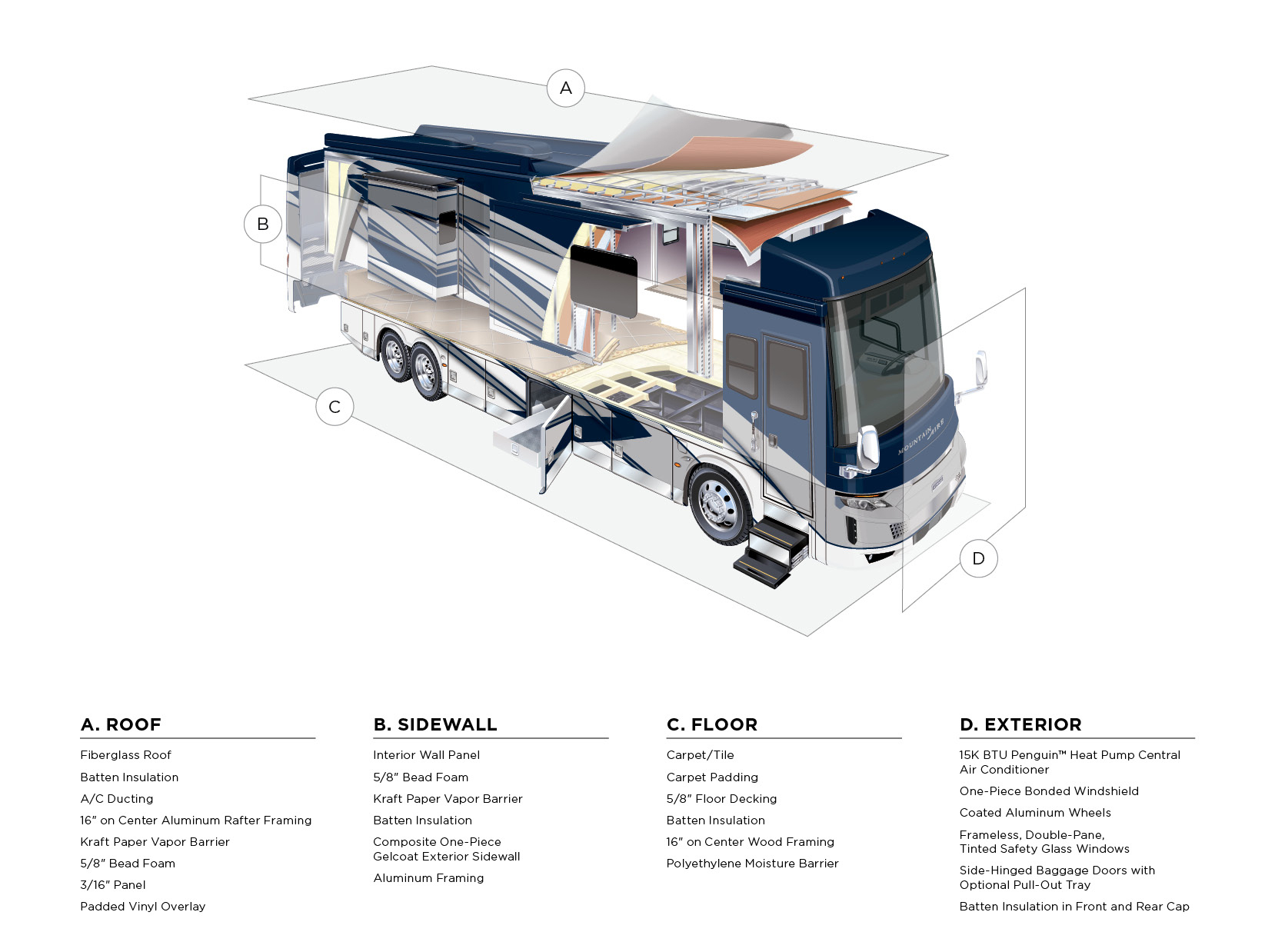 The Mountain Aire 3825 features aluminum frame sidewalls and roof construction, 16" on centre, with 5/8" laminated foam insulation. The exterior of the front and rear caps and the sidewalls, are gelcoated fiberglass. The roof features Polar Pak R19 batten insulation, and fiberglass exterior surface with integrated gutter rail. The coach is undercoated for all-weather protection.
There are three slide-outs – a full-wall slide on the driver's side of the coach, a dinette slide, and a bedroom slide. The non-hydraulic slideout rooms have paddle style automatic mechanical lock arms.
Suspension
The chassis features front independent air suspension with anti-sway bar and 20,000 lb. capacity. Rear suspension is a non-torque reactive parallelogram air suspension with 23,000 lb. capacity. The tag axle has a parallelogram air suspension and integrated passive steering tag axle with 14,000 lb. capacity. The coach features electronic suspension control system with self-levelling feature including air compressor. There are six aluminum wheels with Dura-Bright® finish and dress kit – the two inside duals are steel wheels.
Koni shocks all around assure smooth ride. Air disc brakes are WABCO 6S/6M with electronic stability control.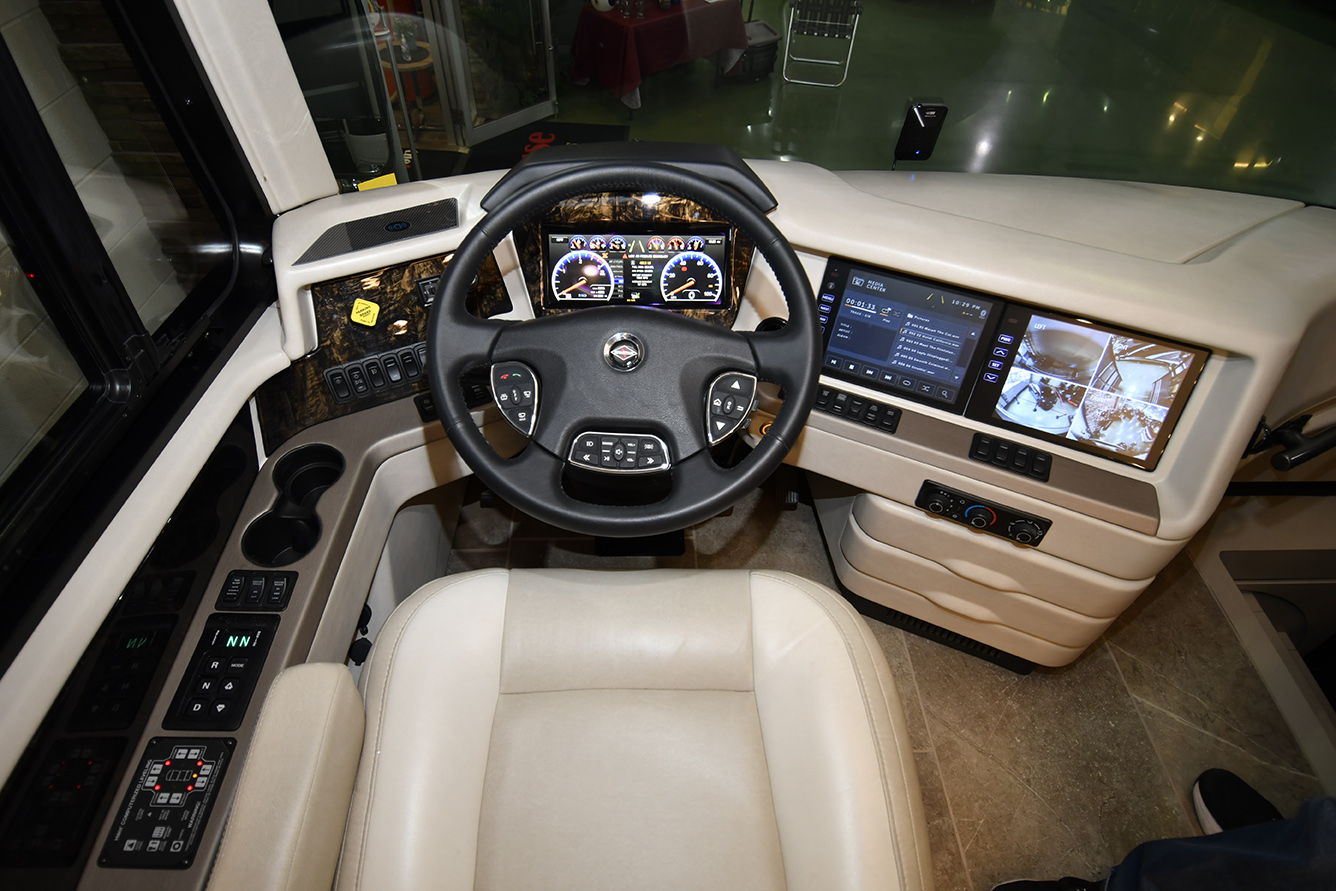 As an air brake equipped vehicle, you need an air brake license to drive the Mountain Aire – in Canada, that's an AZ, DZ, or BZ classification, appropriate for larger and heavier vehicles. The driver's test includes a medical examination and a signed form from your physician. The driving test includes both written and road tests, in most jurisdictions, this is essentially the same as you would need to drive a commercial truck or bus. RV dealers who sell air brake equipped motorcoaches can advise you on licensing procedures, driver training, and best practices for driving and enjoying a rear diesel motorcoach.
Exterior Appointments and Features
As you might expect, the Mountain Aire is outfitted with a full array of exterior features. Our unit had the optional stainless steel cargo bay door trim, as well as the optional manual slide-out trays in each bay – you can order power slide trays as an upgraded option. The entrance door sports a stainless-steel kick panel.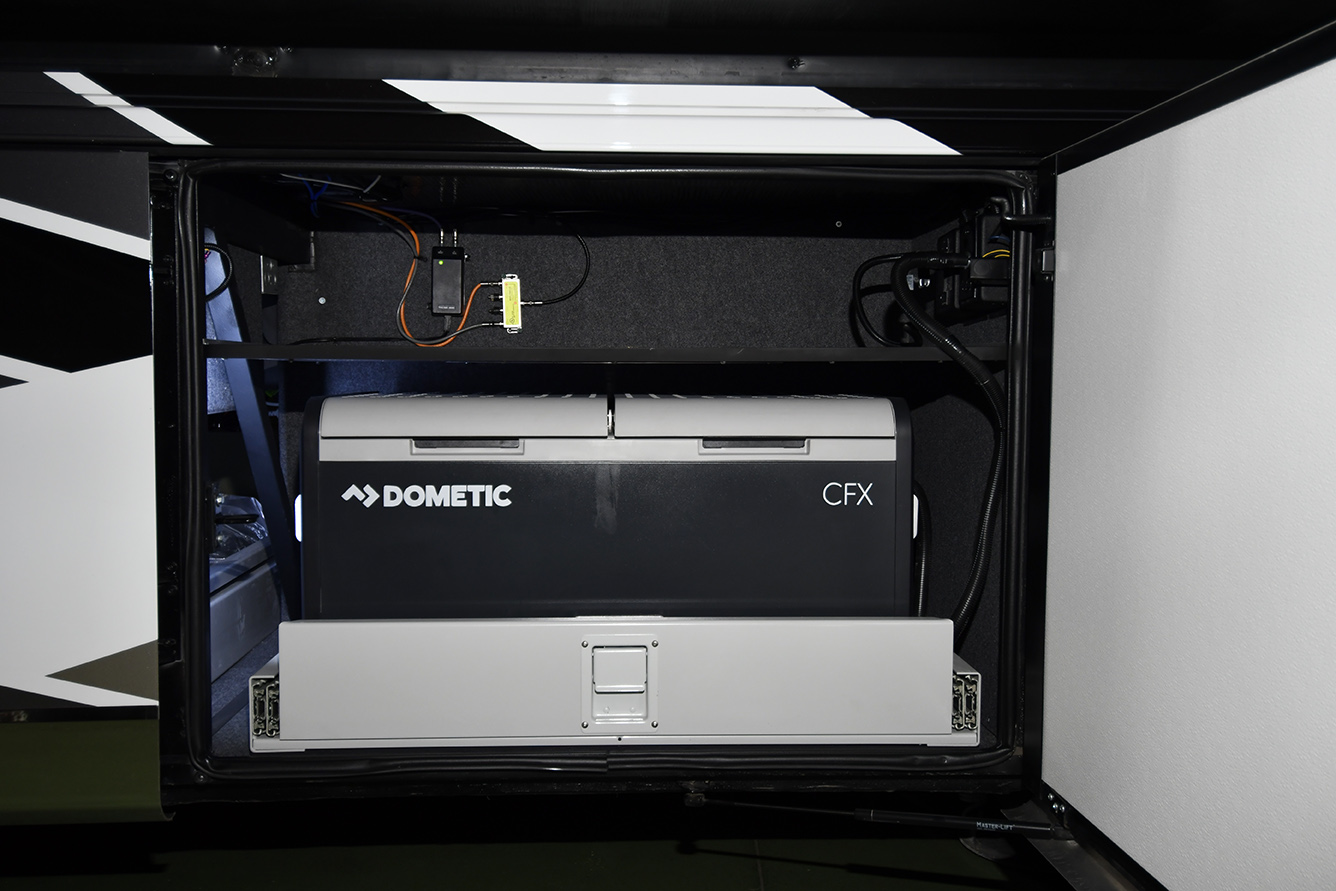 The Mountain Aire has many convenience items that enhance your campsite experience. In the first storage bay on the passenger side is a Dometic CFX dual compartment refrigerator freezer on a sliding storage tray.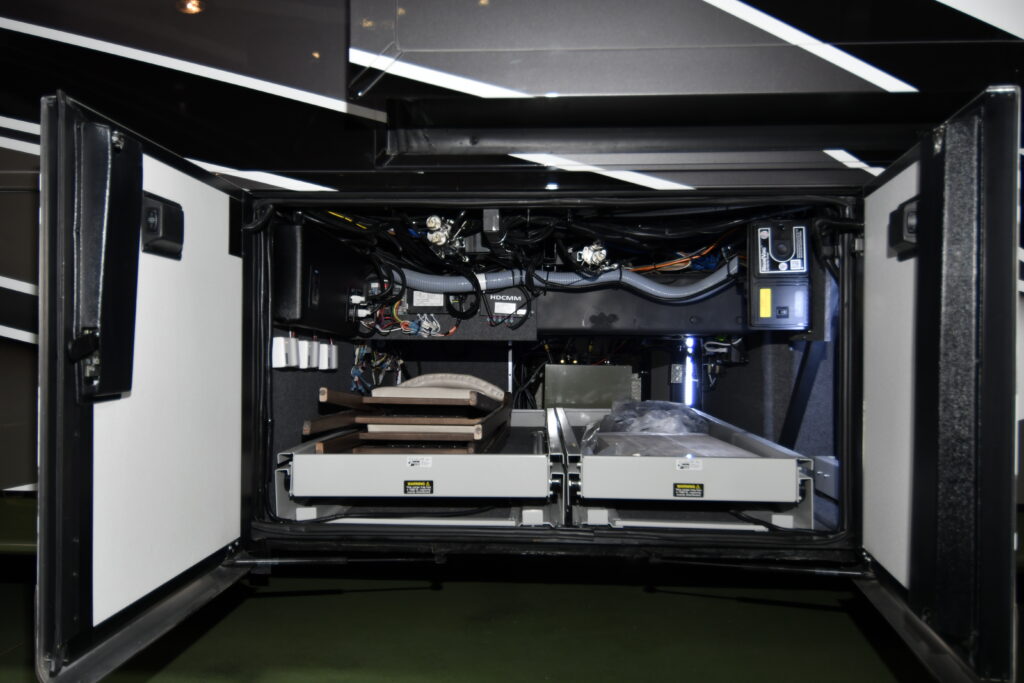 Moving aft, there is a double-door storage bay with two powered sliding trays to provide easy access to all your campground gear.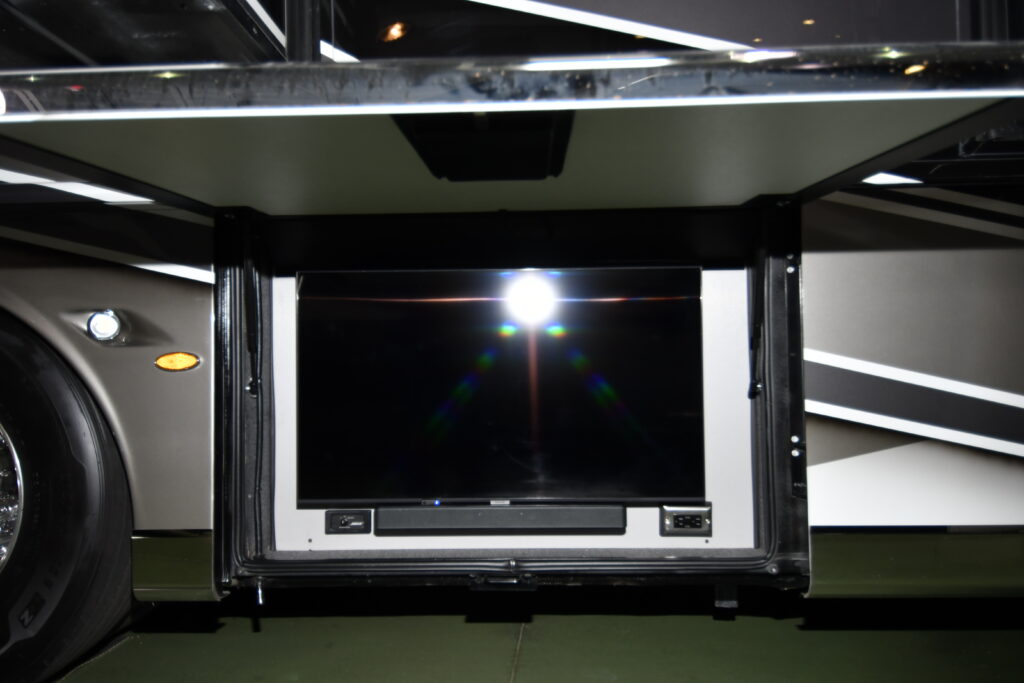 Moving back another bay, you find an entertainment compartment – in our test unit, this held an optional 43" Samsung LED TV, mounted on a swivel arm, with a Bose sound bar for your patio entertainment.
There is a cargo compartment with pegboard and storage bins for your convenience.
The chrome power baggage door locks, keyless entrance door lock with touch pad, and the doorbell add an extra level of finesse. The entrance door features an automatic step and an assist handle, and there is convenient storage inside the steps.
At roof level, the Mountain Aire features a Girard Nova awning package on the passenger side of the vehicle, consisting of twin dual pitch powered awnings with wind sensors to automatically retract the awnings in bad weather. The driver's side full wall slide-out has a Girard window awning.
The coach is outfitted with frameless dual pane tinted safety class windows that blend beautifully with the exterior finish of the vehicle. 
The Newmar construction process creates sidewalls that are perfectly smooth – the top-quality materials and finish are very impressive, and the proof of the concept is evident when you look at older Newmar motorhomes – after many years, the exteriors are often as perfect as they were when they rolled off the production line. The 2024 Mountain Aire unit that we feature in this issue is finished in the Forres exterior full body paint scheme.
We were impressed with the opulence of the Newmar exterior. From the lighted name badge in the front grill to the rear protective tow guard featuring a stainless steel Newmar name cutout, you can be proud to show your friends that you have selected one of the finest motorhomes in the industry.
There are many exterior features on this vehicle that are standard equipment, including convex mirrors with remote control, defrost, turn signals, and side view cameras. 
Interior Features
The Mountain Aire interior, like many of the Newmar diesel models, can best be described as "sophisticated elegance". Materials are top quality, fit and finish is superb, and whether you select the Bermuda Glazed Maple cabinetry with Linley interior, as shown in our test unit, or any of the four décor options and four wood finishes, the Newmar quality stands above the competition at each of the price plateaus.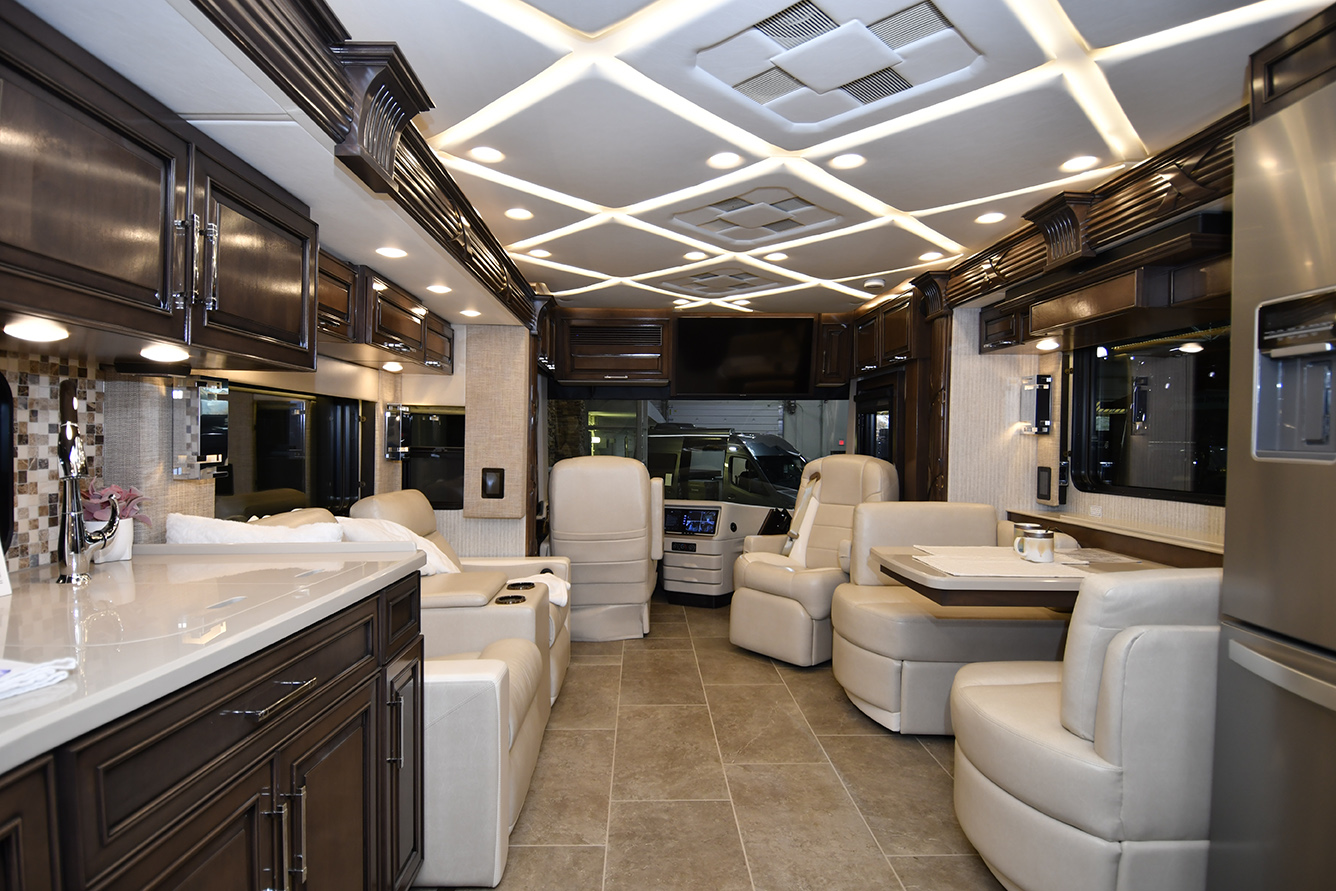 Your first impression of the interior of this coach is the overall design concept – from the designer cathedral ceiling to the tile flooring in the living area, galley, bathroom and bedroom, the Mountain Aire looks like a luxury penthouse on wheels. 
Window treatments are beautiful and convenient, with Auto Motion power shades and lambrequins – there is an excellent power shade system for the windshield, and the driver and passenger side windows… the shades have a light exterior surface, and a black interior to provide privacy while reflecting light and heat.
Cabinetry and doors in this motorhome feature hardwood raised panel design.
You can order your Mountain Aire with a Side Hide-A-Bed Sofa with memory foam mattress, or select the optional powered theatre seating, which we enjoyed in our test unit.
Décor and Design
The 2024 Mountain Aire 3825 is available in four color options for the full-paint Masterpiece Finish™, an industry-exclusive graphics treatment that is carefully applied in-house and includes a cut and buff clear coat finish resulting in a mirror-like shine. The front of the coach has "Beta Fusion Protection", a special coating that protects the coach from road debris.
There are four interiors to choose from and four wood cabinetry stains. 
At the Campground
Docking the motorhome is a pleasure, thanks to the surround video cameras and in-dash monitor, although we always recommend that you have a spotter guide you into your campsite. There are recessed docking lights that are a big help for nighttime arrivals.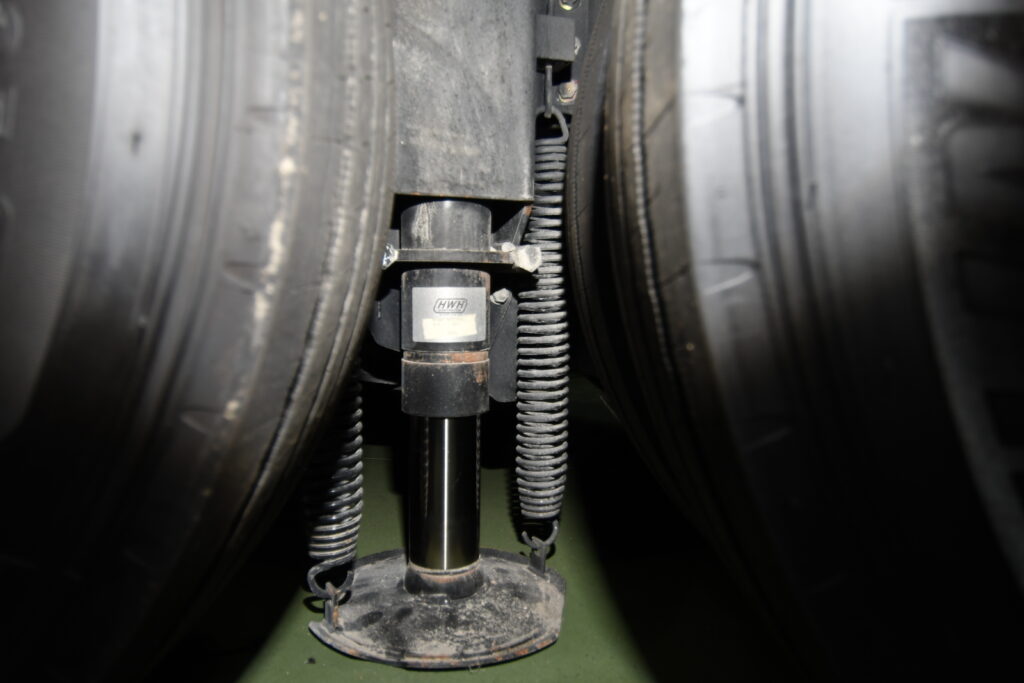 Once you are at the desired position in the campsite, with all your hookups aligned with the site facilities, you can set the parking brake, lower the hydraulic levelling jacks, chock your wheels, and extend your slides.
All the hookups are placed within dedicated exterior compartments – water, electric, cable TV, satellite – everything is at your fingertips and very clearly marked.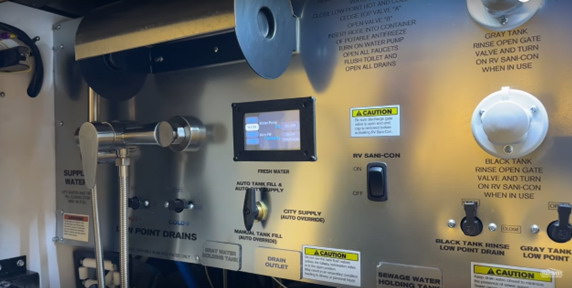 The water control systems are the best organized that we have seen to date – fittings and switches are robust and exceptionally well-marked.
Towing with the Mountain Aire
The coach has a 15,000 lb capacity 2" trailer hitch with a 1,500 lb vertical weight rating, and a standard tow brake air connector (if your towed trailer has air brakes), as well as a 7-pin Bargman connection for trailers with electric brakes, and an optional camera connector so you can add the trailer camera to the in-dash camera display. If you tow a trailer with electric brakes, there is an optional Curt Spectrum Integrated Brake Control available on the Spartan® chassis.
Comfort and Convenience
Climate control is achieved with two 15K BTU Penguin™ heat pump central air conditioners with remote control thermostat, and a Chinook dual loop heat system with continuous hot water. 
On the road, there is a dash heater and air conditioner, and driver and passenger dash overhead ventilation system.
In the campground, you will enjoy the three-zone electric radiant heating system below the floor tiles.
Electrical Features
There is a 10-watt solar panel to charge the chassis battery, and a 3000-watt true sine inverter. The Mountain Aire has a 50-amp electrical service with flexible cord with automatic transfer switch on a power rewind wheel, and standard equipment includes eight 6-Volt AGM house batteries, with disconnect switch. Our unit was equipped with the optional lithium batteries.
LED lights are recessed in the ceiling and underneath overhead cabinets There are accent lights in the ceiling, slideout fascia trim and lambrequins. Convenience lighting abounds in the coach – including LED lighting in the pull-out pantry, kitchen and bathroom base cabinets, and wardrobes. The exterior cargo bays have LED lights with automatic switches, and there are LED lights under the passenger side slide-outs. 
Every RV electric function is controlled by the conveniently placed KIB touchpads, as well as the motorized window shade controls. The Silverleaf® Multiplex Electrical Wiring System can be serviced by your RV dealer, if necessary. The Rozie Remote Internet Connection for the Silverleaf® system adds versatility to the operation of many RV functions from your smartphone or tablet.
Newmar has provided USB outlets in the driver's compartment, at the dinette, and in the bedroom. There is a wireless charging mat in the driver's compartment, and in the passenger console.
There are a number of electronic options available, including: Radio SiriusXM® capability with antenna (does not include monthly subscription); exterior entertainment center in sidewall with Samsung® 43" 4K LED TV and Bose® soundbar; Wi-Fi system Everest with Aspen interior router; Winegard automatic open face satellite dish-for DISH HD and Bell HD TV; Winegard Automatic open face SWM satellite dish-for DIRECTV Std/HD and In-Motion DIRECTV Std, DISH Std/HD; Winegard automatic open face SWM satellite dish-for DIRECTV Std/HD; Winegard automatic open face satellite dish and Winegard In-Motion-for DISH Network; extra monitor on passenger side; rear camera (2) prep for use with stacker trailer and a universal toll module.
There is a WIFI Ranger Denali/Spruce LTE Wi-Fi signal booster – a very convenient item for working on the road or staying in touch in the boonies.
Water Systems
The Mountain Aire water system controls are in a dedicated exterior bay. The unit has a demand water system, with a full-system water filter, exterior shower, hot water line to the generator area, a grey water holding tank rinse, and a sewage holding tank rinse. There is an auto-fill for the fresh water tank, and a power water hose reel.
Entertaining in the Mountain Aire
When it's time to share the beauty of your Mountain Aire with friends and family, the coach provides a full range of A/V features. On the road, your passengers can enjoy the Samsung® 43" 4K LED TV in the front overhead area, or the 50" Samsung® 4K LED on the "televator" in the dinette, accompanied by the superior sound from the Bose® soundbar and subwoofers. 
You can tune in to your favourite TV shows using the cable TV connection, or the Winegard Traveler stationary satellite dish. The dish has an automatic retraction feature that is activated if you forget to lower the dish when you release the parking brake.
Our coach was equipped with the optional Xantrex 440-watt solar panel system, which is a definite plus for boondocking.
Comfort and Convenience
The Mountain Aire 3825 features an Oasis Chinook heat and hot water system, eliminating the need for propane. The Oasis system is diesel or A/C powered and includes a hydronic system for heating water and heating the coach. 
This system, proudly built in Canada, uses a diesel burner controlled by a multi-function controller as a primary source to heat a coolant fluid (anti-freeze and water). It also uses two 1500-watt AC immersion elements as secondary heat sources. The system heats the fluid which can then be circulated to meet all heating needs. This includes hot water demand as well as coach heating.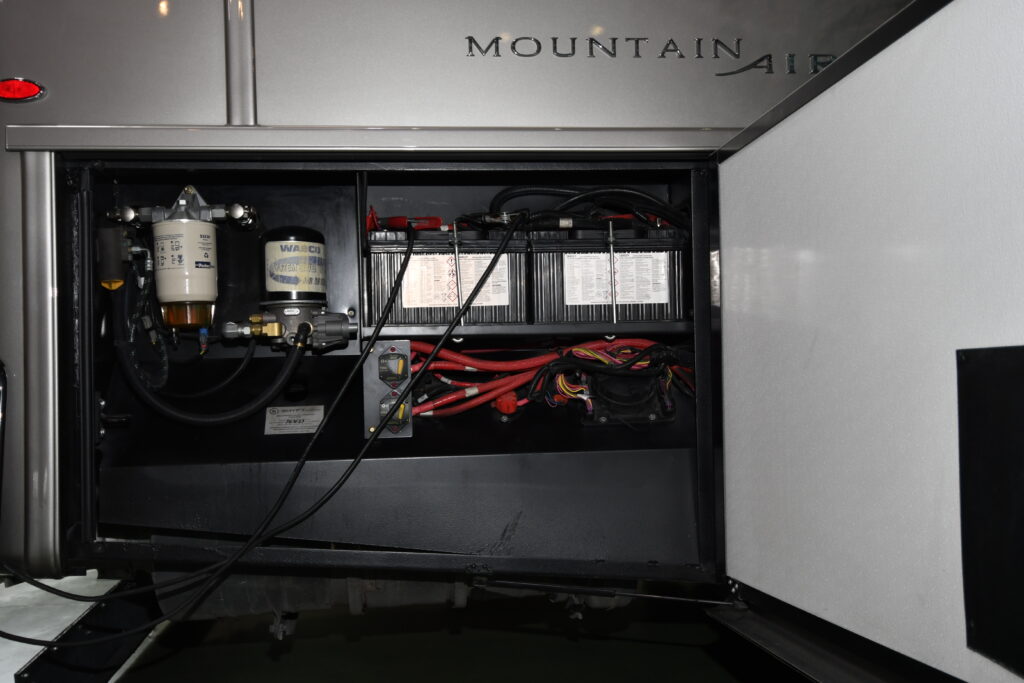 Battery power in our Mountain Aire test unit was provided by two optional lithium battery packs totalling 640 watts, a third lithium battery is optional. The coach has dual 3,000-watt inverters – enough to run an A/C on battery power. 
For boondocking convenience, there is a 10 kW Cummins Onan® diesel generator on a hydraulic slide tray at the front of the vehicle. The generator slide is activated by a switch in the front driver side exterior compartment. The generator start and stop controls are on a touchscreen in the water bay compartment. There is an automatic generator start on low battery or temperature setting.
For warm weather comfort the coach features two 15,000 BTU A/C units. For ventilation and cooling, the coach has Fan-Tastic® Vents with rain sensor units in the kitchen, bathroom, and mid-floorplan powder room. The vent in the kitchen has a hardwood louvered cover – it's a nice décor touch.
In the Galley
The Mountain Aire has a large kitchen area that blends perfectly with the interior décor, thanks to some very clever design elements. The cooking and food preparation area includes under mounted twin stainless steel sinks, and a removable cooktop that can be used on a patio table – these are covered by solid surface slabs that have a cutting board surface on the bottom. The cabinetry is elegantly crafted with solid wood door and drawer fronts, with each cupboard fitted with sliding drawers and each drawer built with dovetail joints. The large pull-out pantry features Push-to-Release drawer slides and a space for serving trays and bakeware.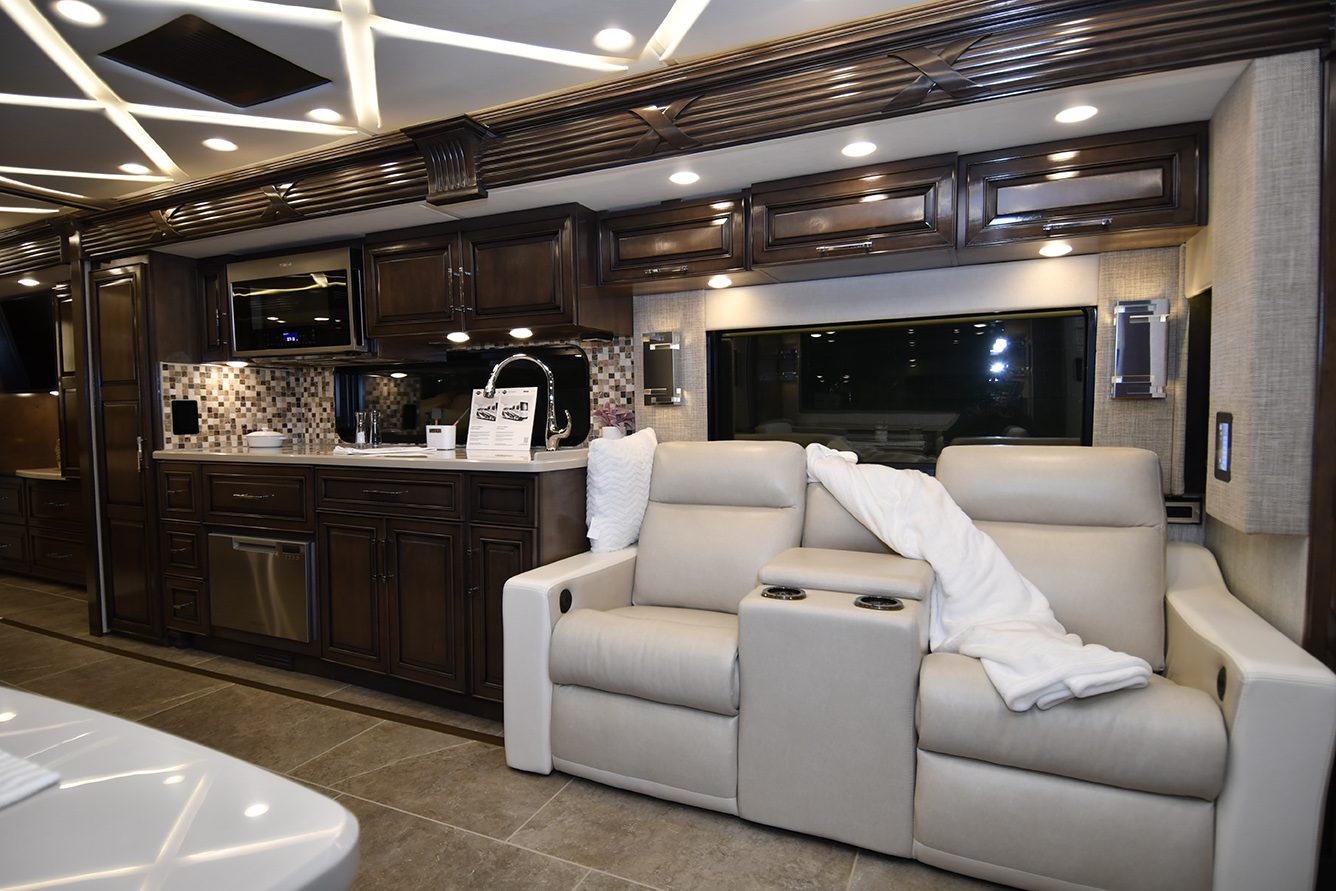 The galley features a stainless steel 30" convection microwave with air fryer feature, an all-electric flush mount induction cooktop, and a Whirlpool® 19.7 Cu. Ft. refrigerator. Our unit was equipped with the optional Fisher & Paykel dishwasher with stainless steel front – this unit is renowned for being exceptionally quiet.
The Mountain Aire 3825 has a built-in central vacuum, with tool kit.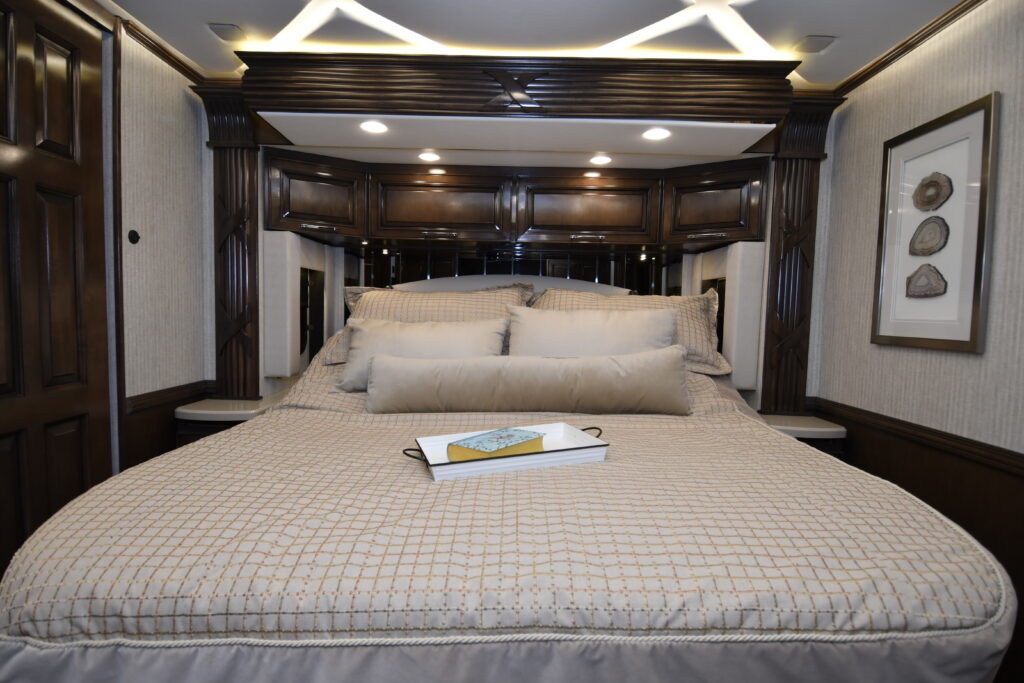 In the Bedroom
Our test unit, which was the first production coach off the assembly line, was equipped with an optional Bed Base Power Incline Retract with R5 Air Mattress – this option may now only be available by special order. The standard master bedroom has a plush pillow-top mattress, fitted non-quilted bedspread with accent pillows, overhead cabinets, and a wardrobe at the foot of the bed. All drawers feature "soft close" glides. There are shoe storage shelves recessed into the rear of the wardrobe.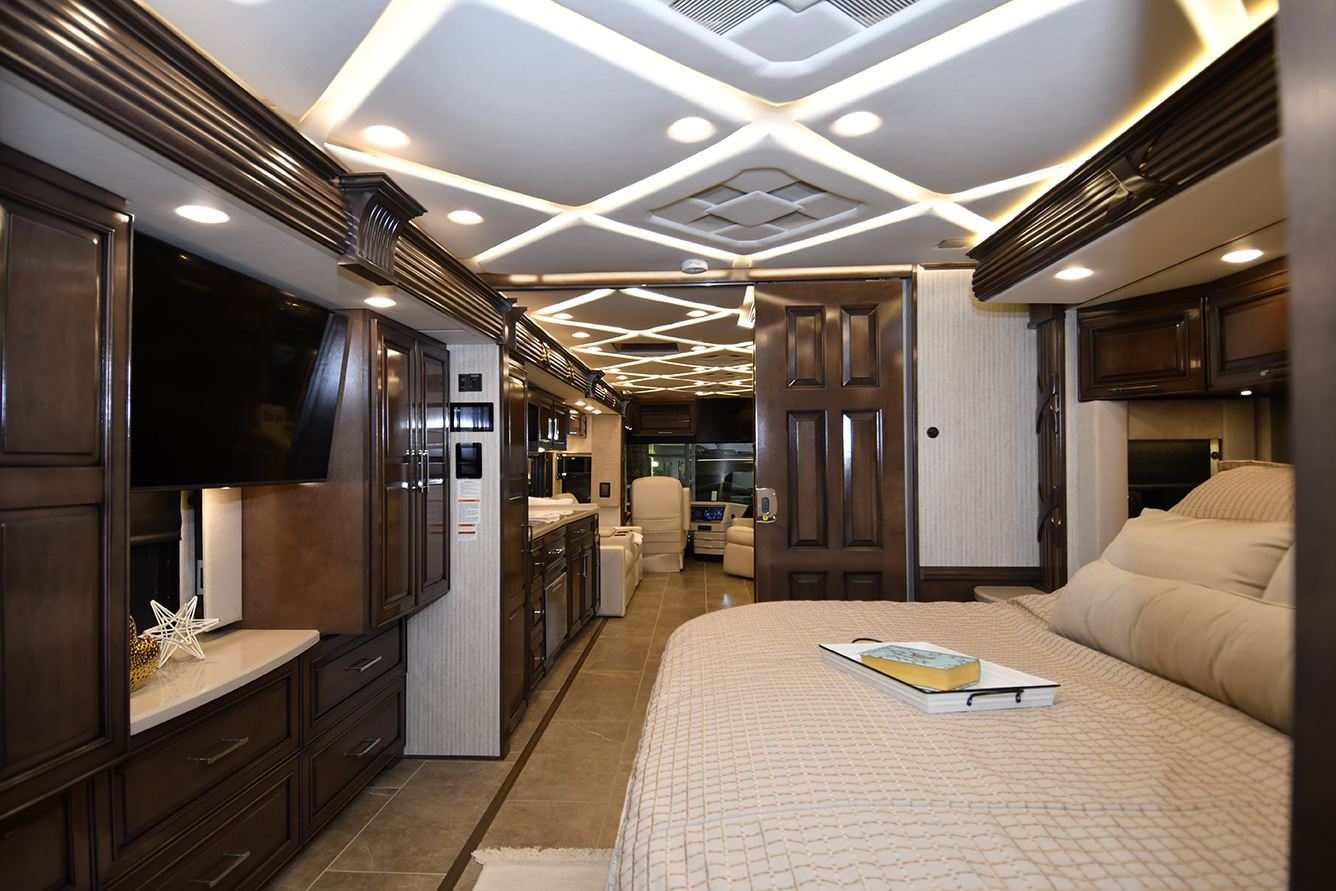 There are 110 Volt Receptacles in the bed overhead with two pass-through ports, and dimmable reading lights with adjustable arms at the headboard.
In the Bathroom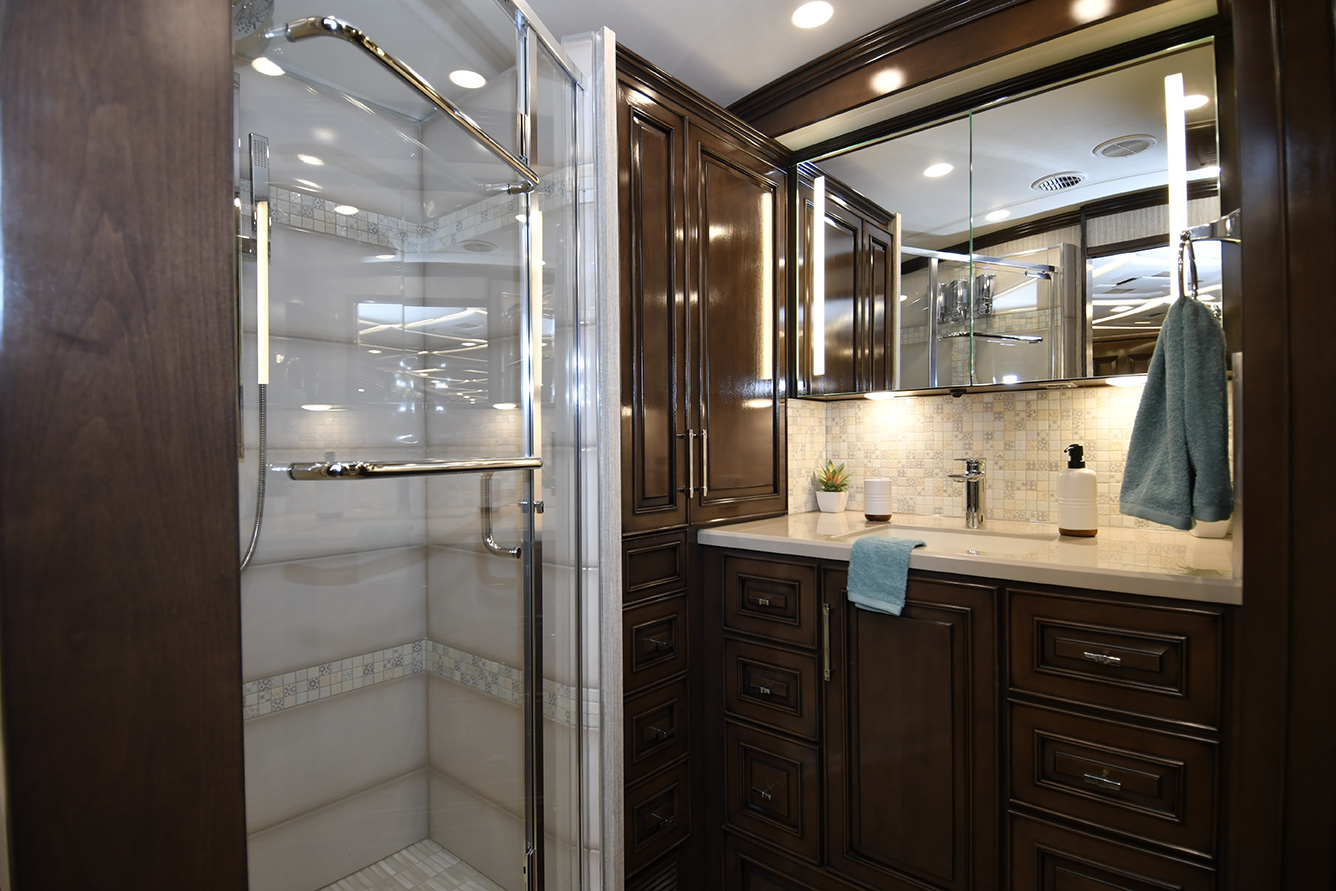 The rear bathroom is very spacious, with a large, tiled shower with Aqua Miser® Shower System, glass door, and a fold-down shower seat. There is a shower skylight, a vanity with sink, a spacious wardrobe, and a washer/dryer compartment – our unit was equipped with the optional Splendide® two-piece Stacked washer and dryer. The driver's side features an emergency egress door with ladder system. You can order your Mountain Aire with either the Dometic® 321 china bowl stool or macerator stool.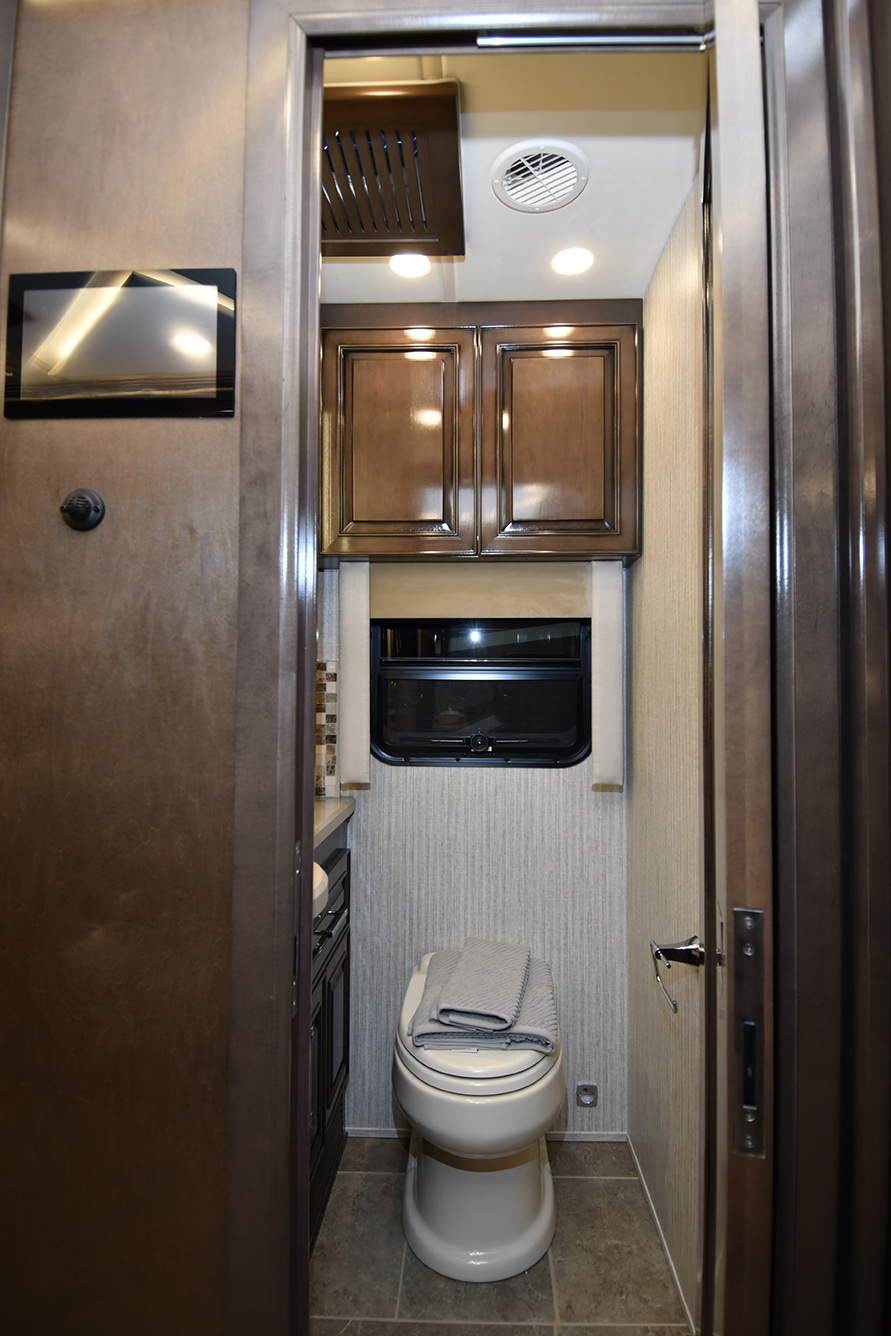 The Bottom Line
The 2024 Newmar Mountain Aire is a spectacular motorcoach. Beautifully designed, built with pride, and engineered for many years of enjoyable touring, it is hard to imagine that the Newmar Mountain Air is the fourth level of luxury in the Newmar line… at a MSRP of approximately $1,400,000 this is a major motorcoach – but if you have the financial resources to explore even greater degrees of luxury, you can view the London Aire, Essex or King Aire models at the Newmar Website.
If you love the ambiance of the Mountain Aire, but your budget doesn't quite match the price tag, you can, of course, invest in a gently used model, or you can explore the full range of Newmar class A models, available in gas or diesel configurations starting at just over $200,000 US. The full range of class A and super C motorhomes can be viewed at the website, www.newmarcorp.com or at your local Newmar dealership. 
---
Specifications
Type MHA – Rear Diesel (pusher)

Engine Cummins X12

Horsepower 525 HP @ 1,900 RPM

Torque 1,695 lb.-ft @ 1,000 rpm

Transmission 6 speed Allison 4000MH

Fuel capacity 150 gal. US

DEF capacity 15 gal. US.

 

Length 38'10"

Wheelbase 246" + tag

Wheel cut angle – front 55°

Wheel cut angle, tag 17°

Tires – Front:

 

Michelin XZA 365/70R22.5 LRL

Rear: Michelin X Line Energy Z 315/80R 22.5 LRL

Tag: Michelin X Line Energy Z 315/80R 22.5 LRL
Dimensions and capacities:
Width 101.5"

Height 13'2"

Interior width (slides in) 95.5"

Interior height 83"

GAWR – front 20,000 lbs.

GAWR – Rear 20,000 lbs.

GAWR – tag 14,000 lbs.

GVWR 54,000 lbs.

GCWR 69,000 lbs.+

Fresh water 105 gal. US

Grey water 80 gal. US

Black water 60 gal. US

Furnace 50,000 BTU

Water heater Hydronic System House batteries 6 (standard)

House battery amp hours 600
MSRP, F.O.B. Shanty Bay, Ontario, $1,146,348 CDN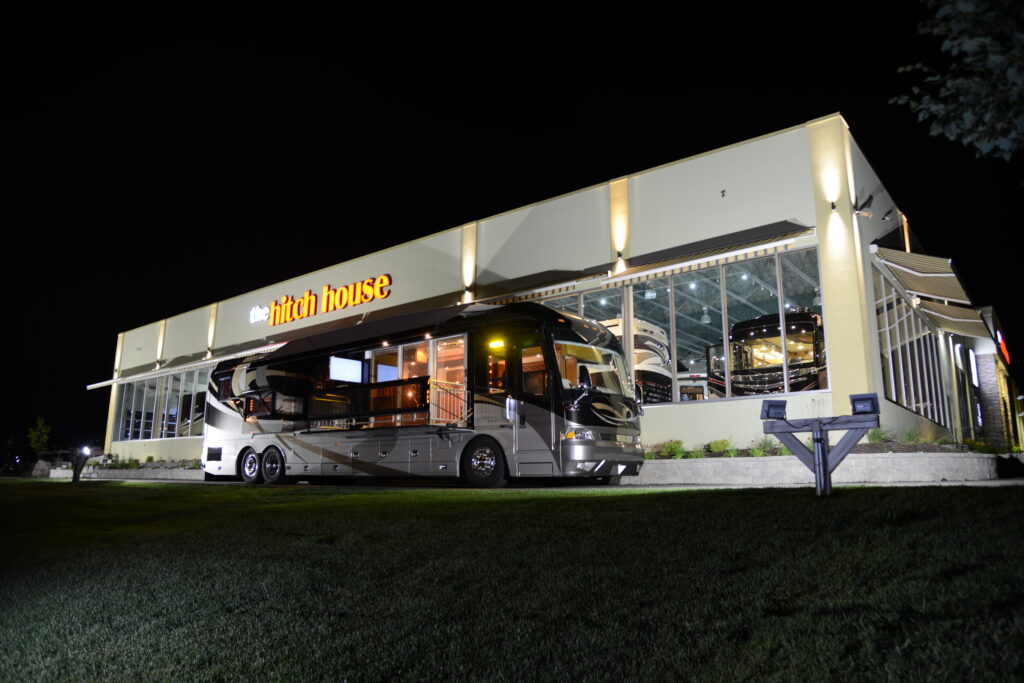 Many thanks to the team at The Hitch House, Shanty Bay, Ontario, for their assistance with this road test project. Check out the website for a full range of new and gently used RVs: www.thehitchhouse.com
For more information on the 2024 Mountain Aire, and other Newmar products, please visit: www.newmarcorp.com
Watch our RV Lifestyle Magazine in-depth video – click on the link below: