This feature story was written by Stephanie Jarrett and sponsored by our friends at

Jellystone Park Owners Get Creative for Care Camps
Peter and Janet Clark of Yogi Bear's Jellystone Park in Woodstock, New Brunswick were thinking on their feet when their idea for a Care Camps donation came to life.
As with most conventions this past year, the Canadian Camping and RV Council turned its annual Outdoor Hospitality Conference and Expo into a virtual event.  Thanks to a new partnership with Care Camps, the virtual conference included a presentation by the charity and a silent auction where individuals could bid on donated items with all proceeds going to support the kids.

Peter and Janet Clark were attending this event when they learned about Care Camps and later came up with their creative idea to help kids with cancer get to camp.  "We had donated 12 New Brunswick lobsters, but there were only a few bids," says Peter.
As one of the members that is well known to all, Peter was asked to bring his signature levity to the closing night's event and liven things up for the audience. "That's when I decided to dig out my "Happy Camper" pajamas and offer up our services to work at any campground for a weekend to help Care Camps."
Peter and Janet offered to travel to any campground in Canada and offer a free weekend of their services in September of this year, with a special twist: They would do it all wearing adorable pajamas with "Happy Camper" on the back end.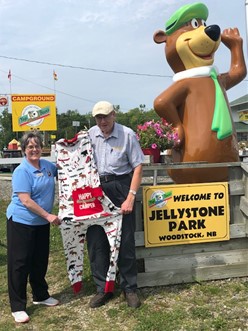 The package was immediately a huge hit, with several parks jumping in on the bidding.  In the end, it was down to two campgrounds bidding against one another and driving up the donations.  Peter and Janet were so excited by the response that they decided to double their donation to Care Camps by offering two service weekends!  Each weekend sold for $2,250, making the total raised from this spur of the moment idea to $4,500.
"We were all blown away; first by the adorable idea, but then by the incredible generosity of this couple", said Jennifer Mercer, Care Camps Director of Development.  "Peter and Janet are an inspiration, and their gift is going to bring a lot of joy to some kids going through an unimaginable challenge. I hope it will bring some pretty big smiles to the campers who see them in these pajamas too!"
Prior to January's event, Peter and Janet had never heard of Care Camps, but they were inspired by the message. "We felt compelled to get involved," Peter says. The couple had previously worked with Make-a-Wish and a hosted a terminally ill child whose wish was to have a fun weekend camping at Jellystone Park with her cousins. The experience moved Peter and Janet, who love to help out however they are able. Care Camps was a great fit for their gift because the charity was founded by other campground owners to bring the healing power of the outdoors and camping to kids battling cancer and their families.
The Canadian Camping and RV Council was thrilled by Peter and Janet's selfless donation to Care Camps. "Without a doubt, Peter and Janet Clark are two of the nicest people you will ever have the chance to meet," says Shane Devenish, President of the CCRVC. "When Peter offered his item to auction off during our conference this year, I can't say I was overly surprised. That is just the way Peter is. He is a selfless individual who would do anything for a good cause. The winning bidders will certainly get their money's worth. That's for sure!"
The CCRVC is excited about the new relationship with Care Camps. "CCRVC looked at the opportunity to help Care Camps offer children with cancer the chance to go camping as a true privilege and something that we really wanted to be a part of," says Shane. "We are truly honored and proud to be a partner of Care Camps."
About Care Camps:
It all began as a dream on the part of a few campground owners; today Care Camps brings the healing power of the outdoors to thousands of kids across the US and Canada, all at no cost to their family.  If your campground or business would like to get involved, you can go to www.CareCamps.org or email Jennifer Mercer at jmercer@carecamps.org for more information.
About Yogi Bear's Jellystone Park in Woodstock, New Brunswick: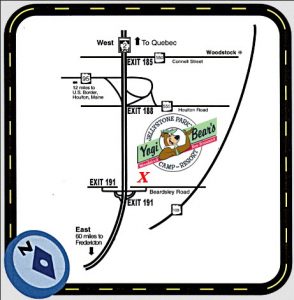 Toll Free line 1-888-222-9644
Mailing address:
P. O. Box 9004
Woodstock, NB
E7M 6B5
Civic Address: (GPS Information)
174 Hemlock St.
Lower Woodstock, NB
E7M 4E5
GPS Coordinates Lat. 46.13077 Lon. 067.60752